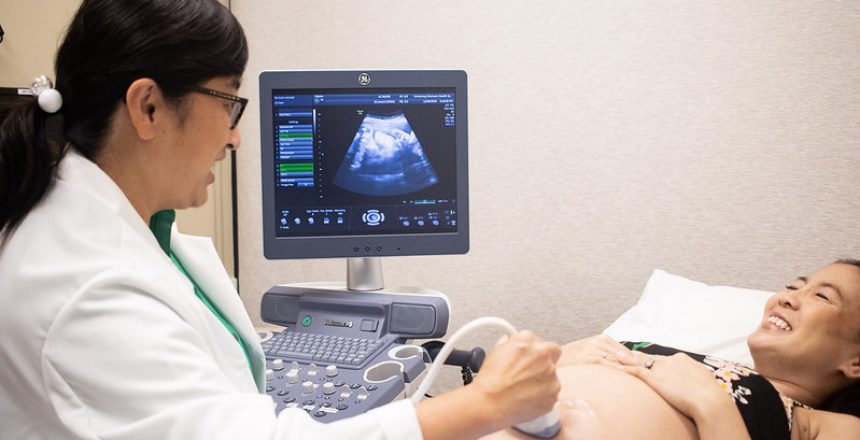 UHP Women's Health Specialists introduces new program for expectant mothers from all walks of life
Dr. Men-Jean Lee performs an ultrasound on a patient at the Pali Momi Outpatient Center. Photo by Vina Cristobal
A relatively new program from University Health Partners of Hawaii (UHP) is paving a way for women on Oahu to access the healthcare they need.
In July 2019, UHP Women's Health Specialists launched a Midwifery Integration Home Visitation Program (MI-Home) program, with grant funding from AlohaCare and with the guidance of Dr. Men-Jean Lee, Division Chair of Maternal-Fetal Medicine.
The program will run until September 2020.
MI-Home staff members visit patients in their home, shelter or safe space, which makes the program accessible for all patients. The program offers mobile electronic fetal monitoring and telehealth consults with Maternal-Fetal Medicine providers for patients with diabetes, high blood pressure, substance use disorders, and prior stillbirth. Services include prenatal, postpartum, lactation and newborn care; well-woman visits, cervical and breast cancer screenings and STI/STD screening and treatment.
In addition, MI-Home arranges transportation for patients and can cover prescribed medicine for those uninsured or unable to cover medicinal costs.
This service is available for all female Oʻahu residents who do not have the resources to access healthcare — regardless of their insurance, citizenship and housing status. There is no minimum number of patient visits or enrollment deadlines to meet in order to access the care provided by MI-Home.
"Hawaii's residents should receive the best healthcare possible, regardless of any economic or social hardships," said Dr. Dena Towner, Associate Chair of Clinical Affairs in the JABSOM Department of OB/GYN and Women's Health and a UHP clinical provider. "The MI-Home program helps make this philosophy possible, in an innovative and practical way that celebrates the Year of the Midwife."
The ultimate goal of MI-Home is to create a model of healthcare that meets the requisites of the community and to ensure that all mothers and babies receive the healthcare they need. By improving the health of Hawaii's families, the MI-Home team believes the overall health of Hawaii's communities will progress as well – a small step that will lead to a greater outcome.
Patients can make self-referrals and contact the MI-Home team. Community members, family and friends can refer women they know who are in need of services, regardless of their health plan. If the patient already has a primary care provider or OB/GYN provider, MI-Home works with those providers by sending records to their office and working with the patient to integrate into traditional in-office care.
To make an appointment, please call (808) 476-0690. For more information, visit the OB/GYN and Women's Health section of our site at http://uhphawaii.org/index.php/obgyn.
In most cases, appointments can be scheduled immediately.