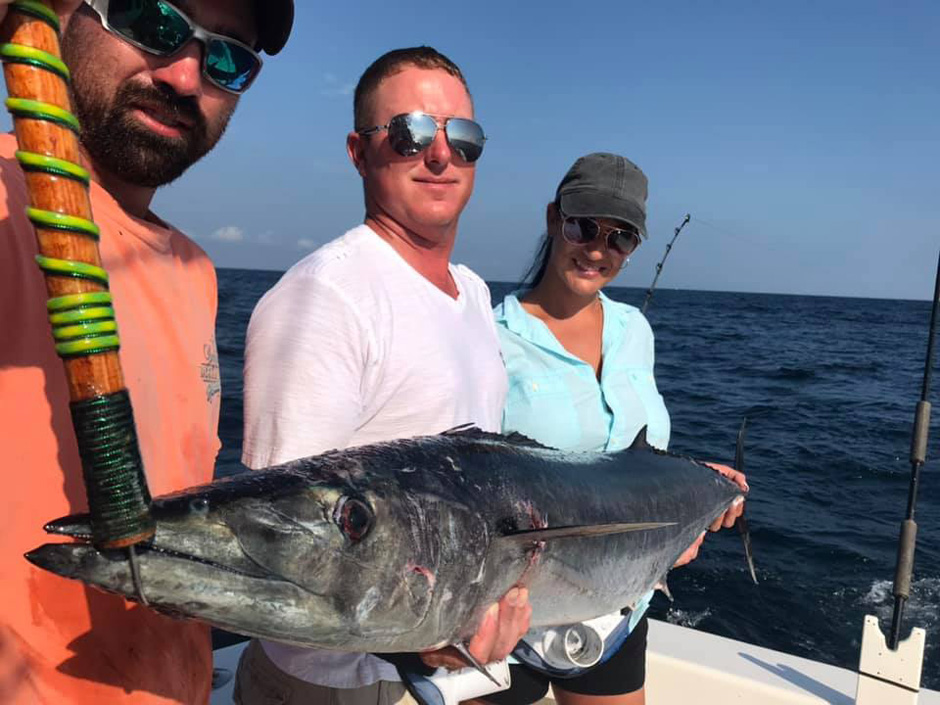 Top 10 Offshore Fish Species to Catch out of Destin, Florida
Originally posted on https://seawinder.com/blog/top-10-offshore-fish-species-to-catch-out-of-destin-florida/
There are only about 13,000 people who live in Destin, Florida full-time. But on any given day throughout the year, it's not uncommon for more than 25,000 tourists to visit the city.
Many people flock to Destin, located in the Florida Panhandle, to soak up some sun on one of the city's gorgeous beaches. Others visit Destin to play a round on one of the city's picturesque golf courses.
But Destin has also turned into a popular fishing destination over the years. There are so many offshore fish species that fishermen can catch when they take a fishing trip to Destin.
Here are the top 10 offshore fish species that you'll likely target when you fish in Destin.
1. Snapper
There are a variety of different kinds of snapper that you can fish for in Florida, including gray snapper, lane snapper, and mutton snapper.
But it's red snapper that has captivated fishermen in Destin for years. The largest red snapper ever caught in Florida was caught off the coast of Destin. It weighed in at 46 pounds and 8 ounces.
Unlike some of the other kinds of snapper, red snapper have a pointed anal fin that sets them apart from the pack. They're also either pink or red in most cases, which makes it easy to distinguish them from the other offshore fish species in and around Destin.
2. Grouper
Similar to snapper, there are a bunch of different types of grouper found in the waters off the coast of Florida. From black grouper to gag grouper to red grouper, there are so many kinds of grouper that fishermen can go after.
Regardless of which type of grouper you prefer fishing for, they're all on the larger side and are "bottom dwellers." They present a unique challenge for recreational and commercial fishermen alike.
The largest gag grouper ever reeled in was 80 pounds and 6 ounces and was caught off the coast of Destin. Destin was also home to the largest Warsaw grouper ever brought on board a boat. It weighed in at an astounding 436 pounds and 12 ounces.
3. Cobia
Sometimes called lemonfish or ling, cobia have bodies that are long and slim and depressed heads. They have dark lateral stripes that run from their eyes back to their tails, and they're often a brownish color with white bellies.
More often than not, cobia are found close to shore. They're known to congregate around wrecks, buoys, and even pilings where they feast on crabs and squid.
Don't let their location trick you, though, as there are some cobia that can grow to be very large in size. A record-setting cobia weighing 130 pounds and 1 ounce was once caught in Destin.
4. Mackerel
There are several types of mackerel located in Florida waters. This includes cero mackerel, king mackerel, and Spanish mackerel.
King mackerel, in particular, have turned into targets for many of the tournament fishermen who travel to Destin to fish. You can track them down in relatively shallow waters right off the Florida coast in areas that have a lot of schools of smaller fish.
It's rare to find king mackerel that weigh more than 60 pounds, but they're out there! The biggest king mackerel ever caught weighed 90 pounds and was caught in Key West, Florida.
The other types of mackerel are comparatively smaller. The largest cero mackerel ever caught was just 17 pounds and 2 ounces (Islamorada), while the largest Spanish mackerel ever caught was just 12 pounds (Fort Pierce).
5. Sailfish
Way back in 1975, Florida named the sailfish the official state saltwater fish. If you're ever lucky enough to get a glimpse of one, it won't take you long to see why.
Equipped with unique dorsal fins that make them a sight to behold, sailfish are capable of performing acrobatic jumps guaranteed to get your attention.
The state record for the largest sailfish ever caught was recorded a decade ago when an angler brought in a 126-pound sailfish in Big Pine Key.
6. Amberjack
Although there are several kinds of amberjack fish in the world, greater amberjack fish are the ones you'll find most often in Florida.
They're the largest amberjack fish and have dark stripes that run from their noses to their dorsal fins. They also have soft dorsal fins and like to spend a lot of their time in and around reefs and wrecks.
Greater amberjack fish are also called "greater" for a reason, seeing as how they can grow to be quite large. The largest amberjack ever caught was 142 pounds and was reeled in near Islamorada.
7. Triggerfish
There are about 40 types of triggerfish found throughout the world. Gray triggerfish are the most common kind of triggerfish in Florida.
But don't be fooled by their name! Gray triggerfish have blue spots on their bodies, and they're able to change their colors throughout the year. They also have spines on their backs that they use for escaping potential predators.
Triggerfish aren't particularly large fish, but they do have a very interesting and unique look to them. The largest triggerfish ever caught in Florida weighed 13 pounds and 4 ounces and was caught in Pensacola.
8. Tarpon
If you're a fisherman looking for a challenge, tarpon might just be the best offshore fish species to go after. They're often referred to as the "silver king of sportfish" because of their fighting ability.
Tarpon can also grow to be very big, which can make it tough to catch one. Fishermen set a record in Key West back in 1975 by catching one that was 243 pounds.
9. Mahi-Mahi
Mahi-mahi also goes by the name dolphinfish. But they're not the dolphins that you've seen on TV.
Like dolphins, they do tend to hang out up near the surface of the water. But they have rounded heads and bright blue and green colors that give them their own unique appearance. They can also change colors once you bring one on board a boat.
The biggest mahi-mahi or dolphinfish ever caught was 87 pounds. It was caught in the waters off Costa Rica.
10. Sharks
It should come as no surprise to hear that there are plenty of sharks in the waters off the coast of Florida. Florida routinely ranks at or at least near the top of lists of the states with the most sharks.
There are many different types of sharks in Florida, too. Here are some of the most common kinds as well as the state records for the largest sharks ever caught in Florida:
Blacktip shark, 152 pounds in Sebastian
Bull shark, 517 pounds in Panama City Beach
Dusky shark, 764 pounds in Longboat Key
Hammerhead shark, 1060 pounds in Boca Grande
Lemon shark, 397 pounds in Dunedin
Mako shark, 911 pounds and 12 ounces in Palm Beach
Spinner shark, 190 pounds in Flagler Beach
Thresher shark, 544 pounds and 8 ounces in Destin
Tiger shark, 1065 pounds in Pensacola
White shark, 686 pounds in Key West
If you're going to fish for sharks, it's smart to do it with experienced anglers who know what they're doing. Booking a charter boat might be your best option.
Come Fish for These Offshore Fish Species in Destin, Florida
As you can see, there are so many offshore fish species that you can fish for when you visit Destin, Florida. It can be a little bit overwhelming trying to do it if you don't have enough experience.
We can take you out on our charter boat and let you see what fishing in Destin has to offer. We'll provide you with everything you'll need to have a fantastic time on the water.
Contact us today to learn even more about the offshore fish species found in Destin.