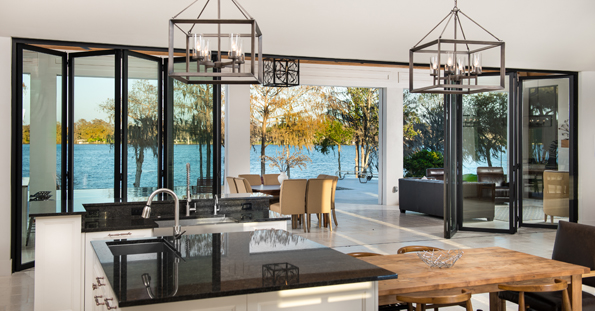 The Benefits Of Installing Folding Patio Doors
Photo from LaCantina Doors
Originally Posted On: https://www.lacantinadoors.com/blog/entry/the-benefits-of-installing-folding-patio-doors
Are you looking to improve your home's value without taking on an expensive and time-consuming renovation? Exterior folding patio doors are the ideal home improvement project to elevate your daily lifestyle and add value to your property. Folding patio doors, also called bi-fold or accordion doors, allow you to merge indoor and outdoor spaces, so your living areas feel larger. With numerous finishes and configurations available, choosing the right folding patio door for your home is simple.
What are Folding Doors?
Folding patio doors are exterior glass-panel doors that can be opened like an accordion. Folding patio doors can be used to upgrade your current patio door opening or replace a section of a wall to create a seamless transition from interior to exterior spaces, like a patio, outdoor kitchen, or gazebo. This style patio door creates substantial openings when the doors are fully open and stacked while still allowing ample natural sunlight to flood into your home when closed.
Folding Patio Doors are Available in Many Materials and Finishes
Depending on where your home is located, different materials can provide you with energy efficiency and thermal performance year-round. Whether you choose a LaCantina folding door system that's crafted from high-quality aluminum, wood, or vinyl, each folding patio door set is available in a variety of different finishes. This means you can find the style and material that complement your home design while choosing finish options that work with your interior and exterior color scheme for an attractive solution that adds value to your home. To find the best material and finish for your home, view our interactive video library here.
In addition to high-quality material choices, folding doors from LaCantina are also available with different screen solutions so you never have to compromise your experience with the outdoors. Adding a screening solution will allow you to keep your doors open more often increasing fresh air and protecting your home from insects or debris.
The Benefits of Installing Folding Patio Doors
All folding doors are not created equal. LaCantina folding doors are expertly engineered with larger glass panels that will improve your view while still maintaining your level of comfort indoors. Designed for thermal performance, folding doors make your home feel more open and spacious. These doors are especially beneficial for homeowners in varied climates because they allow you to take advantage of a slight breeze, allow natural sunlight to illuminate your home, provide you with year-round energy savings, and keep cold drafts from creeping inside during harsh winter weather.