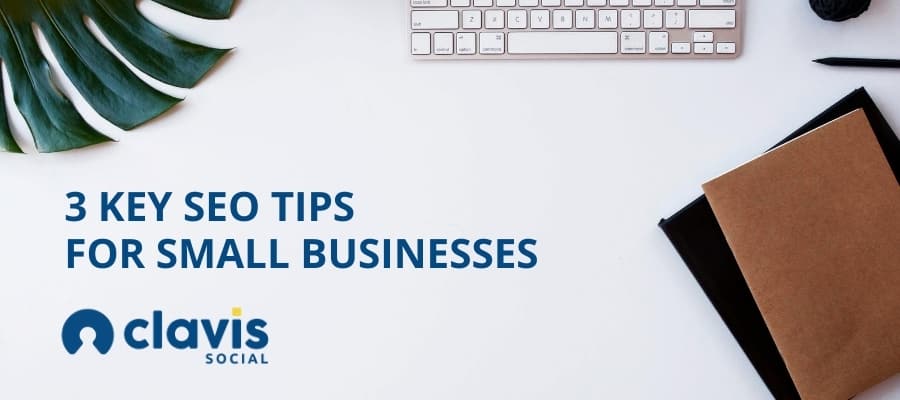 Small Business SEO: 3 Key Tips For Your Business
Photo From Clavis Social
Originally Posted On: https://www.clavis.ca/2020/08/10/small-business-seo-tips/
If you are the type of person who suffers panic attacks at the mere mention of the words "Search Engine Optimization," rest easy. Small Business SEO doesn't need to be all that complicated, nor does it need to threaten your mental health. If you run a small to medium-sized business, and you have a website, SEO is critical to your success. Before we explain the three keys to small business SEO success, let's quickly cover the basics.
Small Business SEO – The What, Why and How
SEO is a process designed to improve a website's search engine ranking and visibility, while increasing both the amount and quality of web traffic heading to said website. The more traffic a website attracts, the more leads and conversions it will likely accrue. In Canada, Google handles more than 91% of search queries, with Bing, Yahoo, DuckDuckGo, MSN and Ecosia accounting for the rest of the country's searches (RIP, Alta Vista).
So, why is small business SEO so important nowadays? Most businesses have a presence online, and if your business is going to compete and thrive, your website needs to be optimized so more search users will find it.
In one survey by Search Engine Land, 85% of respondents said a search engine is the first place they look for products or information they're interested in. That's before talking to a friend, flipping through the yellow pages or wandering through a mall for hours on end. If someone is looking for whatever it is your business offers, your website better be optimized and ready.
Once a web user enters their search query, a search engine uses an algorithm to rank and display the most relevant results. Those results are based on a slew of factors, including relevant keywords and topics related to the search query, as well as the popularity of sites related to the search.
Small Business SEO Key #1 – Technical Specifications
In order to maximize your website's SEO, your website's tech specs need to be on point. A search engine must be able to properly scan and index your site in order to ensure a perfectly smooth experience for visitors. Here are a few things to consider when you (or, your SEO consultant) are working to maximize your SEO.
Website Navigation and Links
Remember, search engines are kind of like your colour-blind friend – they can't see red, or in Google's case, it can't see images. It sees only text and links, so make your text and links as high-quality as possible!
URL Design
For all the URL's associated with your website, keep them short, simple and make sure at least one relevant keyword is included in them.
Page Speed
The amount of time it takes your web page to load impacts your website's search rankings. And, in case you hadn't noticed, patience isn't exactly a virtue when it comes to web users. They want results instantly, and if a website's page is too slow, they'll cut and run. Any page taking more than three seconds to load sees its bounce rate increase by more than 30%. Check out Google's Page Speed Insights Tool to ensure your website's page speeds are up to snuff.
Dead Links
Scrub your site for any dead links, which sends users to non-existent pages. Broken redirects can also hurt your website's SEO rankings on Google. There are a variety of different link types, as outlined in this article by SEOptimer.
Sitemap
Your website's sitemap is a file that lists all the URL's that make up your website. A sitemap helps search engines assess and index all the pages that make up your site.
Robots.txt Files
While sitemaps help search engines index your most quality pages, robots.txt files tell search engines which pages not to crawl.
Pages you don't want indexed could include:
Hacked pages
Duplicate content
Low-quality pages or spam
Small Business SEO Key #2 – Your Content
If your website's technical specs are what's "under the hood," your site's content is the fabulous, gleaming paint job that will (hopefully) turn heads across the internet. Whatever that content may be – your bakery's delicious, handmade treats, or your store's super-strong German tire irons – the content describing your wares must be top-notch. The key is to publish as much new, high-quality content as possible. At Clavis, we post content to our blog and also write guest posts and articles for other outlets where we can be a source of expert information. Google loves this type of content, and will improve your search rankings as a result. We also offer small business SEO services to help push your brand up the rankings.
Keywords
One of the most important SEO aspects, keywords play a huge role in upping your website's visibility. Be as specific as possible in coming up with keywords to populate your site's pages. Offering up specific keywords and phrases will help Google get your website in front of users who are looking for what you are selling.
Here are the spots where you'll want your keywords:
Site URL's
Blog post titles (closer to the title's start if possible)
Within the first one hundred words or the first paragraph of any written content
Within your site's code – meta titles and meta description tags
Images – Make sure relevant keywords are used to label any image files
Content-Length
The longer the content, the better. If your website has a page with blog content, for instance, Google values longer posts because it deems them more authoritative and detailed on a particular topic.
Multimedia
Efficient use of multimedia (video, images, audio etc) is also an indicator to Google that your page's content is high quality. You can create custom graphics like we did in this blog, link to a video from YouTube or Vimeo, and even add GIFs and audio clips to make your content stand out!
External & Internal Links
Adding links to relevant external pages indicates to Google that your page is credible. Internal links, or links to other pages within the ecosystem of your own website, helps Google crawl your website. Both types of links, so long as they are relevant to your site and of high quality, will boost your site's search engine rankings.
Small Business SEO Key #3 – The Links That Bind Us Together
Backlinks (or inbound links) are vital in boosting your website's SEO performance. These are different from the external and internal links described above, as backlinks are links from other websites linking back to your website.
The more relevant backlinks your website acquires, Google will determine that your website is both popular and an authority, and boost your search ranking accordingly.
Of course, not all backlinks are created equal. After much investigation, it has been determined that Google is indeed smarter than the average bear. If the search giant finds your website gathering lots of low quality or suspicious links in a bid to boost SEO, it will penalize your website and dock your rankings. You've been warned!
So, how does your business get its hands on those valuable backlinks? Well, that will take time and effort.
Here are a few ways to rope in high-quality backlinks.
Organically – be sure to churn out high-quality content, and other sites just might link to your website
Guest posts or content – your business can offer to write an authoritative guest blog post, or create a different kind of content (say, a video), for a 3rd party site. If that site accepts, they'll usually post a link back to your site
Profile links – creating online profiles for your business is an easy way to grab a few backlinks to your site
Track Your SEO
Once your business site is set up, keep tabs on your SEO performance. Google Analytics is widely regarded as one of the top tools online in measuring website performance. It's also free! SEMrush offers useful information on your website's performance, while also providing information on competing sites. For helpful analysis on your backlinks, give Ahrefs a try.
SEO And A Whole Lot More
Ensuring top small business SEO performance is a key way of guaranteeing your business will thrive online. Clavis Social has a team of SEO experts ready and willing to provide top-notch service for your business. Get in touch today!
Clavis Social Inc. is an award winning, startup digital marketing firm. Priding itself on simple, upfront, and honest digital marketing services, the Clavis team is dedicated to helping businesses grow. Located in the heart of downtown Toronto and servicing clients across the globe, Clavis has one clear objective: make social simple.