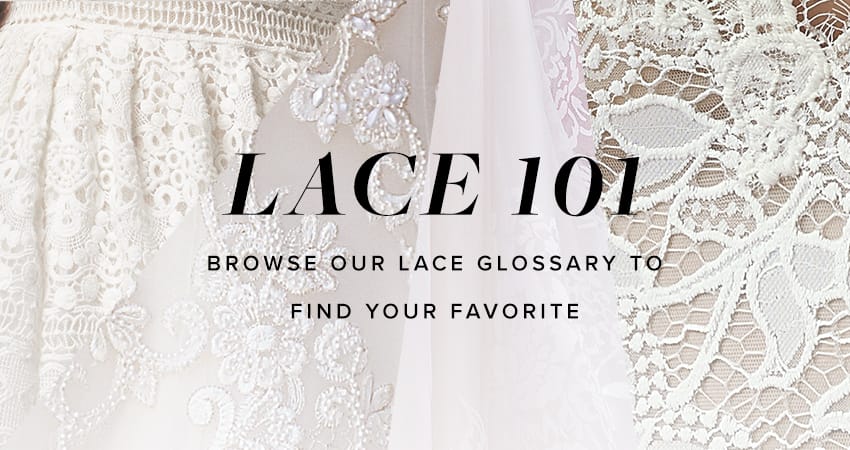 Seven Types of Lace to Know While Shopping for a Wedding Gown
Originally posted on https://www.maggiesottero.com/blog/types-of-lace-wedding-dresses-from-maggie-sottero/
You've heard it plenty of times in plenty of places: there's a type of lace for every bride. Some like it chic and comfortable—others prefer striking and sophisticated. Whatever your mood for this ultra-romantic fabrication, here's seven types of lace wedding dresses to know while shopping for a wedding gown. Before you find a local wedding dress boutique, take a moment to study the different lace wedding dress varieties used to construct these exquisite gowns. From the fit and flexibility of knit lace to the vintage romance of ribbon lace, this gorgeous fabric has something for every bride!
KNIT LACE:
A softer lace, this lace lacks a tulle back, making it more flexible, and contours around the body with more ease. The Tina Dawn and Geraldine gowns are constructed of gorgeous allover knit lace with an embossed floral detail.
GUIPURE LACE: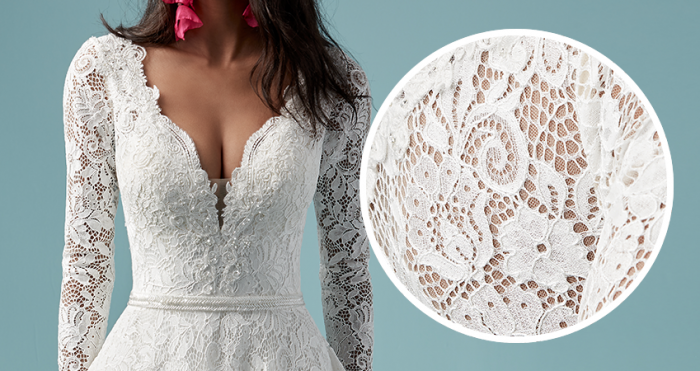 Also called Venetian lace, Guipure is a firm, stiff lace where motif patterns are connected by bars or plaits rather than net or mesh. Take a look at the allover Guipure floral lace on Terry.
EMBROIDERED LACE:
Delicate patterns are tightly stitched onto an illusion base, forming the appearance of an applique. Embroidered with beading or sequin lace pieces on a separate tulle layer creates depth and dimension in the Easton and Elsie gowns.
CHANTILLY LACE:
Chantilly lace is known for its fine ground, outline pattern and abundant detail. The pattern is outlined in cordennet, a flat untwisted strand. (If you're a big fan of the vintage-inspired wedding dress look, tap the link!)
Point D'Esprit:
Point D'Esprit is a lightweight lace with small oval dots scattered over an illusion or net fabric. This style is perfect for a flirty boho vibe.
ALENÇON: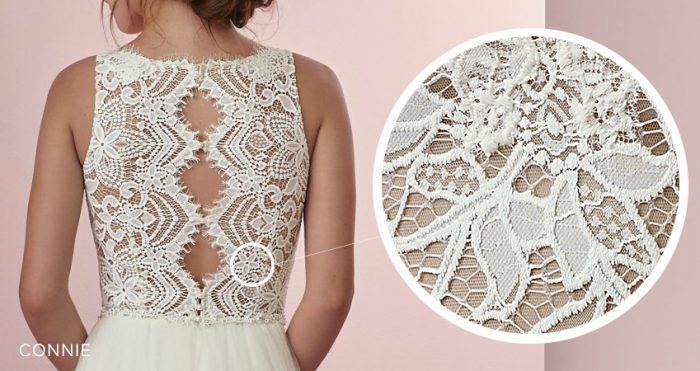 Originating from Alençon, France, this needlepoint lace is usually found with a floral design on a sheer or net background. Look closely at the details of the Connie gown. Alençon lace appliques are laid on a sheer tulle base to create a unique effect.
EYELET LACE: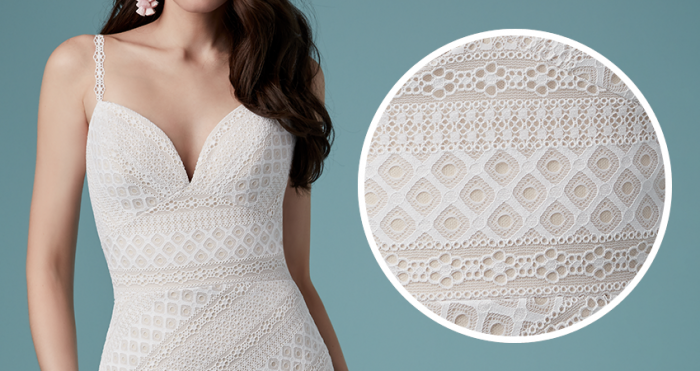 We've taken this otherwise simple fabric and made it sophisticated. Eyelet adds a touch of boho to your gown, channeling a vintage aesthetic while looking cool and unexpectedly modern. Trés chic!
What are we missing? Message us via Facebook or Instagram!
Love what you see? Find an Authorized Retailer near you!