Santorini Wedding Photographer
Photo from CG-Weddings 

Originally Posted On: https://www.cg-weddings.com/santorini-wedding-photographer
Santorini Wedding Photographer capturing beautiful, classy, genuine and emotional wedding photos for modern couples getting married in Santorini.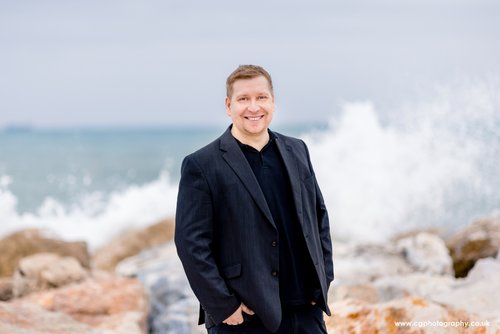 Hi, my name is Chuck, I am an award-winning destination wedding photographer covering weddings across Europe and Santorini, offering pre-wedding and elopement photography around the Mediterranean. I love destinations weddings, they are such a unique experience for you and your loved ones and being there with you to capture every intimate and crazy moment is why I love being a photographer.
First, let's state the obvious, Santorini is the perfect destination for destination weddings in Greece! With its idyllic landscape and stunning coastal views, in addition to amazing photo opportunities, the island offers a wide range of wedding venues that cater to all tastes and budgets, making it an ideal location for couples who want to have a unique and memorable wedding experience. Whether you are looking for a classic, elegant affair or something more adventurous, there is sure to be a venue in Santorini that will exceed your expectations!
Are you planning your Santorini wedding?
Firstly, a massive congratulations on your engagement and also considering such an epic location for your destination wedding! Planning a wedding is a huge task, and probably one of the hardest decisions is to choose the right wedding suppliers for your wedding day, plus they are often not the suppliers your  wedding planner will recommend. When it comes to island weddings you will find a small wedding supplier community sticking together and recommending each other, and while it certainly can simplify things, when it comes to photography it can be extremely limited with choices.
In my experience, some of the most popular cities for destination weddings on Santorini include Oia, Fira, and Imerovigli. These charming towns offer a variety of beautiful wedding venues, from traditional churches and villas, to cliffside hotels with breath taking views You could plan a serene ceremony overlooking the ocean or perhaps an elegant dinner reception with live music, the opportunities are endless to perfectly fit your style!
Many couples often choose to have their wedding ceremony in a traditional church, like the The Church of Anastasi and Spirydon in Oia. This picturesque whitewashed church is one of the most photographed landmarks on the island and makes for a stunning backdrop for your wedding photos. If you are looking for a more unique setting, there are also many beautiful cliffside venues that offer breath taking views of the Caldera. One popular option is Santo Wines, which is a family-owned vineyard with an incredible terrace overlooking the ocean.
Let's face it, Santorini is just perfect. The natural beauty of the island, the amazing food and wine, and the luxury hotels make it a dream choice for destination weddings.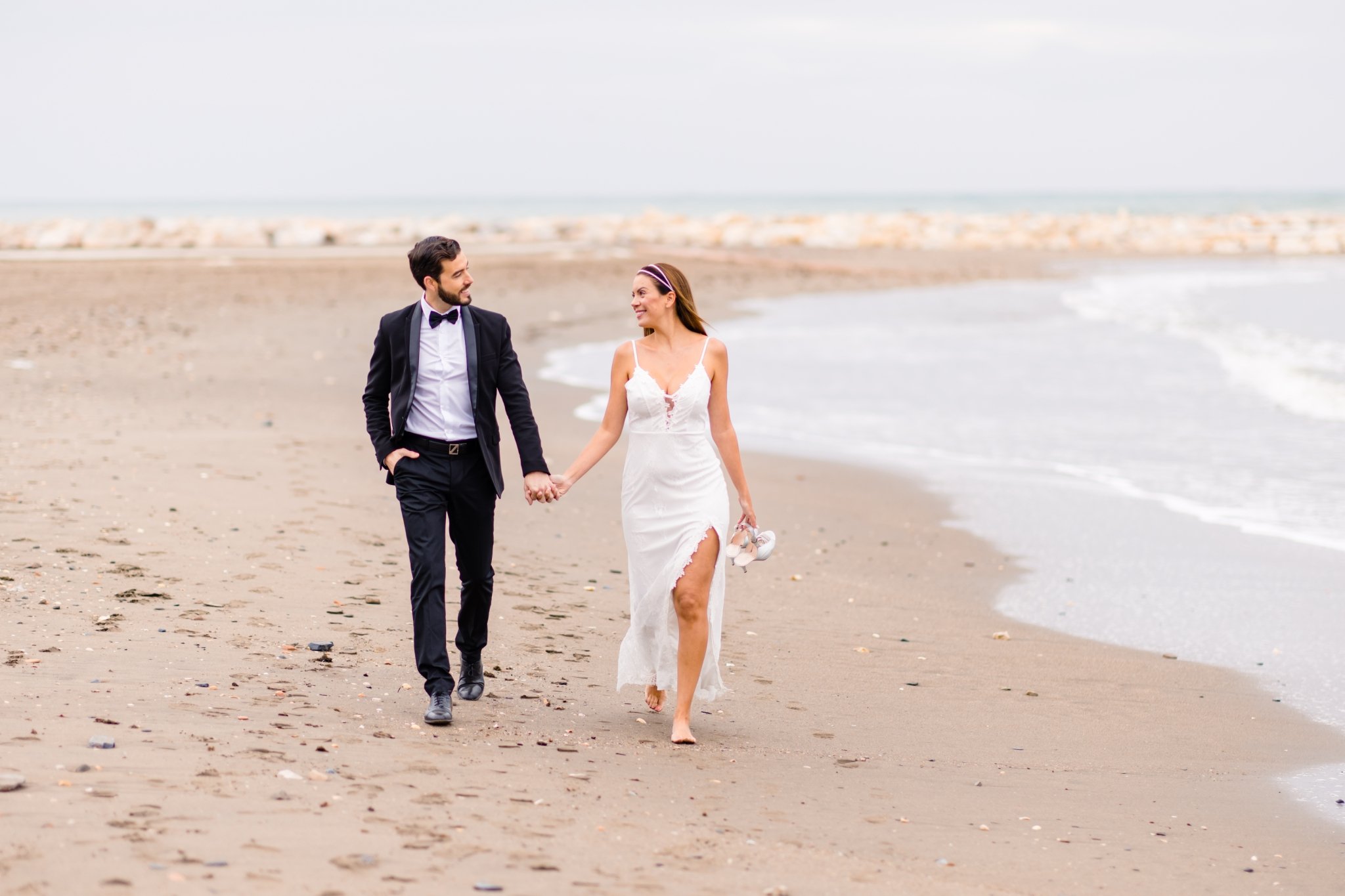 What is my wedding photography style?
As a destination wedding photographer, I specialize in capturing all of the special moments and memories from your wedding day. My photography style is candid and unobtrusive, capturing natural expressions and interactions between you and your loved ones, while equally taking beautiful couple portraits that you can proudly hang on your wall, that will wow your family and friends and will endlessly talk about how lucky you were to get married at such a magical place.
Being an experienced Santorini wedding photographer, I will be there 2 days before your wedding to avoid any possible travelling issues, plus also to ensure we can drive around the island a day or two before your wedding in a second wedding dress for a pre wedding shoot for some extra amazing photos of you both! I start early in the morning for the preparations and finish as long as the party goes on till! Yes, it does mean that if you guys are falling drunk in the pool I am there to capture it all! I find this is the perfect way to get to know your family and friends which helps to get amazing candid, impactful photos throughout your wedding day, allowing me to get close to the action without people feeling awkward.
Why wedding photography is so important?
Weddings are a once in a lifetime event, having memories to look back on of the day for years to come is so important! Weddings are full of emotions, love, and laughter – and it takes a special kind of photographer to be able to capture all of that perfectly. I take thousands of photos throughout the day whilst being in the middle of the action or hidden in the background to ensure I am not noticed which really helps to capture those amazing candid moments.
When looking back at your wedding photos, I want you to see the real you, the real personalities of your loved ones, to turn around and say "oh my god, this is typical John" and burst out in laughter- this is my absolute goal. Having those genuine moments captured is what I specialise in the most.  I want you to remember how you felt, not how you were posed for each shot to be perfect. Weddings are emotional rollercoasters, slowly building up to their peak when things just go crazy with the wild parties, funny (or sometimes awkward) speeches and just finally living in the moment. Throughout it all, I want you to not worry about your wedding photos, trusting in the fact I will be there capturing everything that is important to you both!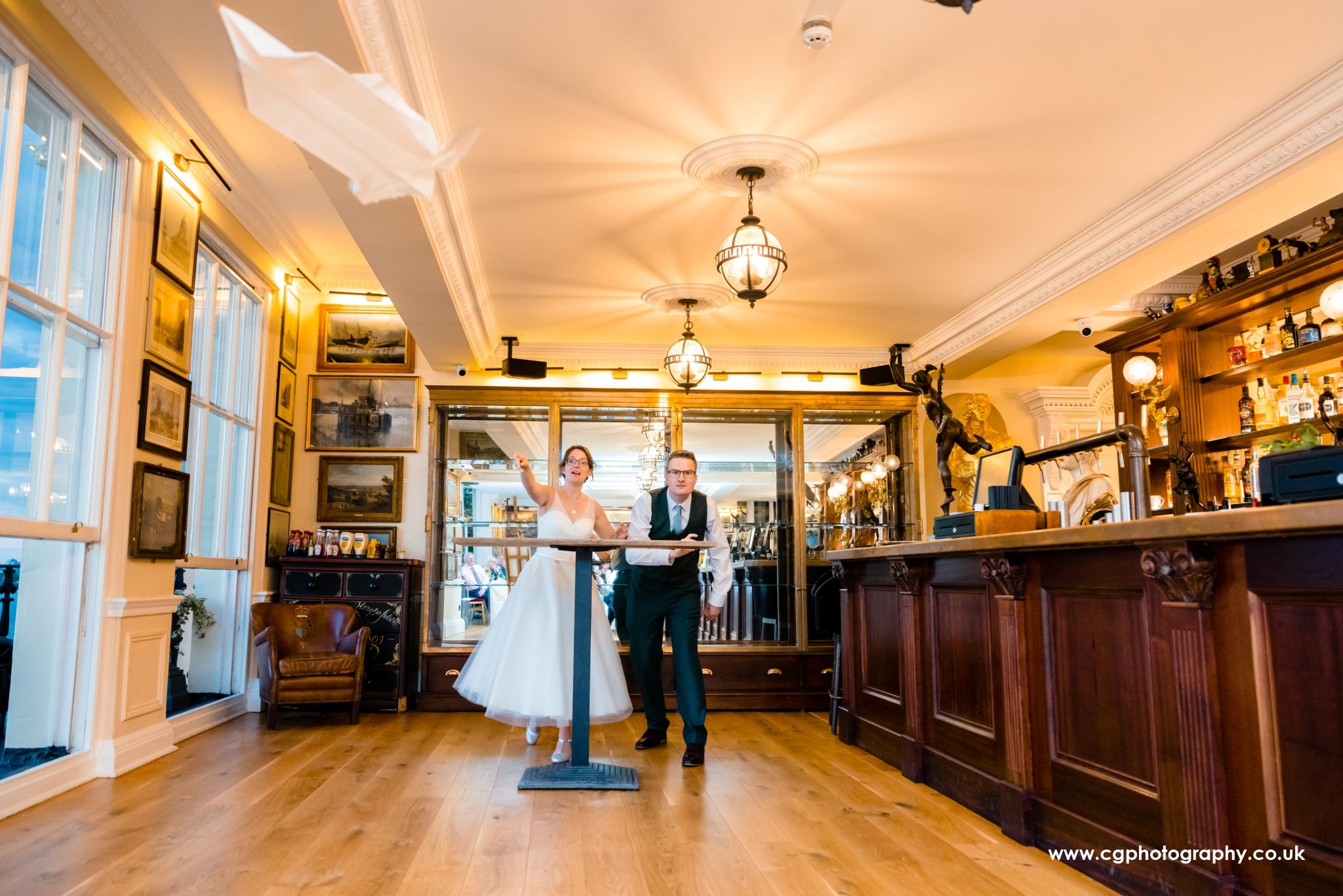 Incredible sunset and wedding portraits
Santorini offers one of a kind wedding photography opportunities. While most of your day I will capture moments as they happen, when it comes to your couple portraits we can certainly blow the roof off at these fantastic locations. You could stand on top Profitis Ilias overlooking the entire island, or maybe you fancy to have those beautiful wedding photos with the stunning blue domes as a backdrop that are throughout the island? Or even better-why not have them both!! The beauty of destination weddings is that you don't have to do it all on the same day and we can easily drive around 2 days before your wedding and just take our time to get the perfect wedding photos around Santorini.
 On your wedding day you could also sneak out half an hour before the sunset to catch that amazing golden hour and breath taking sunsets Santorini is famous for. There is literately no limit to what you can do and the crazier your request is the more I will rise to the challenge to capture it for you both! Want to jump in the pool, have a champagne celebration on the black sandy beaches, I am all in!
When is the best time to get married in Santorini?
The good news is, that you have over 300 sunny days during a year in Santorini, so you can choose a wedding date that works for you but the best time to get married is certainly between April and October. The sunset here is one of the most beautiful in the world, with dramatic skies that turn a striking shade of orange and pink as it dips below the horizon, which is perfect for some killer wedding photos. However, weather and temperature can play a big role in determining when the best time of year to get married on the island is.
For example, if you are looking for warm weather and want to avoid the possibility of rain disrupting your big day, then getting married during the summer months is ideal. June through August sees average highs in the low to mid-30s Celsius (mid-80s Fahrenheit), with little to no rainfall.
If you don't mind cooler weather, though, Autumn can also be a great time to tie the knot in Santorini. October and November see average highs in the 20s Celsius.
Santorin micro weddings combined with family holiday
The history of Santorini is extremely interesting, with the island being formed by a volcanic eruption over 3,600 years ago. This resulted in the creation of a large caldera – or crater – which is now home to the stunning towns of Fira and Oia. If you're looking for a truly magical place to tie the knot, then Santorini is definitely it!
With its fascinating scenery and rich history, there's nowhere quite like it in the world and there is so much to do for both you and your entire family too get up to whilst you are there. The island has a number of excellent resorts which cater to families, as well as plenty of activities to keep everyone entertained.
It is very popular with couples to have a family holiday combined with your intimate wedding in Santorini. There are many beautiful beaches, perfect for relaxing in the sun or swimming in the clear blue waters. If you're looking for something a little more active, there are also plenty of hiking and biking trails to explore. No trip to Santorini would be complete however without spending some time in the Akrotiri which is situated in the Minoan town of the island.
What can you do in Santorini before and after your wedding?
If you just prefer to relax and have a great time with the kids keeping busy each other, you can head straight to one of the beautiful beaches in Perissa, or if you are more of a history buff like me you can visit the above mentioned Akrotiri.
Akrotiri was discovered during the 1960s, after a huge earthquake hit the island. Archaeologists were shocked to find well-preserved buildings, which had been buried by volcanic ash over 3,600 years ago. It's thought that Akrotiri was abandoned around 1500 BC just before the ancient eruption of Thera.
Today, you can tour Akrotiri and view the remains of this once thriving town from Ancient Greece which is perfect for a daytrip with the family a few days before your wedding. You'll see houses with brilliant frescoes on the walls and beautiful tiles on the floors. There are also workshops where artisans make pottery for everyday use – including plates, vases and cups – as well as toys for children.
Where to get the most incredible wedding photos for your Santorini wedding?
Weddings photos around The Caldera
The Caldera is one of the most popular spots for wedding photography in Santorini. As already mentioned, the massive volcanic crater has truly unique vibes offering stunning views of the Aegean Sea, the nearby islands and Santorini's capital, Fira.
Wedding photos in Oia
There is reason Oia is considered one of the most romantic places in the world, and a popular destination for weddings. The small village is known for its stunning sunsets, colourful architecture and charming cobblestone streets lined with quaint cafes and shops. There are also countless spots in Oia where you can take beautiful wedding photos, whether it's by the iconic blue dome churches, on top of an old castle wall overlooking the sea, or in front of one of the countless breath taking views.
Wedding photos at Kamari Beach
Located on the south-east coast of Santorini, Kamari Beach is a popular spot for newlyweds looking for stunning ocean views as their backdrop for wedding photography. With its black sand beaches and clear waters, this beach is one of the best spots for intimate and romantic photos!
Wedding photography in FIRA
Fira is my favourite city in Santorini and there is a reason why! Located on the caldera of Santorini and right next to the famous Oia, Fira is the island's capital. The city is full of restaurants, shops and a great nightlife – so you can imagine why it's such a must-visit destination for those who want to experience all that Santorini has to offer in one place. The truth is, there really is no wrong place to choose in Santorini, but Fira has some unique spots for those unique backdrops when it comes to your wedding photos.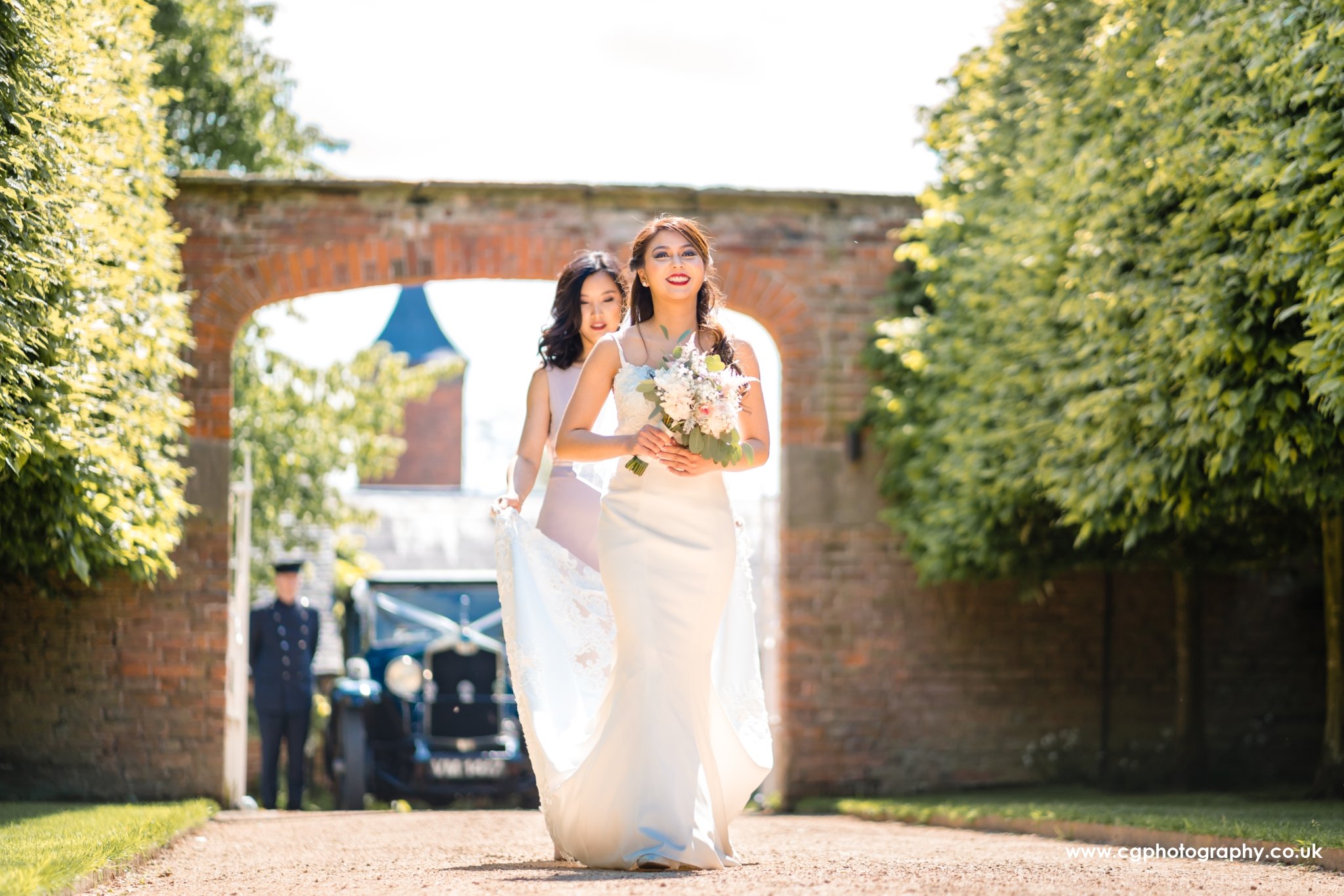 Travelling in Santorini
With all of these epic locations, how easy or difficult is to get to them? You might be surprised to know that most of these locations are highly accessible by public transport or on foot. The island is very small, so getting around is really easy.
If you want to take the hassle out of planning your wedding transportation, why not consider hiring a car? This will give you the freedom to explore the island at your own pace and make sure you get to all the best photo locations. There are few options around, but CoolCars is probably the simplest to deal with.
What are the best places to stay in Santorini?
Now you know what you want and which city you want to get married at, let's talk about accommodations in Santorini. Where to stay and why?
There are many different types of accommodations available in Santorini, from hotels and guesthouses to villas, apartments, and even traditional homes. The cost of staying in these various accommodations varies widely depending on factors such as location, amenities, size, and style.
If you are looking for a more luxurious experience, there are several high-end hotels in Santorini that offer stunning ocean views and world-class amenities. These include the iconic Caldera Houses Hotel in Oia, which offers spacious rooms with private balconies overlooking the caldera; or Canava Roussos in Imerovigli, a family-run hotel offering chic rooms with modern decor and sophisticated touches like rain showers and espresso machines.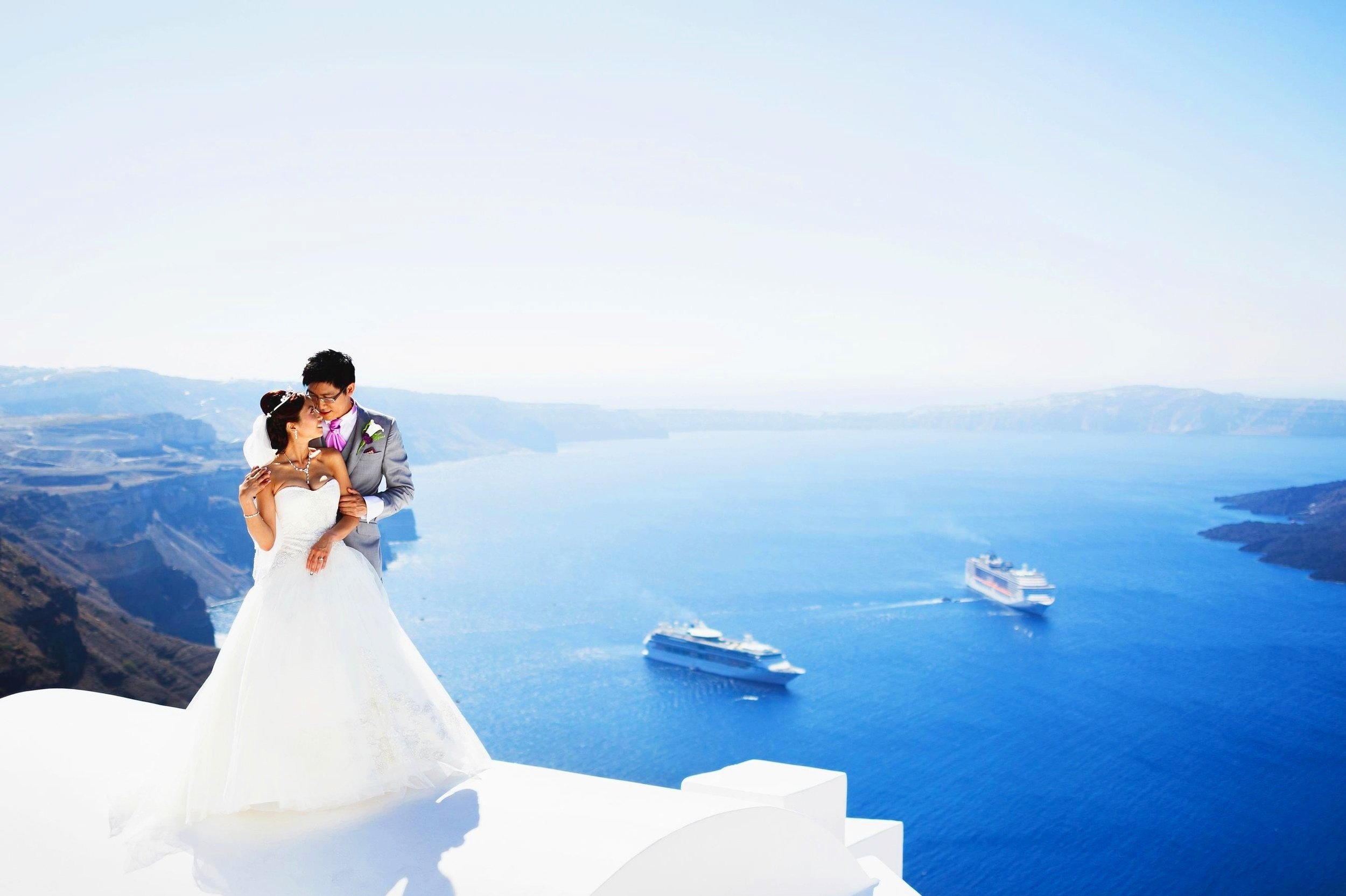 How to plan a micro wedding in Santorini
Many of my destination wedding couples often just prefer to hire a villa to spend time together with their family before and after their wedding day. There are many reasons why this is the best decision. privacy, more space to socialize, the ability to cook your own meals, and having a pool are just some of the advantages.
When you book a villa, you will have your own private retreat where you can relax and enjoy quality time with your family and friends. No need to worry about other guests interfering with your plans or making noise late at night – it's all up to you!
What's more, villas usually come with their own kitchen facilities, so you can save on dining expenses by self-catering or even BBQing by the pool. Of course, if you are more adventures and want to try out a new cuisine, you can always take a short drive into town and sample the local delights.
But perhaps most importantly, having your own private pool is an experience that no hotel or resort can match. How often do you get to enjoy such an amazing view of the ocean while enjoying a refreshing dip in the water? When you stay at a villa, this is exactly what you have – so why not also make full use of it for all those photos you're going to be taking!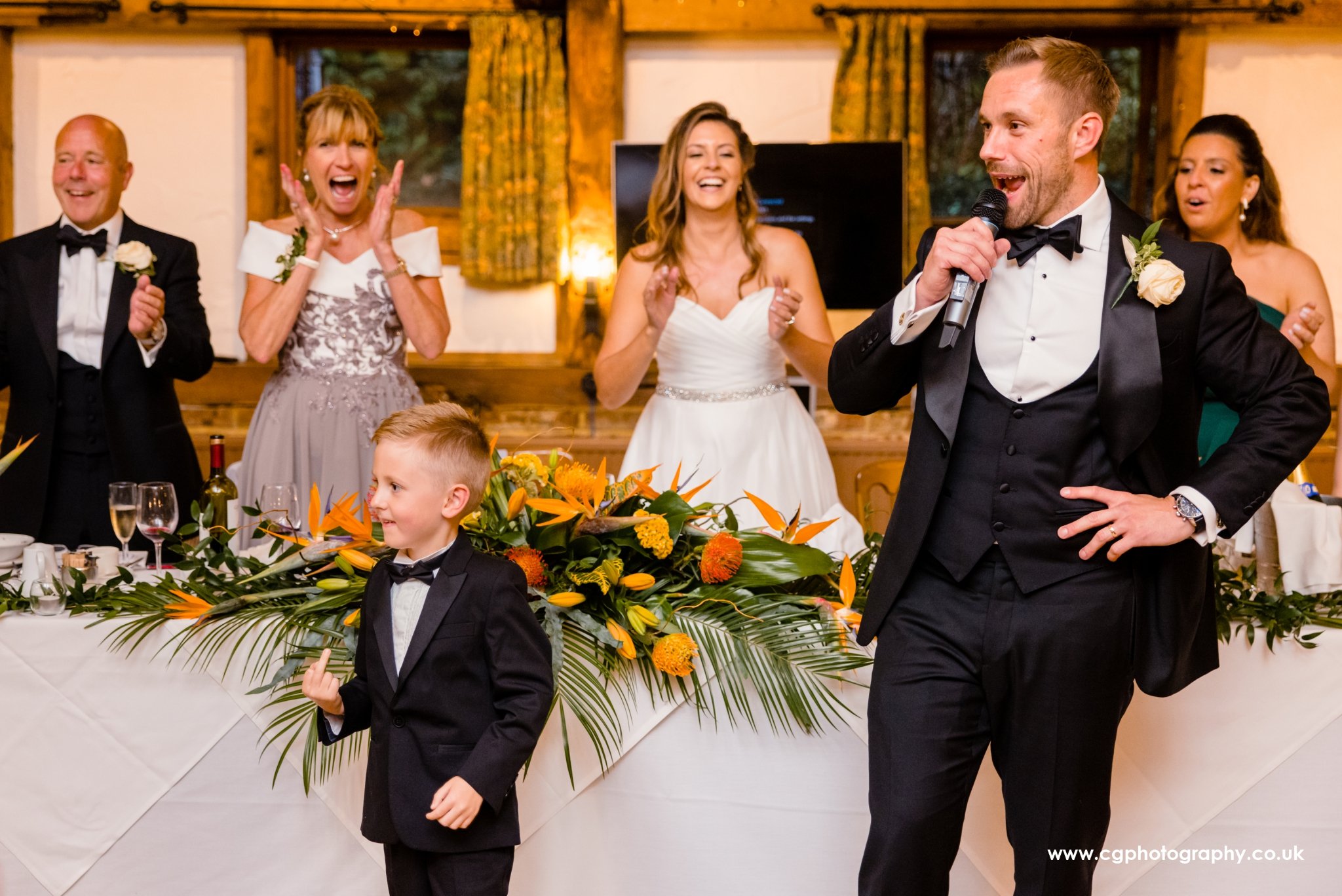 Wedding photography packages tailored to your Santorini wedding
First and foremost, as part of my destination wedding photography packages in Santorini I always offer an extra day-out for wedding photos, because this is a fantastic opportunity to get some stunning shots without the pressure of your wedding day. We can plan the route together in advance and I will make sure we hit all the best spots.
When it comes to wedding photography, there are a few things that you should keep in mind. First and foremost, booking local photographers may be tempting because of their low prices, but this is often a false economy. For one thing, these photographers may not have the experience or skill necessary to capture all of those special moments on your big day. Additionally, they typically do not have access to premium equipment or creative editing tools, meaning you will likely end up with mediocre photos that can't match the quality and beauty of professional wedding photography packages.
Ultimately, it is always worth investing a bit more in a photographer that you truly love and trust rather than settling for something cheaper just because it seems like a good deal. I always recommend researching a few photographers before deciding on one for your wedding day so that you can properly evaluate your options and make an informed decision.
So how much does creative wedding photography cost in Santorini
I charge £2000 flat fee for weddings in Santorini which includes all my travelling (including flights), accommodation and expenses. You will get me for this for at least 3 days. At the day of my arriving I am settling in and doing a bit of scouting around your venue, while on Day 2 I always take out the couple with their 2nd wedding dress for a full portrait-session around the island to take those jaw dropping photos that you wont have time to do it on your wedding day. On your official wedding day I will be with you from the morning bridal preparations all the way till the party goes hard in the evening.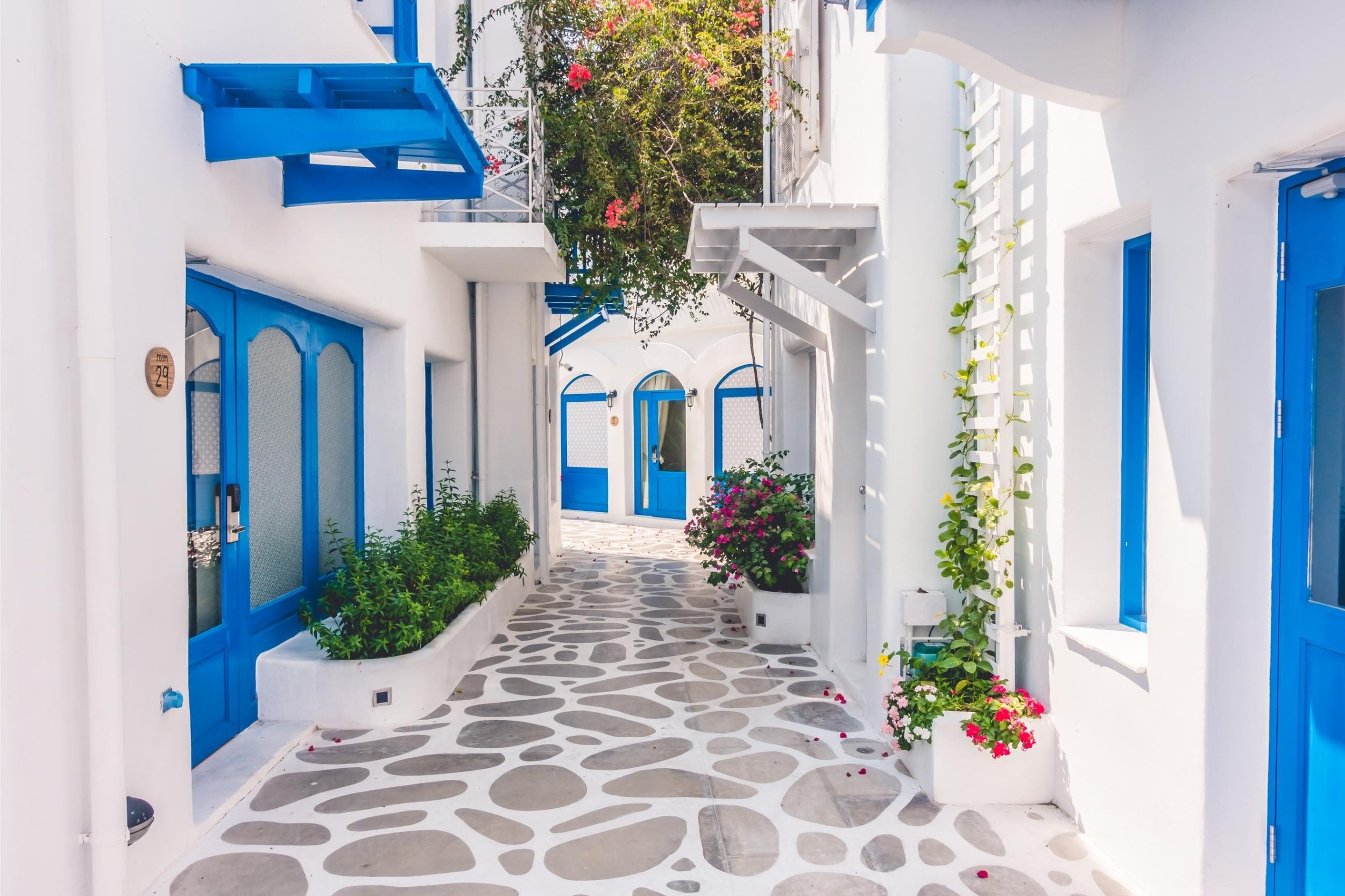 How to choose the right wedding photography service in Santorini?
When it comes to selecting the right photographer for your wedding in Santorini, there are a few key factors that you should consider. These include budget, experience level, creativity, style of photography, service quality and personality. That said I think two of the most important factors to consider are the personality and style of photography. You want to find a photographer whose style you love, and you can also get on well with. After all, I will be spending several day with you both!
When virtually meeting with potential Santorini wedding photographers, ask to see a portfolio of their previous work. This will give you a good sense of what will you get and help you decide if it is the right fit for you. Also, take the time to get to know them as a person. Ask them about themselves, their experience, and what they love about photography. See if they are someone you would feel comfortable having around on your wedding day and if they are just as passionate about your wedding photos like yourself, but with careful consideration and research, you can find the perfect fit for your style and personality.
When it comes to destination weddings, some key things to look out for include if they have ever photographed a destination wedding before. It doesn't have to be at Santorini (although it is super beneficial and please see my wedding photos from my last Santorini wedding on this link), but travelling with camera gear can be super tricky, so you want to make sure your photographer has experience doing this before.
The other big thing is making sure they have a good understanding of the culture and traditions of the place you're getting married at. This is so important, as they will be able to capture not only the essence of your wedding day, but also the unique elements that make destination weddings so special.
How Brexit affected British wedding photographers covering weddings in Europe and Santorini
And finally let's also not forget about Brexit and how it changed things for British wedding photographers. You naturally would consider a photographer based in the UK, but after Brexit they need permits to travel which means extra cost for you as your photographer will try to save money on it, so they may ask you to cover the costs.
Fortunately, I am a European citizen passport holder, so I have no issues whilst travelling and working throughout the EU.
Why should you choose me as your Santorini wedding photographer?
I am super excited and lucky to be one of the most popular destination wedding photographers in the UK. I have years of experience capturing destination weddings, and I truly understand what it takes to make your special day perfect. Whether you're planning a destination wedding on a beach or in an exotic destination, I will capture not just the essence of your wedding day, but also the unique elements that make destination weddings so special!
So, if you're looking for someone who can help make your destination wedding truly exceptional and memorable, look no further than me. With my skill and expertise as one of the top Santorini wedding photographers, I know how to perfectly capture all those beautiful moments and precious memories that you'll want to treasure forever. So don't wait any longer – contact me today, and let's talk about your wedding day
Let's Chat
If your looking for a wedding photographer and you have loved what you've seen on my portfolio then please get in touch on my form below to check my availability for your wedding day.
I do get booked quite quick and only take on a limited number of weddings a year so get in touch soon!