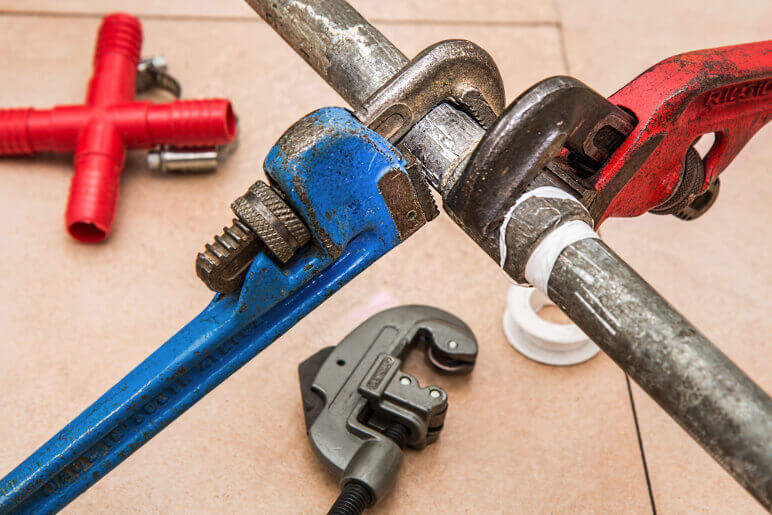 Plumbing a House From Scratch: Everything You Need to Know
Originally posted on https://royaltyplumbing.com/plumbing-a-house-from-scratch-everything-you-need-to-know/
New home constructions are on the rise. The number of new houses being constructing has risen every year for the last 5 years. There are roughly 3 million more new homes being built in a month than there were in March 2014.
With the housing market on the rise, that means that there are going to be a lot of people looking to install plumbing in their new homes. Installing brand new plumbing offers the opportunity to do it right.
When you're plumbing a house from scratch, it gives you the chance to take advantage of the latest technology and techniques. This will save you a vast amount of money, as consumers are saving around $16.2 billion each year due to efficient plumbing.
If you're looking to install plumbing in your new construction, here's what you need to know about plumbing a house from scratch.
Plumbing A House From Scratch
Plumbing has changed a lot since the turn of the century. Where pipes and plumbing fixtures used to be made from metal, today's plumbing relies on a unique blend of modern plastics and alloys, for example.
That's just one of the ways plumbing's evolved in the last 10 years. Building regulations have gotten a lot more strict. Construction materials have gotten a lot more expensive, as well, especially metals like copper.
That means a plumbing mistake can be much more costly than it used to be.
The Parts Of Your Home's Plumbing System
Plumbing systems have a lot of different moving parts and pieces. Here's a general overview of your new home's plumbing system.
Pipes
Clean water enters the pipe system at 50 – 60 psi from the water supply line. Unclean water is pulled down by gravity to exit the pipe system. Air blowing through the vents keeps the pipes clean and clear.
It's a simple and self-sustaining setup that should last the test of time if it's set up correctly.
Plumbing Fixtures
If you're installing plumbing in new construction, you're going to want to install the plumbing fixtures before finishing the interior. Tubs, sinks, and showers are much easier to install when the walls and doorways haven't been installed yet.
Once you've installed your plumbing fixtures, cover them with cardboard or plastic to keep them clean and free of dust during the remainder of the construction.
Septic Tanks and Sewer Lines
Septic tanks and sewer lines are some of the trickiest pieces of a home's plumbing system. First, you're going to need to know what size of septic tank you're going to need. This is calculated by the number of bedrooms in your new house.
Septic tanks separate solid from liquid wastes. Inside the tank, facultative and anaerobic microorganisms help break down the solid waste. This process creates gas by-products that need to be vented properly.
Already you can see that plumbing a house from scratch isn't super complicated but there are a lot of specific things you need to know. Now we're going to take a look at some things to keep in mind for your new home's plumbing system.
Things To Consider When Installing A Plumbing System
While every building project is unique, with its own logistical considerations, these are a few good rules of thumb to consider when you're ready to install your plumbing system.
Decide Where The Main Stack Will Be
The main stack is a pipe roughly 3 or 4 inches in diameter. It generally runs from the basement to the roof.
The lower part of the main stack collects waste from the toilets. The middle part collects wastewater from other plumbing fixtures. The top part is used for venting.
When you're installing the plumbing in your new home, you'll need to find a place where the main stack can run uninterruptedly.
Install Your Drains and Vents
Drain and vent pipes are usually 1 to 1.5″ in diameter. Pipes need to slant at a ¼" per foot to drain properly. Bends where the pipes join the main stack need to be smooth, not angled sharply.
Every fixture needs to have a trap beneath it. This trap catches water and prevents noxious gasses from entering the living quarters.
Each fixture needs to be vented, as well. Fixtures within 5 feet of the main stack are able to be "wet vented." This means there's enough room for both water and air to pass through.
Draw A Diagram and Get Your Permits
You're going to need a building permit to install your plumbing. This requires a plumbing diagram. A plumbing diagram details all of the drainage pipes, vents, and pipe fittings in a three-dimensional drawing.
This diagram shows all of the pipe sizes, traps, vents, and angles of connection.
The building inspector will use the diagram to ensure that the design is acceptable and the proposed construction is safe.
As you can see, there's a lot to know about installing a plumbing system. The principals are roughly the same as what the Romans used, but the specifics have gotten much more nuanced and detailed.
Looking For A Plumbing System For Your New Construction In Aurora, CO?
With over 25 years of experience installing plumbing around the Aurora area, we don't just install pipes and valves. We are installing peace of mind.
We understand that plumbing a house from scratch is an exciting journey! It's not every day you get to build the home of your dreams.
If you're ready to make sure your dream home has the latest, greatest plumbing features available, check out our new construction & remodeling services today.