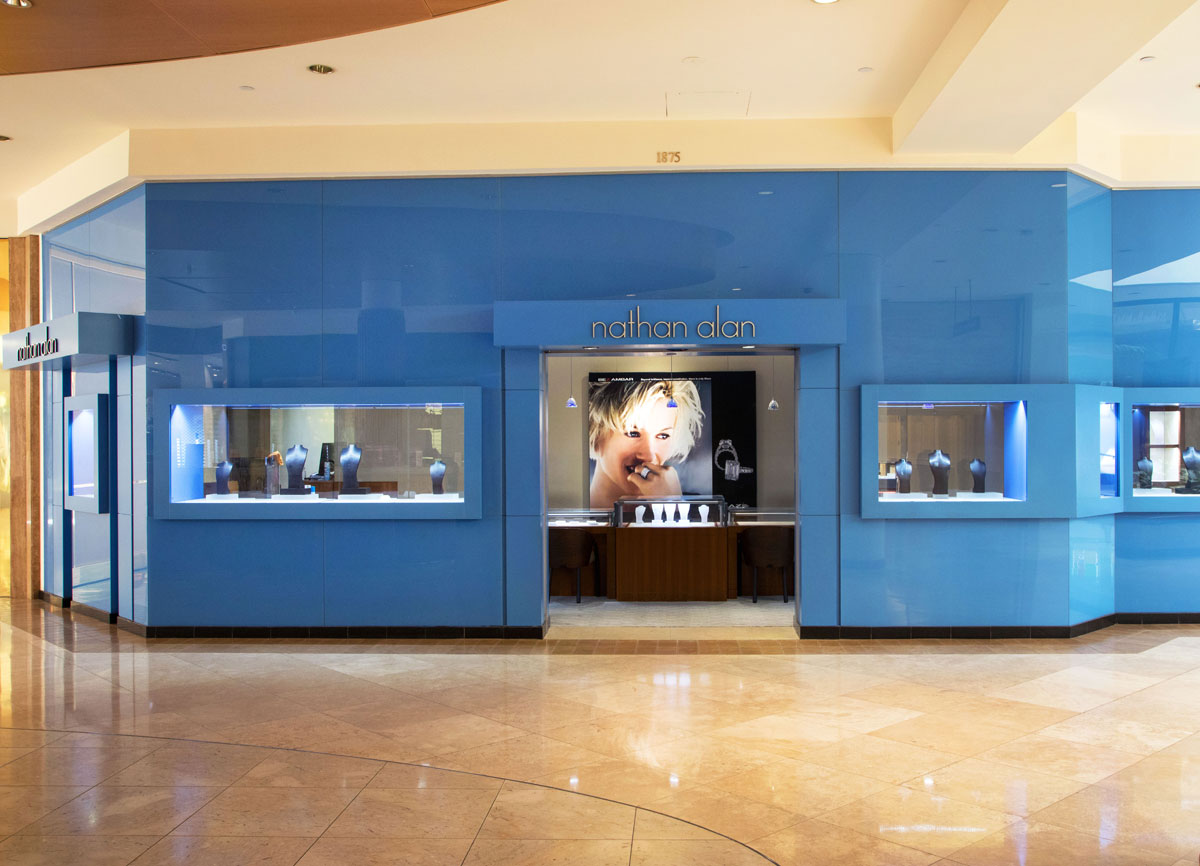 Nathan Alan Jewelers Ownership Is Pleased to Announce Its 42 Years in South Coast Plaza
FOR IMMEDIATE RELEASE
Costa Mesa, CA, June 17, 2022 — Nathan Alan Jewelers is the only independent family-owned jewelry store in South Coast Plaza, and it's well known to have competitive quality as the top international brands located there.
They have proudly established a solid and distinctive brand in Orange County. Their loyal customer testimonials and custom design referrals from Harry Winston, Tiffany, plus other global brands well support them.
You can be sure they will always emphasize providing their customers with exceptional quality, personalized service, exquisite design, and great value.
Alan Lemmerman, the owner and founder of Nathan Alan Jewelers, is celebrating 42 years as the only independent jeweler in South Coast Plaza. Alan's journey at South Coast Plaza began in 1980 with the opening of Chain Reaction, a jewelry store specializing in high-quality Italian 14 karat and 18 karat gold chains, earrings, pendants, charms, and rings. It was the first store of its kind in the country. Four years later, the store changed its name and concept to Nathan Alan Jewelers, and the specialty became diamond and gemstone fine jewelry – particularly diamond engagement rings and wedding bands. His commitment is to offer exceptional design, impeccable quality, excellent value, and outstanding customer service. Nathan Alan Jewelers and South Coast Plaza share the same vision of creating a unique and beautiful experience for their clients while maintaining their dedication to continued growth and improvement.
Since Nathan Alan Jewelers Specialized in high quality crafted custom jewelry, these are the main products:
1. Engagement rings: Express yourself and fall in love with their luxurious line of stunning engagement rings.
2. Wedding Bands: A symbol of your love, devotion, and future together.
3. Custom Design Jewelry: Built precisely the way she wants it.
There won't be any need to worry because they will be there to support you through the entire decision-making progress. To help make things easier for you and your loved one, they have put together some educational information to get you started. They proudly work with all customers within the local area, such as Newport Beach, Huntington Beach, Laguna Beach, and Irvine, and customers all over the world.
Visit https://www.nathanalanjewelers.com/ to check out all the services and their handy frequently asked questions section with the following subjects:
Types of Engagement Ring Settings
How to Choose an Engagement Ring
Custom Design Services
How We Source Our Diamonds
Lab Diamonds vs Natural Diamonds
At Nathan Alan Jewelers, they will always strive to exceed customers' expectations and remain dedicated to continued growth and improvement.
Contact Info:
Name: Alan Lemmerman
Organization: Nathan Alan Jewelers
Address: 3333 Bristol St Ste 1875 Costa Mesa, CA 92626
Phone: (714) 545-8337
Website: https://www.nathanalanjewelers.com/
Originally posted On: https://syndication.cloud/nathan-alan-jewelers-ownership-is-pleased-to-announce-its-42-years-in-south-coast-plaza/