MENTAL HEALTH TREATMENT IN BOISE, ID
Photo by Natasha Spencer
Originally Posted On: https://www.zelusrecovery.com/boise-addiction-treatment-programs/boise-dual-diagnosis-treatment-center/boise-mental-health-treatment-center/
The staggering numbers from the National Institute on Drug Abuse state that by the time an adolescent is in his or her senior year 70% will have tried alcohol and 50% will have taken an illegal drug. Many times the family is the last to know that their child is struggling with drug use. Many times mental health problems are a precursor to drug use, and often, Boise mental health treatment is the door that begins the recovery process for teens that are beginning to experiment with drugs.
TEENS AND DRUGS
Young people use drugs for a variety of reasons. Unfortunately, many teens are curious about things that they should leave alone. They may hear about drugs from others at school and decide to experiment with drugs. Some young people become addicted to drugs in a relatively short amount of time after experimenting with them. They may have more of an addictive personality or genetics that make addiction happen more quickly for them than it does for others. This leads to a downward spiral of continued drug use, poor academic performance, and sometimes other troubling behavior.
Other teens begin using drugs due to peer pressure. They may feel that they don't fit in as they are and want others to accept them. Instead of selecting a group from school that would promote positive behavior, they seem to gravitate towards those who are doing questionable things. In other words, they get in with the wrong crowd. This has been the downfall of many young people, but it's not always as simple as it sounds. Young people usually are lacking something inwardly that causes them to seek out the "wrong crowd." The need for a mental health treatment program in Boise Idaho is evident with many of these young people before they get to the point of addiction. However, many times, adults miss the signals.
Another reason some teens turn to drugs is that they are struggling with some undiagnosed mental health disorder and drugs makes them feel better. Finding a teen mental health treatment center in Boise, Idaho often helps resolve the drug addiction problem before it gets out of hand.
TEENS AND MENTAL HEALTH DISORDERS
Adolescent mental health disorders are a big problem in the United States. In fact, according to statistics, 1 in 5 teens have a serious mental health problem. This is a startling figure considering that many times teens will self medicate using drugs. Finding teens treatment for mental health disorders is the first step in bringing them to a place of health and happiness.
THE CONNECTION BETWEEN MENTAL HEALTH AND DRUG USE
Mental health disorders and substance abuse have long been connected. According to the research, approximately half of people with a mental health disorder also have a substance use disorder and vice versa. This is why it's critical to find a mental health treatment center in Boise, Idaho that also deals with substance use disorder. Treating both conditions simultaneously, referred to as dual diagnosis treatment, will yield the best results and help prevent relapse.
Certain mental health conditions tend to be more common among teens. Kathleen Ries Merikangas of the National Institute of Mental Health and colleagues examined the prevalence and severity of several mental health disorders in teens. Their findings were as follows:
Anxiety disorder was the most common (31.9 %)
Behavior disorders such as attention-deficit/hyperactivity disorder ranked second (19.1 %)
Mood disorders such as major depressive episodes (14.3 %)
Substance use disorder (11.4 %)
In addition to this finding, anxiety and depression are two of the most common mental health disorders among people of all ages. The link between anxiety or depression and substance abuse is prevalent.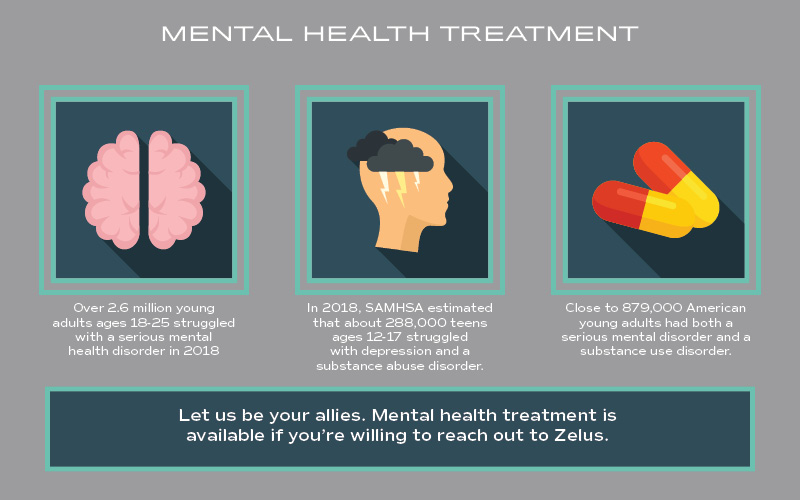 Solid direction with a fresh take on recovery.
-Jason W.
SUBSTANCE ABUSE TREATMENT CENTERS
When your teen requires treatment for mental health concerns or substance abuse, then finding the best facility for their needs is vital. You don't want to let them continue down the path they are on because their brain is developing. The sooner you reach out for help, the higher chances your teen has for a full recovery and bright future.
At a depression treatment center in Boise, Idaho, you can expect a broad range of treatment options to cater to your family's needs. Some of the program options include:
Intensive outpatient program
Outpatient program
Early intervention for adolescents
Family program
ZELUS RECOVERY
Zelus Recovery is a leader in helping families with teens break free from drug addiction. We use evidence-based modalities that go to the core of addiction behavior. With the help of professional and compassionate clinicians, therapists, and other staff members, your son or daughter can find a happy, substance-free future.
Some of our therapy programs include:
Cognitive behavioral therapy
Dialectical behavioral therapy
Family therapy
Group therapy
Individual therapy
Relationship therapy
Don't wait until addiction and mental health problems have wrecked your family life. Find help for your teen with Boise mental health treatment. Your teen can find happiness and a bright future.
CONTACT US AT 208.518.0797, AND WE'LL GET YOUR TEEN GET ON THE ROAD TO HEALING.