Mavic 3 Enterprise: The Latest Upgrade In The Mavic Series
Photo from DrDrone
Originally Posted On: https://drdrone.com/blogs/drone-news-drone-help-blog/mavic-3-enterprise-release
DJI is constantly pushing the limits of both personal and commercial drones, and its latest release is no exception.  The new Mavic 3 Enterprise Series sets new industry standards for small commercial drones, giving you a more powerful and versatile enterprise drone than ever before.  With the Mavic 3E, you'll be able to perform mapping and surveying missions with greater efficiency.  The mechanical shutter and 56x zoom camera ensure that you're always getting the clearest and finest details possible.  The RTK module provides centimeter-level accuracy to make sure that your mission goes as smoothly as possible.
The series is comprised of two drones: the Mavic 3 Enterprise and the Mavic 3 Thermal drones.  For nighttime operations, search and rescue missions, inspections, and firefighting applications, the thermal drone is an excellent and powerful resource.  You'll be able to detect hotspots, perform temperature readings, and compare side-by-side views with the DJI M3T's zoom camera.  This makes it possible to find missing persons among foliage, spot leaks, and see details no matter what the time of day.
Portable, Lightweight Design
Most DJI drones are made to be as compact and portable as possible, allowing you to easily pack the drone in a bag or backpack as you hike to remote destinations or high mountain ranges.  The Mavic 3 Enterprise Series goes above and beyond, giving you a streamlined and portable device that can be deployed while being held in just one hand.  Whether you're a new pilot or you have years of experience operating DJI drones, the M3E series will get the job done right.  This is due to its sleek, energy-saving design that enables it to stay in the air longer and perform on extended missions.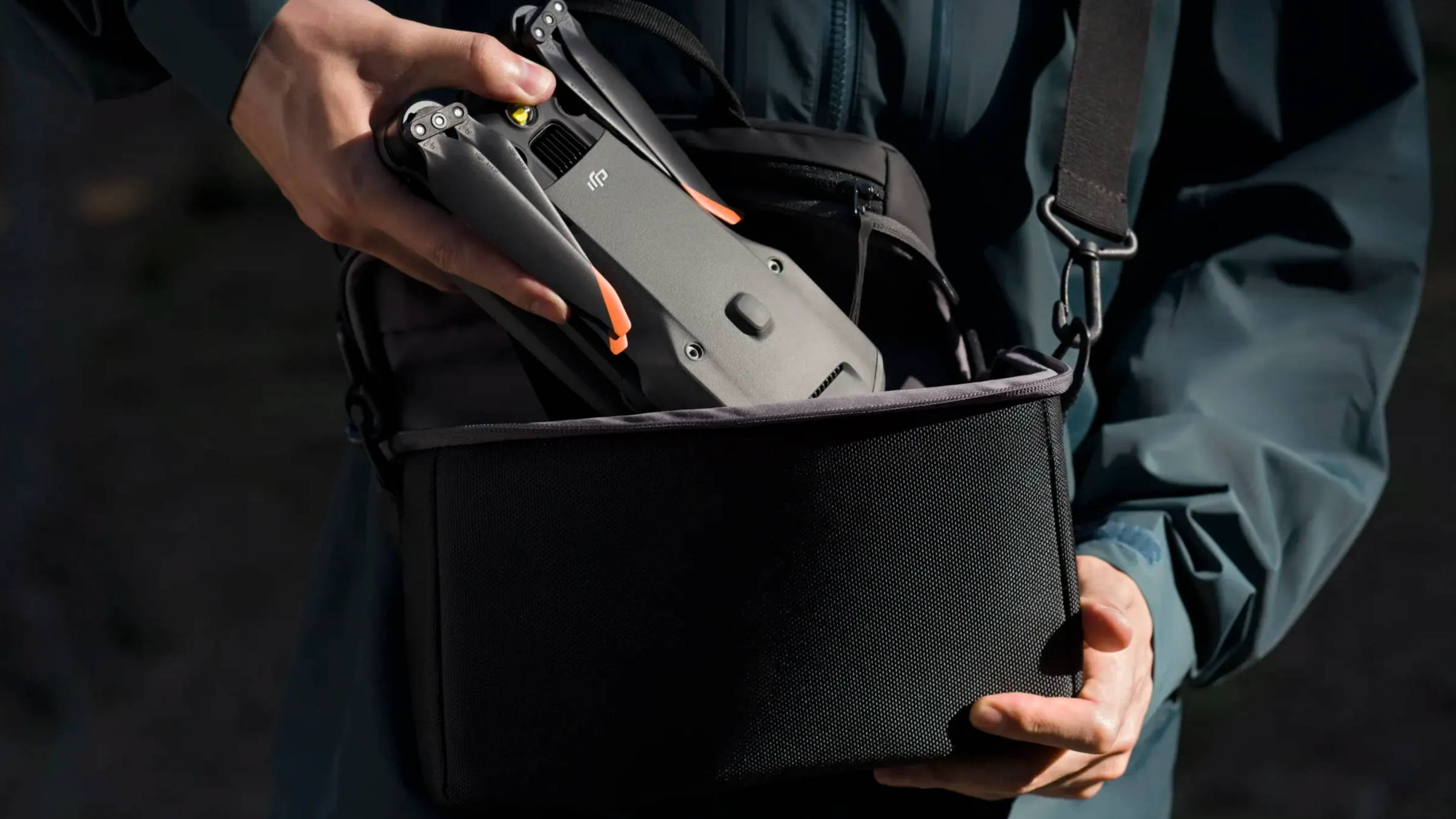 Superior Camera Performance
The Mavic 3E and Mavic 3T each come with their own distinct camera capabilities that make them suited for different visions.  With the Mavic 3E, you'll get a wide-angle, 20 MP, 4/3-inch CMOS sensor that allows you to survey with speed.  This powerful camera incorporates a mechanical shutter that will reduce motion blur and allow you to perform quick interval shooting at 0.7 seconds.  It also shoots 4K video at 130 Mbps and FHD video at 70 Mbps.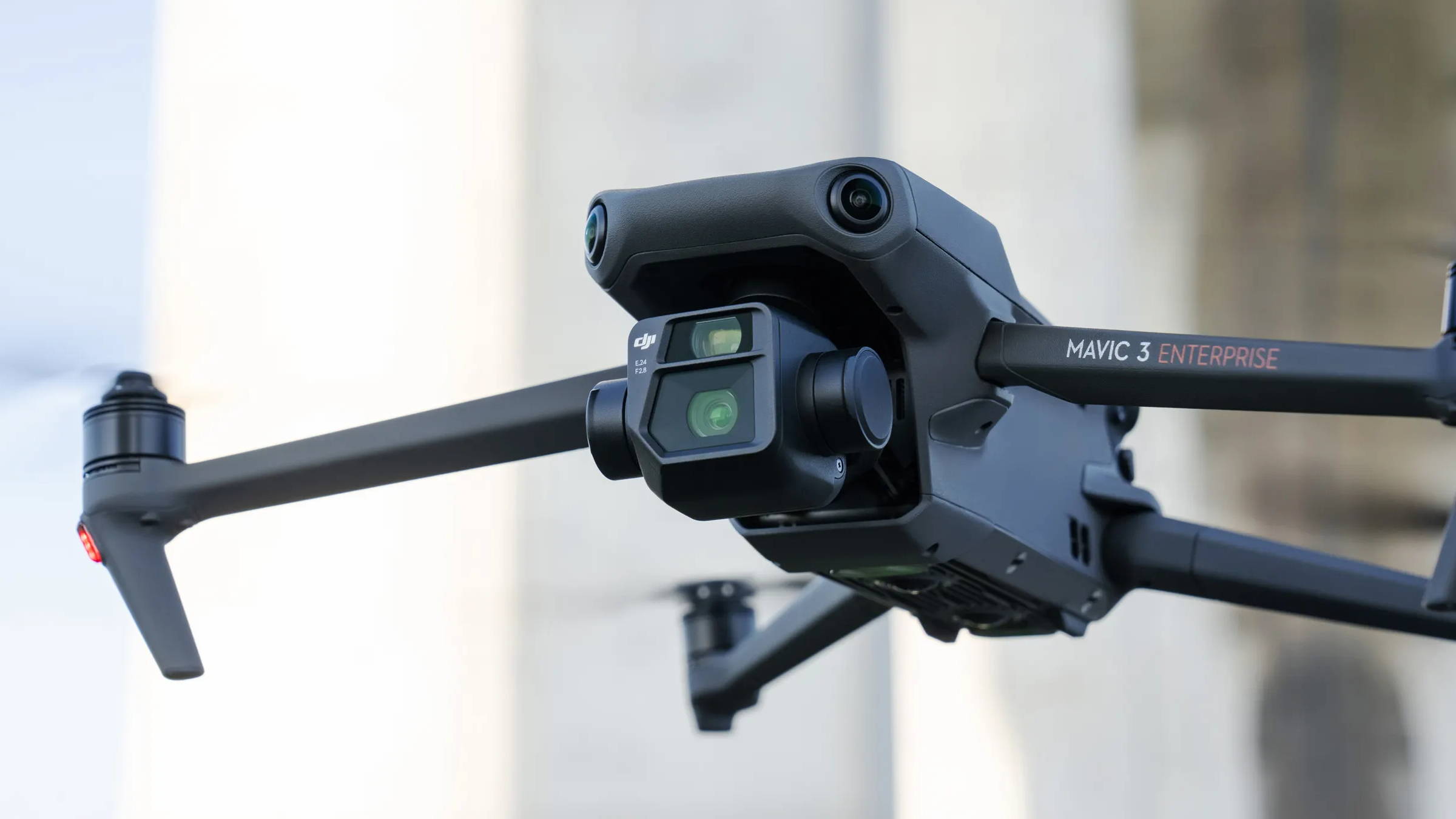 The DJI M3E also has no need for Ground Control Points thanks to its incredible feature set that enables you to perform mapping and surveying missions with more efficiency than ever before.  The DJI M3E's wide camera uses large 3.3 µm pixels in combination with an intelligent low-light mode.  This works together to give you improved low light performance, allowing you to shoot in a variety of lighting conditions no matter what time of day you're filming.  The Mavic 3E also includes a 12MP zoom camera that supports a maximum hybrid zoom of 56x, which enables you to view faraway details with ease.
The DJI M3T comes with both a thermal and zoom camera that work together to help you see the unseen.  The Mavic 3T uses a wide-angle, 48 MP 1/2-inch CMOS sensor capable of shooting 4K video at 85 Mbps and FHD video at 30 Mbps.  The dual thermal and zoom cameras of the Mavic 3T can be viewed through a simultaneous split-screen, allowing the user to perform a 28x continuous side-by-side zoom to compare thermal and regular images.
The thermal camera of the Mavic 3T has a resolution of 640 x 512 that can help you pinpoint the finer details of thermal imaging.  It uses point and area temperature measurement, high temperature alerts, color palettes, and isotherms to help the user identify targets and make split-second decisions.  When using the DJI M3T for firefighting applications, the ability to make decisions in the moment based on critical information can be the difference between life and death.
Safety Features
The Mavic 3 Enterprise Series comes with omnidirectional sensing that makes your flight safer than ever before. Each side is equipped with wide-angle lenses that allow you to avoid obstacles in any direction without any blind spots. You can even adjust the braking distance and proximity warnings to fit the needs of your specific flight. If you want to give objects a wider berth or enable the DJI M3E to fly even closer, the drone allows you to customize it to your exact specifications.
The Mavic 3 Enterprise Series also comes with Advanced RTH, a smart safety feature that automatically detects the best path home for the drone. This enables you to save time, effort, and resources in the event that you need to make a quick getaway in the middle of a flight. And, with the use of APAS 5.0, you can even automatically reroute around obstacles. All of these safety features combine to make your flight as seamless and worry-free as possible.
Fly Further And Longer Than Before
With the DJI M3E series, you can fly the drone further and longer than ever before. The Mavic 3 Enterprise Series has a max transmission distance of 15 km, allowing you to expand your mission to fit your needs. Thanks to the quad-antenna O3 Enterprise Transmission, you'll have an even more reliable connection in a variety of complex situations. This means that if you're flying in a city with a lot of interfering signals, you won't have to worry about losing communication or view of the drone.
It has a highly improved flight time of 45 minutes, a staggering upgrade from most other DJI drones and enterprise drones on the market. This allows you to survey up to 2 square kilometers in only a single trip, which greatly increases the amount of ground you can cover during your mission. To keep your drone in the air for longer, you can directly charge the drone with 88W fast charging batteries. You can also use a 100W charging hub to quickly charge the batteries and get back in the air as soon as possible.
Accessories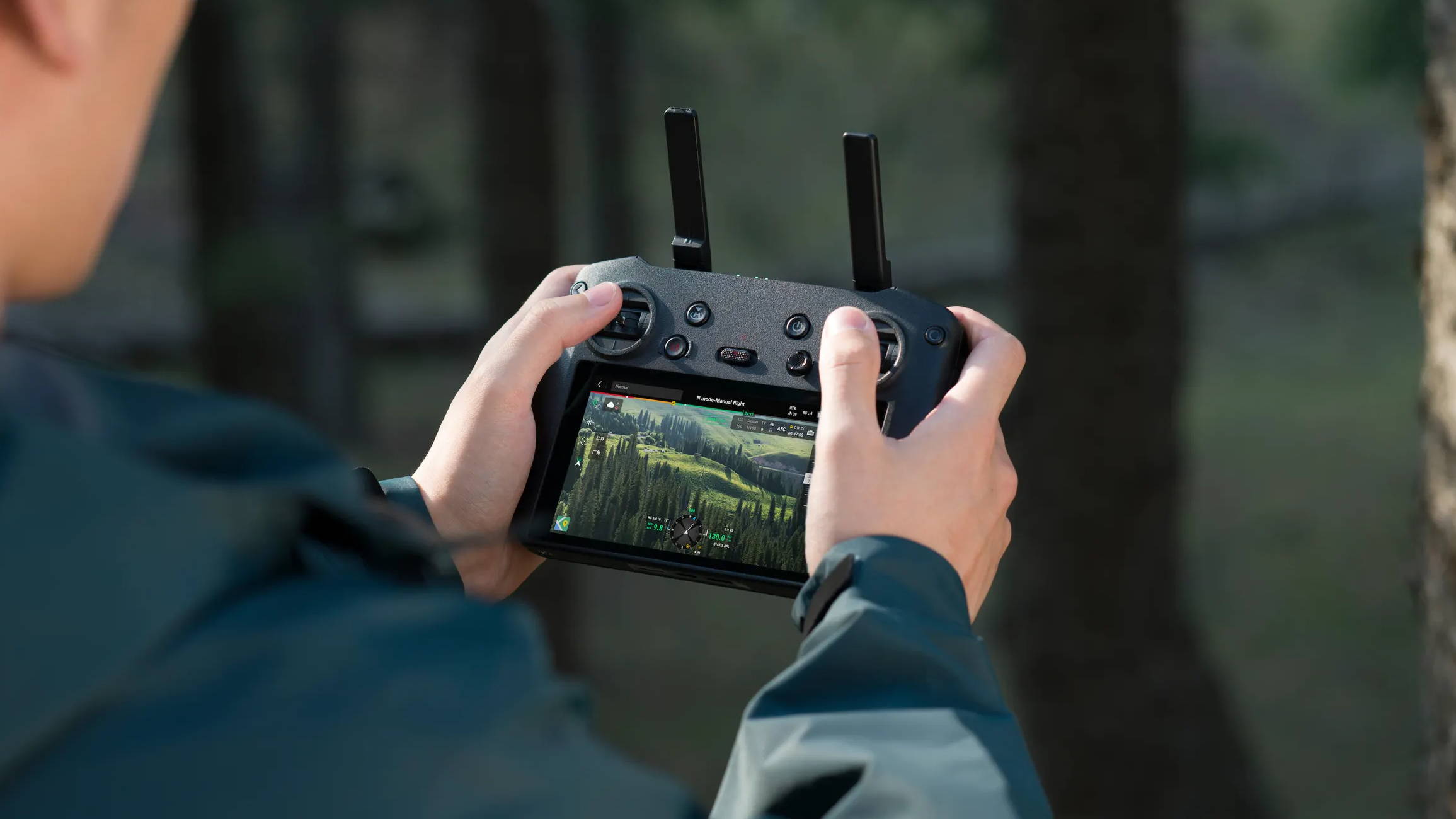 DJI RC Pro Enterprise
The Mavic 3 Enterprise Series comes with a new, portable remote control that's designed to make your mission as easy as possible. It has a 1.5-hour 65 W quick charge, so that you'll be sure to last throughout the mission even after swapping out the fast charging batteries. The remote also has a built-in microphone that enables excellent communication with the drone via the optional loudspeaker accessory. Lastly, the 1,000-nit high brightness screen gives you great visibility even in direct sunlight. With the DJI RC Pro Enterprise, piloting the M3E will be like an extension of yourself.
RTK Module
Precision is key when it comes to flying an enterprise drone. With the RTK module, you'll be able to achieve centimeter-level precision. This means that your surveying or mapping missions will be as accurate as possible, saving you from making costly errors during your mission. You'll also receive support for network RTK, customized network RTK services, and a D-RTK 2 Mobile Station to make your flight easier than ever before.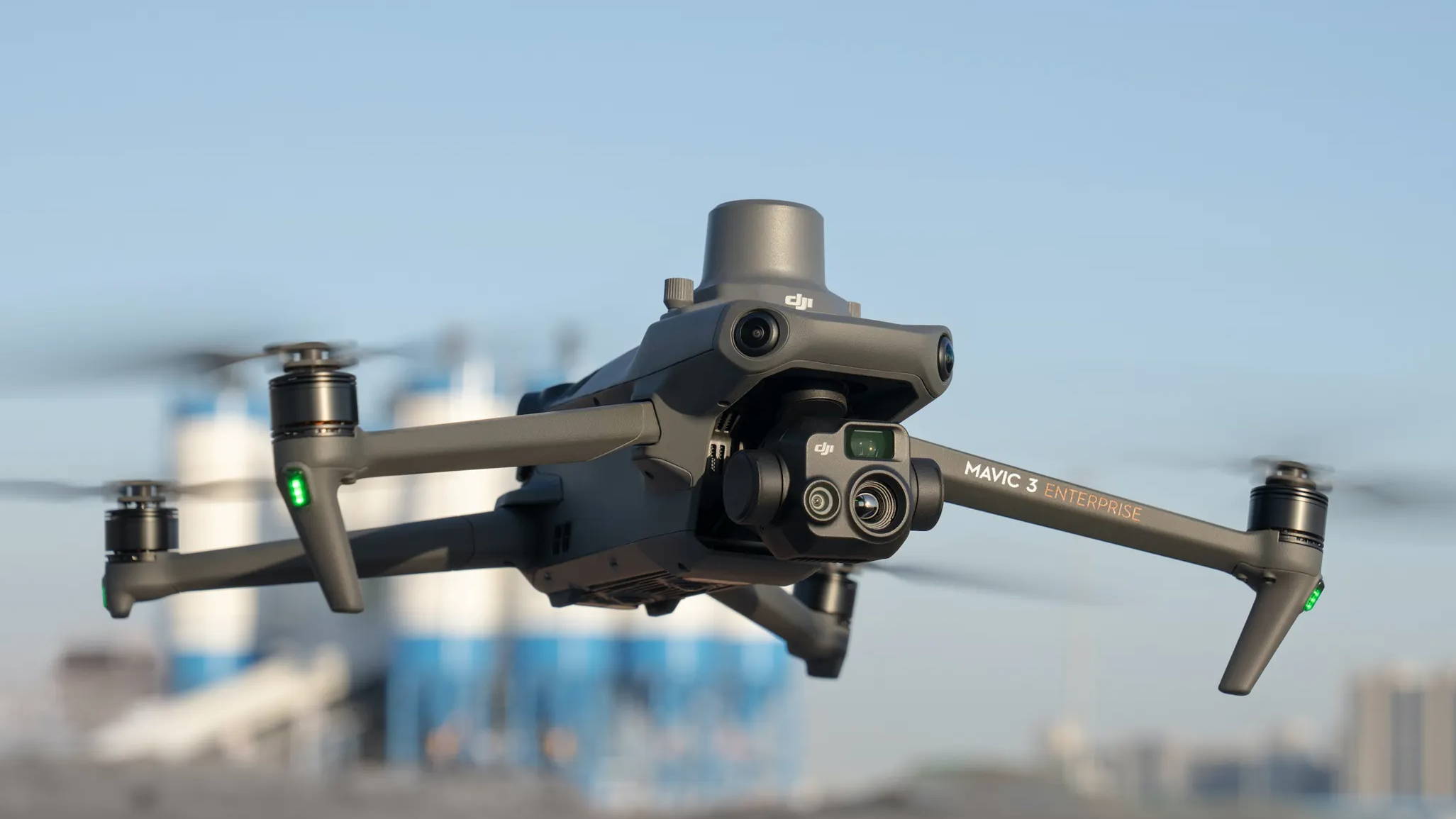 Loudspeaker
Sometimes you need to use a drone to perform a search and rescue mission or help guide people after a natural disaster. For these missions, a loudspeaker accessory will help you greatly increase the effectiveness of your mission by allowing you to speak directly through the drone. With the loudspeaker, you can broadcast your message from the skies using the built-in microphone of the DJI RC Pro Enterprise. You can also use text-to-speech, audio storage, and looping to make it even easier to broadcast messages and pilot the drone at the same time.
Full Software Suite
The Mavic 3 Enterprise Series comes with a full software suite of tools that help you perform various surveying, mapping, and firefighting missions.
DJI Terra
For any type of mapping mission, DJI Terra is an excellent tool that works as a completely functional mapping software. You can use DJI Terra to perform anything from mission planning to the processing of 2D and 3D models, giving you a reliable map of the terrain that you can use for your mission.
DJI Pilot 2
The upgraded DJI Pilot 2 app has a redesigned Enterprise flight interface that allows for a safer flight and a more productive pilot. You can conveniently access the controls for the drone and the payload with only a single tap, reducing the amount of time it takes to make a split-second decision. The user experience is made even greater thanks to the clear presentation of flight information and navigational data, as well as the support for a variety of different types of routes.
DJI Flighthub 2
With DJI Flighthub 2, you'll have an all-in-one management of your fleet's drone operations, based solely in the cloud. This tool has support for real-time annotations and cloud mapping, which makes for a seamless ground-to-cloud synergy that will support your mission. DJI Flighthub 2 enables mission management and route planning to help you handle any type of inspection with ease.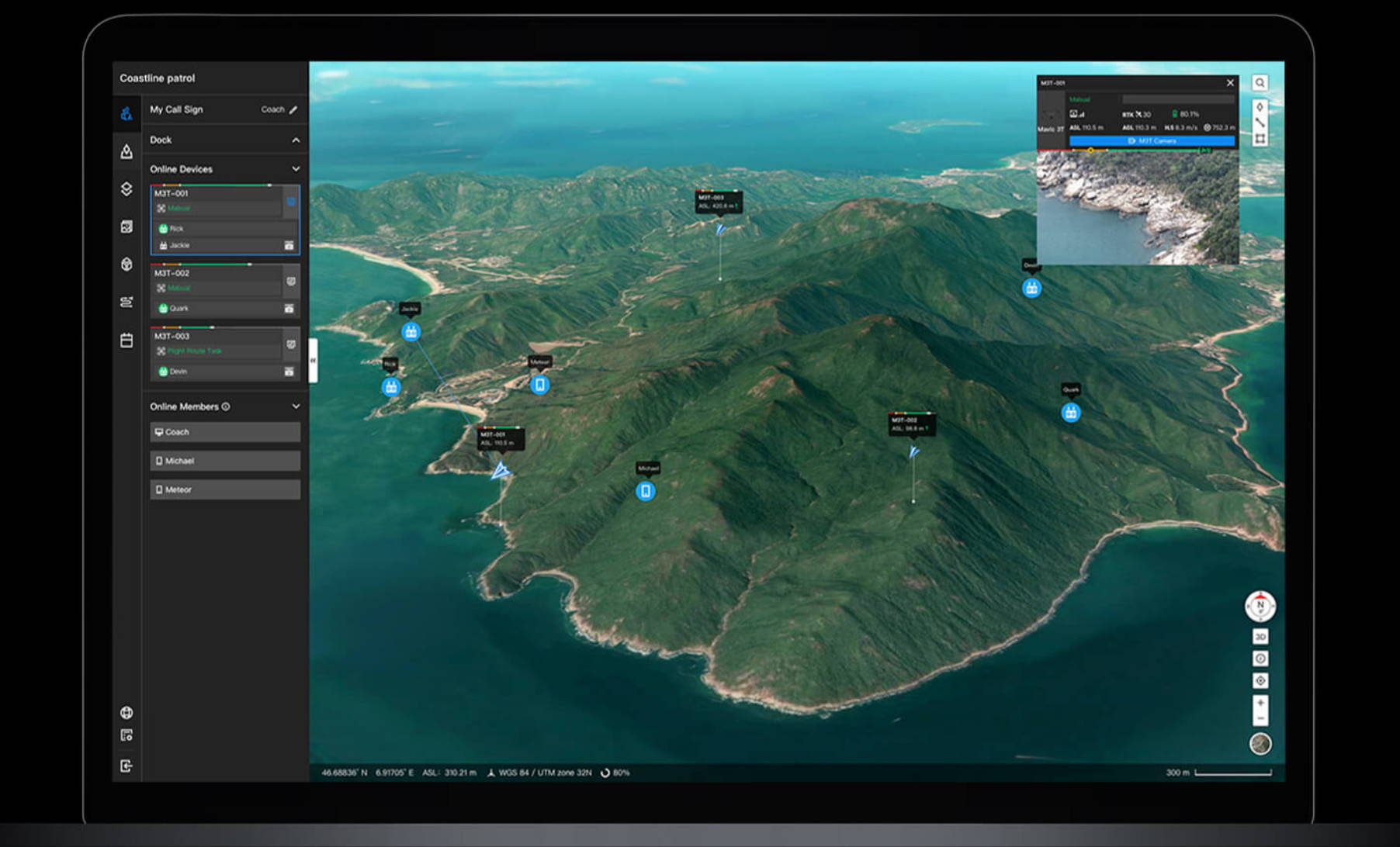 Open Developer Ecosystem
Cloud API
Using DJI Pilot 2's built-in MQTT-based protocols in the DJI Cloud API, you can connect the DJI M3E series directly to third-party cloud systems without needing to develop an app. This allows you to perform a series of functions including accessing hardware, streaming video, and accessing photo data with ease.
PSDK
There's also an interface called PSDK, which allows you to expand the capabilities of the DJI M3E series to include using devices from outside sources. With this ability, there's no limit to the scope of the missions you can accomplish.
MSDK
Mobile SDK 5 makes it even simpler to develop apps with the Mavic 3 Enterprise Series. You'll find the main DJI Pilot 2 components included in the Mobile SDK 5's production code samples. These samples are completely open source, allowing you to use them however you like in the app development process.
DJI M3E Vs. DJI M3T: Which Is Right For You?
The Mavic 3 Enterprise Series is certainly a step up from previous DJI drones in the Mavic line. With a flight time of 45 minutes and fast charging batteries, you'll be able to stay up in the air long enough to perform almost any mission. The powerful camera on the Mavic 3E will allow you to capture crystal clear imagery and perform mapping and surveying missions with ease. The host of software tools is useful for numerous missions, giving you one of the most versatile drones available anywhere.
As a thermal drone, the Mavic 3T is best suited for nighttime missions, search and rescue operations, firefighting, and inspections. Its side-by-side comparison allows you to compare heat signatures with visual data, giving you greater flexibility in your mission. For mapping and surveillance projects, the Mavic 3E is a powerful tool that eliminates shutter blur and other inaccuracies. Both drones are perfect for commercial purposes, so choose the one that best fits the needs of your mission. With one of the drones in the Mavic 3 Enterprise Series at your side, you can't go wrong