Kids Love Turkey: Family Vacation
Originally posted on https://travelatelier.com/destination/turkey/kids-love-family-vacation/
How's and Why's…
Did you know that Turkey is one of only five countries in the world that spans two continents? The vast majority of Turkey is in Asia and a small western portion is in Europe.
The division is so exact that two Turkish cities also span the two continents. The well-known port city of Istanbul and the lesser-known Canakkale city.
Turkey is rich in culture and history and there is a lot to do in this incredible country. Various political entities controlled Turkey at different points throughout history, and each one left its mark on the country.
Visiting Turkey is no easy feat. There is so much to see and do that it can be overwhelming. Additionally, travelers will want time to soak in and digest what they are seeing and learning. You might think that kids would have trouble appreciating a country like Turkey, but believe us when we say they will love this vacation.
Here are a few ideas of what to do with kids in this amazing country.
1. Istanbul
First stop Istanbul, Turkey's largest city. With over 13 million people, this one city nearly 20% of Turkey's population lives here. This means, of course, that there is plenty to see and do. Check it out!
Rahmi Koc Museum
Do you have a child who loves trains, planes, automobiles and anything else that locomotes? Then don't miss the incredible Rahmi Koc Museum. This is the first museum in Turkey that teaches visitors all about transportation, communication, and industry.
Your kids will love the chance to check out a real submarine, enter the cockpits of old military planes, and check out old trams and vintage cars. Plus, they'll get to participate in science experiments.
When you get hungry, simply grab lunch at one of the two on-site restaurants.
Jurassic Land
Is your kid into dinosaurs? There are few who wouldn't be enamored with this exciting attraction. Enjoy the exquisite models that bring extinct dinosaurs to life before your eyes.
Check out the interactive displays and enjoy the 4D cinemas. Take part in an excavation workshop and any number of other exciting dinosaur-related activities.

Toy Museum
What child wouldn't love to check out a toy museum? Istanbul's Toy Museum brings toys from all over the world and from different time periods to one enchanting place.
The exhibits are sorted by themes so you can easily find your favorite section. Of course, all the exhibits are so interesting you may have a hard time deciding on a favorite.
Legoland
Are you always stepping on those surprisingly sharp little Lego bricks that your kids leave lying around the house? Take them to a life-size Legoland and they'll think they've died and gone to heaven.
There are hours of fun for children of all ages in this exciting attraction. The littlest kids will love playing at the Lego DUPLO farm. Bigger kids will enjoy the rides in Kingdom Quest. Everyone will enjoy kicking back at the 4D Lego cinema. Take a guided tour of the Lego factory and be amazed at Miniland, a place built out of Legos.

2. Cappadocia
Cappadocia is a small area with an unusual landscape and plenty of interesting things to see. The area is rife with natural pinnacles, mushrooms, and other strange formations. Many of the homes and villages were carved out of the soft stone and the area has a long and rich history.
Stay in a Cave Hotel
To get a real feel for life in Cappadocia, you have to stay in a cave hotel. Admittedly, the accommodations are much nicer than in years past, but your kids will LOVE such a novel place to stay.

Hot Air Balloon Ride
Soar high above Cappadocia for a bird's eye view of an unforgettable landscape. You'll have to get up early, but the experience is well worth it. Don't forget your camera!
3. Eskisehir
Eskisehir is an interesting area just a few hours from Istanbul. Archaeological evidence shows that some areas date back to at least 3000 BC, if not earlier.
Fairytale Castle
A big attraction in Eskisehir is the Science, Arts, and Culture Park which houses the Fairytale Castle that kids will love. In the castle, children can watch their favorite fairy tale characters come to life and enjoy a variety of fun games, playgrounds, and playgroups.
The park also holds a number of interesting attractions. Pretend to discover America aboard a life-size replica of the Santa Maria, one of Columbus' three ships. Don't miss the planetarium where even adults are amazed by the grandeur of outer space.
4. Alacati
Need to add some beach to your vacation? Head to Alacati. The area is full of quaint old stone houses and has a rich history of wine-making. Your kids might not enjoy a glass of wine, but there's nothing that says you can't!

Watersports
Older kids will love to head out on the bay for some fun watersports. The conditions are perfect for windsurfing and sailing. The crystal clear waters also make for great swimming and snorkeling.
5. Kas, Antalya
If you're looking for even more water activities, head to Kas, Antalya. Here you can go kayaking, diving, and "coasteering". If you've never heard of the latter it is an adventurous trek along the coast involving rock climbing, cliff jumping, and swimming.

6. Bodrum
After all the excitement, Bodrum is a nice place to wind down and just enjoy the beach. Check out the formidable medieval castle guarding the bay. Don't miss the incredible Bodrum Museum of Underwater Archaeology that the castle now houses.
Older kids will love to scuba dive amongst the caves, reefs, and other impressive rock formations. Littler kids will enjoy swimming in the calm, clear water.

Visiting Turkey in Style
Have you been putting off visiting Turkey until your kids are older because you thought they wouldn't enjoy it? Never fear, Turkey is full of attractions that will be sure to keep your kids' attention. Take this list for example — and it's nowhere near complete.
Ready to go on an exciting visit to this ancient land? Don't miss out on the best excursions, lodging, attractions, or anything else. Feel free to spend some time on the TravelAtelier blog to learn everything you'll need to know before your trip.
Take things one step further and take a moment to contact us. We'll help you book private tours, pick out the perfect luxury hotel, and make sure your vacation is one to remember.
Message from the Founders: Pinar & Murat
We did love to travel when we were single. Then, we loved traveling with the family, but we love the vacations in Turkey more now with our kids…
Unlike the luxury vacations you had before (if not yet; continue reading) it's going to demand a lot of you. You've got to be ON all the time and you've got to plan and we are here to assist you in this matter. You've got to rest when you want to go and go when you want to rest…
But here is the payoff; it is special -like parenthood itself. Family vacations are great because you collect precious moments while most of us more collect things in our daily lives.
Having our own and traveling with them all the time we can assure you that; Kids love Turkey!
We design family vacations considering the children age group, interests and their physical besides psychological conditions. When children are happy parents are happy and the key is to keep them busy when they need and let them rest on time to digest all those unfamiliar new images, sounds, tastes of the traveled destination. We know about the practical tips for traveling with infants, preschoolers, and even teens! So there is no need to leave them home with grandparents.


When you plan the daily excursions according to their short attention span, include fun activities in your itinerary for them like pottery making workshops, glass blowing sessions etc., organize your flight and touring times according to their own pace and know about the best places to eat out with children; your travel becomes a success and remembered for a lifetime by all the family members.
It can be very stressful for the parents to end up in quiet, adults -only or adults-focused hotel full of with only romantic couples while yours are running around… Even you may find yourself arguing with a stranger because of your kid's attitude while they are having great fun and enjoying their travel!
There are lots of kid-friendly hotels in Turkey with all styles and price ranges and we simply know them well.


How about a blue cruise (a gulet holiday) with your infants and/or kids?
If you have not experienced a private gulet cruise before you may be hesitant about it but we did.
Gulet holidays are perfect for children. Let us give you a sincere introduction to it…
After we founded Travel Atelier, we (Pinar & Murat) realized that spending the summer vacation on board makes life much easier, stress-free and more fun. We have chartered different boats with our parents, friends, and colleagues since 2008 and mostly average kid ages were ranging from 5 months to 20 years. This makes it over 10 times and all of them were excellent trips that made us hard to leave the boat and dream about the next season already.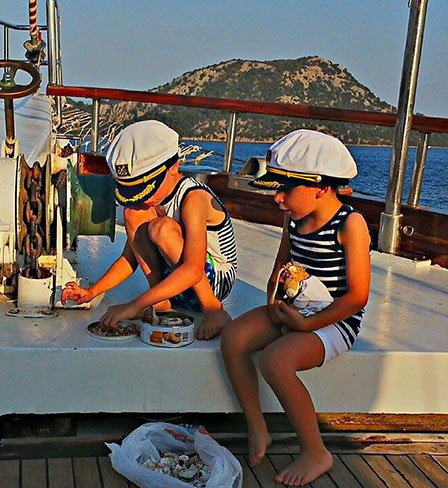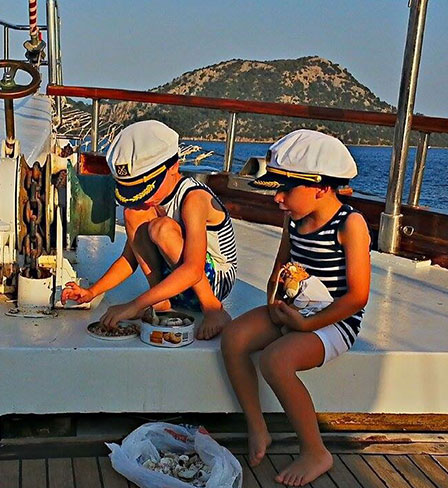 Here we have listed only a few more "Why"
When you charter the yacht on your own:
Since it is all yours, you don't have to worry about the noise and while there are proper hours, meal times are not strict.
Leave your possessing on the deck.
You don't have to pack and unpack all the time.
Let yourself some relaxing time. No make-up, no shoes, nothing to worry about and no nightmares of getting ready for something. You are always ready to do something: like swimming, reading books, enjoying your Martini or whatever you want.
Since kids will get tired much faster on the water and while they will be enjoying a nap on the deck; you can play card games, backgammon (learn this popular Turkish game before arrival) and more of relaxing.
It is totally safe. It is actually safer than most pool adventures sailing on the calm water and swimming with life jackets.