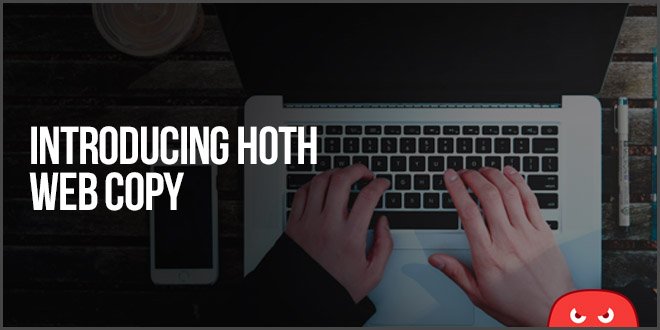 Introducing HOTH Web Copy: High-Quality Content For Your Website
Photo From The HOTH
Originally Posted On: https://www.thehoth.com/blog/hoth-web-copy/
Do you need help writing the pages of your website?
Getting quality content isn't always easy, but today we're going to fix that for you.
With our new product HOTH Web Copy, our mission is to provide you with exceptionally written, conversion-focused content for the pages of your website.
We rolled out the beta version of this product a few months ago, and the initial feedback has been amazing.
Today, we are publicly rolling out HOTH Web Copy.
What Is Web Copy?
Web Copy is the content that lives on your website to tell the world about you, your products, and your services.
This includes:
Homepage Content
About Page content
Service Page Sales Copy
Local Service Page Sales Copy
Product Page Sales Copy
Product Descriptions For E-Commerce
And more
For each of these page types, we have created specific standards for the structure, formatting, and writing of each. This means you'll get a consistent product every time.
Do you need content for a page we don't have listed? No problem! You can choose "Other" on our order form and our writers will work with you to create the page you need.
We have introduced several new features to improve the process and create a more user-friendly experience for you.
New Web Copy Package Options
You'll notice that we have 3 types of options when it comes to ordering Web Copy to make sure you get exactly what you're looking for.
Here are the 3 package types you can choose from:
Web Copy
Use this option if you'd just like us to just create the content. Our team of writers will craft quality content for the pages of your site. You'll be able to review, edit, or send back for revisions.
HOTH Optimization Only
This service was originally called "HOTH Onpage" and has now been integrated into Web Copy. Use this option if you'd just like us to keyword research & optimization suggestions. We'll send you a report for your pages that will help you determine the best keywords to optimize your page for, plus natural optimization for each element of your page including Title tags, Meta Descriptions, H1s, and Alt Image Texts.
Web Copy + HOTH Optimization
Use this option if you'd like both writing & optimization suggestions. Our writers will create written content for your site, plus an optimization report for any of the pages you've ordered with us.
User-Friendly Platform
Creating a user-friendly ordering process was a top priority of ours.
We've introduced several improvements to the new platform to make placing and tracking your Web Copy orders as easy and efficient as possible.
Here is what you get with our new platform:
A more streamlined order form to guide you through the process
An improved tracking system so you can check in on the progress of your order
The ability to review, approve or reject an order right from your account
Leave comments for our writers or choose to attach files when you send your order back to the writer for revisions
We wanted to make this process as straightforward as possible. We hope you like the new improvements to our system!
We're Here to HOTH You
We've worked hard the last few months to bring this product public and we're excited to help you scale up your website and get more traffic & sales!
We hope you like the newest version of Web Copy as much as we do.
Check out HOTH Web Copy here.
Share your thoughts with us in the comments below–we'd love to hear your feedback!