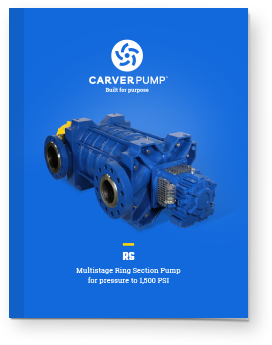 7 Facts About Boiler Feed Pumps And How Finding The Right One Can Ensure Efficiency For Your Boiler System
Photo From Carver Pump Company
Originally Posted On: https://www.carverpump.com/7-facts-about-boiler-feed-pumps/
Boilers are essential vessels that have numerous industrial and residential purposes. Their main purpose is to produce steam.
For boilers to produce steam, they first need feedwater. Boiler feed pumps transport the feedwater at high pressure from the deaerator tank to the boiler. It's a crucial component of the whole boiler system.
Here are some interesting facts about boiler feedwater pumps:
1. There are two main styles of pumps for boiler feedwater service, and they can easily be differentiated by the position of its shaft.
Most boiler feedwater pumps are multistage. Multiple impellers are used in series to generate the high pressures necessary to feed the boiler. Sometimes referred to as Between-Bearing Pumps (BB Pumps), bearings on each end support the shaft of the pump. The impellers are in between the bearings.
There are two main styles for these multistage pumps: vertical and horizontal. The classification is based on the orientation of their shafts. Both pumps are radially split and have a casing that features a vertical joint relative to the shaft.
A significant difference between these types of boiler feedwater pumps is the pressures that they can generate. The horizontal pumps are heavy-duty pumps made from cast parts. Whereas, vertical pumps are made from stamped stainless steel. Use vertical multistage pumps for pressures up to 900ft. For anything above that, a horizontal pump is preferred.
It is easier to work on horizontal boiler feed pumps than vertical ones. Despite being bigger and heavier than the latter, changes in ball bearings and mechanical seal can be done with the pump in place. A spacer coupling is used to provide space for any maintenance work on the pump. Operators save time from having to re-align the pump regularly.
Carver Pump's RS boiler feed pump is a horizontal multistage ring section pump. It is an all-around pump that's designed for moderate to high-pressure pumping. It's most suitable for the most demanding industrial and process applications.
The RS has 17-4 PH stainless steel shafts, 0-ring sealed casing and interstages, and Class 300 ANSI R.F. inlet flange and Class 600 or 900 ANSI R.F. discharge flanges.
It's hydraulic performance can reach flows of up to 2,000 GPM and heads to 3,400 ft. TDH.
Its angular contact ball bearings are oil-lubricated, and designed to handle axial thrusts in both directions.
Its casings can be made from ductile iron or duplex stainless steel.
On the other hand, vertical boiler feed pumps can be used for applications with a limited surface area. The net positive suction head (NPSH) can be altered easily; thereby, making this type of pump flexible for many applications.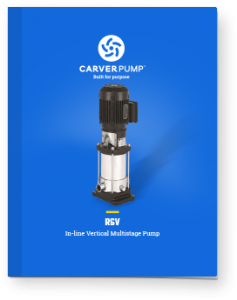 Carver Pump's RSV boiler feed pump is its in-line vertical pump that's ideal for general purpose and high-pressure applications. Designed to take up a small amount of installation footprint, it's highly adaptable to various systems. Its design makes it versatile for a wide range of applications.
The RSV has hydraulic flows up to 400 GPM and 830 ft. TDH. It also has ANSI R.F. flanges that ensure no leakages.
Its constructed with high-grade stainless steel; from its outer casing to its impeller and its shaft.
Plus, optional piping connections are available that allow for flexibility to your operation's needs.
2. Boiler Feed Pumps are designed to handle the amount of pressure your operation needs.
Boiler feedwater pumps transport water into boilers using high pressure. Thus, a boiler feed pump is built to handle extremely high water pressure to deliver the feedwater into the boiler system.
Generally, a boiler feed pump can handle the pressure of up to 100 bar. In most cases, there is a required pressure for the purpose of your boiler's operation. It is essential that your chosen boiler feed pump can handle that requirement.
Carver Pump's in-line vertical pump, the RSV, can handle high-pressure requirements for applications such as boiler feed operations, sprinkler systems, washdown systems, filtration, and water treatment plant operations.
The RS, a horizontal multistage ring section pump, can handle pressures of up to 100 bar or 1,500 psig. Aside from boiler feed applications, it can handle operations for agricultural irrigation, desalination and reverse osmosis, pressure boosting systems, natural gas processing systems, and paper mill shower water.
3. Boiler Feed Pumps handle high temperatures.
Boilers produce steam. Pumps used to pump boiler feedwater regularly seed 230 °F water, but may see temperatures all the way up to 400 °F depending on the boiler's requirements.
In steam production, the feedwater is turned into steam at 212 ºF (100 ºC) in atmospheric pressure. However, in boilers, the feedwater needs 225 ºF (107.22 ºC) to 250 ºF (121.11 ºC). Boiler feed pumps need to tolerate the maximum temperature and more to accommodate a sudden increase in temperature.
The RS can handle temperatures from -20 °F (-28.88 ºC) to 350 °F (176.67 ºC). While the RSV handles temperatures of up to 250° F (121.11 ° C).
4. Just like the rest of the boiler system, boiler feed pumps also require maintenance.
Changes in temperature, pressure, flow rate, and even feedwater quality can affect the boiler feed pump. Proper pump maintenance is crucial to ensure its good working condition and extend its life.
Maintenance includes monitoring vibration, monitoring bearing temperatures, and making sure the oil is of good quality. Various companies have different maintenance protocols when it comes to their boiler feed pumps. If you would like your boiler system to work harmoniously, you need to also maintain your boiler feed pumps properly.
5. Choosing the right boiler feed pump requires a lot of calculations.
Not all boiler feed pumps are created equally. For the boiler system to function efficiently, the boiler feed pump must be a suitable fit. That's why it's essential that when you start purchasing your boiler, you also need to choose your boiler feed pump as well.
When it comes to choosing your boiler feed pump, you need to compute for its total flow rate, total dynamic head, net positive suction head available (NPSHa), and net positive suction head required (NPSHr). All of these are connected to your boiler, feedwater, and the whole operation.
When selecting a pump, you can use a pump selection tool. Have a conversation with the pump manufacturer before sizing to discuss your conditions of service. Often a pump is sized for its maximum flow rate rather than where it will run the majority of the time. A short conversation with a pump expert could save you a lot of money down the road in energy savings, maintenance, and uptime.
There are 17 steps in choosing the right boiler feed pump. Understanding these steps can guarantee you better decision-making when it comes to finding the right pump.
6. Specifying your boiler feed pump should be done at the same time you choose your boiler and deaerator.
When you assemble the boiler system, it's best to select your boiler, boiler feed pump, and deaerator at the same time. The key to making your boiler system productive and efficient is to find the right parts that fit well together.
A deaerator removes the oxygen and other gases from your feedwater. Removing these gases in the liquid purifies the water, leading to longer boiler life.
There are many considerations in getting the right feedwater pump as there are many types of boiler feed pumps to choose from. You need to consider the size and type of pump. All of these should be taken into account when selecting your boiler because there are calculations necessary to correctly select the correct centrifugal pump for your system.
Carver Pump's RS and RSV boiler feed pumps can be sized to suit your needs. The RS multistage, ring section pump has seven basic sizes and can be built up to 18 stages to meet your specific application. The RSV in-line vertical multistage is available in nine sizes and up to 29 stages
7. Water quality is also a consideration when purchasing a boiler feed pump.
The quality of feedwater is also crucial when you are selecting your boiler feed pumps. Any type of chemical reaction from the boiler feed water to the pump can affect the boiler system.
In some cases, chemical additives are added to the feedwater. The additives could have an effect on the construction material of the pump. Even a low concentration of chemicals, relative to the rest of the liquid in a system, can have damaging effects if added all at one time, and directly before the pump. It could corrode or add unnecessary wear and tear to the pump, which could shorten its product lifetime. Knowing these elements can help you decide whether you need a stainless steel pump or an iron pump.
Choosing the right boiler feed pump can help make your operation run smoothly.
Understanding these interesting facts about boiler feed water pumps helps you appreciate its role in the whole boiler system. The value of a boiler feed pump is equivalent to a body's heart. Without it, feed water cannot be injected into the boiler and produce steam.
Because of its crucial role in the system, it's clear that you need to get boiler feed pumps from trusted manufacturers. You need to get high-quality pumps from reliable and quality-certified manufacturers to make sure your boiler runs efficiently.
Overall, a good boiler system is a result of a cohesive working function of all of its parts. If a boiler feed pump fulfills its purpose effectively with good efficiency, then your boiler system is in good hands.
Carver Pump delivers high-quality boiler feed pumps that can meet demanding engineering specifications in the world. It has built a reputation of reliability and stability with over 80 years of experience in the business. Carver Pump was also one of the first American pump companies that earned the ISO 9001 certification.
Learn more about boiler feed pumps from Carver Pump. Choose between the two boiler feed products: the RS and the RSV. The RS is Carver Pump's multi-stage horizontal ring section pump. While the RSV is their multiple-stage in-line vertical pump.