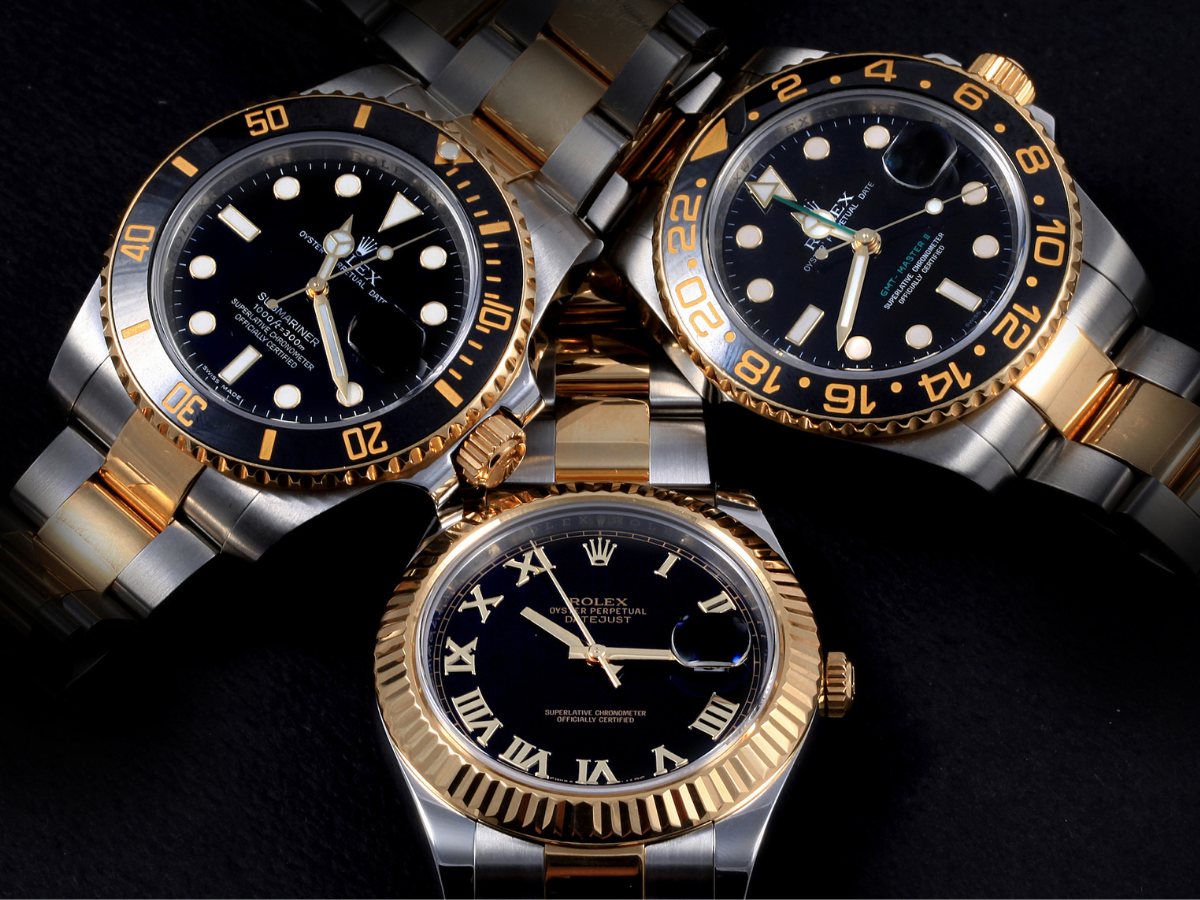 How to Tell if A Rolex Is Real
Is That a Real Rolex?
When it comes to luxury watches, Rolex has unparalleled popularity. In fact, it's also the world's most valuable watch brand according to a recent global report. However, with its status and great demand comes a vigorous counterfeit market — therefore one can be duped into buying a fake piece.
Watches with too-good-to-be-true prices can be spotted right away, but more sophisticated counterfeits can be more challenging to identify. Remember, a Rolex is made to the highest standards – if even a minute detail comes across as sub-par, you can be certain that it's not the real deal.
Below, we'll go through the hallmarks that a true Rolex possesses, to help ensure that you're getting a genuine Rolex timepiece.
SERIAL NUMBERS AND MARKERS
A Rolex's serial number is found where the bracelet meets the case of the watch, below six o'clock. The model number on the other hand, is above 12 o'clock, accompanied by the text "ORIG ROLEX DESIGN" right above the number. The band has to be removed in order to see these.
Rolex's serial and model numbers are deeply engraved into the metal, while fake watches only have it etched by acid, leaving a shallow, sandy-like appearance. A genuine Rolex's numbers are cut deeply enough that they will glow in the light when raised at an angle.
Moreover, on Rolex watches made 2002 and onward, there is a tiny etched crown logo on the crystal, at the six o'clock position – so small that you may need a magnifying glass to see it clearly.
MOVEMENT
Rolex movements are mechanical and self-winding, while replicas are usually quartz or battery-powered. Do note that a very limited number of Rolex watches, specifically Oysterquartz Rolexes from the 1960s to 70s, were produced with quartz movements.
Additionally, the Rolex movement occurs in tiny micro-ticks per second, so the seconds hand moves in a semi-continuous motion. This means there is no clear ticking sound on a real Rolex.
WATER RESISTANCE
All Rolex watches, except for the Cellini dress watch, are equipped with an Oyster case. Its patented system of screwing down the bezel and case back against the middle case, was meant to protect the movement from water.
Today, the hermetic construction of the Oyster case guarantees Rolex watches to be waterproof up to 100m / 330 feet, and up to 3,900m / 12,800 feet for the Rolex Deepsea, their saturated diving watch.
Of course, a counterfeit Rolex will not measure up to these standards – but the only way to find out is to subject the timepiece to a water pressure test. We strongly discourage you to perform the water pressure test on your own, for the following reasons:
– If the timepiece is indeed fake, a water pressure test will ruin the watch, and you will be unable to return it.
– If the timepiece is genuine, but is vintage or in need of repair, it may also not withstand a pressure test.
If you suspect that your timepiece is fake, it is best to bring it to an authorized Rolex dealer for inspection.
<>
BRACELET
Rolex watches have bracelets specifically made for each model or family of watches. For example, a Rolex Day-Date watch should sport a President bracelet. If the bracelet style is mismatched with the style that you bought, then it is most definitely fake.
SwissWatchExpo covered Rolex's different bracelet types on their blog, The Watch Club.
Another thing to watch out for are genuine timepieces paired with fake bracelets. As bracelets can get stretched from wear, a seller may choose to pair a genuine timepiece with an aftermarket bracelet.
A genuine Rolex bracelet must lie straight and not kink once laid flat on a surface. Also, check that the links align together nicely.
<>
<>
DIAL AND 'CYCLOPS' LENS
The dial of an original Rolex watch is perfect – markings, inconsistent fonts and spacing, as well as smudges are a giveaway of cheaper printing methods used in fake pieces.
The "Cyclops" magnifying lens, or the lens that magnifies the date of the watch, is one of the hardest hallmarks to replicate. When looked straight on, the date should be magnified, about 2.5 magnification to be exact.
Do also try to run your finger over the lens – you should feel a bump which is dead-centered over the date.
Counterfeiters also tend to use whatever materials are available, and they will cut corners on the minute details.
Look closely at the Rolex dial and watch out for the following tell-tale signs:

Hands – the seconds hand of a true Rolex watch should look like its moving in a smooth, continuous motion. If it jerks with each tick of a second, then it's fake.
Date – if your Rolex has a date on the dial, it should change in one sweep at 12 o'clock. Don't worry if your watch is a few minutes off – around +4 / -6 minutes – it's likely to happen if your watch is due for maintenance. If the date changes very slowly, then the watch is likely fake.
CASEBACK
Genuine Rolex casebacks have plain polished metal, and do not have engravings of words, logos or pictures. Nor do they have a clear window showing the movements on the back of the watch.
There are some exceptions to these however:
– Some very rare vintage models from the 1930's have clear casebacks.
– Rolex Sea Dweller and military models, and older Lady Datejust models may have engravings such as "Stainless Steel" and "Registered Design" on the back.
<>
CHOOSE A REPUTABLE DEALER
With a burgeoning counterfeit market, Rolex replicas have become better, and more difficult to detect.
Your best defense against buying a fake is to avoid purchasing a Rolex privately. Instead, purchase your Rolex from a reputable dealer. Doing so will ease your concerns of authenticity and condition, and you can be sure that you will be given proper assistance.
Here are some qualities of a reputable watch dealer:
– A reputable and legitimate watch dealer would have solid presence online, as well as testimonials from previous buyers.
– A long-standing retailer would also have affiliations with respected organizations, such as The International Watch & Jewelry Guild, or the American Watchmakers & Clockmakers Institute.
– They would have a guarantee of authenticity and warranties on the watch. These serve to assure you that they have reviewed each watch for authenticity and quality, before putting them up for sale.
– They would also be open to you taking the watch to Rolex, or an authorized Rolex dealer, for authentication. At SwissWatchExpo, we welcome clients to do this with their purchased watches, for their peace of mind.
All these are proof that they stand behind the products they sell, and can guarantee your complete satisfaction.