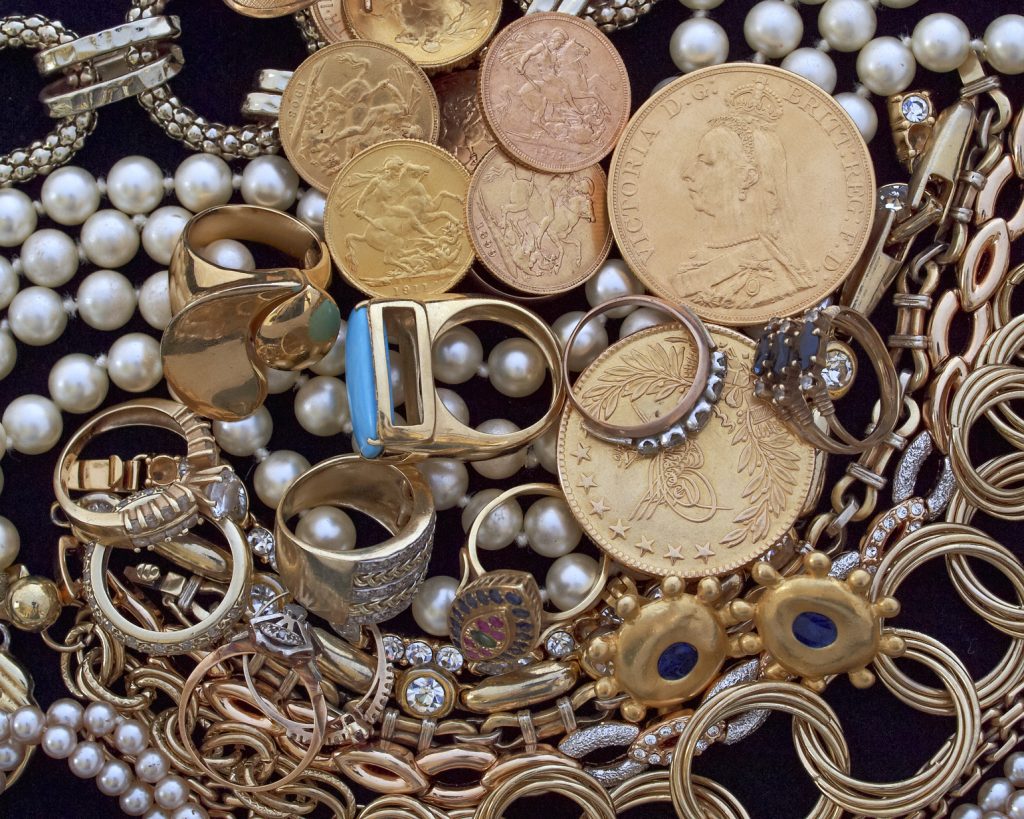 How to Style the Very Cool Antique Gold Jewelry You Bought or Inherited
Have you gotten your hands on a very cool piece of antique gold jewelry?
Wondering what to do with it or how to wear it?
Wonder no more — we have some solutions for you! Here are a few tips to style your jewelry so that your antiques don't collect dust.
General Antique Gold Jewelry Tips
First off, it's important to note that for jewelry, antique means that it's at least 100 years old.
If it's at least 30 years old, it's vintage. If it's a used piece of jewelry (most antique and vintage pieces are) then it's often referred to as estate jewelry.
You may be an antique collector and know this, but often people inherit jewelry after a loved one passes and have no idea. You can always get your jewelry appraised to tell you roughly how old (and valuable) it is.
Many people believe you have to save vintage gold jewelry for special occasions. You may want to, but it's not mandatory.
You can incorporate antique into your modern, day-to-day style or nighttime attire.
If you do, try to use one statement piece at a time, unless you're wearing a ring or bracelet paired with earrings. Don't be afraid to mix modern and antique, or to mix antiques and vintage pieces from different eras.
On mixing, the days of wearing one type of metal at a time are long gone. Mix your gold jewelry with your silver — it's a trendy style, so long as they have something in common.
You'll also want to keep in mind whether you want to bring gemstones front and center if your pieces have any.
To coordinate gemstone colors, wear things in the same color family (i.e. blues and greens, reds and oranges). If you want the gemstones to be loud and proud, wear contrasting colors.
Be careful adding too much color as it's easy to overcrowd your outfit.
Finally, decide if you want to be traditional or not. If you inherited pieces that aren't your style, don't be afraid to have a jewelry maker rework them into something you'd wear. You can have some elements taken off, add new designs, or transform pins into pendants.
Get creative with your jewelry and make it your own. While doing so, follow these general tips.
Earrings
Whether they're studs, hoops, or dangles, always keep these few things in mind.
Pay attention to the color, length, and shape of the earrings. Some earrings look better with your hair styled in an up-do, while others can offer a sparkle through your hair styled down.
If the earrings are particularly long, consider a simple necklace or none. You don't want your antique jewelry to fight for the spotlight.
Necklaces
Gold necklaces offer many options for personalization.
You can layer them, wearing multiple necklaces with different lengths and textures.
For instance, you can wear a modern choker with your mid-length antique, then wear a long, simple gold chain on the bottom of the "stack." This will help draw the eye to your gorgeous piece.
When layering, keep things simple. Avoid wearing multiple statement necklaces at once.
Even if you decide not to layer, keep the neckline of your top or dress in mind. Wear a long necklace for deeper necklines to keep the jewelry on your skin.
Otherwise, you can layer on top of your clothes — but still, pay attention to your neckline as that plays a part in directing the eye.
If your gold antique is a pendant, you should choose a nice, sturdy chain to put it on. Depending on your look, you could also use a delicate piece of ribbon.
Bracelets
As a general rule of thumb, you should always try to wear odd numbers of bracelets and refrain from wearing only one, unless you have a good reason.
Stack bracelets that have different thicknesses, textures, and metals to create a dynamic look.
If the bracelet doesn't fit properly, you can easily have it resized to your wrist, so it looks elegant and right for you.
Also, if you're wearing sleeves, keep their length in mind. Roll them or opt for a top or dress that doesn't have them to show off your stylish piece.
Rings
Do you know why we wear wedding rings on our "ring finger"?
They believed in Egyptian, Greek, and Roman culture that this finger contained an artery that was directly connected to the heart.
Other cultures wear their wedding bands on their right hand. So, it's important to note cultural differences like these when traveling to other countries.
Otherwise, the guidelines for wearing antique rings are simple.
Don't mix statement rings as, again, you don't want competing pieces (or to look tacky). You can wear multiple rings, however, but keep the statement pieces limited to one per hand.
You can stack modern, simple rings on the same finger with an antique. Put on the antique last so it's the eye-catcher.
Brooch
The brooch, otherwise known as a pin, also has a rich hidden history.
Brooches were first used in the 7th century BCE by the Greeks and Romans. Traditionally, they are used to hold pieces of clothing together.
You can continue with this tradition by fastening a scarf with a gold brooch. Alternatively, you can simply use the pin as a style statement.
Brooches are great for showing your antique style in winter, as you can fasten them to your outerwear easily.
A Few Notes On Your Outfit
It doesn't really matter what outfit you wear with your antique gold jewelry.
You want to keep the outfit simple if you're wearing statement pieces. This allows the eye to be drawn right to the piece as opposed to looking at your whole outfit.
You can wear patterned or colorful outfits, however. Just do it with intentional style.
Also, you can always rely on matching your antiques with the clothing style of the decade it's from. These can be antique outfits or simply outfits that have used some antique qualities in a modern way.
Be Bold and Confident
In fashion, it's more about how you wear something rather than what you wear.
Rock your style with confidence — no matter what it looks like. Showcase your antique gold jewelry while also revealing parts of your character and interests.
Keep reading our blog to learn more ways to enhance your style and wellbeing.