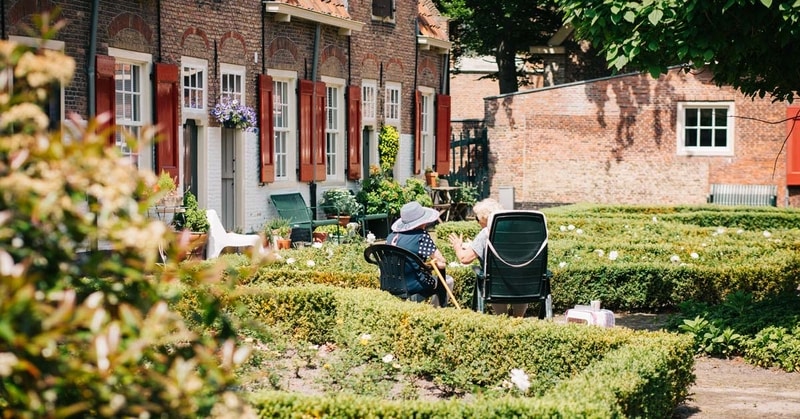 How To Find Low Income Senior Housing
Photo From unsplash
Originally Posted On: https://www.retirefearless.com/post/how-to-find-low-income-senior-housing
It's a known fact that many senior citizens live on fixed incomes. And even though there are programs such as Social Security, they are always not enough to pay for their housing and other living expenses. As such, many senior citizens have no choice but to look for low-income senior housing to make ends meet.
According to the National Council of Aging, nearly 76 million Americans are either at or approaching the retirement age. Worst still, more than 25 million seniors are living in poverty or are not financially prepared for retirement. And because most senior citizens live on fixed incomes, they generally struggle to keep up with the rising living costs. This is why there are programs that help seniors find affordable and low-income housing
While low-income senior housing programs exist all over the United States, finding them can be challenging if you don't know how to find them. This article, therefore, walks you through how and where to find low-income senior citizens homes. We'll also highlight the available types of low-income senior citizens housing, how to qualify, and how to apply.
What is Low Income Senior Housing?
Low-income senior housing units are principally apartment communities offering rents and mortgages that are reasonably priced to low-income senior citizens and to allow them to have enough money left each month to pay for other important life necessities such as utility bills and groceries.
Generally, a senior citizen with chronic health issues or limited mobility may move to an assisted living facility where they'll get daily medical aid and assistance. But because assisted living is much expensive, there are various programs supported by the U.S. Department of Housing and Urban Development (HUD) and the Federal government that offer affordable housing for low-income seniors.
Types of Affordable Senior Housing
There are various subsidized programs supported by HUD that provide affordable housing to low-income citizens. They include:
Section 202 Supportive Housing for the Elderly
As a senior citizen who is looking to live independently but may need occasional assistance with certain daily activities, section 202 may be a viable option. This program is typically meant for frail seniors who need help with activities such as cleaning, cooking, and transportation.
HUD is central to this program given that it provides loans and finances to non-profit organizations, private organizations, and other properties so that they can offer seniors citizens with affordable homes, as well as the amenities required through rent subsidies. Common features of these Section 202 housing programs include services such as housekeeping, home-delivered meals, referral services, counseling, medication, and transportation.
The type of housing to expect under the Section 202 program is typically one-bedroom apartments with a bathroom and a kitchen. To be eligible, you must be 62 years old and older with a very low household income, typically 50% of the area's median income. You'll also be considered if you're living in substandard housing, have been involuntarily displaced or if you are currently paying 50% of your income in rent. In essence, the average resident age in section 202 housing programs is 79 while the average annual income is $10,000.
How to Apply for Section 202
While it's advisable to contact the senior housing community that you're interested in for more information and how to apply, here is a good place to start. You should remember that you may be on a waiting list for at least a year, so it's best to begin early.
Low-Income Housing Tax Credit (LIHTC)
This program involves investors and developers getting tax credits for building, buying, and rehabbing rental housing units that are meant for low-income senior citizens. In exchange for these tax credits, a portion of the entire apartment is set aside for fixed-income or low-income tenants. Given that LIHTC is a tax credit program, it is administered by the Internal Revenue Service (IRS).
Eligibility – Unlike Section 202, which has standard eligibility requirements, LIHTC has various eligibility requirements that depend on age and income. In most cases, LIHTC communities dictate that an eligible senior citizen must have a minimum age ranging between 55+ and 62+. The residents must also have limited or fixed incomes of around 60% of the area's median income. In some cases, the median income can be as high as 80% or as low as 30%. Keep in mind that you may still be eligible for LIHTC even if you own a home or have other assets. You can choose to use your home as an investment but you cannot live there once you're selected for LIHTC.
The housing types to expect in LIHTC communities are generally one-bedroom or two-bedroom apartments that are specifically built for seniors. These communities usually have community events meant for seniors, as well as common spaces and recreational facilities for seniors. Note that most of these housing will be unfurnished and you may have to buy furniture.
Housing Choice Voucher Program (Section 8)
Commonly known as Section 8, this is a HUD program that's managed at the state level to help not just senior citizens but also low-income families and disabled people. Although these housings are privately owned, seniors may qualify to receive housing vouchers for rent and utilities but this will depend on your income. Typically, you'll pay 30% of your monthly adjusted gross income while the voucher will pay all or most of the difference. You can also use these vouchers to buy a home.
Section 8 housing units will be inspected to determine whether or not they meet the required standards of public housing agencies. This will then be used to calculate the maximum amount of housing assistance that's available to you. It's, therefore, important that you choose any housing unit that meets the requirements of the Section 8 program. As such, you shouldn't limit yourself to housing units that are located in subsidized housing projects. Here's the best place to start this process.
Qualifying for Section 8 Housing Vouchers – In addition to being at least 62 years old, there are several specifications that you have to meet to qualify for housing vouchers. They include:
You must pass a background screening for income, assets, and family compositions. Keep in mind that a huge part of your assets may be included as part of your annual income.
You must pass a screening by a public housing agency. The agency will verify your eligibility based on your assets, family income, family composition, your employer, and your bank information.
You must meet HUD's income limits. In other words, your yearly annual net income must be 50% or less the median income of your area. You should note that this median income may vary from place to place.
If the public housing agency determines that you're eligible for Section 8 housing vouchers, you'll either be assisted immediately or placed on a waiting list depending on your situation. To apply for these vouchers, you can contact your local public housing agency but be prepared to submit all the required information. Here's a good place to start the process.
Public Housing
These are generally high-rises or apartment complexes that are overseen by county or city public housing agencies. These are subsidized units that are meant to cater to low-income seniors and their families. In addition to being a low-income senior, you'll only be eligible if you can pay about 30% of your income for the rent and utilities. Here's a good place to check for their availability and to apply for public housing.
Private Housing
The HUD can also help low-income senior citizens to get private apartments that offer subsidized rents. Unlike public housing, you can apply for private housing directly at the apartment's management. However, you'll still have to meet the eligibility requirements and may even go to the waiting list. You can search for an apartment here and you'll be good to go.
It's important to note that the demand for subsidized public and private housing is high. In most cases, you may be placed on the waiting list but this will depend on your situation. For instance, you may have an upper hand if you choose to live in a unit that's considered substandard, if you agree to pay over half of your income rent or if you're involuntarily displaced.
So How Can You Find Low-Income Senior Housing?
The most important thing to do when looking for low-income senior housing is to choose a unit that fits within your budget and income. Consider factors such as your monthly or yearly budget, housing amenities that you want, as well as your location requirements.
For low-income senior housing units, you can check various sites such as ForRent.com. However, the best place to start is by contacting your local public housing agency or HUD office. The office will advise you and direct you on the application process. You can also search through a state-by-state senior living directory via your zip code.
To this end, keep in mind that the key to finding affordable low-income senior housing is by carrying out thorough research. In addition to calling your area's HUD office, you can seek out referrals from your family, community or even an experienced estate agent. Better still, contact a senior living expert or advisor to have a better understanding of the available options in your area.