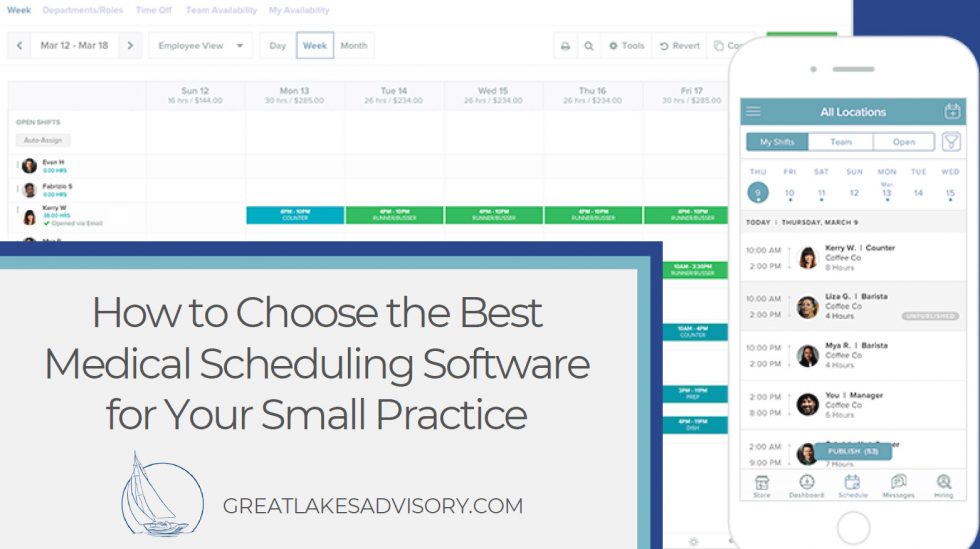 How to Choose the Best Medical Scheduling Software for Your Small Practice
Originally posted on https://greatlakesadvisory.com/how-to-choose-the-best-medical-scheduling-software-for-your-small-practice/
The American Medical Association (AMA) cites that healthcare is on the cusp of a digital transformation.
Take Electronic Health Records (EHRs), for example. Less than 10 years ago, only 10% of medical practices used them. Now, 90% have made the jump.
In addition to record-keeping, practices are also looking at digitalizing and automating their scheduling. They recognize the convenience of scheduling online compared to over the phone. Less time on the phone means more time for your staff to handle other tasks, and it also makes it easier for your patients to select appointment times that work for them.
As you can see, the right technology solutions can drastically improve any business through automating various tasks, and medical practices are no different.
Yet with so many options, how can you choose the best medical scheduling software, especially if you're a small practice who needs to consider every angle?
Today, we're sharing a few key considerations to keep in mind as you begin this journey. Ready to learn more? Let's dive in!
Why Use Medical Scheduling Software?
One estimate cites that missed appointments cost the U.S. healthcare system more than $150 billion per year.  Patients aren't the only ones to blame, though.
Inefficient scheduling protocol make it challenging for patients to schedule, cancel, or keep up with appointments. As a practice owner, it's important to remember that you also run a business; the easier you can make it for patients to access your services, the more patients you're going to acquire and retain, which means more growth and cash flowing into your practice.
To this end, medical scheduling software is a step in the right direction.
Industry experts explain that automated reminders and appointment alerts can reduce no-shows by over 35%. A full-blown EMR solution may not be in the budget if you're a small practice, but scheduling software can help you reduce costs, improve efficiencies, and boost team performance in a budget-friendly manner.
Consider these factors as you begin your buying journey.
1. Understand Costs
It's no secret that running a small medical practice isn't cheap. One way providers can manage expenses is to better control their medical staff's phone time.
Patient scheduling software can make a major difference here. One provider explains that the efficiencies gained from creating an online patient portal helped his team curb the increase in labor cost to only 20% in 2.5 years while growing the practice 300% over the same timeframe.
You'll want to consider the cost of installing the software on your in-house computer systems, though. Prices can vary depending on your practice's size and the features you select.
While you may be able to discern base prices online, it's helpful to sit down with each vendor to explain your needs. The customer experience may differ from the one advertised on their website: There could be optional features or hidden fees they might try to slip by you. The last thing you want to do is sign on the bottom line only to find that you're paying for bells and whistles you don't need.
2. Prioritize Ease of Use
How much time can you devote to team training? Any new medical appointment scheduler software will have a major learning curve; look for one that is as user-friendly as possible. Failing to find a user-friendly software will not only slow your staff down and thus eliminate most of the benefits of software, but you'll also lose the sunk cost you spent on the program.
On the other hand, a simple but effective program will free up time for your medical staff to attend to mission-critical needs without requiring hours or even days to learn a complicated new system.
Ask each vendor if there will be a representative on hand to walk your teams through the portal's different features. Some programs will use a centralized dashboard to organize the myriad of features while others use dropdown menus or popup windows.  A simple walkthrough of the system with a vendor representative could help your team get oriented much quicker.
Speak to your staff beforehand and include them in the decision-making process. They're the ones who will be using the tool, so it's imperative they're comfortable behind the screen.
3. Look for Niche Features
A dermatologist's office may require access to different software features than a primary care practice. As such, look for one that's tailored for your speciality. A general scheduling solution may work in some cases, but if it's too barebones, it may not support the functions you require.
One way to simplify this step? Speak to peer providers in your field who require access to the same types of data as you do. Ask about their scheduling software and if they're satisfied with it. Keep some notes while you're talking to peer providers so you can more easily compare programs when you're back on the hunt for software. If you notice several peer providers using the same software, that's a good sign.
Don't depend solely on the experiences of your peers though. Each practice is different. Even if they're in the same field as you, research their scheduling programs for further affirmation.
4. Consider EMR Integration
If your practice has an EMR in place, we recommend considering a medical scheduling software vendor that can seamlessly integrate with it.
Doing so will allow both systems to communicate back and forth with each other as well as share data access. Your staff is busy enough as it is. They don't want to switch between systems or have to enter the same information multiple times, especially when dealing with time-sensitive patient issues.
Capturing/storing new and existing patient data, capturing visit details, and submitting post-visit billing information is a cinch when the systems interface, further relieving the workload on your staff.
5. Require Vendor Support
Regardless of the software you select, things can always go wrong with even the best technology. You will need access to troubleshooting and maintenance support in the event you run into problems. You'll also need a team that can help you perform required upgrades so your software stays running at full capacity.
In some cases, a vendor may assign a direct liaison to your practice. This individual will be familiar with your specific system and setup, serving as your go-to resource for any questions or problems. Alternatively, you may have access to a call center for technical support. If this is the case, make sure you know if it's open 24/7 or only during business hours.
Ultimately, you should trust the reliable team behind any solution your practice invests in, whether it be management software, consulting services, or something else entirely. The best solutions in the world aren't very helpful to your practice if you can't get them to work, so keep vendor support at the front of your mind when you're looking around.
Choose the Right Scheduling Software Today
Businesses need to maximize efficiency without sacrificing the quality of their services if they hope to survive.
As your practice seeks to keep costs lean, maximize productivity, and provide an excellent patient experience, you will begin to understand technology's potential value in accomplishing your operational goals.
Medical scheduling software can deliver time and productivity benefits while still being a cost-effective resource. Ultimately, the right scheduling software lightens the workload on your staff while making scheduling easier for patients, saving you time and money that can be redirected towards acquiring/retaining more patients and accelerating your practice's growth.
As you research and browse for the best software to meet your needs, it's important you keep the aforementioned five factors in mind. Ask questions, take your time, and see if they offer a trial period you can use to cement your decision. After all, investing in scheduling software is investing in your practice, so it's not a decision to be made lightly.
Need professional advice as you navigate this choice and others? We're glad to help you out!
We offer expert medical practice consulting services designed to help you approach every facet of your practice with ease. From strategic planning and leadership coaching to employee goal-setting and patient workflow, we'll help you make the right decisions to propel your practice forward.
Schedule an appointment now to learn more, and let's take this next step together!