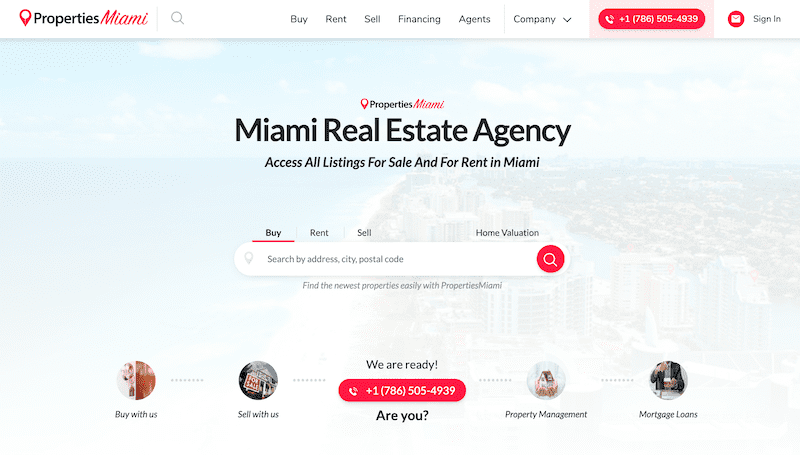 How PropertiesMiami.com The Miami's Biggest Real Estate Agency Started
Originally posted on https://propertiesmiami.com/history-real-estate-agency
History and Founders
Hi, my name is Manuel, and this is how PropertiesMiami started from scratch; from a 1-man team to one of the biggest and most successful agencies in Miami.
It's been a long 20-years journey since my partners (Aaron and Theresa), and I decided to actualize our idea by first creating an online platform for our business. Before I delve into the details, let me explain how our idea came up.
How PropertiesMiami.com started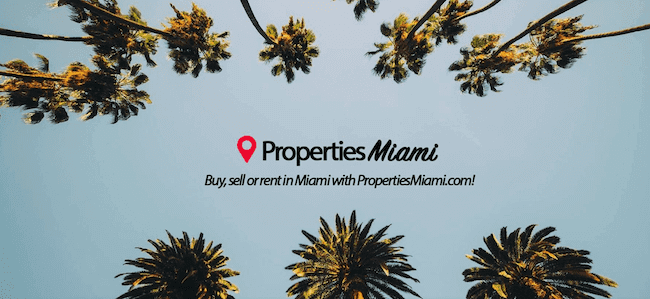 I, Manuel, was 19 years old back in 2002. I was studying Computer Science in Miami Dade College– Yes, whatever you are thinking is right. I have never used 95% of the knowledge I gained in college in real life. So, at 19, I decided to venture into something different.
I saw a loophole in the real estate industry and decided to seize the opportunity of bridging the gap. As such, I decided to start by getting a real estate license.

Gold Coast real estate school entrance in 2010.
I went to a school called Gold Coast, and after a month of attending classes and two attempts at the exams, I finally passed. At the Gold Coast Real Estate School, I recognized some people in the real estate class from Miami Dade College that I had never talked to.
So, I decided to approach them and have a chat since we had the same background. That's where it all began. We started hanging out and talking about our plans, careers, etc.
I then proposed to my pals about coming up with an 'internal' tool. This tool was meant to assist our future clients as realtors.
Yes, we were already thinking about working under the same real estate brokerage by the name "Keyes." The main aim of this tool was to enable us to gather the best real estate information tailored to meet our clients' needs without going around Miami, scouting the 50-60 thousand listed properties in the city. It's for this reason that we decided to venture into the real estate business. We decided to call our firm, "Properties Miami"
After making a few arrangements here and there, we registered a domain in 2002. We set a very basic domain. I recall using a tool called "FrontPage," which was extremely user-friendly.
At the time, my responsibilities mainly revolved around the back-end web developer's tasks, not the front-end. After a year of hard work and commitment, we finally launched.
The tool that we'd created helped us out in ways that we couldn't imagine. It allowed us to have extra time to work with more clients. So, for the next 5 years, we worked with very many clients; providing them with properties that suited their exact specifications.
If we go to the records and check the number of units sold within the said 5 years, I can conclude that our clients were delighted with our work. As they say, numbers don't lie.
Our Property Search Tool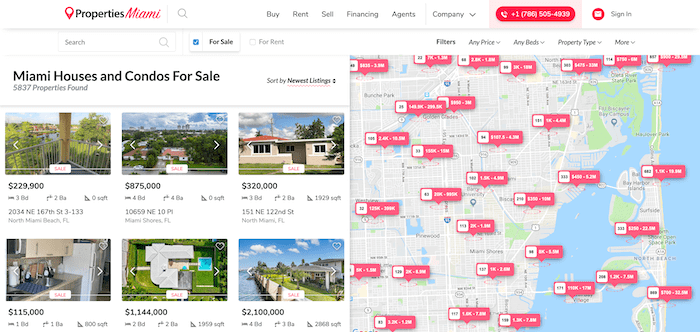 As fate would have it, our tool helped enhance our business; it grew tremendously. We decided to make a bigger move and open up PropertiesMiami.com to the public.
As earlier mentioned, we were using a very basic website with a "username-password" type of access. So, from 2007-2008, we decided to let other real estate agents use our platform, but of course, at a small fee-Don't worry, at the moment, using our platform is free of charge.
Our success did not go unnoticed. We got the attention of numerous local new agencies, and they referred to us as the "Miami Property Search" instead of calling us "PropertiesMiami." Some called us the "The Property Search Company" or the "Miami Property Search Company."
The publicity gave us a boost because we started growing more and more from then on. Years passed, meaning that technology advanced. Online database firms such as Zillow, Google Maps, Trulia, Realtor.com, etc. came in.
However, we were not scared because we knew such a thing would happen, and we were prepared.
We trained every realtor that was part of PropertiesMiami and molded them to "real estate experts" We are delighted to say that if you ever use any of our services, you'll notice that the agent you'll be assigned is not a regular real estate agent, but a professional with a passion for what he/she does.
Our professionals are all-round experts well versed in real estate expiring listings, real estate investing, upcoming real estate market values, etc. As the years went by, we expanded to different locations to cater to the needs of new clients in different geographical areas.
This saw us reach a point where our already built connections helped sellers, buyers, and investors get solutions for other needs that came up. This saw us partner with firms such as:
Hard Money Lenders

Properties Miami: Hard money lenders application
For years, we have partnered with the same Miami lenders who help every borrower. These borrowers include the no tax returns borrowers, low credit borrowers, and those who could not borrow or get loans from banks.
Associations
A point reached where almost every Miami Condo Association knew about PropertiesMiami. As such, we took advantage of this situation and built strong relationships with condo associations. That is what enabled us to have successful "tenant screening" in multiple associations and also being able to offer them our property management service.
Miami home associations know that if PropertiesMiami brings in a tenant, the tenant is of good behavior. At the same time, some associations came up with a policy of not charging application fees to new tenants.
Third-Party Vendors
At PropertiesMiami, we usually have a lot of active listings. At the moment, we have around 1502 active listings. We project that about 30-40% of these listings will sell within the month. We deal with a lot of properties, most of which need refurbishing and or upgrades.
We have our list "must-call" contractors that we work with. These contractors are companies that have a good reputation in roofing, restoration, and so on. So, if there is a property listed in PropertiesMiami that needs some upgrade, we will definitely help you out.
So far, that's how much PropertiesMiami has developed. We keep on growing, and we train realtors within 3 months, after which they join our team. Our advancement has seen our firm make it to the list of the top 10 most prominent real estate agencies in Miami.
You might be asking yourself what happened to my partners, Aaron and Theresa. Well, Aaron moved to Anaheim, California, in 2011 and opened another real estate agency.
As for Theresa, she decided to hang the boots after 10 years of hard work in the real estate business. She is currently devoted to her family in a beautiful Indian creek house that I once had the opportunity of visiting for a month.
What is PropertiesMiami all about?
PropertiesMiami is one big family that is dedicated to what it does. We have agents that have worked for us for over 10 years. We always have classes, meetings, and brainstorming sessions that enable us to close the biggest Miami real estate deals.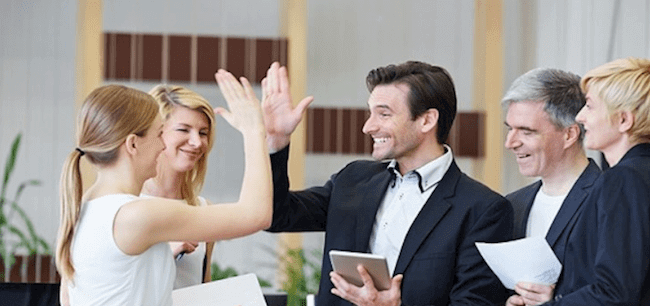 We like to think of ourselves are real estate experts; not real estate agents. Our experts don't work for the company; they are the company. We provide our experts with the best tools to make sure that they excel in their field whenever they are dealing with a client.
The Top 10 PropertiesMiami rankings
In 2010, we decided to start compiling a monthly list of the best performing real estate agents that work with PropertiesMiami. The list consists of those who devote themselves to the company to make sure that PropertiesMiami achieves its goals and targets.
Every first day of the month, the list automatically updates according to the number of sales made by each individual. That said, we guarantee that those who don't make it to the top 10 list are experts who work tirelessly for PropertiesMiami, and working with them will be a pleasant and successful experience.
I hope you now have an idea of PropertiesMiami and its vision. If you ever become one of our clients or real estate experts, we'd like to hear your feedback so that we can work on becoming a better firm. Kindly send your message to [email protected], the subject being "Experience."
I'd like to hear from you.
Kind Regards,
Manuel Sangalli