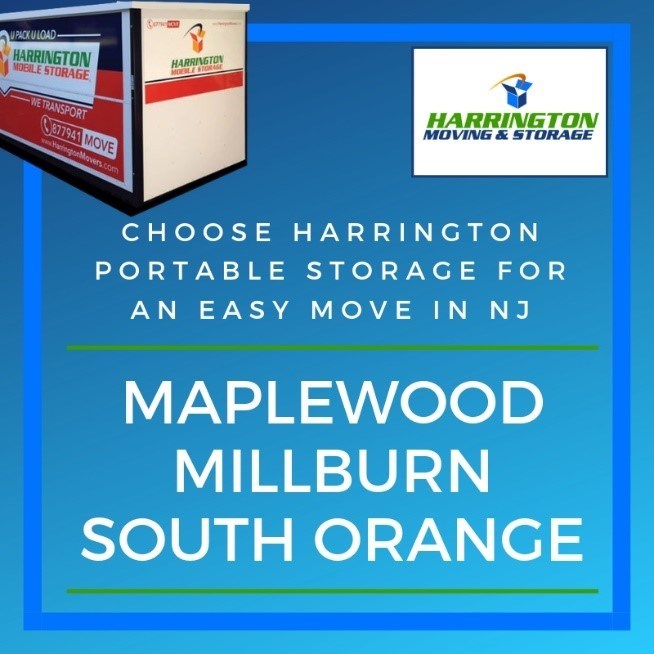 Harrington Portable Storage for your Next Move/Remodel in NJ
Photo From harringtonmovers
Originally Posted On: https://www.harringtonmovers.com/blog/p.190110000/harrington-portable-storage-for-your-next-moveremodel-in-nj/
Make Moving and Remodeling Easy by renting a Harrington Portable Storage Container for Maplewood, South Orange and Millburn, New Jersey (NJ).
If you live in or are thinking of moving to Maplewood, Millburn or South Orange townships in New Jersey, then you can make your move or remodel easier, by renting Harrington Movers spacious, portable storage containers.
The New Jersey townships of South Orange Village, Maplewood (SOMA) and Millburn are popular, family orientated and safe. The growth from farms and farmland in the 1660's to today's residential and prosperous suburbs continues apace. The towns have wide streets and a large mix of homes, many of them Victorian. When considering your moving options then the homes around South Orange, Millburn and Maplewood are perfect for portable storage containers, as most have driveways and great access. This makes it convenient to load and unload your furniture and contents to and from your home.
If You're Moving …
Whether you are moving into the area for the first time, or upsizing or downsizing within SOMA and Millburn, our portable storage containers are an ideal way for you to manage your move.
Many of our customers order the container four to six weeks before their move date. They can then spend their time organizing and packing their furniture well before their move.
One of the key benefits of our containers is that once you have organized, wrapped and put the items in your rented container, it is out of your home. You then get more space and you can see more what remains to pack. Every time you place a box in the storage container, then that's one more thing that you can cross off your to do list.
Once you've finished packing, you can either arrange for the container to be delivered to your new home (if it's ready) or have it placed into our secure storage facility until you are ready for it.
If You're Remodeling …
With the classic period housing stock in the SOMA and Millburn area, you might be planning a remodel to your preferred layout and upgrading to the latest code. You can save yourself a lot of hassle by renting one of our containers when you start to renovate. With Harrington's portable storage containers, you can move your furniture and contents into them to give you the space to remodel. It also keeps your furniture and contents safe and secure from damage. Other customers use our containers to keep all the fixtures, fittings and hardware needed for the remodel.
If your remodel takes longer, then just give us a call and extend the rental period. No stress and you stay in control.
Benefits of Harrington Portable Storage Containers
Renting one of our portable storage units is the perfect way for you to reduce your stress and costs from your move or remodel. We ensure that our containers are always clean and fresh.
They are 16ft long and have a lockable secure door. We position them near to your home, within easy access of your entrances / garages. The containers are at ground level and you don't need steps or ramps to access them. Moving your larger pieces of furniture into one of our containers is straightforward and much easier than loading a van.
If you want some advice about how to pack your container then please see one of our other blogs here.
Give us a call on (972) 210-4813 and we can answer any questions that you may have. We are here to help.