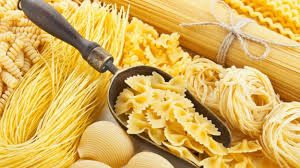 Popular Pasta Types: The Top 10 | Popular Kinds of Pasta Worldwide
Do you have a guess about which pasta types are the most popular? Well, you don't need to guess because you can keep on reading to find out!
Popular Pasta Types Around the World
Pasta is an all-time favorite food of many people all over the world. It is considered one of the main sources of energy. It is also considered among the most delicious foods consumed by all ages and genders.
There are many popular pasta types people consume both on special occasions and every day meals. Indeed, a lot of different kinds are being made because of the many benefits pasta gives the consumers. Among these benefits include sustained energy, folic acid, has a low GI or Glycemic Index, offers a balanced diet, cholesterol-free, and has low sodium.
Since pasta is considered healthy and nutritious, pasta makers have invented different types of the popular dish. Featured in this page are the Top 10 popular pasta types that people around the globe usually buy and eat.
What are the Most Popular Kinds of Pasta?
We'll give you more details about each one, but here is a quick list of the most popular types of pasta in the world:
Spaghetti
Fettuccine
Angel hair pasta
Macaroni
Fusilli
Bow ties
Penne
Ziti
Linguine
Lasagne
Read more for all the details about each one, including recommendations for sauce pairings.
#1: Spaghetti
Spaghetti is the most popular of all the pasta types. It is the favorite of many, especially kids. Indeed, this is one of the most frequently cooked pasta worldwide. It is also usually available in most restaurants.
One will know if the pasta he's seeing is spaghetti if it color yellow and has long strands. Makers of pasta have also developed veggie spaghetti pasta for the health conscious. Best sauces for this pasta type are the traditional red sauce and meatballs. The red sauce is also known as the classic sauce which most kids love.
Spaghetti with meat, or tomato sauce is quite possibly the most popular pasta dish of all-time!
#2: Fettuccine
Fettuccine is made of long strands but is wider in width. It is also a popular pasta type that is typically available in most restaurants. Also an all-time favorite, Fettuccine is so easy to prepare at home, too. It is best partnered with seafood, chicken or Alfredo sauce.
However, Fettuccine pasta is also delicious when paired with cream sauces. And, since this is made of long strands, thin sauces will also go well with this pasta. It easily soaks with the sauce flavors.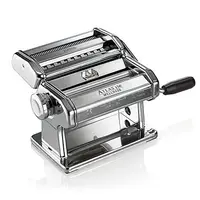 1,993 ReviewsMarcato 8320 Atlas 150 Machine, Made in Italy, Includes Pasta Cutter, Hand Crank, and Instructions,…
Marcato's Original World-Famous Atlas 150 pasta machine rolls and cuts pasta dough for traditional…
Made in Italy from chrome-plated steel; Includes pasta machine, pasta cutter, hand crank, clamp,…
Rolls sheets of dough to 150-millimeters wide at 10 thicknesses (0.6 to 4.8-Millimeter) for…
Easily attach the pasta drive motor and any of the 12 pasta cutting accessories (sold separately)
Called the Ferrari of the pasta machine world by Cook's illustrated; wipe with a Dry brush or cloth;…
$68.53 Buy on Amazon
#3:Angel Hair Pasta
The Angel Hair Pasta is also made of long stands. However, the difference is that, the strands are very fine and delicate. Compared to Spaghetti and Fettuccine, this pasta requires a shorter cooking time of about 3 to 5 minutes.
Ideal sauces for this type are the oil-based ones. Some find it ideal with light tomato, too. Others pair the Angel Hair Pasta with pesto or seafood sauce.
ImageTitlePriceTOP
Barilla Pasta, Penne, 16 Ounce (Pack of 8)
Barilla Pasta, Spaghetti, 16 Ounce (Pack of 8)
Barilla Ready Pasta, Rotini Pasta, 8.5 Ounces (Pack of 6)
Barilla Pasta, Farfalle
Garofalo 100% Organic Variety 6 Pack, 2 – 1.1 lb. Farfalle Tri-Color, 2 – 1.1 lb. Tri-Color Fusilli, 2 – 1.1 lb. Lumaca Rigata
Barilla Pasta, Cellentani Pasta, Cavatappi Pasta
$1.00Buy NowAmazon.com prices as of 12/21/2019, 11:11:16 AM – details
#4: Elbow Macaroni Pasta
Also in this list of the popular pasta types is the Elbow Macaroni pasta. This is a favorite staple food of many families at home. Appearance of this kind of pasta is a lot different from the first three mentioned with long strands. This macaroni pasta appears short and they are C-shaped tubes. Cooking time for this pasta type is longer at about 6 to 8 minutes.
Households and restaurants use the Elbow Macaroni pasta when baking dishes, making salads and cooking soups for appetizer. Ideal sauces for this type are butter and cheese. Kids love the Elbow Macaroni pasta too, especially when paired with cheese sauce or combined with chicken soup.
Did you know that you can even make your own macaroni at home? All you need is one of the top pasta extruder machines.
Jamie Oliver's Guide to Pasta Shapes
#5: Fusilli
Fusilli is also called corkscrew pasta. It is thick in appearance and is also identified by long spirals. There are various sauces that can be perfectly matched with this pasta. It is a favorite when paired with meat sauce.
Fusilli lovers are fond of pairing the Fusilli with sausage mixed in a hot, chili red sauce. What's best about this pasta's being Fusilli because it can easily absorb the flavor of the sauce.
#6: Bow Ties
The Bow Ties are also called the Farfalle, an Italian term which means butterflies. They it is a kind of pasta that's pinched in the middle to appear as if it is a bow tie
. It takes 10 to 12 minutes of cooking time for the bow ties. It is a pasta type that's best paired with olive oil, fresh tomato, butter or cheese for the sauce.
#7: Penne Pasta
Penne Pasta has a small-cylinder shape. It comes with different flavors. The most popular flavors though, are egg and spinach. They are the most frequently bought penne pastas at the supermarket. This pasta type is typically used for salads. However, pasta lovers also eat it with olive oil, salt and pepper to make a simple dish.
A similar pasta to this one is Cavatelli and it's really easy to make your own. Find out more here: Best Cavatelli Maker.
#8: Ziti
Ziti is described as tube pasta that's medium in width. It is 2 inches in length. Like the Bow ties, this pasta needs 10 to 12 minutes to cook. It is ideal for baked dishes.
Families love to serve the Ziti pasta during special occasions. It is best partnered with olive oil, cheese, cream and light tomato. Some love the Ziti pasta with pesto sauce too.
The 10 Most Popular Kinds of Pasta
#9: Linguine
Linguine is a type of pasta similar to spaghetti. There are two main differences between the two. Linguine is longer and narrower than spaghetti. This is included in the popular pasta types because it is excellent when partnered with many different sauces.
These sauces include the red sauces like the Arrabiatta, for one. Homemakers love linguine with creamy Carbonara sauce too.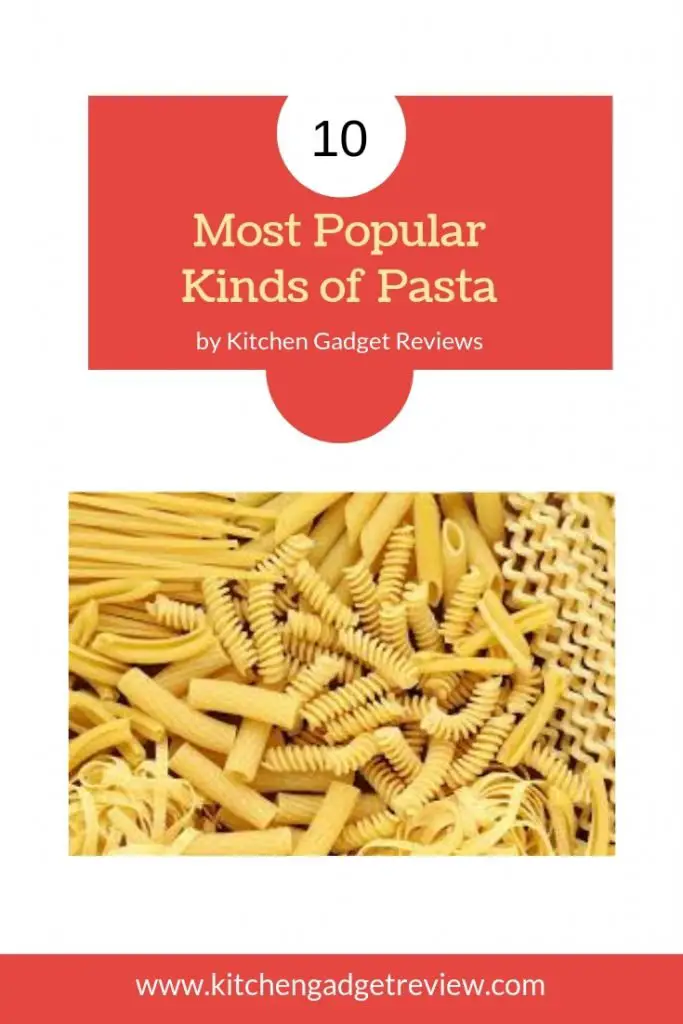 #10: Lasagna
Lasagna is made of rectangular sheets that are flat and large. Any sauce can be paired with this one. However, it is very popular with traditional red sauce. The sheets of this pasta are used by layering in-between pasta sauces prior to baking.
The sheets are pre-cooked before baking with the sauces. Lasagna is a delicious pasta dish with chopped veggies, meat and cheese on top.