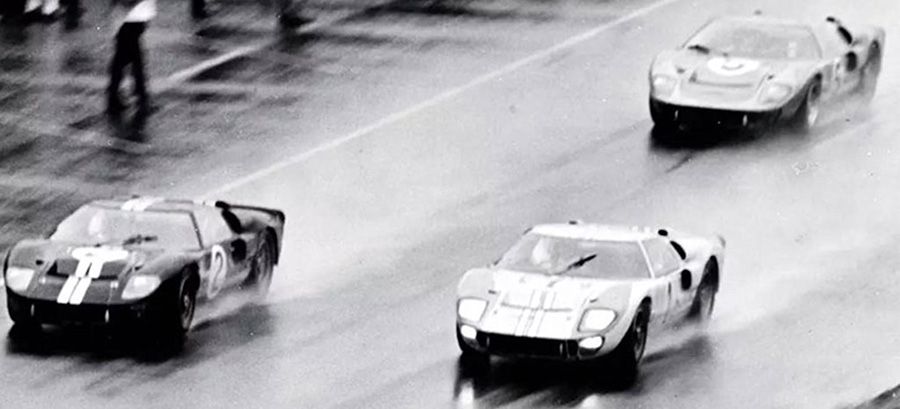 "GO LIKE HELL" FORD PERFORMANCE & VELOCITY
Photo from Velocity Modern Classics
Originally Posted On: "Go Like Hell" Ford Performance & Velocity – Velocity Restorations
"Go Like Hell".
Those were the iconic words shouted by Bruce McLaren (yes, THAT McLaren) as he cheered on his co-driver in the 1966 LeMans race that Ford would go on to win. In fact, not just win, but win in grand, sweeping fashion against the most notable brand in auto racing history; Ferrari.
When it comes right down to it, there are few brands in this world with the performance and racing heritage of Ford Motor Company. During its 117-year existence, Ford has played a role in the growth of America and has been in lockstep with the changing culture, values, and direction of our ever-changing, dynamic country. What has separated Ford apart from the rest of the automotive world is a keen ability to adapt and a knack for releasing some of the most iconic vehicles ever produced. Names like Mustang, Bronco, and F-150; just to name a few. Vehicles like the Classic Ford Bronco go well beyond just being popular. They have moved into the pantheon of automotive iconography, and remain buried in our collective conscience.
As Velocity built our brand and tapped into the soul of Classic Ford Bronco lovers all over the world, we needed to find partners that spoke our language and understood our goals. Velocity didn't set out to just restore vintage Ford Broncos, no, we set out to resurrect the soul of the Ford Bronco by bringing these old workhorses into the modern century with a combination of fine craftsmanship, deep nostalgia, and modern performance. Who would we choose to help bring our unique vision to life?
Ford Performance: Many Names – One Goal
Much like Velocity, Ford is a company that is full of passionate people that share a common goal. At the backbone of incredibly iconic machines like the vintage Ford Bronco and the Mustang are engineers, designers, and product planners who possess a little more gasoline in their blood than the average human. People who see a checkered flag as a starting point, not the end of the line. People who wrench, get their hands dirty and create automotive magic. See a parallel between this heritage-filled brand and the craftsmen at Velocity? We sure do.
Even though it's gone by several names over the years, the gear heads at Ford Performance have served as the ten-tenths crew for the global brand and have had first-hand experience creating some of the most iconic factory-built, specialty vehicles on the planet as well as headed up factory racing efforts for nearly 70 years.
A History Of Speed

1902 – Henry Ford Race Car
Ford's racing efforts have been the battleground for Ford products for longer than the brand has been around! In fact, it was the winning from a 1902 race driven by Henry Ford himself that provided the funds to eventually start the Ford Motor Company. Ford has always seen racing as a proper proving ground for their production parts and a public relations engine that showed the world that Ford possessed a passion for speed and a passion for creating some of the world's finest automobiles.
We could write an entire article on their stories history but for the sake of brevity and impact, let's lay down some highlights:
1949: Jim Roper Driving a Lincoln, wins the very first NASCAR race
1963: Jim Lund wins Daytona 500 with a Ford
1966: Ford, partnered with Shelby American, wins 1, 2, and 3 at Le Mans
1967: Jim Clark, driving a Lotus-Ford wins the Dutch FIA (Formula 1) Grand Prix
1994: Michael Schumacher wins his first of 7 drivers championships with Ford – Benetton
2016: Ford enters 4 Ford GT Ecoboost cars at Sebring, finishing 1-3-4-10

Michael Schumacher's Championship Winning Ford Benetton B194
One look at all those wins in those incredible racing series tells the whole story. Ford has not only built iconic vehicles like the classic Bronco and the Mustang but they've competed in some of the most grueling and challenging motorsports events throughout the world.
Ford Performance Is Born
Much like Velocity, Ford Performance has built a reputation for taking classics and dialing them up to a level that sets automotive enthusiasts' hearts on fire.
Back in 1981, Ford put together a team of engineers that would be known as SVO or Special Vehicle Operations. This ragtag group of engineers would be transitioned into the SVT group in 1993, with a separate budget and goals from the original SVO team. SVT was tasked with not only producing parts and running Ford's motorsport program but also producing unique, high-performance street vehicles. The SVT Cobra and SVT Lightning pickup are among the most famous of the vehicles produced by SVT during this era. A partnership with Shelby America in 2005 would start another series of vehicles that would become the pinnacle of Ford's streetcars and create a need for a certain V8 engine.
In 2015, Ford's SVT merged with Ford Sport RS (Europe) to form what we now know as Ford Performance. Not only would this new division continue Ford's factory racing efforts but they would begin to offer a wide array of factory-backed, race-proven performance parts for builders all over the world. This included performance crate engines that were factory engineered and ready for installation in a wide variety of vehicles like our incredible classic Ford Broncos for sale that we ship to buyers all over the country!
From racing teams across a staggering number of disciplines to building incredible performance parts for world-class builders like Velocity; Ford Performance is the result of 117 years of heritage and passion.
The Howling Coyote

As the premier builder of Classic Ford Broncos in the country,Velocity needed an engine that would make our beautiful, bespoke restorations "Go Like Hell" and Ford Performance absolutely delivers with a specially built, crated 5.0L V-8. This beautiful engine, appropriately dubbed the "Coyote" for its howling soundtrack, was developed to be a 5.0-liter powerplant as a tribute to an old muscle car friend but packs in modern technology honed from the racetrack that makes our classic Ford Broncos scream.
This high-tech engine harkens back to the fox body Mustangs that roamed the streets for a staggering 15 model years and proudly displayed 5.0 on their fenders to show the muscle that was packed underneath. Few engines in the last 50 years have such an iconic attitude as the original OHV 5.0. Beyond that burden, the new 5.0 needed also to be a worthy successor to the 4.6L 3V and provide a strong base for not only the Mustang but Ford's entire performance portfolio as well. Ford Performance also knew that this motor would make its way into the shops of builders like Velocity and make it into the engine bays of all kinds of vehicles. It needed to be refined, reliable and powerful.
While the original 5.0 engine was advanced for its day, the modern, all-aluminum Coyote is leaps and bounds ahead of anything that existed when the fox body was at its heyday. In fact, the Coyote is not only a great engine for a muscle car but a world-class engine that has been praised by trusted publications like Wards Auto; who have awarded it a coveted 10 best engine award twice. The modern Coyote engine is truly a class above powerplant that packs in classic muscle car power and nostalgia with modern levels of refinement and poise.
The Coyote V8 is an ideal companion to the unique builds from the Classic Ford Bronco fanatics at Velocity. Much like our custom Broncos, the Coyote brings together old-school attitude and noise with modern levels of technology and refinement. This combination brings two separate eras together in a way that only the most passionate and knowledgeable builders like Velocity can properly highlight. Our in-house tuning ensures that our Coyote V8 packing Broncos retain a refined driving character that can also shred tires and hearts. We love the Coyote and we think you will too.
A Perfect Pair
Looking back on the history of Ford Performance, the pedigree and experience are hard to ignore. From Formula 1 and Le Mans wins to deep partnerships with iconic streetcar builders like Shelby American; Ford Performance has the credentials to back up the Blue Oval's 117-year history. For Velocity, the pedigree of Ford Performance was an easy choice. Not only does it allow us to offer our customers a slice of true racing pedigree, but it plays a crucial part in the performance and luxury story that Velocity tells with its classic Ford Bronco builds every day. We don't just offer old Ford Broncos for sale; we offer the most premium classic Ford Bronco experience in the country.
Velocity couldn't be more proud to feature Ford Performance products in our vintage Ford Bronco builds and we think you'll see why when you stand on the throttle and feel the raw, visceral power of the Coyote's howl. We dare you to wipe that smile off your face because when you "go like hell", it's nearly impossible to not get addicted to the speed.