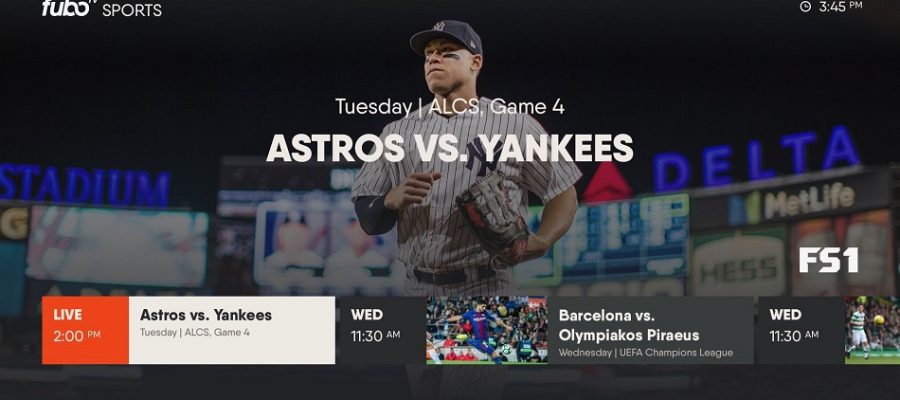 FUBO TV CHANNELS, PACKAGES, PRICING AND REVIEW
Originally Posted On: https://www.antennajunkies.com/fubo-tv-channels-packages-pricing-and-review/
Fubo TV was —at its beginning— a streaming service focused solely on soccer matches and shows, but then it pivoted into a more traditional streaming service that streams live TV. Obviously this is also because of the current trends of on-demand TV streaming services that have the potential to attract even more people in the future.
Fubo TV itself has developed a fairly unique brand that differentiates itself from its competitors: a sports-first streaming service. However, it does offer various bundle plans and add-ons that can provide more flexibility for its subscribers outside the sports channels. There are, for example, add ons offering family-oriented channels and movie-focused plans.
With that being said, however, Fubo TV has continuously added their non-sports TV channels (while already offering a pretty complete set of sports channels), turning them into a very serious contender in the mainstream online TV streaming industry.
Fubo TV Key Highlights
3 different package plans with 1 add-on option
Less than 4 seconds in channel switching time
30 hours of cloud DVR storage
Streaming capability during traveling
2-devices allowed for simultaneous streaming
100+ channels depending on the plan and different locations
6 local channels
Stereo audio
Only 20-second live delay
7-day free trial available for all plans
Streaming Devices Compatibility
As one of the biggest TV streaming services available today, Fubo TV offers a wide range of compatibility with various streaming devices—popular and unpopular ones—. So, we get the convenience of accessing Fubo TV channels in various different ways.
Obviously we can access Fubo TV channels from any popular web browsers (Firefox, Chrome Safari, Edge/Internet Explorer), which is the standard practice for all streaming services. So, you can stream Fubo TV channels from your PC or desktop (and also from your smartphone or tablet's browsers).
However, there are also the Fubo TV app for iOS and Android if you want to stream the Fubo TV channels on your mobile devices.
Fubo TV channels are available to stream on Roku Devices, Amazon Fire TV, Chromecast, and various Smart TVs (Samsung, Sony Bravia, TVs with built-in Roku Os and various Android smart TVs.
Unfortunately, the Fubo TV app is not available on various game consoles (Playstation 4, Nintendo Switch, Xbox One).
Fubo TV Channels Plans
Similar to other TV streaming services, Fubo TV offers various available plans that subscribers can choose from. Below, we will discuss their key features and differences.
Fubo TV Standard – $54.99/month
This is the most basic and affordable Fubo TV plan is the Fubo TV Standard Plan. It includes 71 Fubo TV channels and more than 130 events, all available in up to 4K quality.
This plan also offers up to 30 hours of cloud DVR storage. It's not much, compared to other competitors like YouTube TV that offers unlimited DVR storage, but it's still pretty decent. You can stream from 2 separate devices simultaneously.
This plan offers a wide variety of sports (with Fubo being a sports-first service), TV shows, news, and more choices from Fubo TV channels, including BeIN Sports, Bravo, Lifetime, FX, Fox Sports, CBS Sports, E!, National Geographic, Oxygen, FXX, FXM, USA, Bravo, Sprout, History Channel, HGTV, and more.
Below are the channels included with the Fubo TV Standard Plan.
Fubo TV Family– $59.99/month
By paying an extra of $5/month, the Fubo TV Family Plan includes every feature from the Fubo TV Standard package but includes a 500-hours worth of cloud DVR storage. You also get an extra screen to access the Fubo TV channels, so you can now stream from 3 simultaneous screens instead of 2.
Fubo TV Ultra– $79.99/month
As the name "Ultra" suggests, this package is the highest-tier bundle plan offered by Fubo TV. The Fubo TV Ultra Bundle is essentially a combination of all the below plans:
Fubo TV Standard
Fubo TV Extra
Showtime
Sports Plus
Cloud DVR Plus
Family Share
Note: we will discuss the individual plans below.
So, in total, the Fubo TV Ultra Bundle includes 140 different channels, 130+ events in 4K, and also features the 500-hours cloud DVR storage space. An extra of 9 Showtime channels, 24 extra sports channels, and 36 entertainment channels.
Fútbol Ultra– $59.97/quarter
This bundle is essentially a combination of Fubo TV Latino Plan and Family Share (more on the Fubo Latino below), offers the best of Latin TV with 31 Spanish language channels including NatGeo, Mundo, Fox Life, Fox Deportes, and more. Since it also includes the Family Share Plan, we also get the feature to stream from three simultaneous screens instead of two.
Fubo TV Add-Ons
Besides the main plans and bundles, there are also individual add-ons available, some are included in the bundle plans above:
Fubo TV Extra– $6/month
Fubo TV Extra contains more than 30 additional Fubo TV channels that include sports, entertainment and lifestyle channels below:
Sports Plus– $11/month
The Fubo TV Sports Bundle is designed for sports lovers and provides 20 additional sports channels:
Sports Illustrated TV, Stadium, Stadium Plus, TVG2, TyC Sports, VSiN, Tennis Channel, Game+ Network, GolTV (English and Spanish), NFL Redzone, Pac-12 regionals, Fight Network, Fox College Sports regionals.
Showtime– $11/month
The Showtime Bundle is pretty self-explanatory, 9 additional Showtime channels:
Apart from these, there are various other add-ons with more specific channel additions:
Latino Plus, $8 per month: Fox Deportes, Gol TV Spanish, TyC Sports, Cine Sony Television, Fox Life, El Gourmet, Mas Chic, Discovery en Español, and Discovery Familia
RAI Italia, $8 per month
Portuguese Plus, $15 per month: Gol TV, Benfica TV, RTP International
International Sports Plus, $6 per month: Fox Soccer Plus, Chelsea TV, Gol TV English, Gol TV Spanish, TyC Sports
Adventure Plus, $5 per month: Outdoor Channel, Sportsman Channel, World Fishing Network, Outside TV, MAV TV, Motorsport.tv
Fubo Cycling, $12 per month: Fubo Cycling, Fox Soccer Plus, Chelsea TV, Gol TV English, Gol TV Spanish, TyC Sports
AMC Premiere, $5 per month
FX Plus, $6 per month
Fubo Latino, $25 per month
Fubo TV Channels List
To summarize, here are the basic channels you'll get from the Fubo TV Standard Plan:
Fubo TV Standard Plan Channels● A&E● CMT● Galavision● NBC Universal● truTV● Adult Swim● CNBC● Golf Channel● NBCSN● Turner Classic Movies● AMC● CNN● Hallmark Channel● NESN (select markets)● TVG● Animal Planet● Comedy Central● Hallmark Movies & Mysteries● NFL Network● TV Land● BBC America● Comet● Hallmark Drama● Nickelodeon● Unimas● beIN SPORTS● Cozi● HGTV● Nick Jr.● Universal Kids● beIN SPORTS Español● CW (Select Markets)● History● Olympic Channel● Univision● beIN SPORTS La Liga● Discovery Channel● HLN● OWN: Oprah Winfrey Network● TUDN● beIN SPORTS 4● E!● IFC● Oxygen● USA● beIN SPORTS 5● Food Network● Investigation Discovery● Pac-12 Network● VH1● beIN SPORTS 6● FOX (Select Markets)● Lifetime● Paramount Network● Viceland● beIN SPORTS 7● FOX Business Network● LMN● Pop● WE TV● beIN SPORTS 8● FOX Deportes● Local Now● Smithsonian Channel● BET● FOX News Channel● MotorTrend● SNY (select markets)● Big Ten Network● FOX Sports 1● MSG (select markets)● Sundance TV● Big Ten Network overflow● FOX Sports 2● MSG+ (select markets)● Syfy● Bravo● Fubo Sports Network● MSNBC● TBS● Cartoon Network● Fuse● MTV● Telemundo (Select Markets)● CBS (Select Markets)● FX● Nat Geo Wild● The Weather Channel● CBS News● FXM● National Geographic● TLC● CBS Sports Network● FXX● NBA TV● TNT● Cheddar● FYI● NBC (Select Markets)● Travel Channel
Fubo TV, even with its Fubo Standard plan, offers a pretty attractive Fubo TV channels line up, although admittedly it's not as generous as its closest competitors like, say, Hulu TV (see our full Hulu review here).
However, Fubo TV does offer a pretty decent set of channels line up and especially, more versatile add-on plans. You can, for example, add just another $11/month to get 20 additional sports channels—including the on-demand NFL RedZone—. This flexibility might as well be the Fubo TV's biggest plus point.
A (huge) downside, however, is the fact that we won't get ESPN channels with Fubo TV, which is a shame since Fubo is, according to themselves, sports-first streaming service and ESPN is the king of sports channel for many if not most people.
However, Fubo TV does offer a really complete set of sports channels (especially with the Sports add-on and bundle plans), that will essentially cover everything broadcasted by the ESPN channels.
All You Need To Know About Fubo TV
Below, we will discuss some important features offered by Fubo TV across its different plans and add-on plans, and by the end, we will summarize the pros and cons of Fubo TV.
Interface
As an app and web app, interface is a really important factor in choosing Fubo TV among its competitors. Fubo TV offers a fairly intuitive interface that is easy to use.
First, the web app interface. Fubo TV offers a very organized interface with its web version of the app. You can easily find various categories like movies, shows, sports, recordings, and so on. Most likely anyone can navigate the interface without any significant issue.
Fubo TV offers a feature called Lookback, which allows users to watch or re-watch sports events that have been streamed in the past 72 hours. This is a pretty neat feature for sports lovers.
The Entertainment categories are also pretty organized, although it might take some time to find on-demand content from the results (especially if you don't use a keyboard). But this is a minor downside and is pretty manageable.
The Guide interface is pretty similar to other streaming apps and cable TV guides. You can easily plan the shows you want to watch for the next five days, set up which shows to record on the included cloud DVR storage, and so on.
The mobile app interface is pretty similar to the web app. Channels are neatly categorized into sports, shows, movies, and the Guide section.
In general, Fubo TV offers a pretty good overall interface that is intuitive and easy to use.
Lookback
We have briefly discussed the Fubo TV Lookback feature above, and here we will discuss it further.
As mentioned, Lookback is a pretty useful feature for those that often forget to record a program. In general, this feature lets you stream a program from the start for up to 72 hours after missing it. Although you can't fast-forward or rewind, it's still a valuable feature to have.
Cloud DVR Storage
Cloud DVR storage is now a standard feature for all TV streaming services, and more and more of these live TV streaming services are offering huge DVR storage for very affordable and even free.
With that being said, Fubo TV offers up to 30 hours of cloud DVR storage with its most basic plan, and you can purchase an add-on for $9.99 and get a total of 500-hours of Cloud DVR.
Fubo TV, however, doesn't offer an easy way to set up recurring recordings. So, for example, you'd need to record a weekly TV show manually each week. Last August (2019), however, Fubo TV launched the Record Series feature that solves this issue, although it's still in beta.
Picture Quality
Nowadays, the streaming service's picture quality is a very important factor for many users to choose between services, especially now when we've been spoiled with ultra-fast internet bandwidth (that is going to be even faster with 5G in 2020).
Some of Fubo TV channels and on-demand content run in 1080p picture quality, but most of them are only available in 720p. There are, however, some shows that are available in 4K and 60FPS and even in HDR (HDR10 format).
You can check Fubo's website that regularly updates the schedule for the following events that are going to be available in 4K/HDR here.
Free Trial
Fubo TV offers a seven day free trial period for those who haven't previously signed up for the service. You do, however, need to input a valid credit and debit card.
Pros and Cons of Fubo TV
Pros
Affordability: The basic plan starts at $54.99, which is pretty cost-effective compared to its competitors
Fubo TV channels line up: Fubo TV offers most of the popular channels that are available in any cable TV package. Also, a very complete set of sports channels with the Fubo TV Sports Add-on.
Cloud DVR: Record your favorite shows, sports events, and movies. Up to 30 hours of DVR recordings with the standard plan, and you can upgrade to 500 hours DVR storage for a fairly affordable monthly fee.
Lookback feature: You can watch the lookback version for any show that you missed when it airs live for up to 72 hours after it airs. You don't have to record anything.
Monthly contracts: Month-to-month contract
Month to month contracts: The service uses a month to month contract, so no worries about canceling at any time if you want to.
Compatible with many devices: Fubo TV will work well with a variety of devices from Apple TV, Android TV, Amazon Fire TV, and iOS/Android mobile devices. Can access from your PC and Mac via web app.
Cons
Fairly limited DVR recordings: You can only record up to 30 hours of DVR-stored shows without upgrading.
Limited live local channels: Many live local channels are not available via Fubo TV.
No ESPN: No ESPN channels, although Fubo TV offers most of the other popular sports channels.
Conclusion
In our opinion, Fubo TV is among the best online TV streaming services available today, especially if you are a sports lover.
It's not the most affordable (Sling TV, for example, is cheaper), but it does offer a very complete Fubo TV channels line up and is very versatile with its various add-ons and bundle plans.
Hulu Live TV and Sling TV are probably Fubo TV's closest competitors, with relatively similar price tags. and DVR storage options.
With that being said, however, versatility and the ability to pick up individual add on plans are the main values of choosing Fubo TV over the others.