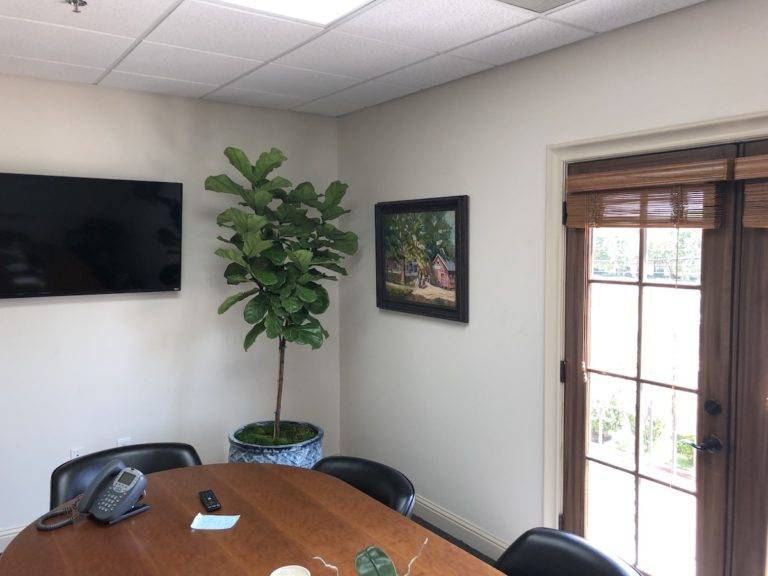 Fiddle Leaf Fig, Monstera, Janet Craig go to Work
Originally posted on https://www.plantz.com/blog/fiddle-leaf-fig-monstera-go-to-work/
Janet Craig Bush
Arriving in "perfect condition" these two plants were welcome additions to Meredith's office in Texas.
"We have been so pleased with our plants. They are so full and healthy, and I really appreciate the advice and instructions for their care. They are all happy and look as good now as they did when they arrived – which is to say, they look like they belong on a movie set," says Meredith of her Ficus lyrata, aka Fiddle Leaf Fig, Monstera and Janet Craig Palm. "They make for a really fantastic conference room and shared workspace environment. Everyone is happier, and the office air is fresher."
Meredith also has a word of advice to anyone who might be concerned about carrying for one of these tropical beauties.
"Listen to the Plantz experts. We watched the available videos to learn how to stage and care for our new plants. The Plantz team has also been very helpful with follow-up advice for placement and ideal light conditions." That would be our "plant whisperer" Sue who is always ready to answer your questions online at Plantz.com.
Monstera
"We also paid for the fastest shipping to avoid heat stress, and we're glad we did that too. We really appreciate the care you guys took in packaging. I have never seen such beautiful plants. People think I'm some kind of plant expert now!"
Thank you for your kind words Meredith and we are glad you are happy with your order.
A Fiddle Leaf Fig or Monstera can be on their way to your door with just a few clicks. Check out the Fiddle Leaf Fig here or the Monstera here. Check out the Janet Craig here.
You can also see our wide variety of plants here.