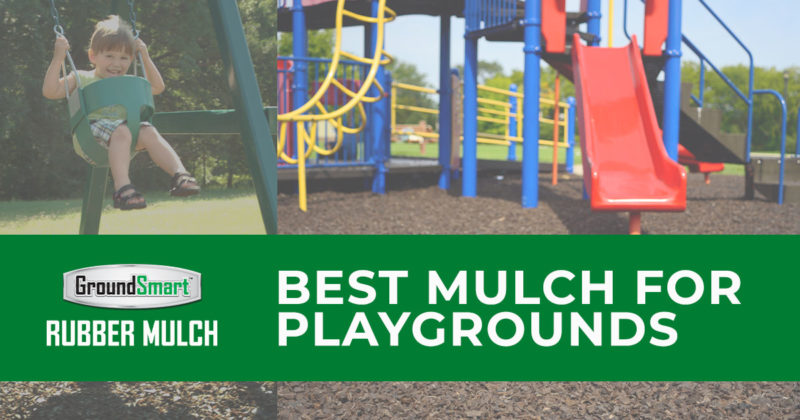 Best Mulch for Playgrounds
Originally posted on https://www.groundsmartrubbermulch.com/best-mulch-for-playground/
PLAYGROUND SAFETY STARTS FROM THE GROUND UP!
Safety is the top concern when it comes to children and playgrounds and it always starts from the ground up. A playground surface should always:
Be safe enough to prevent critical brain injuries if a child should fall
Promote safe play
Reduce general injuries
It might seem like that is asking a lot when it comes to playground surfacing, but rubber mulch has proven to be the best mulch for playground areas.
PLAYGROUND RELATED INJURIES
Check out the facts:
Nearly 114,000 children in the US got to emergency rooms every year due to falls onto the safety surface at public playgrounds.
Falls onto the playground surface are the most common cause of traumatic brain injury on public playgrounds- 52% of all ER visits.
Nearly 5,500 children under the age of 4 suffer a traumatic brain injury on a playground.
Playground-related injuries among children ages 14 and younger cost an estimated $1.2 billion annually.
From the playground at daycare to your own backyard playground, the surface matters and rubber mulch will keep your kid safe and free of injury.
WHY RUBBER MULCH IS BEST FOR PLAYGROUNDS
GroundSmart Rubber Mulch can protect playground area falls from up to 16 feet which is the highest in comparison to other materials such as wood chips that sit at 10 feet.
GroundSmartRubber Mulch meets the criteria required for the International Play Equipment Manufacturers Association (IPEMA)certification with its industry-leading fall height protection on playgrounds.
GroundSmart Rubber Mulch does not decompose, harden with moisture or freeze like wood fibers. Making rubber mulch the safest playground mulch all year long.
Wood mulch can cause painful and irritating splinters keeping your child from playing on the playground.
Rubber mulch is maintenance-free and lasts for years without losing its color or rotting, saving you both time and money. Wood chips need to be replaced every few years because of its inability to withstand inclement weather.
HOW MUCH RUBBER MULCH DO YOU NEED?
Rubber mulch is proven to provide the best fall protection for all playground surfaces. Whether you're looking for the best mulch surface for your backyard playground, residential playground or your child's school playground, GroundSmart

 has you covered!
Use our convenient and easy to use rubber mulch calculator and we will calculate how much you need along with a product recommendation and free shipping!
---
Originally posted on YouTube by GroundSmart Rubber Mulch
HAVE A BIG PLAYGROUND PROJECT COMING UP?
We have bulk order discounts available, so request a quote today for your project.