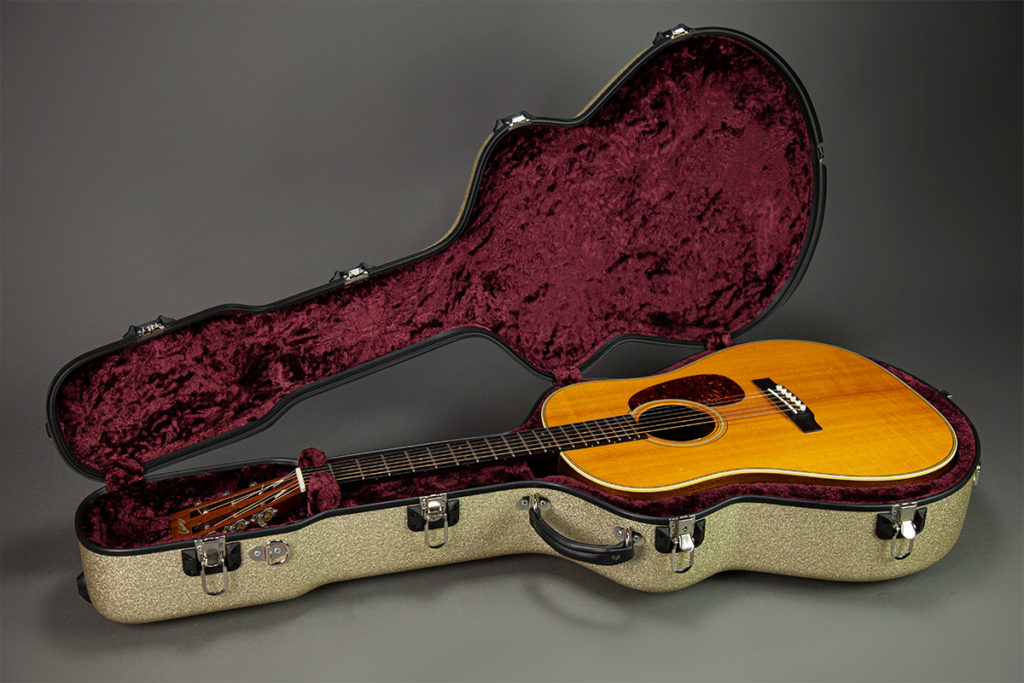 COLLINGS GUITARS : A LIFETIME, AN ETERNITY, A LEGEND OF LUTHIER
Photo from Calton Cases
Originally Posted On: https://www.calton-cases.com/collings-guitars-a-lifetime-an-eternity-a-legend-of-luthier/
Bill Collings was, is, and always will be a legend of lutherie; a rock icon uncontested for a mantle of beauty and sound still being composed faithfully in line with the astounding life he led. While the Collings Guitars name has become synonymous with class and quality, Bill himself was a builder, whose journey has always shined brighter than his destination. Although Bill was lost to us in 2017 due to cancer, the sound, voice, and love he brought to his guitars and to this world still resonate to this very day. Today we celebrate Collings Guitars, and Bill Collings, the legend behind the legacy.
Bill Collings – A History 
As a teenager in Ohio, one may have easily assumed Collings was a born guitar player. And, visibly speaking, he spent many hours 'playing' guitar. But as he would come to admit later in a Texas Monthly Article:
"I started playing when I was a teenager in Ohio, but I would usually just stare at the instrument, thump it, listen to it. I'd ask, "Why does that steel-stringed guitar sound different than the nylon-stringed one?" Why did the sound of some guitars haunt me while others didn't?"
Bill comes from a family of engineers, which is likely attributed to his fascination with building guitars overplaying them. But prior to luthiery, Collings spent years working in his family machine shop, honing his sense of specificity and design.
In 1975, Collings left for Houston to work for a pipeline and oil field company. Estranged from his creative roots by day, Bill realized he would have to moonlight long nighttime hours to fully realize his calling:
"At night I worked on my first guitar. I based it on a combination of a Gibson Dove, a Martin D28, and a Guild D25. The sixties and seventies weren't exactly the golden age of guitars, but it was a start."
He added:
"It was okay, but the sound didn't take off."
His second guitar was notably better; using German Spruce and Indian Rosewood, the guitar 'sounded great' and kicked off what would become one of the most exceptional careers in guitar-making in history.
Collings' third Guitar was a stroke of entrepreneurial spirit that would skyrocket him into national acclaim by a combination of charisma, talent, and serendipity:
"I saw a guy named Rick Gordon play at Theodore's. He was really good, and I said, "I'm a guitar maker and I'd love to make you a guitar. You buy the wood, I'll make it." The wood cost $225. After he played it the first night, I got ten more orders. I made about fifty guitars in Houston. Lyle Lovett, who was in college, had seen Rick's guitar and came to interview me for the school paper. I handed him the guitar, and it blew him away. He bought number 29."
Collings would then attempt to move to San Diego, but stopped in Austin and enjoyed it so much that he never left. He shared a space with the famous Tom Ellis, but after a large contract from Gruhn, he was able to expand.
"In 1991 I bought an old mason shop west of the city. By then celebrities were buying my guitars. Paul Simon. Joni Mitchell. Eddie Van Halen—I can't tell you how many people came through him. It was a word-of-mouth thing. In the late nineties, we made Keith Richards a baby guitar to take on tour. He did a commercial for VH1 on his jet, playing my guitar. I got calls from all over the country."
The shop expanded to 45 employees where every day they were putting out six or seven acoustics, three electrics, two mandolins, and two ukuleles.
The production grew almost as fast as the reputation and today, a Collings Guitar is the mark of a serious player and the sound of a melodious instrument.
Bill Collings passed away in 2017 due to complications with cancer, but his legacy lives on in the spirit and talent of the incredible team at Collings Guitars.
Collings Guitars – Craftsmanship, Design, Wood
Bill Collings famously said of his style:
"There are three things that go into a great guitar: the design, the craftsmanship, and the wood"
To this day, Collings Guitars is still a testament to that very sentiment. Whether you're interested in an acoustic or electric, mandolin or ukulele, the wood for every instrument is 'acquired, acclimated, and hand-selected by master luthiers…' 'With the whole tonality of the end instrument in mind.' Additionally, all instruments are hand voiced, as they note:
"From the starting point of the wood's density and rigidity, each (instrument) top is hand-selected, evaluated, and graduated to its own unique thickness, maximizing the tonal potential of each top."
From all of this, it would be easy to consider Collings guitars a sure-fire winner. But sometimes the right recommendations can go a long way.
While Lyle Lovett of course is a famous Collings enthusiast, incredible players ranging from Bob Schneider, Bruce Cockburn, Charlie Sexton, Ashley Cooke, and even Conan 'O Brian have all played and revered the incredible work that comes from Collings guitars.
A Lifetime of Lovely Guitars, An Eternity of Luthier
Collings Guitars is a legacy – a shop composed of sound, character, and as charismatic and original as the man was himself. For any guitarist ready to take their performance and sound to the next level, each and every Collings Guitar is a work of art just waiting to perform your masterpiece.
Collings and Calton 
And of course, no mention of Collings Guitars would be complete without acknowledging the rest of the Collings team that continues to make these exceptional instruments available today. We especially want to recognize Steve McCreary of Collings Guitars, for helping Calton Cases out at the very beginning of the reopening of Calton North America in Austin Texas. Back in 2012 when John Green and Jeff Poss partnered up on Calton, Jon reached out to Bill and Steve for some mentoring and guidance on where to start. The guys at Collings put simply, went out of their way to help. Steve provided a list of which retailers to start with and even vouched for Calton on more than one occasion. Calton Cases will be forever indebted to Collings for that help, and continued assistance over the years.