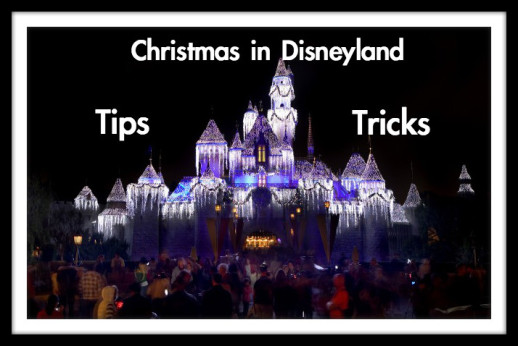 Best Disneyland Christmas 2019 Tips and Tricks Guide
Originally posted on https://disneydose.com/tips-for-visiting-the-disneyland-resort-this-holiday-season/
Come join the Disneyland Christmas celebration. The holidays are upon us once again which means this is absolutely the most beautiful time of year to visit the Disneyland Resort. The holiday season runs from November 8th 2019 through January 6th 2020. 
Because of the large number of tourists that come to see the beauty during December, the parks can get a little crazy…
That's why you need our advice on Christmas at Disneyland shared below!
But first, a quick deal for you:
SAVE MONEY ON DISNEYLAND CHRISTMAS! On top of our awesome Disneyland discount tickets, Get Away Today has big deals for this Christmas season! Save big and buy now! Buy Tickets Now>
When does Disneyland decorate for Christmas? Disneyland starts celebrating in November and the decor stays up until the beginning of January! You can expect to see holiday decor at the parks from the beginning of November through the first week of January.
Checkout my list of the top must-see Disneyland Christmas items here!
Watch Our Disneyland Christmas Guide:
Watch our full Disneyland Christmas video guide below. You will love some of the helpful hints and tactics!
---
Originally posted on YouTube by Mickey Visit–Disney Planning Guide
The best way to save money, avoid crowds, and have a fantastic Disneyland vacation is to purchase your Disneyland tickets from recommended third party ticket reseller approved by Disney. Our recommended reseller, Get Away Today, is certified by Disney and can save you more than $20 per ticket when you book in advance. Check out all of our advice regarding purchasing Disneyland discount tickets  and more info on planning a Disneyland Christmas 2019 trip.
They exclusively offer the lowest priced Disneyland tickets to Disney Dose readers via the links above. 
Here are some tips to help minimize the madness, plus a list of what to see while you're there. Most of tips apply to best times for visiting Disneyland all year round.
Tips For Disneyland Christmas
If you can visit during the first 2 weeks of December, DO! Once the kids are out of school around week 3, the parks become crazy, usually ranking a 10 of 10 on crowd index websites.
Visit on a rainy day. December is typically one of the wettest months in So Cal. If you have flexibility for your visit, keep an eye on the weather report and make plans to visit on a rainy day.  Make sure to bring your raincoat, poncho or umbrella with you. If you forget, those items at the park will cost you a pretty penny.
Arrive early. The early mornings are the quietest at the Disneyland Resort. Get there when the park opens to maximize your time. In addition, visiting on days with the longest hours will help make it possible for your family to do it all. Check on the Disneyland website for daily operating hours.
Make an itinerary and stick to it. Yes, it is fun to just "go with the flow" but this is not the time of year to do so. The more planned your visit is, the smoother things will go. Again, go to the Disneyland website and check the times of the shows, parades, etc. that you want to see and make a plan.
For even more tips on when to visit Disneyland check out our dedicated page.
What to See at Disneyland During Christmas
At Disneyland there is plenty to see and do in terms of Christmas themes on classic rides, entertainment, food, and plenty of holiday decor.
Sleeping Beauty's Castle
The centerpiece of Disneyland is of course, Sleeping Beauty's Castle. Even during the rest of the year, the castle is spectacular. But this time of year it is a site so amazing that it could bring tears to your eyes. Covered in snow capped turrets and 80,000 LED lights, the castle is transformed into a glowing work of art. 4-5 times a night,
Disneyland offers a lighting ceremony at the castle which includes a brief "snow fall" of gingerbread scented snow. This ceremony typically occurs at 6:00PM and 7:30PM every night.
Disneyland Holiday Decor
The entire resort is beautifully decked out for the holiday season, but the Disneyland Christmas decorations on Main Street USA are the crown jewel. You will be greeted by a massive 60 foot Christmas tree in Town Square and over 70,000 lights and 2,000 custom made ornaments.
You can see snow three times a day at the Disneyland Resort during the holidays, it will snow by Sleeping Beauty's Castle during the castle lighting at 6:00PM and 7:30PM and after the fireworks on Main Street, near the castle, by Rivers of America, and it's a small world.
Top Rated Disneyland Christmas Attractions
Disneyland goes all out at Christmas time, especially on two of its classic rides, It's a Small World and Haunted Mansion.
The Haunted Mansion Holiday is an amazing overlay based on the Disney film, The Nightmare before Christmas. You won't want to miss the gingerbread house display that actually gives off a gingerbread fragrance.
For it's a Small World Holiday, about 250,000 lights have been added to the outside of the ride and 30,000 to the inside. There are snowmen, icicles, and snowflakes in addition to the animatronic dolls singing "Deck the Halls" and "Jingle Bells. Even for those visitors that wouldn't normally visit this ride, you will want to take the time to do so. I guarantee it will take your breath away.
Disneyland is adding the Disneyland MaxPass service and Disneyland FastPass service during Disneyland Christmas for "it's a Small World Holiday".
You can also view a short projection show that lights up the attraction every 15 minutes for the it's a small world holiday.
Disneyland Christmas Fireworks
The popular "Believe… in Holiday Magic" fireworks returns this year with special performances featuring incredible Disneyland Christmas music, stunning fireworks and snowfall.
The show features a combination of Disney music and Christmas classics. I highly recommend ending your Christmas experience at least one day with this show.
Disneyland Christmas Parade
Enjoy "A Christmas Fantasy" parade. The parade, which takes place on Main Street, includes many of your favorite Disney characters as well as an appearance by Santa Claus himself. Make sure you arrive early as Main Street fills up fast for this parade.
I hold a special place in my heart for the Christmas Fantasy parade as it was the first Disneyland parade that I ever saw. The characters combined with the catchy tune will have the parade playing over in your head for weeks after viewing.
The Plaza Inn usually offers a dining package for this parade during Christmas time.
The Plaza Inn Dining Package for the Christmas Fantasy Parade
Meal Options: Holiday menu of turkey, macaroni and cheese, seasonal vegetables, stuffing and cranberry sauce with a holiday dessert. Vegetarian options are also available upon request. Kids' meals combine chicken tenders and macaroni and cheese with a choice of side, holiday dessert and a beverage.
Price: $39.99 per adult and $24.99 per child (ages 3-9) – tax not included; gratuity not required
Reservations made between 12:00 PM to 4:00 PM will receive a voucher for the day's second performance of A Christmas Fantasy Parade
Reservations are recommended for all dining packages. You can make your reservation up to 60 days in advance on the Disneyland Dining site or by calling (714) 781-DINE or (714) 781-3463 between 8:00 AM and 9:00 PM daily.
Meet Santa at Disneyland
You can meet Santa at varying times throughout the day in Critter Country. You can check the character app for available times.
What to See at California Adventure
Over at California Adventure, there is plenty to see and do in terms of Christmas themes on classic rides, entertainment, food, and plenty of holiday decor.
Disney California Adventure Christmas Decorations
You can enjoy the festivities of the holidays in Cars Land and Buena Vista Street at California Adventure. The park is beautifully decorated, complete with a 50 foot tall Christmas tree in the middle of Buena Vista Street, a "Snowcar" outside of Cars Land and "Cars" inspired Christmas trees made of tires, hubcaps and cones down Route 66. Bell ringers and carolers fill Buena Vista Street with holiday cheer.
Disney California Adventure Christmas Attractions
Two Cars Land attractions receive a holiday overlay to become Luigi's Joy to the Whirl and Mater's Jingle Jamboree. 
These attractions are decked out for the holidays with lights, new tunes, and a fun twist on the holiday spirit that kids will love.
Meet Santa at Disney California Adventure
Make a stop at the Redwood Creek Challenge Trail in Disney California Adventure park where you can meet and greet with Santa Claus and partake in fun holiday activities.
We recommend meeting Santa here because the lines tend to be much shorter than over at Disneyland in Critter Country.
Festival of Holidays at Disney California Adventure
California Adventure celebrates the holidays with the Festival of Holidays which includes dining booths with unique culinary creations from all corners of the world and holiday entertainment throughout the parade corridors of the park.
Festive Food Marketplaces at Disney California Adventure park: As part of the Festival of Holidays, the delicious mix of holiday dishes and beverages found at the Festive Food Marketplaces celebrate diverse cuisines, cultures and traditions. You can find last year's guide to all the food and beverages offered here.
Guests can purchase a Sip and Savor Pass, which gives you the opportunity to taste your way through your choice of eight different dishes or non-alcoholic beverages from participating Festive Food Marketplaces. This pass can be purchased at various locations throughout the park, including Festival Merchandise Carts, Seaside Souvenirs, Kingswell Camera Shop, and Rushin' River Outfitters.
For no cost, you can grab a Disney Festival of Holidays Tasting Passport at any of the marketplaces to guide you on your yummy holiday journey. As you visit each marketplace, get your passport stamped and when you've filled your passport, you'll get a special completion stamp.
¡Viva Navidad! is a Latin American inspired experience featuring a street parade, special meet and greets, and unique holiday food offerings. This unique show is a gem. Find a time to relax in the Paradise Garden area and experience this fun holiday offering.
World of Color- Season of Light
Also in Disney California Adventure is the "World of Color–Season of Light" show. This is a special Christmas version of World of Color that combines holiday music with classic moments from Disney films. This version of the show is much better than the former Olaf holiday show that used to play during the Disneyland Christmas season. The new show features timeless Christmas moments and a fantastic score.
Mickey's Happy Holidays
New this year to Disney's Festival of Holidays is "Mickey's Happy Holidays." Twice a day a celebration featuring Disney and Pixar characters offer a dance party with Mickey Mouse to the merry rhythms of the Holiday Toy Drummers. You can find this dance party at the Paradise Gardens Park Obelisk and Carthay Circle.
Holiday Sunset Concerts
Returning this year to the Palisades Stage will be the Holiday Sunset Concert series with bands on select nights including:
The Suffragettes- This festival cover band covers famous holiday songs on select nights.
Phat Cat Swinger- The West Coast's "Little-Big Band," will showcase their swinging selection of irresistible holiday music..
Blue13 Dance Company- This band presents a spirited tribute to Diwali through traditional Indian folk dances and Bollywood.
Mostly Kosher- This band brings the spirit of Hanukkah in a concert that combines Klezmer, Jazz and Rock & Roll.
The Sound- A cappella performance to celebrate Christmas and Kwanzaa
Mariachi Divas- The Grammy Award-winning Mariachi Divas bring the joy of Navidad to Disney's California Adventure.
Check the daily events calendar during your visit to see who's performing!
What to See at Downtown Disney During Christmas
Downtown Disney also joins in on the Christmas Time fun with lavish lights and decorations throughout the area.
Disney Hotels Decorated For Christmas
Many people don't know this, but one of the most quiet, beautiful locations inside the Disneyland Resort is Disney's Grand Californian Hotel and Spa. The Grand California has a beautifully decorated lobby and it is a great place to catch a quick rest.
The Disneyland Resort Christmas Carolers perform in the lobby of each of the three hotels: Disney Grand Californian, Disneyland Hotel, and the Paradise Pier Hotel.
You can also meet Santa in the lobby of each of these hotels throughout the day.
Olaf's Frozen Ice Skating Rink
In 2017, Disney installed a beautiful ice skating rink based on the film Frozen called Olaf's Frozen Ice Rink. 
Located out front of the ESPN Zone, the rink is surrounded by a festive assortment of seasonal treats, a forest of "snow" covered pine trees, twinkling holiday lights and garlands, an interactive children's art experience and fun winter-themed photos ops.
The rink is open 3pm to 10:30pm Monday through Thursday and 30m to 11:30pm Friday, Saturday, and Sunday. 60 minute sessions are $15 for adults and $12 for toddlers. Skate rentals are only $3.  Annual Passholders can purchase one skate ticket at regular price and your guest will receive general admission, skate rental and tax for no charge.
Disneyland Christmas Treats
Image Via OC Weeky
The most popular Disneyland Christmas treats are the homemade candy canes. Disney makes three batches of candy canes with 40 candy canes in each batch. Every batch is carefully crafted by a Disneyland Cast Member–many of whom have been making Disneyland candy for years. Special wristbands are handed out each morning in Disneyland and Disney California Adventure to 120 people.
You can see last year's Foodie Guide to all the Disneyland holiday treats here. 
Disneyland Christmas Candy Cane Dates
Upon arrival at the parks, head immediately to either the Candy Palace in Disneyland or Trolley Treats in Disney California Adventure to pick up your wristband to get your candy cane. The distribution of wristbands will not begin until the park officially opens.
While I don't recommend spending your Extra Magic Hour, be aware that many people will begin to line up during this time period on days when the Disneyland candy canes are released.
The surge of people from the turnstiles to the candy shops is unexpected until you try a candy cane for the first time. Wow! They are worth it.
Both the Candy Palace and Trolley Treats have specific alternating days that they make the candy canes. The candy canes sell for $12.99 each and are 5 oz each. Annual Pass discounts are not applicable for purchasing a Candy Cane.
Below are the Disneyland Christmas 2018 Candy Cane dates.
Candy Palace at Disneyland:
Dates to be announced!
Trolley Treats at California Adventure:
Dates to be announced!
For more information on Disneyland Christmas Candy Canes you can call the Disneyland candy information phone line here: (714) 781-0112.
Disneyland Candlelight Processional 2019
The Disneyland Candlelight Processional is an annual tradition that dates back to Walt Disney's time and kicked off in 1958. Each year a celebrity narrator is joined by a massive choir for a retelling of the biblical story of Jesus' birth in front of Main Street Station. In the past narrators have included Kurt Russell, Dick Van Dyke, Ginnifer Goodwin, James Earl Jones, and John Wayne to name a few.
This special event has four performances over two days during the first weekend of December. There are reserved seats for this Disneyland Christmas show that are not available to the general public. If you are in the parks you can stand along the white rope along the edges and take in this marvelous performance.
This show is far superior to the Walt Disney World version of the Candlelight Processional which takes place in an amphitheater in Epcot.
Tips for Visiting Disneyland During Christmas
For a truly magical Disneyland experience I highly recommend that you check out our complete guide to visiting Disneyland.
The best way to save money on your Disneyland vacation is to book through a certified Disney travel agent. We highly recommend you always request a travel quote because a travel agent will almost always give you the best deal for your vacation. Get a quote here >
Universal Studios Hollywood can also be a great addition to any Disneyland vacation. It can be quite affordable. You can find info on Universal Studios discount tickets on our page here.
What are you most excited about at Disneyland this Christmas?