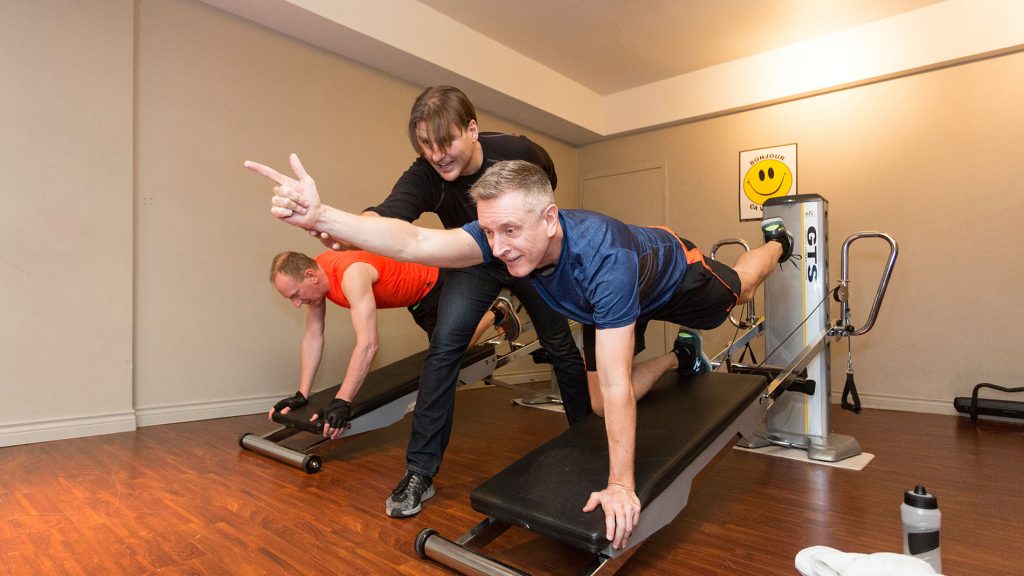 How to Find and Attend the Best Fitness Classes in Vancouver
Originally posted on https://tsquaredvancouverpersonaltraining.com/how-to-find-and-attend-the-best-fitness-classes-in-vancouver/
Do you know what the best things about fitness classes are? First, you get expert guidance without the guesswork from a fitness professional. Second, accountability to your workout along with social support and a fitness community of like-minded fit people. Third, the opportunity to explore movement in a new way. Finally, a way to have a great experience with fitness and fun at the same time.
If you are looking for the best fitness classes in Vancouver, read on.
What is the difference between Group Fitness, Personal Training, and Small Group Training?
If you are looking for the best fitness classes, step one is to understand the difference between the types of fitness classes that exist.
Group Fitness Classes
Group fitness classes at a typical gym tend to be large (15-20 people). The instructor typically stands at the front of the room where they show you the moves while talking you through your workout. Good group fitness instructors have big personalities and are excellent motivators.
When thinking about group fitness classes, most people think yoga or pilates, but times are changing. Here are some unique group fitness classes:
Treadmill and Rowing cardio based Fitness classes
Barre Fitness (a workout class – combining ballet-inspired moves with elements of Pilates, dance, yoga and strength training.)
Muay Thai (Originally from Thailand is a martial art, known as "the art of eight limbs" (because of the use of fists, elbows, knees and feet) utilizing effective striking and clinching techniques to control an opponent.)
HIIT, a high-intensity interval training class that incorporates various methods of exercise including bodyweight exercises, strength exercises, cycling, walking, swimming, or running or group fitness classes.
If these feel a little far out for you, or you are recovering from an injury, personal training might be a better solution.
Personal Training
Personal Training is traditionally 1 on 1. There are current trends to make it 2 on 1, for friends or a couple to work with a Personal Fitness Trainer together, to lower costs and increase motivation.
Personal Trainers have more exercise types in their toolbox. While group fitness instructors typically only teach one style of class, the best personal trainers can help with cardiovascular fitness, strength, and flexibility training all in one session. Often personal trainers pull from moves found in other group fitness classes.
Small Group Personal Training
Small Group Personal Training is a combination of personal training and traditional group fitness classes.
Although group fitness classes may give you a great workout, they are not personalized to your needs or limitations because of larger class sizes.
Personal training may sound good but is often more expensive than a gym membership or a group fitness class, and if you have a professional personal trainer you will see better results. If you are shy or lack motivation, having others to work out with you may increase your exercise consistency.
In small group training, you get the best of both worlds. Our small group personal training classes are limited to 5 participants and you are taught by an Expert Personal Trainer, not a group fitness instructor. Classes like ours provide more personalized attention and fun.
New Fitness Trends
There have been some new trends in the fitness industry in 2019. Because of time crunches and the results seen by HIIT (high-intensity interval training), class lengths are shortening. There has also been a focus on including various types of exercise in one session. Think of a HIIT style bodyweight strength training pilates class on steroids, as an example.
Our small group training sessions include the use of specialized equipment. Gravity Training System is a functional training system that uses your body weight and gravity to increase your results. Functional training focuses on the movements you use in daily living and increase your results.
How to Find the Best Fitness Classes
The qualifications of those teaching fitness classes are similar to those who are personal trainers. There are great fitness professionals & fitness instructors who've completed training at INFOFIT Educators, who will be graduates of the BCRPA Personal Training program. Ask your prospective personal trainers what their background is – and choose the best one that suits your needs.
You should expect that your small group trainer is qualified and professionally trained. They should also have good communication skills and a welcoming fun personality, which will help you enjoy the class, and help you get the best results. So be sure to check out our classes, and instructors, before you sign up. Most gyms or fitness studios offer a free first training session, check it out and see for yourself.
How Small Group Personal Training Addresses the Common Barriers to Exercise
Here is a common list of fitness barriers to exercise. Small group training can help you crush them. Most busy people claim they don't have time to exercise, with the focus of small group training 2 x's per week you can get results with a minimal time commitment.
I think exercise is boring, it can be if you don't switch it up; so switch it up.
I am self-conscious about my body or fitness, in small group fitness settings everyone is in the same place, so you won't feel alone.
I can't afford health club fees. Small group exercise classes are a little more expensive but will allow you to see results in as little as 1 time per week. The return on investment is higher than going to the gym for that reason. Saving you both money and time.
I hurt myself and I can't exercise. If you get injured our professional fitness trainers can work with you 1 on 1 and teach you the correct form and technique for your fitness program until you are healed.
My family doesn't support my exercise goals. Support is the key to success in many things including exercise. Small groups create accountability and a built-in support network.
I am too busy and tired after work. There are two options here. First, you can do a gravity fitness class in the morning. Most people find that morning exercise sets you up for a super productive day. Second, exercise actually gives you the energy that lasts the rest of the day and helps you burn more calories.
Exercise is important for your health, don't let barriers real or perceived barriers to stop you from being the best version of yourself.
Ready to Try our Small Group Fitness Classes?
Are your goals to gain more energy, strength, and endurance? Are you looking to lose weight? Regardless of your goals, our talented team offers the best fitness classes. We guarantee you will see results in as little as 5 sessions. Try our small group gravity training system and learn about your bodies true capabilities, you will be amazed!