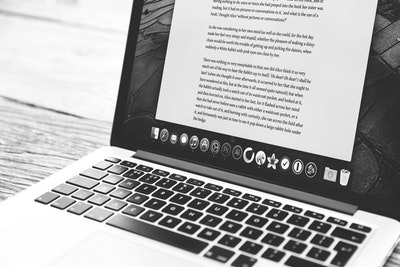 Becoming a Blogger in the Tech Space: How to Do It Successfully in 2019
There are millions of blogs on the internet. By 2020, there will be an estimated 31.7 million bloggers in the U.S. alone.
Naturally, one of the most popular blogging topics these days is technology. The tech blogging space is crowded and competitive. But there's such a vast amount of interest in tech topics that you can still find an audience by becoming a blogger in this field.
The hard part building long-term success through blogging. Read on to learn how to become a successful tech blogger in 2019.
What to Know Before Becoming a Blogger in Tech
If you want readers to take you seriously, you'll need to demonstrate that you know your stuff. Expect your readers to be well-versed in industry terminology and basic technology concepts. You won't be writing for the average layperson, so writing up explanations of industry topics that insiders already know about probably won't cut it.
If you don't have a tech background, tech blogging may not be the best option for you.
That said, you have an opportunity to shine in your niche. For example, you may not know much about programming. But if you know a lot about how businesses can use enterprise software to facilitate digital transformation, that could be your tech niche.
You need to offer something of value to your readers – something they can't get elsewhere. That means following the latest trends and producing content from a position of expertise and insight.
Finally, don't expect to become a huge success overnight. You'll need to post regularly, promote your blog, and build a following before you start seeing real traffic.
Even moderately successful bloggers don't typically earn enough to make a living. You may need to supplement your income with other activities, like freelancing. That said, if you become successful, you could devote all your time to blogging and related activities.
How to Start a Tech Blog
Starting a tech blog is relatively easy. In fact, the technical side of launching your blog is not the hard part – anyone can do it. It's becoming successful that's challenging.
Here is a step by step guide for how to launch a blog:
Set Up Your Workspace
Whether you plan on moonlighting as a tech blogger or you want to do it full-time, you're going to be spending a lot of time in front of your computer. Some bloggers even maintain their own office space and "commute" to work from their own homes. Others stay mobile and write in coffee shops and libraries.
If you're setting up a workspace at home, fill it with everything you need. You'll need a reliable internet connection, a computer, a desk, and a comfortable chair. You may also need other technology, such as a printer, software, or a USB hub like this product.
Choose Your Platform and Domain Name
Your blog will need to live somewhere online. Pick your blogging platform and content management system (CMS). Here are some of the most popular:
WordPress
Blogger
Medium
Squarespace
Joomla
Weebly
Wix
Hubpages
WordPress is the most popular website building product. 30% of all the websites online now run on WordPress.
That said, WordPress may not be your best option. It allows for a lot of customization, but you may just need a quick, clean website design to host your blog.
Take time to consider your domain. You're probably going to be married to it for a while. Compare available and affordable domain names with your vision for your blog before choosing.
If possible, avoid domain names that:
Are too long
Are hard to type
Contain intentional misspellings of words
Mix numbers with words and letters
Contain hyphens
Contain trendy words ("buzzwords")
Stay true to your style. If possible, try to capture a ".com" site. If you can't, don't sweat it. Alternative domain names like ".net" and ".io" are becoming more standardized.
Build Your Blog Site
You've got some important choices to make regarding your blog design and layout. You want your readers to be able to find the most relevant content easily. You also want them to be able to navigate your blog without getting frustrated.
Often, the most basic blog designs are the best. You can usually implement a basic design by selecting a theme from your CMS.
People recognize these layouts instinctively. They minimize confusion and keep the most recent and popular posts at the top of the heap. You can still customize basic blog designs with color and other branding elements.
Here is a list of items to consider:
Blog theme
Homepage (if any)
Fonts
Text size (bigger is usually better)
Colors
Images and graphics
Navigation
Site structure and page hierarchy
Navigation menu
Footer menu
Sidebar menu (if any)
Search bar
Image and design within blog posts
Blog loading speed
Newsletter signup forms
If possible, ask a friend or colleague to give you feedback about your site. You can test out different layouts to determine the best one.
Write Engaging Content on a Schedule
Finally, you've reached the most important part of blogging: writing blog posts.
You'll need to write content regularly. If possible, you should try to update your blog several times a week.
Some of the best bloggers put up a new post every day.
Of course, you don't have to do all the writing yourself. If you have a professional network in the tech industry, you can ask people to provide you with their own content. You can even hire freelancers to ghostwrite for you, but it comes with an upfront cost.
Once you garner enough domain authority, you can offer backlinking as a service for generating guest content.
In terms of topics, stay away from anything banal. Try not to just repeat what other bloggers are writing about. Write about the latest trends and try to add something new to the conversation.
For example, AI is a hot topic. Plenty of bloggers are writing about its possible business applications.
If you want to write about AI, take a new angle. What, from your experience, tells you about the future of AI, business, and society?
Promote Your Blog
In a perfect world, simply becoming a blogger would be all it takes to become successful. Unfortunately, there's so much noise on the internet, it can be hard to stand out.
Once you write a blog post, don't be shy about it. Promote it! Here are just a few ways you can get the word out:
Research keywords and do SEO
Build two-way relationships in your network
Engage with people on social media
Share content on social media
Set up an email newsletter
Post videos (on your website or on YouTube)
Write guest posts for other blogs
Get Digital Marketing Savvy
A lot of bloggers make the mistake of remaining semi-anonymous. In order to become a full-time tech blogger, you're going to have to master the art of digital marketing. 
By becoming a blogger, your goal should be to get your name out there. Don't shy away from self-promotion, whether its online, over the phone, or in person. Try to pitch to relevant publications to get featured and become a thought leader in your niche.
To learn about more ways you can promote your blog, check out the Digital Marketing section on ArticleCity.