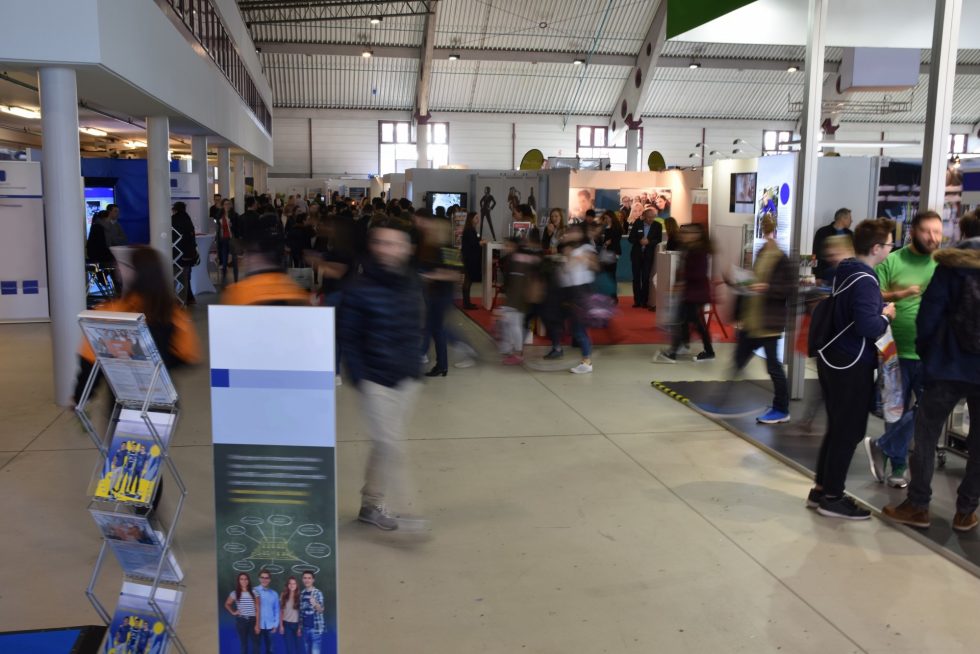 8 Creative Ideas for Vendor Booths That Steal the Show
Originally posted on https://www.infinityexhibits.com/8-creative-ideas-for-vendor-booths-that-steal-the-show/
Trade Show News Networks reports that 81% of the people who attend trade shows have buying authority. That's an important statistic to keep in mind when you're planning for your next trade show.
It means 4 out of 5 people who pass by or visit vendor booths are potential customers who can decide to buy your products or services.
That's very exciting!
Couple their buying power with the ability to talk to prospective leads face-to-face, an opportunity that is getting harder to accomplish every day, and you have a powerful lead and sales opportunity.
Check out these tips to make sure your vendor booth pulls those people into your sales funnel.
Vendor Booths
Competition for the attention of trade show visitors can be fierce, especially at larger conferences and conventions. Your vendor booth needs to stand out from the crowd.
Give yourself plenty of lead time to plan for your next trade show. Coming up with creative and unique ideas for your booth and promotional materials deserves your full attention.
Adequate planning will help ensure the success of your vendor booth.
Below are some ideas to help you steal the show from your competitors.
1. Create Buzz Before Your Trade Show
Once you plan to be at a trade show, you can start discussing it on social media and newsletters to your contact list.
As your plans develop, you can talk about discounts or special deals you'll offer at the show. Let them know what you have planned so they will be sure to stop by your trade show booth.
If you've planned for a special guest to be at your booth, you can hint about it or reveal the special guest's name, depending on whether you want it to be a surprise.
Give your followers highlights of the events happening at the trade show, the location of your booth, and other info about the venue and parking.
2. Make Your Display Attractive
Plan your trade show display so that it brings in visitors and convinces them to learn more about your company. You need to have space for them to engage with the team working your booth.
Use what you know about your target customer and your brand's message to come up with ideas on how to design your booth.
3. Have Something Interactive For Your Guests
Interactive vendor booth ideas encourage people to visit, linger, and buy.
Games where visitors compete for an end-of-the-day prize or a deal from your company are a great idea.
Some options are a learning station, interactive flooring or lighting, or even the opportunity to perform karaoke.
4. Make Vertical Displays
One mistake some people make when planning vendor booth display ideas is designing their displays to only been seen on top of a table. A row of people or other displays could block out your booth, making everyone walk past it.
To catch the attention of visitors, have parts of your displays at eye level so they are visible over the heads of people who are standing or just passing by.
5. Donate A Portion of Trade Show Purchase to Charity
Letting visitors know that you will give part of each purchase to charity can give display booths a unique message.
If there is a charity that fits in with your brand's message, you can opt for that. You can also choose any charity that resonates with your target customer.
Letting your customers know that your business cares about the world will help them see your company in a positive light. Giving a small part of your sales to a charity is a win-win for your business.
If you decide to make charity a part of your booth, mention it on your social media pages and provide a way for people to donate even if they can't attend.
After the event, you can let your followers on social media know how much you donated. Be sure to thank them for their donations and help in support of the cause.
6. Provide a Spot for Selfies or Photo Ops
Put an area in your booth that will inspire visitors to stop and take a selfie at your booth.
Use a fun backdrop or oversized cut-out for them to stand in front of or next to. You can also have someone in a costume that they can pose with.
Depending on your set up, you can provide props for them to choose from so they can "fit in" to the scene you've created.
If possible, you can place your branding at the top of the display or on the wall behind the backdrop. When visitors they share their selfies on social media, your brand will be right there with them.
If your budget allows for it, you can consider renting a photo booth that can print pictures. This will provide a reason for people to linger at your booth or return a bit later to pick up their photos.
7. Create a Cozy Space
Trade shows are tiring. Why not provide a spot for people to stop and rest for a few minutes?
Serve them a drink or snack. While they enjoy it, they'll be available for a quick introduction and have time to check out your display.
You can decorate the table with your advertising, put coupons in the middle of the table, or provide samples of your product and a short video for them to watch.
8. Use Space Above Your Booth
Whether your booth is large or small, you can still take advantage of the space above it to draw attention to your booth. It can draw attention from further away and is an opportunity to reinforce your brand.
By using balloons or other types of displays in the shape of your logo, you can leave visitors with something to remember you by.
Start Planning Your Next Trade Show Today
The time to start planning your next trade show is now.
Getting the details from the event facility provides important information about vendor booths and their policies on booths will save you time. You can plan accordingly and skip ideas that aren't allowed or won't work well for the venue.
Contact us to discuss display options. We'll be happy to help you figure out a display setup that will capture your attendee's interest and work within your budget.