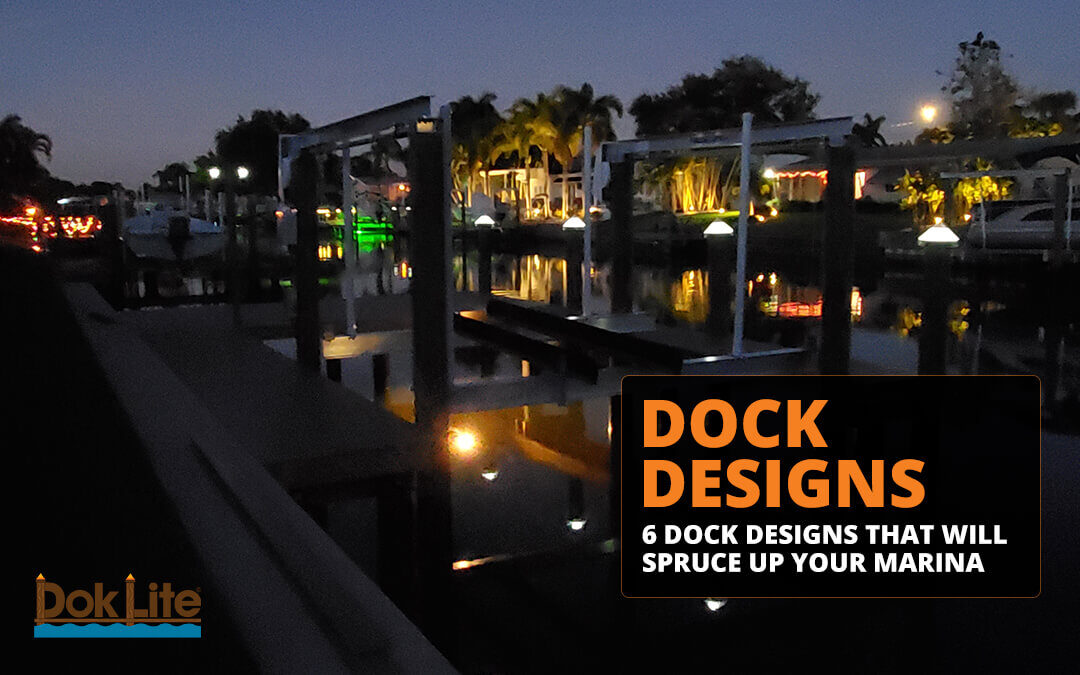 6 Dock Designs That Will Spruce Up Your Marina
Photo from Doklite
Originally Posted On : https://www.doklite.com/6-dock-designs-that-will-spruce-up-your-marina/
If you are lucky enough to have access to water and live the marina life, you know that it feels like a breath of fresh air the second you step onto the dock.
You're at your boat and by the water, what could be better? How about a dock design that makes your marina top-notch? What can you do to your marina docks to make sure they are the best there is for the boaters who dock there?
Read on for 6 ideas to create a dock design that will spruce up your marina.
1. Dock Materials
Let's start with the most important part of the dock design, the actual dock materials.
You want to be sure your dock is not only secure, but they are also attractive. Then look closely at your decking material. They are now many choices to use for decking beyond just the simple wood dock of yesteryear.
2. Add Railings
If your docks don't already have railings, it's time to consider them. Not only do they add a nice aesthetic touch, they also add an important safety feature for your marina.
There are many material options available for railings now including:
Wood
Wood Composite
Vinyl
Aluminum
Stainless Steel
Steel Cable
Do your research because adding railings can really upgrade the look and overall visual impact of your marine docking.
3. Cleats for Boats
Boaters know the importance of access to cleats when they pull into a marina. Does your marina have secure cleats and plenty of them so your boats can tie down adequately when not moving?
Make sure you have both an adequate number of cleats and the materials are strong enough to hold the boats. Material options include metal, wood, or plastic. Best of all are ones made from galvanized steel because of their strength.
4. Power Source
Many boats are not like floating condominiums with an abundance of amenities. Boaters want to be able to have easy access to a power source when their boat is docked.
You could decide to have power pedestals where not only is power hook up available, but boaters could connect to phone, Internet, and television connectors too.
5. Lighting
Lighting for your dock is another feature that adds both ambiance and an important safety feature in the dark.
Consider adding lighting to your dock railings and pilings throughout the marina space. This allows boaters to move through the marina in the dark safely.
Lighting can be solar-powered and attach right to the pilings with a variety of aesthetic options.
6. Outdoor Shower
Your boaters will appreciate the many benefits of an outdoor shower. If they are fishermen just in and done cleaning their catch, they will appreciate the ability to quickly rinse off.
If the boaters are in dock and working on their boat, the ability to rinse off and cool off is a nice perk. If they have spent the day out on the water in the sun, a quick shower once they hit the marina is the perfect end to a day on the water.
Winning Dock Designs for Your Marina
Get your marina all spruced up with these dock design ideas. Boaters will appreciate the added safety features and the new aesthetics these 6 ideas add to your dock area.
For more information on dock lighting, we can help. Contact us today for more information about lighting options for your marina.