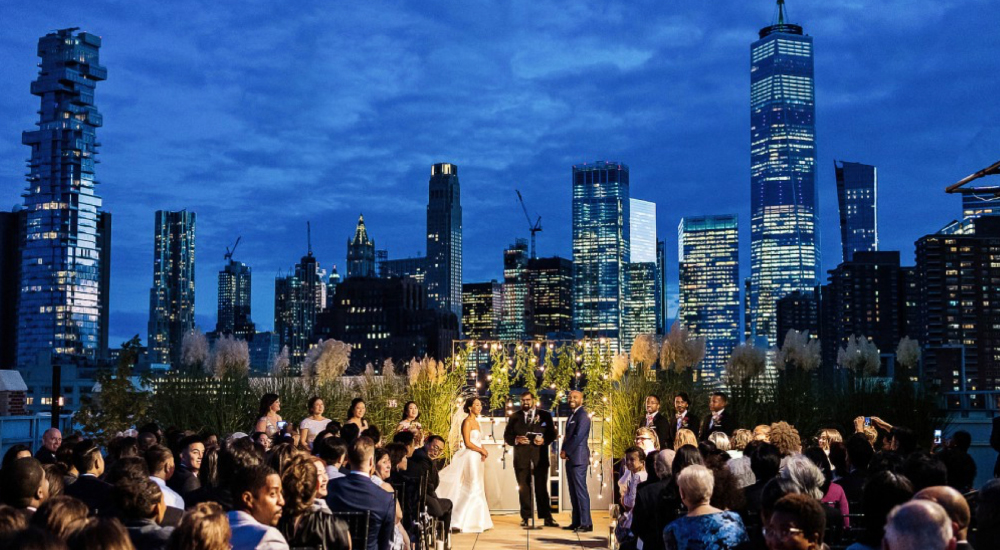 4 TIPS FOR PLANNING AN UNFORGETTABLE WEDDING
Photo by Steven Young
Originally Posted On: https://tribecarooftopnyc.com/blog/4-tips-for-planning-an-unforgettable-wedding
Weddings can be extremely detailed and personalized through the services provided at Tribeca Rooftop. Tribeca Rooftop has the ability to fit a large wedding with capacity for hundreds of guests. There are indoor and outdoor spaces available to you to best fit your wedding needs. There are various tips provided below to help you have your dream wedding when considering Tribeca Rooftop for your location.
Add Color: Light Up the Night
As mentioned, Tribeca Rooftop offers beautiful views of the New York skyline. At night, the views become even more beautiful with many of the city lights shining through. It is essential to choose first off, good lighting, to truly highlight the views offered the the beauty of your wedding.
Be sure that lighting is of top priority to you and your wedding. Good lighting allows the guests of your wedding to experience the decorations you choose at their finest. Be sure to have a spotlight during events to ensure guests are drawn to the event occurring, whether it be a speech or the first dance. Appropriate lighting will also assist your photographer in capturing great photos that you can cherish for years to come.
Picking the right colors for your wedding will further enhance the view from Tribeca Rooftop and will be illuminated when choosing the appropriate lighting. Beautiful up lighting on the walls will further enhance the beauty of the venue as well in accenting the industrialized vibe the venue goes off. Do not choose overly bright colors that will clash with your lighting and with the venue's candlelit mood, but rather, choose colors that will compliment the venue.
Music: Hire an Amazing Band or DJ
The band or DJ that you chose could make or break the wedding reception and music of the wedding. Great music will keep the dance floor packed! And people will go home having the time of their lives. It's so important to work with musicians that you trust.
Choosing the right band and DJ will get your guests moving during the reception. It will help guests to stick around and enjoy all that your reception will offer. Even if you are on a budget, there are still music options that will make your wedding truly a night to remember. Many of these memories will be captured through the photographs your photographer has of the reception. And it will make your wedding photos even more exciting! Which brings us to the next point…
Images: Pick a Photographer that You LOVE
A great photographer is there to capture the memories of your wedding, and you want to be able to cherish these memories for years to come. With that in mind, choose a photographer that you truly love.
Photos from a wedding are forever, while the events of a wedding are just for one night. With this in mind, you might need to consider splurging on the wedding photographer in order to have the best forever photos possible. A photographer is there to capture every beautiful and fun moment from your wedding.
Before you hire a wedding photographer for Tribeca Rooftop, be sure to do your research. Check out their previous work to ensure that you enjoy their work. With this in mind, choose a photographer that shoots in the style that you enjoy.
Your photographer needs to have an eye for detail and should be able to capture candid shots as well as posed shots. The reception room has high glass ceilings, so you need a photographer who has a ton of experience with lighting – because a large part of your wedding will be inside that space at night!
Decor: Hire a Florist or Event Designer
Tribeca Rooftop has many offerings for making the venue creatively designed toward your needs for your wedding. Despite the venue offering an industrial vibe, there are many ways to make the venue appear unique to you and your desires. Hiring the right florist and event designer will truly assist you in reaching your wedding dreams through decor.
As mentioned, having the appropriate lighting will help for guests to truly enjoy your decor. In order to enjoy the decor though, there must be decor for the guests to enjoy. There are several options for beautiful designs that your florist and event designer can assist you in coming up with.
Tribeca Rooftop has very high glass ceilings. These high ceilings can allow for hanging decor to be hanged from the ceiling. Have lights illuminate the ceiling so guests can notice the beautiful overhead decor above them.
You also need to determine the style of your wedding to assist your florist and event designer in designing your wedding and picking the right pieces. If you are having a black tie wedding, for example, you will want your event designer and florist to choose decor pieces and florals that make the venue look glamorous. If you are choosing to have a more rustic wedding, you want more simple design choices.
Other Tips
There are many choices that go into making a wedding and magical night to remember. Some of the most important choices involve hiring the right vendors, including event designers and florists, photographers, and DJs or musicians.
The first tip is to choose a venue that meets your needs. With some of the best food and views in New York City, Tribeca Rooftop truly has the ability to meet all of your needs.
Other tips could include hiring a wedding planner to ensure all of the details listed above go according to plan. Finally, arrive to your wedding in style. It is your day, and Tribeca Rooftop can truly assist you in accommodating this need.
About the author
Steven Young has been named one of the top NYC Wedding Photographers. He spends his time during the wedding looking for beautiful candid moments that capture emotion so you can remember the night. His work has been featured on The Knot, Style Me Pretty, CBS, and more…