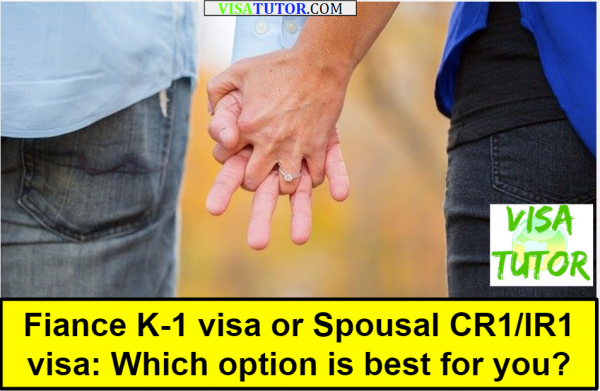 How to choose between Marriage CR-1/IR-1 or the Fiance K-1 visa options
Photo from Pixabay
Originally Posted On: Fiance K1 visa or Spousal CR1/IR1 visa – Which choice is best? « Visa Tutor
If you're a US citizen who has met someone overseas you want to marry, your choices are:
.
Apply for a

Fiance K-1 visa

to bring your partner here and marry within 90 days


.

Marry and apply for a spousal visa

CR1/IR1

(also applies to legal permanent residents)
.
Which of these options is best for you? And if you've already begun the fiance visa, do you stick with it or do get married and switch over to the spousal visa?
The right choice –which is different for everyone– means the difference between choosing the one that's faster, easier, or more suitable.
You can figure this out by comparing the "pros and cons" (I'll show you below) and making a determination based on preferences. Because it turns out that both the I-129F Fiance visa and the I-130 "alien relative" have advantages and disadvantages. 
For instance, the best feature of the Fiance K-1 visa process is speed of processing (typically 5-10 months). Meanwhile, the best strength of the spousal visa process is its relatively higher approval rates.
So, let's help you make the right decision based on your unique circumstances.
.
.
Figure out which option is right for you
With the help of the comparison table below, I'll give you three things to look over. After you're done, add up what you think works best.
. 
▸First
▹Review the facts and see where you stand. Does anything make or break the deal? For example, are you a US citizen? If yes, then both options are available. If you're only a Legal Permanent Resident (LPR), then only the

I-130

is open.
.
▸Second
▹Select an option based on your preference. For example, do you prefer to get married in the US surrounded by family or friends? Or are you indifferent to getting married in a foreign land possibly without family/friends present?
.
▸Third
▹Decide if certain important factors steer you into one option or the other. For example, do you want your foreign fiance to get work authorization immediately upon arrival in the US? Or are you alright waiting idly for a few months until the EAD/AP card shows up?
.
Again, I'll explain all of these three factors in detail below. After that, you make your own decision whether the fiance visa or the "immediate relative" visa is right for you.
.
Comparison of the I-130 for CR1/IR1 versus the I-129F for K-1 visa
The following table lists the facts of the I-129F versus the I-130 side by side. Pay special attention to the "advantages" and "disadvantages" parts because those are the most-important deciding factors.
.
.
Step 1: weigh in the facts
First, consider the facts of each option.
.
They both have different requirements
The immediate relative CR1/IR1 petition can be done by either a Legal Permanent Resident (LPR) or a US Citizen. Meanwhile, the fiance K-1 visa is only available to US citizens.
If your partner has children, both the K-2 visa or CR2/IR2 visas allow them to join you.
A very unique requirement for the K-1 visa is to have met in the last 2 years immediately before filing the I-129F. You've also got to marry within 90 days of entry into the US.
Meanwhile, for the I-130, there's no specific requirement of having met face to face in any given time frame. Since the "immediate relative" presumes you're already married, the USCIS only wants to see a valid marriage certificate regardless of when you last met.
For instance, even if you married 5 years ago and have not seen one another since, you're still eligible to file the I-130 as long as you have a valid marriage certificate.
.
Cost: the fiance visa costs slightly more
In general, the I-129F procedures ends up costing a bit more than the I-130 spousal route. As you'll see in the breakdown below, depending on certain variables, you'll pay anywhere from $2,500 to $5,000 for both visas. 
The biggest unknowns are children, however. If there are K-2 visa or CR2/IR2 children involved, the costs can skyrocket and add an extra cost for every step of the way.
Here's a cost breakdown for the two different options
.
.
So, it's interesting: the CR1/IR1 visa process is slightly less expensive than the K-1 visa process. It's not a huge difference therefore, to me, it's wise to ignore the cost when comparing each visa. What do you think?
.
They both require you to show financials (I-134 or I-864)
The CR/IR requires an I-864 Affidavit of Support to meet 125% when the NVC is reviewing. Meanwhile, the K visa requires 100% (preferred 125%). The benefit of the fiance visa is that you get more flexibility with the percentage. 
However, the biggest leverage the CR/IR visa offers is to "combine income" with household members. This means if you're having trouble meeting minimum income, the spousal procedures makes it easier to comply.
With respect to procedures, however, I-130 applicants give the I-864 affidavit of Support to the NVC. Meanwhile Fiance visa applicants submit the I-134 at the visa interview (hence, you've got more time to come up with a potential solution for "public charge").
There are tradeoffs for both routes.
.
The CR1/IR1 spousal has higher approval statistics
Let's compare the approval / denial statistics for both the I-130 and I-129F. 
In general, the spousal is more "secure" because it's got higher approval rates for both the USCIS adjudication and at the CR1/IR1 visa interview. Statistically, 90% of the I-130 petitions are approved (which include more than just spouses). Source: USCIS reports
The same USCIS statistics show that about 75% of the I-129F are approved.
During the US Embassy visa interview, the CR1/IR1 also enjoys a higher approval rating … although we have no way to confirm this because they don't publish specific numbers. But considering USDHS statistics table, experience, and other sources, I believe the approval rating is nearly 99% for spouses.
The statistics for the K-1 visa show that roughly 80% of applicants are approved (but only after half of all interviewers are temporarily denied with a 221(g)). Source: US Embassy visa statistics
.
.
So, in terms of approvals and denials, the CR1/IR1 clearly has the upperhand. This is especially helpful in red flag situations, which we'll discuss below.
.
LGBT couples can use either option
For same-sex couples, both options: the I-130 and I-129F are available. 
There are two very important points to note, though. If the host country allows same-sex marriage, then both the fiance K-1 visa or the CR1/IR1 are viable. 
However, if the host country doesn't recognize gay marriage, then you may use the fiance K visa there discreetly. Or you can go to a different third country to get married and then apply the I-130.  In either case, both options can be used.
.
.
Safety concerns may be important if you fear persecution in your home country. For that, fiance visas are suitable because the process can be done without interference. 
However, you can still get married in a third country and apply for the CR1/IR1 as an alternative. See the full details on fiance visa for gay couples. In general, gay couples can find success with both routes.
.
Step 2: decide based on your preferences
In this section, you're going to start thinking about what you WANT rather than what you're forced to do… you know, like, do you want to get married in the US rather than a foreign country? Or do you prefer a quicker processing time?
.
The Fiance visa has a faster timeline
I-129F and I-130 case processing times charts are available on the USCIS website. 
As an example, below is a typical I-129F petition being adjudicated by the California Service Center. The I-130 adjudicated by the Texas Service Center is shown below that.
.
.
The USCIS claims that the I-129F is adjudicated on average by 5.5-7.5 months, while the I-130 is adjudicated by 8.5-11 months. Historically, this trend has kept constant despite normal yearly fluctuations.
The processing times for the NVC and US Embassy vary greatly because they depend on many factors (e.g. NVC backlog, US Embassy backlog, and your individual pace of preparing). For the fiance visa, it holds constant at about 2-3 months overall. But for the spousal, it may be upwards of 6-12 months. That's why the CR1/IR1 path takes so long in comparison.
In terms of processing speed, the fiance visa gains the edge due to convenience. The CR1/IR1 may take 14-24 months overall, while the K visa takes 5-10 months overall. This is the biggest advantage of the fiance visa route.
.
Where do you prefer to get married? in the US or abroad?
One of the best features of the fiance visa is that you get married in the US. Meaning, you can choose the venue, caterer, videographer, etc, whatever you prefer and invite all of your family and friends to the wedding.
This flexibility disappears if you get married abroad. What if you don't want to lug your entire family overseas to witness the wedding? Or what if you don't want to host a wedding when your friends or family can't be present?
This turns out to be a primary reason people choose to marry in the US rather than abroad… and why they prefer the K-1 visa versus the CR1/IR1 spousal.
.
Many times it's difficult to get married abroad
Interestingly, sometimes you're almost left little choice but to use the fiance visa. It turns out in some countries, marriage to foreigners is akin to bending over backwards. There can be a surprising number of rules and regulations to follow.
For example, in Morocco, foreigners (Americans) and their Moroccan partners must gather a plethora of documents if they want to get a marriage certificate. This can take several weeks of planning, running around, gathering documents, getting police certificates, even getting a medical exam, among other things, before you can register the marriage. 
I read this great blog which talks about all the frustrating experiences of trying to get married in Morocco for an American… and how it's easy to lose track and get overwhelmed. 
After reviewing the procedures she followed, it's clear why so many couples would favor the fiance visa instead of the spousal in Morocco. The sheer number of steps involved and the cost are maddening. 
You should evaluate the procedures required for marriage in your partner's country. What steps do they require? Any formalities? A residency period?
.
Both routes have the same burden of paperwork
The I-130 is slightly more burdensome upfront than the fiance visa. There's a bit more laboring because you can submit the Green Card application (I-485) together. In addition, the NVC is tasked with collecting and evaluating your paperwork so the US petitioner is often dealing with the NVC.
Meanwhile, fiance visa applicants only submit Permanent Residency paperwork after entry and marriage but not with the I-129F. So, that's why the initial fiance visa I-129F paperwork isn't as burdensome. There's also no dealing directly with the NVC. 
.
.
The K-1 visa, however, gets heavy on paperwork during the final stages (Embassy interview) because that's when you begin to really ramp up the forms + procedures.
So, to me, both balance out. And that's why it comes down to your preference because neither procedure is more or less complex. 
Still, I'd prefer to do the heavy lifting later when we're more educated and experienced with the system… that's why the fiance visa is a better fit.
.
Frontload evidence of bona fide relationship
Both the I-130 and I-129F require frontloading relationship evidence up front. This is easier to do for the spousal visa because the only evidence you truly need is to a valid marriage certificate. 
Meanwhile in the fiance visa, evidence of relationship is more of an art than a science. You have to select good photos, letters, evidence, etc. to place within the I-129F packet. This can be troubling if you don't possess good evidence or photos from your visits. 
For that reason, submitting evidence is modestly more difficult with the fiance visa.
.
Fiance visa allows you to postpone the medical exam vaccinations
The K visa allows you to postpone the optional vaccinations until after the interview (before the Adjustment of Status). This gives you time to come up with a waiver request and address the issue if, for some reason, you don't want to take vaccinations.
The spousal visa, however, requires it before the CR/IR interview. If you have some sort of waiver request, you must submit it at the interview… which leaves you with little choice and time, you have to address the issue right away. Otherwise, you may be denied the visa due to health ineligibility (INA 212(a)(1)).
.
Step 3: decide based on important factors
Finally, let's weigh in the important factors. Meaning, are there some issues that are inherently easier to deal with with the spousal visa versus the fiance visa?
.
If you have debilitating red flags, the spousal route may be better
Red flags in relationships are things that seem out of the ordinary for a typical couple … and force the interviewing officers to wonder whether your relationship is genuine or a guise for "immigration benefits". In other words, are you really in love or just doing it for a green card?
Things that arouse their suspicions are: having a vast age difference, very little commonalities, different backgrounds, languages, religions, seeming like a scam relationship, high fraud-risk country, etc. The full list is here: K1 visa red flags of denial.
The CR/IR visa is less risky for couples with severe relationship red flags. Looking back at statistics, see how the "alien relative" visa interviews have approximately 99% approval ratings. That includes cases with red flags.
So, despite red flags, spousal visas have a higher chance of approval (although never guaranteed) compared to the fiance visa process. This turns out to be one of the biggest advantages of the spousal CR1/IR1 visa.
That's not to say that it's impossible to be approved if you have red flags in the K-1 visa route. In fact, many people have resounding success once they follow proper steps and present their relationship adequately. But, I admit you may have an easier time getting a visa if you're married versus if you're engaged.
.
The CR1/IR1 gives immediate permission to work / travel
The CR1/IR1 grants your spouse permission to work and travel abroad because he/she gets the I-551 upon arrival (i.e. "green card" for permanent residency). For many, this is a key factor for selecting the spousal I-130 especially if you want your partner to work and contribute financially after marriage.
.
.
Meanwhile, fiance visa applicants need to file and wait for the Employment Authorization Document and Advance Parole (EAD/AP card) with forms I-765 and I-131 before he/she can work or travel abroad. This normally takes 6 months after entry. 
So, your fiance cannot immediately work and contribute to your finances OR even travel abroad to visit family. 
.
Criminal history may be a problem for both systems
The US government wants to make sure that the US petitioner doesn't have criminal history that suggests he/she is a threat to the incoming beneficiary. 
So, for both the I-129F and I-130, the petitioner's background is checked. Anything related to an Adam Walsh Act conviction is an automatic denial.
Strangely, there are no specific requirements to disclose criminal history when filing the I-130 although they obviously do background checks. But if they do find something they want to know more about, the USCIS will send an RFE. 
Conversely, the I-129F explicitly says to disclose all criminal history that the petitioner or beneficiary has.
If the US petitioner has criminal history you fear may lead to a denial (i.e. Adam Walsh Act related), you're not likely to be approved for either the CR1/IR1 or K-1 visa.
As for the beneficiary, he/she is required to present police clearance certificates for both the Fiance visa and CR1/IR1 visa. If your beneficiary has some adverse criminal history, he/she may be subject to denial INA 212(a)(2).
Waivers are available if you qualify and are generally easier to get with spousal visas. 
.
How to total up the pros and cons
Go back to the table and charts, evaluate your preferences, determine which route is most suitable for you.
As an example: a young couple who've met in the last 2 years, have gotten engaged, and have no criminal history or low income, will find it suitable to use the fiance visa if they prefer to get married in the US and have a speedy process.
However, if a couple has red flags or don't care where they get married, they may use the spousal I-130 assuming they don't mind the extra long waiting period.
.
Common questions
.
If I'm denied a K visa, should I try for CR1/IR1 next?
If you're denied a K-1 visa, then depending on WHY you're denied, you have two options.
You can repeat the K visa: meaning, you can refile the I-129F and go through the entire process over again (unless there's an inadmissibility that bars you and forces you to use a waiver through the spousal visa). But before you decide to do that, make sure you "fix" the problem that caused the K visa denial in the first round.
.
.
Or, you may choose to get married and go with the CR1/IR1 process (recommended). This will restart the entire process anew with the I-130. Although it's not guaranteed that your visa will be approved this time, it's generally likely to get an approval with the I-130 despite past denials.
.
If my partner has a ESTA or a visitor visa, what options exist for marriage?
This is a common question. Many times a foreign partner already has a US visitor visa or ESTA (WVP nations). What options do you have… can you get married in the US? Or do you have to get a K-1 or CR1/IR1 visa first?
Regardless of which visa your partner has or doesn't have, you can still apply for a K-1 or CR1/IR1. In fact, even if your partner is currently in the US with a visa (such as J visa) you can still apply. You may send your I-129F or I-130 forms to the USCIS.
Your other option is to get married with a visitor visa or ESTA inside the US. Adjustment of Status, however, shouldn't be filed right away or the USCIS may suspect the marriage was just for immigration (the "90-day rule") and deny PR.
.
Which option is best: K-1 visa or CR1/IR1?
The answer is different for every couple. 
The biggest advantage that the fiance visa offers is processing speed and that there's no formal ceremony or additional paperwork required (other than having met in the last 2 years and getting married in 90 days after entry).
The biggest advantage CR1/IR1 offers is that it's robust (i.e. higher approval ratings) along with granting your partner immediate permission to work and travel once he/she enters the US.
So, which convenience do you value more: processing speed over higher approval rating? Do you not mind slower processing despite having to go through bureaucratic procedures to get married in a foreign country?
If you'd like to use the fiance visa process, sign up for my email list and I'll send you over a checklist to help you begin the paperwork immediately…
.
But first, share you thoughts and insights below…