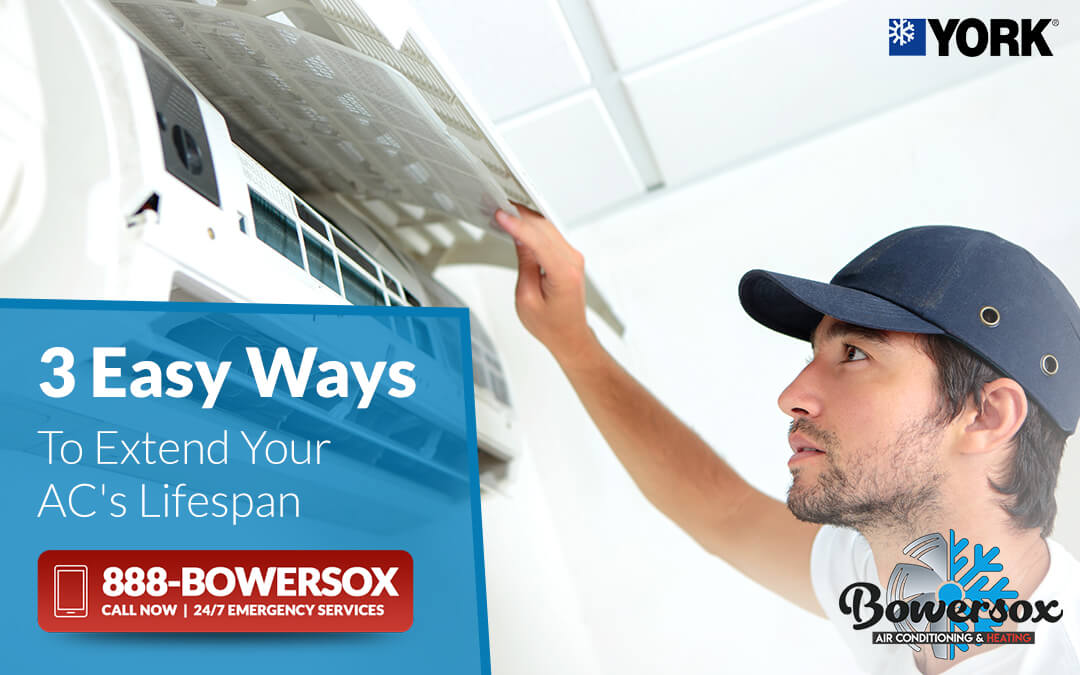 3 Easy Ways to Extend Your AC's Lifespan
Photo from Adobe Stock
Nothing lasts forever, and that includes your home's major appliances. Even when you buy top-of-the-line items, you'll eventually repair or replace something.
In warmer climates like the one here in Florida, it's the air conditioner that concerns homeowners. You depend on your AC to keep your home comfortable practically year-round.
The good news? You can extend AC lifespan with three easy steps. They require little effort on your part but ensure you get the most from your cooling system.
1. Minimize Dust and Debris
When your goal is to maximize AC lifespan, you'll want to keep the system clean. DIY AC maintenance should include minimizing the presence of fine dust particles and debris in the AC unit.
Since the filter acts as the first line of defense against harmful particles in the air, it's vital to swap out the old, dirty filter with a clean one. How often? In short, it depends on the manufacturer's recommendations and your lifestyle.
If you smoke, have pets, or someone in your household deals with a respiratory health condition, you may need not only to change your filter more often.  In addition to routine filter changes, there's something else you can do to keep dirt and debris under control.
Keeping the outdoor condenser unit clean goes a long way toward extending your air conditioner's useful life. Clear yard debris, trim back grass and shrubs and clean the condenser coils and fins.
Minimizing obstructions caused by dust and debris buildup on the inside and outside units helps the AC work better and longer.
2. Flush Your A/C Drain Line
Have you ever flushed the drainage line (also called the condensate drain) in your air conditioner? As the name infers, the AC drain line helps remove condensation from the evaporator coils.
In Florida, condensation is not your friend because, in excess, it raises the humidity level. AC drain lines can develop grimy clogs and mold. Both impact the ability of your AC to operate efficiently.
Inefficiency results in premature aging of your AC, which can mean an unexpected AC replacement. You can help your AC system to live longer by flushing the drain line.
Speaking of replacement, how long does an AC last anyway? According to the Department of Energy, you can expect your well-built unit to last between 15-20 years. Keeping AC drain lines clean is a small effort with a big pay-off.
3. Schedule Regular AC Maintenance
The third step you can take toward extending your AC's life is giving the system a tune-up. Regular AC maintenance offers an array of benefits, including more efficient operation and longer service life.
Some maintenance items make great DIY projects. Changing air filters, clearing debris, and flushing the drainage line are all relatively easy tasks to complete.
A qualified AC technician should do a full-scale tune-up.
During a routine maintenance appointment, your technician will evaluate the overall condition of your AC unit. They'll inspect the mechanical components for signs of wear and tear.
Tip: Your AC company can provide a list of everything they include in their AC maintenance visit.
Ready to Extend AC Lifespan?
We've shown you three simple ways you can get more from your air conditioner. There are several other things we can help you do to extend AC lifespan.
All you need to do is contact the AC experts at Bowersox Air Conditioning and Heating. We can often schedule same-day appointments, and we have 24/7 emergency service!
How We Can Help
We offer high-quality blow in insulation services for homeowners and business owners in the North Port, Venice, Nokomis, & Sarasota areas.
We can add blow-in insulation to your existing home, or we can meet your insulation needs during a new construction project. We perform work in a wide range of properties, including custom single-family homes and commercial properties. In addition, we can help during multi-family remodels or retro work.
In fact, over the past several years, we have been able to meet the unique needs of hundreds of architects, builders, and homeowners. For instance, we have re-insulated existing attics or helped with new additions.
We have also played a role in gut renovations that have required our insulation services. Likewise, we have provided insulation for apartment buildings spanning multiple stories.
To learn more about how our blow-in insulation services can add comfort and value to your home or commercial property in the seasons ahead.