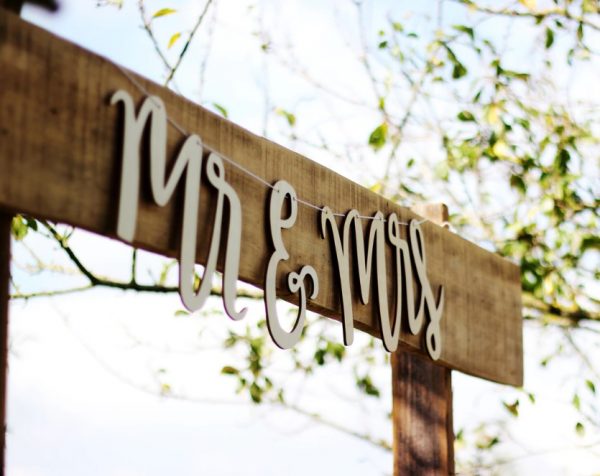 24 Items The Should Be On Your Wedding Decor Checklist
Originally posted on https://personalizedbykate.com/24-items-the-should-be-on-your-wedding-decor-checklist/
Are you on the hunt for some wedding items that can help step up your wedding decor? Read on to learn about the checklist we compiled.
The cost of the average American wedding was over $35,000 as of 2016.
Budget-conscious folks have sought to save money on wedding costs in a variety of ways, including smaller guest lists, makeshift venues, and handmade invitations.
With a little thought and creativity, your wedding can be a fairytale landscape even without the big bucks.
Are you looking for affordable items that will immediately class up your wedding decor? Let's take a look at some sparkling innovations.
1. Consider Your Venue
The right wedding venue should align with the theme and vision you have in mind for your big day.
If you want a modern wedding, check out art galleries or libraries. If you envision a more rustic wedding, check out parks, backyards, barns, and ranches. If your dream wedding is more traditional, consider houses of worship and private homes.
Don't be afraid to get creative. Some beer gardens, seafood joints, and warehouses look great when bedazzled for a special occasion. Envision the ceremony, table placement, and lighting in an Avante-Garde setting that honors your personality as a couple.
Of course, your budget will have a lot to say about where your wedding can take place. Consider a daytime wedding or one at a friend's home if you can't afford to spurge.
Be sure to check your venue's availability if you are serious. If your guests are from out of town, consider something near or next to a hotel. If you are planning to book a local place for your guests, arrange for transportation so they can relax and enjoy themselves that evening.
Remember that the per-head price will not be your only consideration when you are deciding where to celebrate. Make sure you find out what gets included in your price, including A/V, chairs, food, flatware, and linens.
If you plan on having your ceremony, cocktail hour, and reception all in one place, think about how your guests will get accommodated. Are there different rooms for each stage of the event? If a room will be "flipped," where will guests go?
Remember that you need to look for the most beautiful and comfortable space for your unique style.
2. Draped Ceilings
Draped ceilings are a great way to add elegance and romance to an outdoor or rustic space. Warehouses and barns, in particular, look more intimate and elegant with layers of chiffon, organza, or voile framing the event.
Consider draping the fabric from the ceiling and let it touch the floors on the edges of your event. Or add floor-to-ceiling panels to set off a large, cavernous space. It will immediately make your setting warmer and more intimate.
If your venue has impressively high ceilings, add floor-to-ceiling draperies to emphasize height and create a romantic feel.
While white is the most popular color for wedding draperies, some couples opt for warm colors like soft pink or sea green to add a bit of color and joy. Draperies also look great when studded with twinkling strings of light.
3. Ballooning
Balloons are a colorful, inexpensive way to add color to your event. You can tie them to signs or use them to designate spaces such as the gift table or guestbook.
You can fill them with confetti or decorate strings with foliage and tassels. Gold-dipped balloons, which you can paint yourself, add a bit of elegance and class to any space.
4. Petal Toss Bar
A kaleidoscopic petal toss bar is colorful, inexpensive, and romantic. A flowing basket or cone with petals in pink, yellow, and red are a great way to engage guests in the feeling of the day.
Try printing pretty lettering with sayings like "kiss" or "toss" on colorful cardstock. You can then cut and fold the cones yourself. Rose petals may get discounted at your favorite florist.
Guests can grab a cone and fill it up with petals of their choice. They are a great, unimposing way to wish the bride and groom good luck!
5. Pillow Pop
For low-maintenance pops of color, try adding some inexpensive lounge pillows covered in an elegant fabric in your lounge or cocktail area.
You may want to choose a shade that complements your bouquet or bridesmaids' dresses. Personalized pillowcases in a high-quality fabric also make a great wedding favor.
6. Nifty Napkins
For more do-it-yourself beauty, purchase cloth napkins in bulk, and embroider something on them that represents the theme of your wedding.
An outdoor or rustic wedding, for example, may welcome evergreen trees. For a beach wedding, sew on a seashell. If your wedding is simple and traditional, a rose will do just fine.
You can even get your relatives or bridesmaids together for a sewing party to create the napkins. It will add instant elegance and class for a fraction of the cost.
7. Go Green
If you plan to seat guests outdoors, try building an elegant gazebo over tables and chairs to frame the space and make it more intimate. You can accentuate a flowy taupe fabric or florals and greenery.
8. Custom Wedding Signs
Custom wedding signs can get purchased for as little as $25. They are available in elegant floral or colorful prints and displayed on an easel with flowers, adding instant color and personality to your space.
A custom wedding sign is also a great way to let guests know about custom drinks or your beer and wine list. This is an instant way to cheer them up!
Custom signage can also be a chalkboard in a spray-painted antique frame draped with greenery. It is a tremendously affordable way to shape your day!
9. Just A Glass
Rented glassware in eye-popping colors like emerald-green, rose, and even scarlet is an instant way to add color and joy to your table. Goblets, tumblers, and champagne flutes can all get dyed or tinted to add beauty to your table without big bucks.
To save even more money, dip the rims of glasses in corn syrup, and then in large-crystal sugar. Your table will instantly come alive with sparkle and color!
You can also consider offering personalized wedding glasses as favors. Pilsner mugs, whiskey glasses, and champagne flutes will certainly get used by your guests on chilly nights!
10. Skip The Flowers
High table lamps allow you to skip centerpieces altogether. You can cover the cords with greenery, or choose no-plug options like votive candles, LED flicker lights, or fuel cells as your light source. All of these last between six and ten hours.
For extra elegance, try glass-based table lamps with orchids floating in them. Greenery down the middle of your tablecloth can add the natural element your guests may expect from a centerpiece.
11. Fun With Table Numbers
Table numbers can be so boring. Consider jazzing them up with a background photo of the couple or their childhood photos. Or you can reshape them with unique items such as wine bottles, lanterns, and flower arrangements.
Simple glass table numbers with elegant lettering will let guests know you care about every detail. Flower arrangements, blooms, or greenery where table numbers get displayed will add instant elegance and romance.
12. Candle Candy
Candles by the hundreds can turn a rustic setting into a dazzling scene of romantic lights. Add hundreds of candles, and no one will know how little you actually spent on your big day.
You can also consider adding hundreds of paper lanterns for immediate festivity and color. They can get mixed and matched and immediately illuminated when darkness falls. Use LED lights to avoid using an electrical cord.
13. A Rose Aisle
A path strewn with rose petals in gorgeous pink, red, and yellow hues makes a stylish and colorful path for you to walk down to meet your intended. Highlight it during twilight with votive candles or hurricane vases with floating candles. A rose aisle also looks great when lined with elegant lanterns.
14. Carnation Centerpieces
Minimize costs and maximize color pop with bouquets of carnations in a variety of colors going down the center of each table. Cluster them in modern, minimalist vases to offset their sweet fluffiness.
No need to get a florist to mix and match! You can cluster all the red carnations together, next to a blue cluster, next to a yellow one. The arrangements will look fresh and lively on a white tablescape. And don't forget about their beautiful scent!
15. Wedding Favor Centerpieces
Save some pretty dough by doubling your wedding favors as centerpieces. Lovely glass vases with festive cones that are grouped together will add immediate color and elegance to your table.
16. Favorable Place Cards
Is it possible for your wedding favors to double as place cards? Absolutely! And your wallet and watch will thank you!
Consider elegant white boxes topped with flowers that can function as centerpieces. Table numbers can be sewn onto a ribbon on the largest box. And favor boxes that are filled with candy can double as place cards.
17. Natural Centerpieces
A gorgeous centerpiece doesn't have to mean an expensive arrangement. Consider a fern frond neatly decorated with flowers, berries, or even a lovely wood design.
Blossoms are beautiful even when they are made from paper or fabric, making your centerpieces last long after the wedding. And they can be paired with little lovebirds for extra sweetness and romance.
18. The Two-Color Tabletop
If you are looking to keep your tablescapes fresh and clean, consider keeping it minimal with a simple two-color scheme.
White linens are the perfect backdrop for a royally red, blue, or green colored centerpiece and bold napkins.
19. Seating Card Wreath
You can have an elegant wreath greet guests at the reception, with shiny cut-out wreaths displaying guests' names. You can purchase an affordable large wreath at a craft store.
20. Glass Bottles
Consider placing glass bottles in a variety of shapes in the center of each table. They can be ornamented with lovely sprigs and blossoms, or single, colorful flowers. And they won't break your bank!
21. Fun With Fans
Fans will let your guests know you are thinking of them. Ornate wood fans are elegant and affordable at the same time. In fact, sandlewood fans can be purchased for as little as $2.00 each!
22. Use A Mirror
A mirror will make your centerpiece look bigger, and it will add immediate elegance and beauty to your tablescape.
Consider using votive candles and simple floral arrangements along with a gilded antique frame that magnifies their beauty for guests. And it will look elegant rather than cheap!
23. Branch Centerpieces
Branches take up more space than flowers, and using only foliage will enhance a natural wedding. Consider maple branches in slender vases lining the center of your tables. They will add greenery without overwhelming guests.
24. Groomsmen Gifts
These guys have been with you for a while and now is the time to show them your appreciation for everything. Give them something they will remember but something they will also be able to use. Nothing worse than giving a nice gift and it gets put away forever. We have glasses, knives, wallets and more to give the best groomsmen gift.
Affordable Wedding Decor
Wedding decor may be more affordable than you think. Natural touches like greenery, draping, and beautiful signs can add color and elegance to your wedding with little time and money.
For more great personalized wedding gifts, contact us today. Personalized By Kate has everything you need and more!