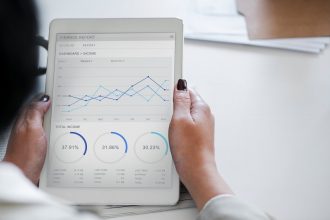 What Are the Smartest Ways to Market Your Business?
Originally posted on https://www.sylvianenuccio.com/market-your-business/
Your business can't hit dizzying heights without a smart marketing strategy. It doesn't matter how good your products or services are; if you're not getting your business in front of as many people as possible, your success will be limited. Knowing how to market your business is everything.
There are two ways to market your business: The first is making sure that your company is watertight, it has a clear mission, it's worthwhile to your target market. The other is to ensure that people know that it's there.
But of course, there are correct and incorrect ways to promote your business. Literally shouting from the rooftops is technically marketing, but it's not very effective. So what are the smartest ways to promote your brand? We take a look at a few ways below.
Market your Business Through your Website
There's no getting around the fact that the digital world rules these days. As such, you need to make your presence known, and this begins with your website.
While there's a lot of space for social media marketing (more on that later), it's your website that should be the core of your online world. This is where people will learn about your brand, build a relationship with you, and ultimately make a purchase (or be directed to your store to make a purchase).
You'll want to ensure that your SEO is sharp so that you're ranking well with Google, but also consider hosting a blog that will give you a space for long-form content that can help you to showcase what your brand is all about.
Use Customer Reviews
People do listen to companies, of course, but there's sometimes a nagging doubt in the back of their mind that says, "these people have a vested interest in only telling me the benefits." They know that you're biased, and that does compromise how they view you. Not the end of the world, sure, but enough to merit searching for a better way.
Thankfully, there is a way to get around this issue: other people. People are more inclined to believe past customers than they are to believe you, so look at hosting testimonials on your website and actively managing the feedback you receive on the popular review sites.
Market your Business on Social media
We talked earlier about the importance of social media marketing, and it's true: it is indeed highly important, for one simple reason: it's where the people are. If your aim is to reach as many people as possible, then you need to hang out where they hang out.
In the 21st century, market your business specifically on Facebook, Twitter, and Instagram. Through the use of clever uses of video and photographs, you can attract interest from people who have never heard of your business before. Don't let them get away with just following you on social media, point them towards your website, since this is where the real engagement will happen.
In their Email Inbox
Some inexperienced marketers believe that email marketing has had its day, but this isn't the case anymore. This is false, but of course, it's only effective if the company follows best practices. People who say it doesn't work are pretty guilty of putting together a poor email.
First of all, it has to be valuable. You will only annoy and ultimately lose subscribers if you're sending frequent emails that don't benefit the recipient. Promotions, discounts, and so on are fine, but daily emails about a regular stock are not. So it's important that you manage your email marketing well. It's for the benefit of your customers, not you.
Directly Over The Phone
One of the best ways to market a business is by picking up the phone and making calls. It's direct and has been shown to be highly effective, in certain industries at least.
If you're going to take this approach, then it's important that you have the right set up, to ensure that it is profitable. You won't get very far if you're only placing twenty calls an hour, for instance. Instead, look at turbocharging your call output by using a service such as mojo dialer, which allows you to place up to 300 calls an hour. This form of marketing is all about the numbers — the more calls you make, the more success you'll have.
Market your Business with Real-World Events
It doesn't matter whether you're an online or offline business: you'll want to look at hosting real-world events in order to promote your business and get new parties interested in your company.
How this looks will depend on a variety of factors, including what type of business you have, your target demographic, and so on. But ultimately, it's all about delivering an event that'll be of interest to your target demographic. Remember that you shouldn't make the event overly promotional, however. Why would someone give up their spare time just to be lectured to? Make it fun. This one is all about your branding.
Partnering With Others
Entrepreneurs tend to think of themselves as being in competition with other people, but pretty soon, they figure out that they're more or less on the same side as everyone else. And that mutually beneficial arrangements have a lot of potential. If you're looking to put a little bit of life into your marketing, then take a look at partnering with other companies who are thematically similar (they, for obvious reasons, should not be direct rivals). You'll get access to the customers who like their brand, they'll get access to yours. It's an arrangement that benefits everyone, including the customers.
A Big Incentive to Market your Business
There is a sea of competition out there for the attention of consumers, and that means that sometimes you need to make a bit of a splash in order to get noticed. One way to do this is to incentivize people to such an extent that they can't help but notice you.
This could be in the form of a discount for first-time customers, or a huge seasonal sale. Alone, it might not generate huge amounts of revenue, but the exposure you'll get could be worth it.
Giving Back
You should do what people like. It's a basic but effective marketing concept. And what do people like? They like businesses with a social conscience. Look at championing a cause or building your company from the ground up with solid values, and you'll get the attention of the socially-minded consumers (which is a group growing in numbers every year).
Establish Your Expertise
People look for quality. They want to know that if they're spending their money, then they're spending it on the best. Nobody wants to feel like they've been cheated out of their hard-earned money. As such, one smart way to grab the attention of people is to establish yourself as experts in your field.
This, of course, is something that cannot be faked. You really have to know your stuff. Hosting podcasts, writing blogs, giving talks, and become an industry commentator are all effective ways to establish your expertise.
Conclusion
Don't let the success of your business be left up to chance. While you'll always need a hint of luck if you're going to build a successful long-term venture, your marketing will be akin to "putting all the pieces in place." Once they're there, Things will get better. So if you're trying to develop a new marketing approach, take a look at the options above, and incorporate them into your strategy.