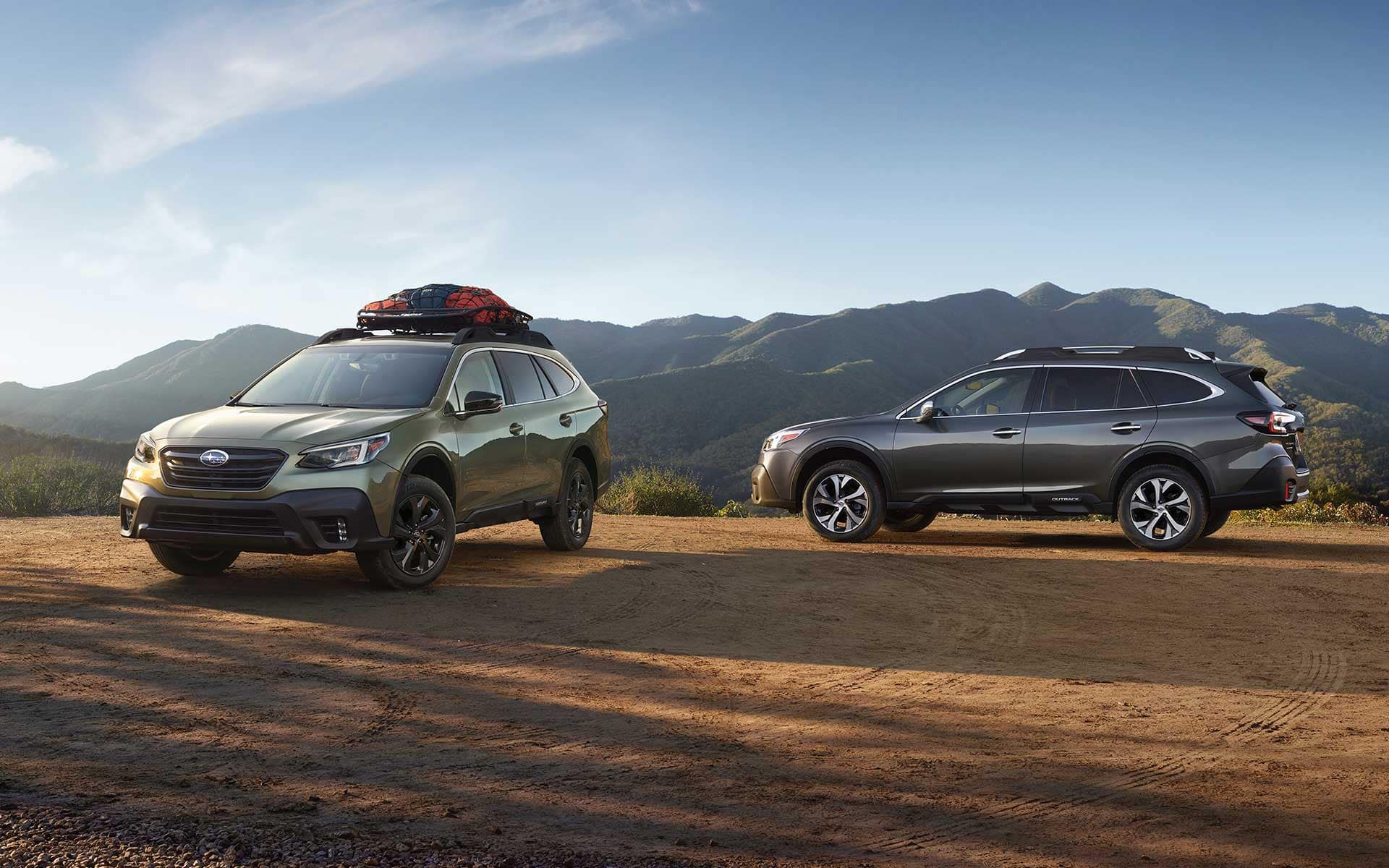 15 Amazing New Features in the 2020 Subaru Outback
Originally posted on https://www.subaruoftwinfalls.com/blog/2019/july/26/15-amazing-new-features-in-the-2020-subaru-outback.htm
The all-new 2020 Subaru Outback has some major updates! Don't miss our list of 15 amazing new features in the 2020 Subaru Outback.
While the history of the Subaru Outback is only six generations old, this car has changed quite a bit over the years. The Subaru Outback was first introduced to the public in 1995. Its ad campaign featured actor Paul Hogan, best known for his movie, "Crocodile Dundee."
Over the years, the company has done well for itself. In fact, in 2014 when other car markers saw a total of 6% industry growth, Subaru enjoyed a 21% increase in sales.
That's because they know they're niche. And their continued focus on affordable all-wheel-drive vehicles has paid off.
The new generation is finally here with the arrival of the 2020 Subaru Outback. And it boasts some amazing new updates. Keep reading to find out the 15 most amazing new features the 2020 version has to offer.
1. The 2020 Subaru Outback Offers More Engine Power for Your Money
In the past buyers have been happy with the Outback's base engine which has featured a 256-horsepower, 3.6-liter six-cylinder engine. But now that's changed.
Those who are looking for more power for towing, hauling bigger loads or just for the fun of us will love the 260-hp, turbocharged 2.4-liter four-cylinder engine.  This new turbo engine already does a great job moving the new Subaru Ascent three-row SUV around, so the lighter Outback should do even better.
The torque has also been increased at lower rpm than the six.
2. Adaptive Cruise Control and Lane Centering
Another one of the 2020 Subaru Outback features that they've improved is that their package of EyeSight safety and driver assistance technology is now standard on all 2020 models. And it includes lane-centering steering assist when driving in marked lanes.
When you combine all that with the standard adaptive cruise control, you'll find this car can help you drive with more confidence while in traffic and/or cruising.
3. Better Rails
The 2020 Outbacks style update isn't all that noticeable. However, the company has improved the car's roof rails.
While they have functioned well in the current model, they don't look great. The 2020 Outback's rails still come with the onboard cross-bars that swing out as needed.
But the new version now comes with trimmed openings at either end. This lightens the rails visually while pulling double-duty as tie-downs.
4. Drowsy Driving Alert
Every 2020 Subaru Outback review will be talking about the new driver distraction system. This system uses facial recognition along with an infrared interior camera.
The camera is located behind the little panel above the multimedia screen. The camera helps spot driver distraction and/or fatigue.
Then the system issues both audio and visual alerts to wake up the driver and their passengers. The new system also recognizes up to five drivers and will even greet you by your user name as it adjusts to your seat-memory settings.
5. Improved View
There's a new front-view monitor that gives the driver a 180-degree front view when looking at the screen. This lets drivers spot hazards while driving and while attempting to park.
Hopefully, the next generation will have a camera system that offers a 360-degree view for even safer driving conditions, but this a good start.
6. Leather Seat Upgrade
While most Outback drivers aren't known for being focused on fancy features, this model has at least one. The Touring model interior now features a fancier Nappa leather.
And there's even upgraded trim. The result is a seat that looks and feels amazing.
7. Souped Up Heated Seats
While the leather upgrade is awesome, the heated front seats now offer three levels of heat. There's even more coverage to keep your whole back warm and toasty. In some trim levels, there's even heated rear seats.
For a vehicle that's remained unwaveringly popular in snowy, cold climates, this is one of the more necessary 2020 Subaru Outback features.
The Touring trim level even comes with a heated steering wheel. Even the front seats are ventilated to help keep everyone cool when the weather finally warms up.
8. Quieter and Handles Better
While traffic and road rage has increased, one way to beat the aggravations of driving is to reach your destination in a 2020 Outback. This vehicle has improved its handling and comfort by adding improvement in ride quality and cabin noise levels.
Subaru made this car almost three whole decibels quieter when driving at highway speeds. That means a quieter, less exhausting trip no matter where you're headed.
9. Bigger HD Screens
Everyone prefers watching things on the big screen. And it's no different when we're in our cars.
The 2020 Outback Subaru has added a new dashboard that's sleek in design. It also features a big vertical 11.6-inch touchscreen that handles most of the climate and multimedia controls.
The portrait orientation makes more sense for reading the information on the screen and splitting a variety of functions.
10. Trim Level with a Sporty Look
This Outback has a new trim level. It closely mimics the new mid-range Sport trim level featured on the 2019 Forester.
But it's not just about a sportier look. The Onyx Edition XT lives up to its name by adding black 18-inch alloy wheels.
Not Just Another Pretty Face
But no one gets by in this world on just looks alone and neither does this car. It also features a turbo 2.4-liter engine, a full-size spare, an upgraded all-wheels model control that has more settings, and a front-view monitor.
The interior upholstery is a two-tone gray and the imitation leather is easy to clean. The stitching is a great contrast with its lime-green coloring.
11. Improved Hands-Free Liftgate
While hands-free liftgates are now all the rage, the kick-to-open versions are not user-friendly. The new 2020 Outback has a hands-free liftgate where all you need to do is get one elbow close enough to the big logo in the center of the liftgate.
It's easier to manage when you have your arms filled. And you don't need to engage in any fancy foot-work, either.
Even the cargo cover inside was designed to also get out of your way when you're loading. Again, you do so by bumping it with your elbow, though it may be a bit trickier to master.
12. One Word: Apps
Everyone loves their apps. They make life easier and more enjoyable.
And the Outback multimedia system now includes the Chimani app. This a guide to the more than 400 national park units here in the United States.
It also includes the park's history along with a highlights commentary. Perfect for when you're heading to your favorite national park. Even more perfect when you're stuck in traffic and wish you were already at a national park.
13. Better Fueling
The new 2020 Subaru Outback offers more power, but because it has two engines, that means it has a better fuel economy. The base engine has increased from 25/32 mpg (miles per gallon) to 26/33 mpg city/highway.
But the most significant difference in the newer engines is that it now offers 23/30 mpg instead of 20/27 mpg. Meanwhile, the tank capacity has remained the same at 18.5 gallons.
14. Higher Towing and Cargo Holding Capacities
Many Subaru owners like to spend their time outside. That can mean needing a car that can handle things like towing and holding cargo.
And the new 2020 Subaru Outback specs show this new car can hold its own once again. Not only will you enjoy better acceleration than before, but you'll also now enjoy a 3500-pound towing capacity.
You can also now haul 800 pounds more than before. And Subaru now boasts a wider rear cargo opening. Now when the rear seats are folded, it sits at 76 cubic feet. That's three cubic feet more than before.
15. Same Features You Know and Love
While there are some new upgrades, Subaru knows what their customers like about their cars. They've kept their signature all-wheel-drive system with torque-vectoring capability.
They also kept the off-road-oriented X-Model along with hill-descent control. And, this model also comes with 8.7 inches of ground clearance.
Competitive Pricing
As always, you get what you pay for when you buy an Outback Subaru. The Onyx Edition XT starts at a reasonable $35,905.
The non-turbo Outback Limited starts at $34,455 while the non-turbo Outback Touring starts at $3,355. All prices include shipping.
The 2020 Outback Release Date
There are a lot of new and exciting features on the 2020 Outback Subaru. For those outliers who have been waiting with bated breath for the new models to arrive, they're nearly here.
The 2020 models are expected to go on sale in Autumn of 2019.
Get Pre-Qualified
The most exciting thing about the 2020 Subaru Outback will be to drive it off of our lot. But some of you may need financing to do that.
We can help. So you don't waste any additional time before you drive your car home and wow your friends and neighbors, get prequalified for financing through us.
Click here to begin providing us with some basic information. We'll do the rest.
---
Originally posted on YouTube by Subaru