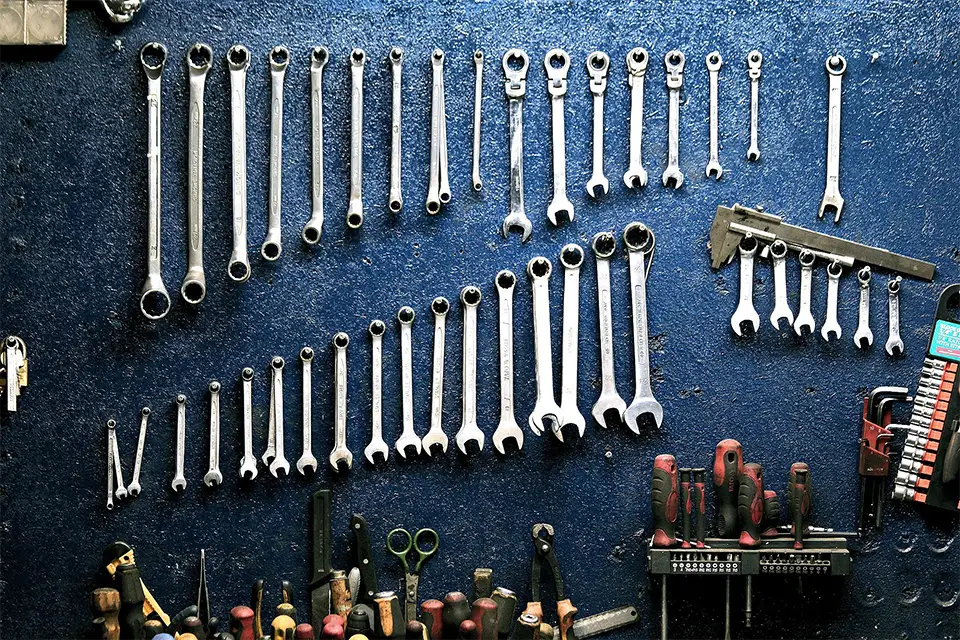 11 Tools Every DIY Beginner Needs
Whether you're setting up your first home, or you're a seasoned DIY pro, some things never change. The importance of having the right tools for the job is one of those things. But building up your toolbox takes time and money, so you don't want to go around splashing the cash on any old thing that takes your eye. It's best to start out with the solid basics, then invest in other more specialized tools as the need arises. These toolbox classics will see you through a variety of DIY challenges around the home, so start stocking up now.
What tools DIY beginners should buy
1. Screwdriver
Yes, you probably guessed this one. But chances are you don't have a screwdriver for all the jobs you could come up against. Using the wrong sized screwdriver will make a small task turn into a huge chore. It'll increase the risk of slipping and make it harder to turn the screw, as well as risking damage.
You need both a Phillips and a flat head screwdriver. There are a whole bunch of sizes to choose from, so research the most common ones for jobs you're likely to encounter around your home. There are many multi-bit screwdrivers out there, so if you really want to impress, invest in one of those.
2. Hammer
This is possibly the thing you'll reach for the most. Whether it's hanging a picture or fixing a fence, you need a good hammer. You probably don't need anything fancy for day to day jobs around the house, so a standard claw hammer is just fine.
3. Wrench
This one comes in handy for maintaining your car as well as your plumbing. There is a whole variety of types of wrench available, but starting out with an adjustable wrench is a great idea.
4. Cordless drill
Who knows when and where you'll need a drill. You might be working up in the attic, or someplace where you need more maneuverability. Having a cordless drill gives you those benefits. Plus, it feels pretty cool to use. Find one at https://www.amblerdirect.com/.
5. Drills
Of course, you'll need the drill bits to go with your drill! It's worth investing in a quality drill since the cheap ones will fall apart before you know it.
6. Spirit level
This nifty bit of equipment might not spring to mind when you think of tools, but without it, your DIY projects can fall apart. A spirit level helps to ensure your pictures and shelves are hung straight. It's effortless to use, but very effective. Getting that bubble right between the lines is oddly satisfying, too.
7. Tape measure
You need a tape measure, but not like the one your mother used for sewing. It's worth getting a metal tape measure that won't wobble or flex. Having a retractable one is ideal for when you measure large areas, like a room. You'll need to use this consistently if you want your DIY attempts to be a success. Accuracy is everything. Plus, it even helps with things like rearranging furniture or picking out floorboards at the store. Don't go anywhere with it.
8. A decent pencil
It doesn't sound like much, but having a decent pencil is vital when taking measurements. You want one that is super sharp so that you can have a high level of accuracy. It's also great to get a quality one that is rich in color, to make it more visible. Every good carpenter keeps a pencil behind their ear, and you should too.
9. Utility knife
Save yourself the time and effort of hacking at things with a pair of blunt scissors. A sharp utility knife is the safest and most effective option for DIY jobs since the blade is neatly tucked away inside the handle. You only need to extend the blade a little to get the job done, and it should be able to lock into position. This is a must for any DIY beginners out there.
10. Handsaw
Another toolbox classic. You don't need a power saw for most jobs. A handsaw will do just fine. Look out for ones where you can replace the blade, as this could save you money in the long run. There are a few different types of saw and varied number of teeth per inch, each better at certain cuts. It's worth thinking about what types of cuts you're most likely to be making, and research accordingly.
11. Pliers – the last important tool for DIY beginners
If you need to get at something that is small and fiddly, you need a good pair of pliers. Use pliers to grasp small items, like rusty nails, that need some force to lift them, since you'll have a much better grip than attempting to use your bare hands.
Now that you've got a stocked toolbox, you need to find some DIY projects to get started on. Head over to https://www.thesawguy.com/diy-projects-for-men/ for 22 simple projects that still look impressive.