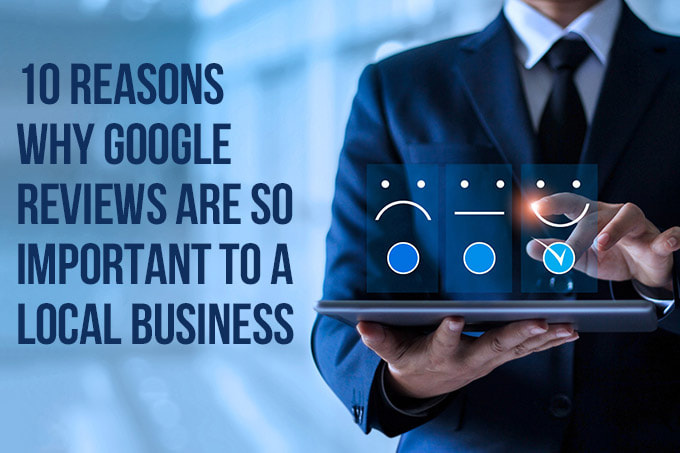 10 Reasons Why Google Reviews are So Important to a Local Business
Originally posted on https://www.market248.com/blog/10-reasons-why-google-reviews-are-so-important-to-a-local-business
We have all heard of the #1 rule for a successful restaurant; 'location, location, location'.
Now there's a new rule for just about any local business; 'reputation, reputation, reputation'.
Just like launching a restaurant in a terrible location puts that business at a disadvantage from day-one, a local, small business with a bad online reputation is also at a great disadvantage. We have seen firsthand how a business can be brought to a screeching halt by bad reviews!This is why online reviews (especially in Google's Local Listings) are very important to the success of a local business. (Especially a local, small business, who may be working from a smaller budget) Reviews are becoming more and more influential in the purchasing decision process of consumers. When it comes to how many people read reviews before they will visit your website, the stats have skyrocketed over the last 3 or 4 years. The same is true for the number of shoppers who trust online reviews as much as they trust a referral from a good friend!
Let me say that again…
Many people trust online reviews as much as they trust a referral from a friend!
In working with our clients, we have seen this play out many times over the last few years. And, another new trend is taking place in the world of Google's local reviews.
A growing percentage of local shoppers are no longer visiting websites before making contact. Instead, more and more local consumers are now getting the information they need right from the Google Local Listing and calling directly, based on the information they found within those local listings.
This is so important to understand and embrace, as part of your marketing strategy, if you run a local business.
If your Google Local Listing is not optimized and not being managed on a regular basis (which means you are adding new photos regularly, creating new posts, and adding and responding to reviews) then you are not taking advantage of one of the most powerful and free marketing tools available to local businesses.
Here's another reason you should be actively managing your Google Local Listings; Gone are the days where your small business will rank at the very top of Google even if you do a good job with your SEO and achieve a top ranking for your local area. This is because Google has positioned its Google Local Listings above organic results, just underneath Google ads.
How will this affect your local rankings?
It means that even if you are ranked #1 organically, for your local area, you may not show up until the 7th or 8th position down the page.
As I already mentioned, this is because the top 3 to 4 positions are now reserved for Google ads and then the next 3 positions go to local listings. So, now you can see why these listings, and the reviews that are found on them, are so important for local businesses.
To keep things brief, I'm not going to get into how to set up your Google Maps page. A simple Google search will lead to other writers who have already done an excellent job of laying out these steps. So, with that said, here are my 10 reasons why Google reviews are so important to a local business:
1. Trust and first impressions
In the words of Seth Godin, "people don't do business with you until they know you, like you, and trust you." For people who don't know who you are, reviews have become a critical tool for developing that level of comfort and trust they want before they do business with you.
Reviews tell a story about the quality of our services or products and how people are treated when they do business with us. Online reviews have become a major influencer when it comes to building trust and making good first impressions with our prospective clients.
2. Your reputation is on the Line
Your reviews are a magnification of your online reputation. If you don't provide good customer service, you can bet people will let you (and everyone else) know in the form of poor reviews. Maybe you would say, "True, but my poor reviews are not all accurate".  The problem is that there is easy no way for prospects, who are thinking of doing business with you, to know the difference between a legitimate review and a fake one. Don't get hung up on inaccurate reviews.
Instead, if you get a bad review, do your best to 'bury it' by adding new, positive reviews and then just move on. This is another reason why it's important for you to regularly add positivereviews to your local listing.
Here's the hard truth; If you don't have good reviews, you're losing business. Period. Don't wait another day before you work on your reviews. I've been doing this a long time and tracking the results for my clients and I can tell you that bad reviews cost a business money every single day.
And one more point; not having any reviews is only slightly better than having poor reviews. Without any reviews, people will assume that your business not has not performed well enough for anyone to take the time to leave a positive review — and they will move on to another business listing with multiple good reviews.
3. Great reviews can help you achieve higher organic rankings 
Google uses online reviews when considering the placement of its local organic rankings. Think about it; Google is in the business of providing people with the best results for a search query. Your online reviews are a very strong indicator (for Google) of whether or not people like your business. Lots of surveys have been done and the conclusion is that a business with great online reviews will get ranking preference over businesses that have poor reviews or too few. It makes sense for Google to consider our reviews when they want to provide their customers with a great experience.
Also, the number of reviews make a difference. Recent statistics show that many people looking for a local service or product would prefer to see a business with 40 or more reviews. (57% of shoppers only need to see 11 or more reviews.) If you have 5 reviews and your competition has 36, who do you think will get the first call?
4. Customer Feedback – taking an honest look in the mirror
Want to know what people really think about your products and services?
All of your reviews, even your bad reviews, are an opportunity for you to learn something as a business owner or manager. Let me encourage you to pay attention to what people are saying and, when you get a not-so-great review, try to keep an open mind. There's something to learn here.
It is a short-sighted business owner who digs in his heels and takes the attitude of, "those people are wrong" every time they get a bad review. A smarter approach is to pay attention to what your reviews are really communicating and to do your best to view your business through their eyes. Often it takes somebody from the outside to point out a problem that we may not be able to see from the inside.
I had a client, for a relatively short amount of time, who refused to face the truth of his awful online reviews. I mean they were bad! I did my best to convince him at his reviews were costing him business.
He brushed off my warnings and advice like it couldn't possibly be true and kept questioning why his phones weren't ringing anymore. I eventually had to let that client go — because you can't truly help a business owner who refuses to believe that bad reviews could have a detrimental effect on business.
5. More and more consumers are reading reviews before buying
By now, I'm sure you know that a growing number of consumers are reading reviews before they decide to shop with a local business. In fact, these numbers are growing drastically every year. Also, more people are using mobile devices over desktops to search out businesses, especially in local areas, and the first thing they are going to read will be your reviews.
6. More people are calling businesses directly from Google Local Listings
Now, I will have to admit, this point kind of surprised me. About 8 to 10 months ago we began seeing a new trend in our clients' analytics. We discovered that our clients were beginning to get more phone calls directly from their Google Local Listing than they were from their own website!
This change in how people are doing business with local businesses reinforces just how important these local listings and reviews are. Some of our clients, especially our physician clients, are getting more visits and phone calls from their Google Local Listings, than they are from their actual websites – and often these shoppers never even visited their websites before deciding to call or visit.
We view this change as a great opportunity for our local clients to outshine their competitors using solid reviews and an optimized listing. We have recently included this service as part of our SEO services to make sure our client's Google Local Listings are optimized, regularly updated and packed with great reviews!
7. People are searching for "business name + reviews"
Local business reviews have become such a staple in the online search process that people are now searching using specific search strings like "business name + reviews" and/or "local service + near me".
For example, if someone wants to check out a local Italian restaurant, they have heard about called Tony's, there's a good chance that they will search for something like, "Tony's Italian Restaurant Reviews". If they don't know the name of the restaurant, but they are in the mood for Italian, they might search for, "Italian restaurants near me" or "Italian restaurants in [city name]".
Any of these search strings on Google will produce a Google Maps list of local businesses in almost every case. And right out front, for everyone to see, Google will display your average rating score (stars) — derived from all of your reviews.
This means that your reviews better be good if you want to continue to grow your business through online searches! A search like those that I just described above mean that reviews are very important customer. And, if they don't see good reviews, they are not likely to contact that business at all.
Ironically, I used this same style of a search string recently when I found myself in need of a haircut and I wasn't sure where to go. What did I start with? With reviews of local barbers, of course.
It only took me a few minutes to decide not only which barber I was going to use, but also, which person I was going to book my appointment with. It goes without saying that this barber would have never seen my business if they didn't have plenty of positive reviews on Google. (And yes, I got a great cut!)
8. 78% of shoppers trust online reviews as much as personal referrals
Just how trusted are local reviews? Apparently, they are highly trusted. The latest statistics tell us that up to 78% of buyers trust online reviews as much as reviews from a friend and that number jumps to an astounding 91% for the 18-34 age group!* That is a big increase from just a couple of years ago — proving again that online reviews are on the rise and becoming more and more powerful.
9. If your competitors have better reviews, you are losing business
As I mentioned earlier, you are losing business every single day if you don't have good reviews online. Further, a large percentage of prospective customers will not even contact you if you don't have at least 4 out of 5 stars. (Some want to see 4.5 out of 5!)
I know I've said this before, but it bears repeating; There are two ways to lose in the online review game. First, if your reviews are poor, you are not going to get contacted nearly as much as you would with good reviews. Secondly, if you don't have enough reviews, especially if your competition has many more reviews, chances are your competition is going to get the call instead.
10. Great reviews make people feel like they'll get a higher level of service
Here's another way to say it; your online reviews will make shoppers feel like they will get the same level of service as the people who wrote the reviews received.
That is the power of a review at its very core.
People aren't just looking for a product or service; they are looking for a great experience with your business. This is why people read and trust reviews — because they speak to quality of products and services, but also to the experience.
Positive reviews are like a 24-hour brightly lit billboard for your business, blasting out the message, "If you do business with us — you will love it!"
In Conclusion
There's never been a better time to take advantage of this free tool that Google offers in the form of their local listings. Sometimes they are also referred to as a Google Maps Listings or a Local Business Listings or even Google My Business Listings. Regardless, if you will make sure your business is listed there, loaded with great reviews – I can guarantee you it will result in more business!
 Ready to take your Google Local Listings and your online reviews to the next level? Drop us a line!