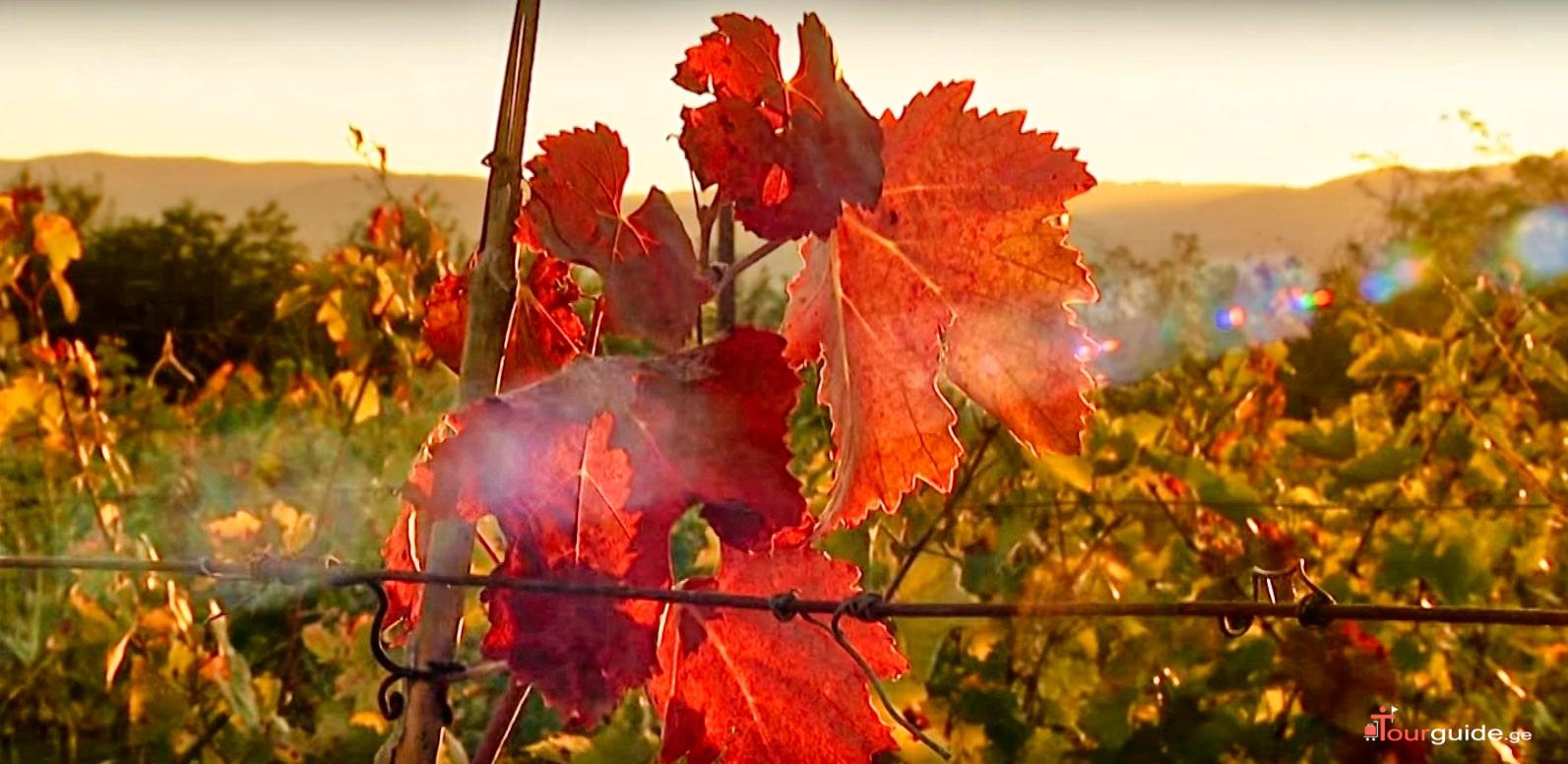 A Guide to Georgian Grape Varieties for The Aspiring Sommelier
Photo by Tour Guide Georgia ​
A Guide to Georgian Grape Varieties for The Aspiring Sommelier
​The lush greenery and breathtaking beauty of Georgia's fertile valleys are not just for show. While it is a splendorous view worth of praise, it's also responsible for the world's most ancient wine culture. One that keeps thriving day after day. ​ Talking wine in Georgia is talking about national identity. About pride. Wine flows through each Georgian's veins from birth, and it has been that way for millennia. Georgian's talents, techniques, and outstanding love for wine culture have made them front runners in the list of most exquisite winemakers in the world. ​ And, of course, we shouldn't underestimate the importance of the hundreds of regional grape varieties available in Georgia. ​ Experts estimate that Georgia boasts of over 500 unique varieties of indigenous grapes. Still, the real number could be much higher than that. While many of them are not well-known outside of the region, their flavor is rich and unique thanks to the exceptional climate and geographical conditions of the country. ​ If you're curious about the most upstanding varieties of Georgian grapes to be found, then you came to the right place. ​ Take a look at our guide to Georgian grape varieties, tailor-made for the aspiring sommelier, wine enthusiast, or curious reader with lots of free time.
Red Grapes
Aleksandrouli
Also spelled Alexandrouli, its name translates to "Vine of Alexander", and it's one of the most ancient cultivated grape variations in Georgia. ​ Originated in the mountainous region of Racha-Lechkhumi in Georgia, its most essential plantings remain in Ambrolauri, Oni, and Tsaregi by the Rioni River. As such, these grapes thrive in sunny weather with stony soils and tend to ripen later than most other types thanks to their long growing seasons. ​ Aleksandrouli grapes are well-known for producing Georgian wines that range from dry to semi-sweet and boast of an aromatic profile that resembles black cherries, raspberries, and mulberries.
Chkhaveri
Native to western Georgia, Chkhaveri vines thrive in Guria, Adjara, and some parts of Imereti. They are well-known for their pinkish-violet coloring and for their climbing nature since, in ancient times, they were grown on trees. ​ Somewhat delicate, Chkhaveri is sensitive to soil changes, humidity, temperature, and cultivation methods, so it requires a specific environment and careful care. When handled properly, this variation is typically a late harvest, ripening during late November. ​ Thanks to its vibrant pigments, Chkhaveri is a popular pick for rosé wines, particularly the semi-sweet variety. The flavor of these grapes is usually soft and refreshing, typically featuring aromatic blends reminiscent of cherries, spices, and red berries.
Dzelshavi
Also called Dzvelshavi, it is one of the most ancient grape varieties in Georgia. No one knows the origin of the plant's name, but it seems to be a variation of "black tree", which may reference the dark burgundy shade of its grapes. ​ Despite having unknown origins, the Dzelshavi grape variation is widespread across Racha-Lechkhumi and Imereti and boasts of strong resistance against fungal infections, but does not thrive in humid and rainy environments. ​ Its use in winemaking is relatively minor, as it is not known to produce high-quality drinks on its own. As a result, it is often featured in blends as a supporting blend, usually rosé or light reds.
Jgia
Jgia is a scarce grape variety, quite hard to find and unique in its flavoring. ​ It was almost extinct in the wild during Soviet rule. Still, it has been found growing in the wild amidst Saperavi vines in the Kakheti region. For now, it has only one known producer, but it has been steadily increasing in popularity across the country. ​ Intensely aromatic and layered, Georgian wine made with Jgia grapes possesses scents with balsamic notes, as well as forest berries, cedar, and cherries. A beautiful deep red coloring matches the fresh flavors for an exceptional taste.
Mujuretuli
According to researchers, the Mujuretuli variety shares a common ancestor with the previously described Aleksandrouli. As such, it also originates from Racha-Lechkhumi, and has its most essential plantings by the Rioni River, in Ambrolauri and Tsaregi. ​ Since it usually thrives in stony soils with sunny weather, it is common for plantings to cultivate Mujuretuli grapes alongside Aleksandrouli ones. Likewise, both varieties ripe later than average, and its common to harvest them in mid-to-late October. ​ Mujuretuli grapes are dark blue and mid-sized and are often used to make Khvanchkara, a semi-sweet blend with Aleksandrouli typical of Racha.
Ojaleshi
A classical variety, Ojaleshi is amidst the oldest known in Georgia. In Megrelian, its name means "growing on a tree", which highlights it as a maghlari vine—a type of vine that, as its name says, is intended to grow on trees. ​ It grows on Samegrelo, a region located in Eastern Georgia, particularly in areas of the Martveli district, such as Salkhino, Abedati, or Tamakoni. However, plantings of the variety have grown steadily in Racha-Lechkhumi. ​ Ojaleshi thrives on limestone soils and has a long growing season, usually harvested during mid-to-late November. However, the fruit is worth the wait. The Georgian wine produced with Ojaleshi grapes is a deep ruby red, typically semi-sweet or sweet, and features a layered combination of sweet and spicy scents.
Otskhanuri Sapere
Otskhanuri Sapere owes its name to its birthplace, the village of Otskhana in Guria, western Georgia. Despite this, nowadays, this variety thrives in other regions of the area, particularly Imereti and Racha-Lechkhumi. ​ Known as a particularly old variety, it ripens in early-to-mid October. It has fruits that boast of an intense, yet opaque red color. Nowadays, Otskhanuri Sapere is considered the best grape variety in Imereti, mainly due to its excellent aging. ​ Young wines have an acidic flavor, with notes of sour raspberry. However, as it ages, it develops earthy flavors and notes of red fruits, herbs, and plums.
Saperavi
The quintessential Georgian red grape, Saperavi is indigenous to the country, as well as the most popular variety, making up over 10% of all plantings in the area. ​ Its name means the place of color, and it's not hard to see why. Saperavi stands out as one of the few teinturier varieties in the world—that is, boasting of both dark skin and flesh. As a consequence, Georgian wines made with Saperavi grapes are deeply colored and full-bodied. ​ The flavor structure is complex. Saperavi produces wines with scents reminiscent of licorice, tobacco, chocolate, spices, and black fruit. However, the aromas are sensitive to terrain and weather conditions, making it highly adaptable.
Other famous grape varieties: Shavkapito, Tavkveri, Usakehlouri
White Grapes
Chinuri
Linguists and historians do not agree on the origins of the Chinuri name. Some argue they refer to the reddish-green coloration of the fruit. In contrast, others believe it highlights the exceptional quality of the fruit. ​ Regardless, both statements are true. ​ The Chinuri grape has a unique, reddish shade of yellow/green and excellent resistance to mildew and other diseases, making it a very adaptable variety of grape with a distinctive flavor and quality. ​ Nowadays, Chinuri grapes are mostly used for the production of sparkling wine, featuring fresh and clear aromas such as mint, pear, and other herbal scents. When prepared using the traditional Georgian qvevri method, Chinuri wine acquires a slightly muskier scent, with some apricot layers.
Goruli Mstvane
You can tell a couple of things about Goruli Mstvane by merely understanding its name. Translated to "Green Gori", this variety is a beautiful shade of pale yellow-green, and it is native to the Gori district, particularly the lands by the Ateni Valley. ​ Goruli Mstvane harvest season happens by late September, and the fruits are thick-skinned and resistant to the weather. Georgian wines made with this variety tend to have aromas of wildflowers, honey, and lime, making them light-bodied and most suited to drink when fresh. ​ Goruli Mstvane is often blended with Chinuri to make sparkling wine, and a combination of both alongside the red Tavkveri grapes in a qvevri results in the praised Khidistauri wine.
Khikhvi
Native to Kakheti, Khikhvi grapes are widespread in the region and other areas of Western Georgia, mostly by the Alazani River. ​ The fruits of this variety ripen by early September, making it one on the earliest harvests of the season on Georgia. The grapes are not too large, have a yellow-green coloration, and are particularly thick-skinned. Although the vines produce a small number of grapes, they make up for it by being exceptionally sweet. ​ Due to its characteristics, Khikhvi grapes are versatile. They can make a wide variety of Georgian wines—sweet, semi-sweet, and dry. Aromatic and light, Khikhvi has notes of Buxus plants, apricot, and wildflowers.
Kisi
Beyond being native to Kakheti, not much is known about Kisi's origins. Some scientists speculate it might be a blend of Mtsvane Kakhuri and Rkatsiteli varieties. Still, there is not enough evidence to confirm it. ​ Regardless, Kisi is well-known for its exceptional high quality and for coming close to complete extinction during the turn of the 21st century after the dissolution of the Soviet Union. However, with continuous efforts by local Georgian winemakers, Kisi is starting to thrive once again. ​ It produces refined, exceptional wines in either the European or Georgian methods. In the former, they boast of light floral scents, with a dash of citrus and green tea. However, when following the qvevri process, the fragrances turn into apricot, walnut, and citrus.
Krakhuna
An exceptionally delightful variety, Krakhuna grapes are native to the Imereti region, which remains its primary production center, particularly Dimi and Sviri. ​ Flavorful and rich, Krakhuna is as popular as it is delicate. It ripens in late September, but its thin skin makes it susceptible to humidity and various diseases. However, it makes up for it by its natural acidity and ability to retain sugars. ​ Georgian wines made with Krakhuna grapes have an exceptional aromatic range, highlighting the honey and banana aromas that make it so distinctive and tropical-like. Whether they are made in European style or following Georgian traditions, these wines age well and develop deeper, more complex flavors.
Mtsvane Kakhuri
As its name describes, Mtsvane Kakhuri is a whitish, pale-green variety of grape native to the Kakheti region. ​ It is known to be one of the most ancient Georgian grapes and has been used for winemaking for millennia. It accumulates sugar at ease without scarifying acidity, making it a highly popular variety. However, it is also very susceptible to soil, humidity, and climate changes, therefore requiring attentive cultivation and close monitoring for disease. ​ Mtsvane Kakhuri is highly aromatic, having citrus notes, as well as peach and tropical scents. When prepared in the traditional Georgian method, it has apricot layers as well. ​ Well-known across the country, Mtsvane Kakhuri often blends with Rkatsiteli to make one of the quintessential Georgian wines—Tsinandali PDO.
Rkatsiteli
Rkatsiteli is the most popular white grape variety in Georgia. Comprising over 40% of all vineyard plantings, Rkatsiteli is the main protagonist in most white wines produced by the country, as well as a favored pick for table consumption. ​ This variety is native to Kakheti, and the region remains its leading producer, particularly the Alazani Valley area. However, plenty of plantings have flourished in Kartli, not in small part thanks to Rkatsiteli's high adaptability to many soils and humidity levels. ​ Versatile and refined, Rkatsiteli is used to make classical and qvevri-styled wines. In traditional European wines, these grapes provide floral aromas, coupled with apple and citrus. If done in the Georgian style, the wine acquires stronger scents, more acidic, and spicy in nature.
Tsolikouri
Pale yellow and thick-skinned, the Tsolikouri grape is the crowned king of western Georgia. ​ Although native to the Kolkhida Lowlands—ancient Colchis Kingdom—its cultivation has extended across Imereti, Guria, Samegrelo, Adjara, and Racha-Lechkhumi. Its widespread popularity makes it the single most grown white variety in the region. ​ Tsolikouri is prolific, resistant to humidity and fungal diseases, and has its harvest season mid-October. Due to its structure and flavors, wines made with the variety are full-bodied and slightly acidic. Likewise, they are often semi-sweet or semi-dry. ​ Georgian wines with Tsolikouri are considered high-quality and exceptionally delicate, boasting notes of melon, white flowers, and yellow fruits.
Other famous grape varieties: Sakmiela, Tsitska, Rachuli Tetra.