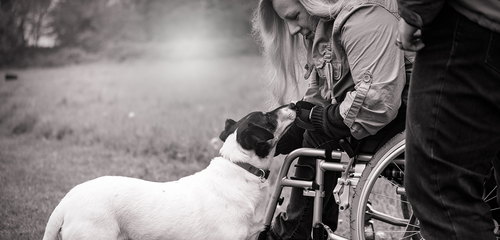 10 Cool Devices to help people with disabilities put a little wiggle in their pet's wag
Photo From Unsplash
Originally Posted On: https://evika.io/resources/10-cool-devices-to-help-people-with-disabilities-exercise-their-pets
Healthy active living isn't just for humans, our four-legged friends need opportunities to work their bodies and minds too. For people living with disabilities exercising a pet isn't always as simple as putting on your running shoes and grabbing a leash. However, there are a number of really cool devices on the market to make it a little easier for you to put an extra wiggle in their wag. A happy pet isn't the only benefit to upping your dog-exercising game; having fun with your pet can be as healthy and meaningful for you, as it is for them! Read on to learn more about some of the devices available.
Walking your dog
Walking your pet doesn't have to be a constant battle of fumbling, tugging, and tangling. The following products allow you to use both hands to mobilize, your pet to safely explore, and both of you to fully enjoy your outings together!
EZYDOG HandyTM Leash
The EZYDOG HandyTM Leash is a glove and leash system designed for hands-free dog walking. The glove is made from soft neoprene and both it and the leash are reflective for night time safety. The shock absorbing leash is adjustable from 38"-48" and equipped with a carbon coated snap clip. This system is perfect for people using manual wheelchairs and other mobility devices that require the use of their hands to mobilize. It is also helpful for individuals with reduced grip strength, as you don't have to hold on to the leash. The system also includes an accessory D-ring so you don't have to fumble with your doggy bag dispenser or other items you might need on your outing.
Liberty Wristband
The Liberty Wristband is another hands-free dog walking device. The all-weather material wristband is equipped with a manual quick release for user safety. It is also compatible with all leash types. This device is great for people with little to no grip strength and those using mobility devices that require the use of their hands to mobilize.
Springer Dog Leash Bike (Wheelchair) Attachment
The Springer dog leash bike attachment has been repurposed by individuals in wheelchairs as a wheelchair attachment. The device attaches to your chair frame using a universal clamp mechanism. Its low-mounted heavy duty spring absorbs up to 90% of the force of a dog's unexpected tugs. The hook design keeps the leash up and your pet safely away from your tires. It is also equipped with a quick release mechanism should something come between you and your pet. This device is excellent for wheelchair users as its unique design not only prevents tangling of the leash, but also shoulder, arm and upper body injuries from unexpected tugs and pulls. This device is best used outdoors, on wide sidewalks and trails, as it does add additional width to your wheelchair.
So Phresh Dog Waste Scoop
When out for a walk, you will inevitably be faced with the task of picking up after your dog. For some, bending and squatting may not only be challenging but impossible. However, there are many tools available to keep that waste within reach regardless of your ability! One device is the So Phresh Dog Waste Scoop. This is perfect for wheelchair users or anyone with balance or mobility issues preventing them from bending or reaching down to scoop!
Playing with your dog
Physical activity is important for your pet, but equally important are mental workouts. The following products ensure your pet gets the cognitive stimulation they need to be happy and healthy.
Chuckit! Ball Launcher
The Chuckit! Classic Ball Launcher is a lightweight and portable device that allows you to play fetch with your pup, even with limited hand grip strength and shoulder mobility. For those using manual wheelchairs, a ball launcher can help prevent additional wear and tear on your often overworked upper body. The scoop design also prevents the need to bend and reach to pick up the ball once your pup retrieves it.
HETIAL Dog Chew and Tug Toy
The HETIAL Dog Chew and Tug Toy allows users to fill the toy with treats and suction it to a surface for your pup to tug and play with. The unique puzzle design of this toy works the dog physically and mentally as it requires problem solving to get the treats out. The double layer teeth cleaning design also keeps your pups mouth and teeth clean and healthy. This device is excellent for individuals with limited mobility, low energy or mood or any disability that limits your ability to engage physically with your pet!
Chuckit! Tug Toy
The Chuckit! Tug Toy is a durable and pet friendly ball attached to a wrist/hand strap. It is meant to play tug-o-war with your pet, but can also be used in most ball launch devices for fetch! It can be used with the individual either standing or sitting, so it's a good option for people with balance issues that need to play with their pup from a more stable seated position.
Petyoung Interactive Dog Tug Toy
Petyoung's Interactive Dog Tug Toy is an extendable teaser wand designed to add an extra challenge to tug-o-war for your pet. A tug toy is attached to a durable yet flexible pole with an ergonomic handle. The length of the handle keeps hands and arms safely out of harm's way when it comes to accidental scratches and nips. For those using wheelchairs it also allows for your dog to jump and play with you and the toy without bumping into your chair.
PetSafe Automatic Ball Launcher
PetSafe Automatic Ball Launcher allows pets to independently load and launch balls to play fetch. It is perfect for people with limited mobility, low energy or mood or any disability limiting your ability to engage physically with your pet. Your pet will get an enjoyable mental and physical workout; and you will get the pleasure of watching them!
Dog Snuffle Feeding Mat
The Dog snuffle feeding mat's mentally stimulating and engaging design can help dogs relieve stress and relax. It puts your dog's nose and brain to work by simulating the hunt for food in nature. It's perfect for individuals with limited mobility, energy and those with balance issues as it can be loaded on table or lap-top and tossed to the floor.
These are just some of the many devices, tools and toys available to help you get the most out of spending time with your pet. Check out evika.io for other devices, accessories and aids that can help you enjoy time with your pet and other activities you want or need to do.