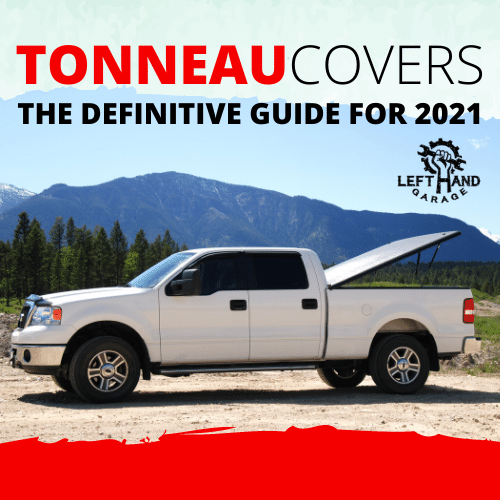 ​Tonneau Covers: The Definitive Guide for 2021
Originally Posted On: ​Tonneau Covers: The Definitive Guide for 2021 – Left Hand Garage
The word "tonneau" is a French word that means "cask" or "barrel." In the early 1900s, a tonneau referred to an automobile's open rear passenger compartment, which was rounded like a barrel.
Early tonneaus would have a rear-facing hinged door. Later, single and dual side doors were introduced. If the street was dirty or muddy, then the vehicle would back up to the curb so the tonneau passengers could exit right onto the sidewalk without getting dirty.
In 2021, a tonneau refers to the area of a truck or car that has an opening at the top. The open area is often for cargo or passengers.
If your vehicle has a tonneau, then you may want to explore the option of a tonneau cover. Originally, the first tonneau covers manufactured were used to protect unoccupied passenger seats in roadsters and convertibles and used in the cargo beds of pick-up trucks to protect their load.
In current automotive terminology, a tonneau cover is now either a soft or hard waterproof cover that spans across the tonneau area of a pick-up truck. It serves the purpose of protecting the cargo, and it improves the vehicle's aerodynamics.
This article will explore these unique covers in detail and offer you a definitive guide to tonneau covers for 2021.
Tonneau Covers for Sports Cars
As early as the 1930's, race car drivers looking for a competitive edge would skin the cockpits of their roadsters with a removable canvas. The canvas would cover gaping cockpits that would have disturbed the airflow and created an unwanted drag on the car. Tonneau-equipped race cars would go faster with a certain amount of power, giving the driver the competitive edge they needed.
These days tonneau covers are still available for open sports cars and are often made of artificial or natural leather. The cover provides protection for the entire passenger compartment and is often zippered to allow the rest of the car's interior to be covered while the driver's seat remains uncovered.
Open sports cars, such as the Triumph, Austin-Healey, MG, and Porsche Boxter, often have a tonneau cover.
Truck Bed Tonneau Covers
Tonneau covers are commonly used for pick-up trucks. While they are visually appealing and provide a classy element to your pick-up truck, their benefits go a lot further than aesthetic appeal.
Benefits of a Tonneau Truck Bed Cover
1. Safe Transport of Your Cargo – One of the most obvious benefits of a pick-up truck tonneau is that it protects whatever cargo you are carrying in the tonneau area. The cover enables you to safely transport luggage for a family vacation, camping goods, shopping, and work equipment.A tonneau cover helps protect your cargo from rain, wind, snow, and other environmental elements
2. Increased Security – Not only does a tonneau cover help protect your cargo from bad weather, but it also keeps it out of sight from potential thieves. A truck bed cover helps conceal the load you are carrying, and many come with a locking mechanism to further protect your goods from potential thieves opening the cover and helping themselves.
3. Improved Fuel Economy – One of the most overlooked advantages of a truck bed cover, and one you may have found hard to believe, is that a tonneau cover can help improve your gas mileage. Due to the aerodynamic design of the cover, your pick-up bed will generate less air drag.Your gas mileage could increase by 5% with a tonneau cover on the back of your truck. Some vehicles have reported an increase of as much as 10%.
4. Organization – Many pick-up drivers will understand the irritation of their load shifting across the back of their truck or items being spilled. A tonneau cover helps keep your load in place and protects it against the wind, which often contributes to shifting items in the back of a truck.
5. Value – A tonneau cover is visually appealing on a pick-up truck and adds character and a more modern touch to the vehicle's overall design. It also adds more value to your pick-up truck when it is accessorized and looks well-looked after.A truck bed cover also adds value since you will save some money on gas and will not have to worry about your cargo being lost, damaged, or stolen. Your truck's bed will also stay in good condition because it is not exposed to environmental elements that could damage it. This means your vehicle's value is maintained, especially for resell.
If you have a tonneau cover on your pick-up truck, then you may not have to worry about upgrading your vehicle anytime soon. The cover is an investment in itself that will help extend your vehicle's life.
Types of Tonneau Covers
There are several types of tonneau covers available. Before truck owners can purchase a tonneau cover, they need to decide which one best suits their needs and their pick-up truck.
Let's explore the different types of tonneau covers available.
Hard Tonneau Covers
Hard tonneau covers are heavy-duty covers that act like a vault and are challenging to gain entry into because they have a locking mechanism. The hard covers are better suited for those truck owners who want a showroom, high-quality look, and often these covers are painted to match your truck's color.
There are also hard covers that can fold. These hard folding covers are typically made of 3-5 folding hard plastic panels so that you can easily access certain areas of your cargo as needed. Hard folding covers are generally cheaper than full tonneau covers.
Soft Tonneau Covers
Soft tonneau covers are an economical choice and are a more popular option compared to hard tonneau covers. These covers typically have an aluminum frame with a vinyl top and are lighter and easier to remove and install.
The vinyl top gives a smooth and slick appearance and often resembles a hard tonneau cover.
Folding Tonneau Covers 
A popular tonneau cover style, and possibly what you will see most often, is a folding tonneau cover. The tri-fold tonneau cover is one that folds as three separate sections; however, some covers may have more than three folding points.
The benefit of a folding cover? If you only need to access one section of your truck bed, then a folding tonneau cover will enable you to expose the area you need and keep the remaining sections closed that you do not need access to. An advantage of this cover is that if you need to haul awkwardly shaped cargo, then you close the areas the portion of the cargo fits in and leave the other sections open.
Roll-up Tonneau Covers
A roll-up tonneau cover is one that rolls up into itself all the way to the bulkhead. It is similar to how you would roll up a mat.
The benefit of a roll-up cover? A roll-up tonneau cover features nearly all the same benefits as a folding cover because it allows partial open access to your cargo. However, this type of cover is not determined by pre-set folds like a folding tonneau cover.
Retractable Tonneau Covers
A retractable tonneau cover retracts back into itself at the truck's bulkhead. Its functionality is similar to the roll-up tonneau cover; however, the mechanisms for achieving its use are different between the two.
The benefit of a retractable cover? With this cover, truck owners can expose only the cargo they need.
Hinged Tonneau Covers
A hinged tonneau cover is basically a bed cover lid that is hinged to the truck's bulkhead. These covers can be locked into an open position, but they do not fold or roll-up. Unfortunately, if you have a hinged cover, you may not be able to transport awkwardly sized cargo, and you will only have full access to the truck's bed; you will not be able to open only certain areas.
The benefit of a hinged cover? Despite the functionality being somewhat limited, many truck owners prefer the look of a hinged cover and will often opt for this choice if they do not haul oversized cargo.
Snap Tonneau Covers
A snap cover is made up of an aluminum frame that clamps onto the truck bed. A vinyl cover snaps onto this aluminum frame with clips that are fitted around the outskirts of the cover. This type of cover offers a unique way to gain bed access.
The benefit of a snap cover?  A snap tonneau cover allows you open and quick access to part of or all of your truck bed, and it accommodates various sized cargo.
Allowances for the Different Types
If your pick-up truck is equipped with a toolbox, or you plan on purchasing one in the future, then some tonneau cover styles may not work for your truck. There are some that will fit, but it may be best to opt for a style that allows for customization of size, such as a soft tonneau cover.
If you plan on hauling cargo that requires additional security, you may want to explore a locking cover option. Not all tonneaus come standard with locking methods, so ensure you choose a style with this capability or one that can be altered to include locking mechanisms.
Factors to Consider When Buying a Tonneau Cover
Before you decide on buying a tonneau cover for your pick-up truck, there are some factors you should consider.
Compatibility – Usually, tonneau cover types are specific to vehicles. It is not always a one-size-fits-all. One cover will fit one type of vehicle, but not necessarily another. Several factors can determine compatibility. For instance, the truck bed size and the absence or presence of a bed liner. Before purchasing a cover, ensure it is compatible with your type of truck.Take your measurements along when you want to purchase a tonneau cover and ensure you measure from the bulkhead all the way to the inside of your truck's tailgate.
Purpose – Different truck owners will install a tonneau cover for different reasons. Some may be focused on aesthetics and how their vehicle looks, in which case they may choose a classy, soft tonneau cover made of vinyl. Others may be trying to secure their truck bed from theft when transporting valuable items and will need a locking mechanism.
Cover Material – Manufacturers use different materials to make different types of covers. Each material has its own advantages and disadvantages. You will need to inspect the tonneau cover materials you are interested in purchasing because different materials will offer different functionality and durability.Depending on your security needs for your truck bed, your frequent driving conditions, and the purpose you want your cover to serve, choose the right material tonneau cover.Aluminum frames, for instance, make a sturdy cover. However, this material dents easily from impact. Covers made from plastic and fiberglass are weatherproof and resilient and area good choice if you want protection from the weather and a lightweight cover.
Climate – Some tonneau covers are built to withstand bad weather conditions better than others. Some covers fade easily from exposure to the sun, while others can withstand wet conditions.Depending on your average climate, you should choose a cover that will withstand the elements in your area. If you live in a dry region, then you will need a cover that can withstand the heat and sun exposure, such as an aluminum cover. If you are in a wet climate, then you will need a material that is waterproof and will not corrode easily, such as plastic or fiberglass.
Cleaning and Maintenance Ease – Some tonneau covers are easier to clean than others, depending on the material they are made from. Some materials are easily damaged and require gentle cleaning and care. Other materials can be cleaned with ease.Be mindful of the kind of cleaning and maintenance your chosen cover is going to need. Some designs accumulate dirt and are, therefore, more demanding when it comes to maintenance.Your driving conditions and climate will affect the type of cover you choose because if you are in dusty or rainy conditions, you will want a cover that is quick and easy to clean since you will be cleaning it more frequently.
Installation Ease – Different types of covers will need different installation methods. This means that some covers are more difficult and complex to install than others.A good example is a hard-hinged tonneau cover. This particular cover is heavy and large and often needs more than one person to lift onto the truck bed. Sometimes a forklift is needed to raise this cover for installation.Roll-up or retractable tonneau covers are compact and lightweight. These covers can be installed without any help.
Budget – Usually, budget is the first thing that dictates choice. Different truck bed covers carry different price tags. The type of tonneau cover you choose will depend on the budget you have available to spend.Hard covers cost more than soft covers. The recommendation is to choose a cover within a moderate price range. A high price could simply be dictated by carrying a popular brand name, and a low price could be an indication of compromised quality.
Brand – There are many tonneau cover manufacturers on the market in 2021. Choosing the best brand for your needs may be challenging, especially if this is the first time you are exploring the tonneau cover market and do not know much about the available brands.The best thing you can is to shop around, do some research, and read reviews. Other customers' views and experiences may help you make the right decision about a particular brand and type of cover.Brand names do not necessarily dictate quality. Not every big brand name produces high-quality products. Quality is the most critical factor, especially when little is known about the brand.We have tried to eliminate the headache of finding the best tonneau cover for your needs and have created a list of the top ten best tonneau covers below.
The Top Ten Best Tonneau Covers
1. Bak Revolver X2 – Soft Roll-Up Tonneau Cover
To complement the look of your truck, BAK designed the Revolver X2 tonneau cover to sit flush on your truck's bed rails. This will give the tonneau a lower profile and complement your truck's stylish look.
In two easy steps, you can secure your cargo in the back of the truck. Simply close the cover and lock the tailgate; this will secure your belongings from wandering eyes as well as the hazard of rain or snow. The Bak Revolver X2 has a state-of-the-art rotational locking system that allows you to lock the cover with the rails when closing it.
The X2 has an automatic slam lock function that engages when you close it. This allows you freedom from fidgeting with keys or fighting with locks to close up the rear end of your truck. It can also hold up to 400 lbs. when closed, making it sturdy and reliable.
Working in conjunction with rubber side seals, the Revolver X2 has vinyl-lined aluminum slats that will ensure weather elements do not enter the back of your truck.
Easy installation with only a wrench and socket secures the tonneau to your truck bed with bolt-on clamps. No hassle, no fuss, and no drilling or heavy lifting required.
Just as easy as it is to install, it is that easy to operate. All you need to do to open the tonneau is pull the string latch located on either side of the truck bed to release and roll up the X2. The rotational locking system will automatically engage with the rail when you roll the cover closed. This tonneau is exceptionally practical and easy to use.
Driving with the tonneau open poses no problem as the straps will hold the cover in place. If you need to access your belongings inside without trouble, then this cover can be opened and locked into place at the bulkhead to give you full access to the back of the truck. You now have an easy way to haul larger items or move furniture without having to remove the X2 from the vehicle.
This tonneau is practical and aesthetically designed to give you the perfect balance between looks and functionality. To add more value to this option, you are given a three-year warranty.
2. TruXedo TruXport – Soft Roll-Up Truck Bed Cover
The TruXedo TruXport roll-up bed cover does not split into three sections to close like some of its soft tri-fold predecessors; it rolls up neatly on the back of the truck.
Once rolled up, the TruXedo is secured into place, allowing you to drive freely without worrying about it unrolling or becoming damaged. This also gives you the benefit of having free access to the back of the truck and makes transporting large cargo easy.
It takes 20 minutes or less to install the TruXedo with a set of instructions that are clear and concise. All it requires is for you to insert the side rails and then the cover itself. No drilling or hard work is required for this installation. The TruXedo has an optional seal for you to install to make your truck bed waterproof.
To get the best sealing option, it would be advisable to order the TruXedo Tailgate Seal and Bulkhead Set and install this at the same time as the initial installation.
The TruXedo is made of a durable vinyl material which gives your truck a stylish look. It is not too bulky and sports a slim design that further appeals to your truck's overall look.
Countering the fact that the vinyl is accessible through vandalism, the TruXedo has dual paddle latches that offer additional security and ease of use when opening and closing the soft-folding tonneau.
Once rolled open, the TruXedo is secured with Velcro straps that bind tightly and neatly. Rolling up this tonneau is exceptionally easy, taking less than a minute to secure it with the straps provided. Closing it is just as quick.
Overall the TruXedo is a very sleek-looking accessory for your truck that will provide easy access to your belongings and secure them safely when in transit.
3. Extang Express – Soft Roll-Up Tonneau Cover
The Extang Express tonneau cover has been manufactured with superior looks and first-class features. Aiming for high-quality performance and instant truck bed protection, the Extang is in a class of its own.
Making the most out of your time and money, the Extang Express Tonneau has earned itself the reputation for being a market leader since it is easy to install and use.
Offering a staggering ten-year warranty on the tonneau and a lifetime warranty on the frame, the Extang is made of vinyl with industrial-strength seals and a durable, lightweight aluminum frame. The WeatherTuff seals, tapered edges, and industrial strength Velcro closures ensure that your tonneau will close securely on top of the truck and keep your valuables safe from the elements.
This tonneau has an adjustable sealing system with a patented L-Channel design that easily bridges the toolbox to the tonneau gap and allows for a perfect fit with rain drainage. Another great feature is the self-adjusting tension system which ensures that the tarp stays taut and looks optimal in any weather condition.
The tarp has been designed to repel water for protection and longevity. This function ensures that your tarp will last longer and withstand the various weather elements to which it is exposed.
The Extang boasts quick release levers for easy access and luggage-style clip straps that will safely secure the rolled-up tarp when open. The unique design is fitted with heavy-duty bows that are pre-positioned and allow the tarp to conveniently roll up for easy storage.
As an added benefit, the black vinyl tarp enhances your truck's overall look, and the aerodynamic design gives you more gas mileage.
Priced at under $450, this tonneau is a must-see and a definite buy for all those truck lovers seeking to compliment the looks of their trucks with functionality and style.
4. Extang BlackMax – Snap Tonneau Cover
The sleek, bold-looking Extang BlackMax Snap Tonneau Cover was designed with a bolder, more vibrant look in mind, not forsaking any of the stylish features.
Consisting of an all-black powder coated frame, this tarp is fitted with black spring-lock bows and rich black anodized rails to complete its look. These features give the Extang BlackMax a solid black look when it is rolled up.
The frame has also been designed with a non-scratch surface, which is a well-thought-out addition to the tarp frame's design. This feature is highly sought after as it ensures your tarp will not damage and look dire after a few uses and during loading or offloading of your truck.
This is particularly useful when the tarp is removed, and you are handling heavier or larger items that tend to bump up against the edges of the truck bed.
The BlackMax truck bed cover gives you easy access to your truck's back when rolled up, which will allow for movement of bigger items if needed.
An exclusive BlackMax feature is the snaps along the cab rails. These give you quick and easy loading at the front of the truck bed. These four-way adjustable snaps are reinforced fiberglass and have been specifically implemented to withstand any weather conditions.
The exclusive snaps are situated along all four sides of the cover and will keep the tarp secure at all times. The snaps also ensure that the tonneau stays in place when rolled up and are guaranteed to never fail.
This tonneau stands out because it has snaps along the entire perimeter of the truck bed, which is highly advantageous, giving you full access from any side and at any point on the bed of the truck.
The BlackMax supports a spring-loaded bow system which allows for quick removal of the tarp. It also comes with a tail rail that can be instantly secured and released without the use of tools.
You can decide which settings you want to use with the snaps and position them at the appropriate paces based on the weather. This function makes the tarp versatile and easy to adjust when the need arises.
The exclusive snaps are supported with thick polymer edging, which prevents them from being ripped out and keeps their longevity.
Furthermore, the BlackMax cover is well priced for the value you are getting, with prices startingat $269.
5. BAKFlip F1 – Hard-Folding Tonneau Cover
The BAKFlip F1 edition is a hard fold-up truck bed cover. This tonneau is manufactured from aluminum panels that give this cover its strength and durability and have an FRP coating on top.
When you are looking for access to your entire truck bed, this tonneau is a good buy. It allows for loading large items such as furniture with little hassle.
All you need to do is fold the F1 up towards the cab and securely fasten the support struts. This allows you full access to the truck bed and peace of mind when driving since it is secure. An added benefit is that the cover does not need to be removed.
The panels of the F1 are made of fiberglass reinforced polymer (FRP), which is a lightweight and heat-resistant material. This material is heavy duty and virtually dent, scratch, and ding proof. The panels are covered with a textured black powder coat.
Having a solid cover over the back of your truck provides a more secure space in which to transport your belongings.
Having a tonneau that is this well-designed is useless if it is a huge hassle to install. Luckily, the F1 can be installed with a wrench and socket and requires no drilling or strenuous work.
Wet weather conditions pose no threat to this tonneau. It has an innovative weather drainage system that channels liquid off the F1 and into the drainage tubes of your truck bed. This will ensure that your belongings stay dry and safe.
Opening and closing the F1 proves to be an effortless task. All that is required is for you to pull the string latches located on either side of the bed and fold the covers towards your cab. When you need to close the cover, simply pull it towards you, and the latches will automatically engage with the rail.
The F1 is fitted with tie-down locations that allow the cover to be adequately secure when folded at any position. This gives you more flexibility in having the cover fully or half-open when needed.
Due to the ability of the F1 to fold at a 90-degree angle, you are awarded full visibility of the third brake light and minimize wind flow for safe highway driving.
The F1 can withstand 400lbs of evenly distributed weight, which is an added benefit should you need that extra little bit of space for something light on top of the tonneau.
The F1 BAKFlip comes with a five-year warranty and is priced in the $700-$1000 price range. It competes within the BAKFlip brand with the BAKFlip MX4.
6. UnderCover Ultra Flex – Hard-Folding Tonneau Cover
Taking a step towards luxury, the UnderCover Ultra Flex is a truck bed cover that is upping the ante. With new features, this hardcover folds up and has a textured matte finish. The Ultra Flex has a new ultra-low profile design that looks prestigious and gives your truck a new and improved appearance.
The Ultra Flex shows off an impressive outward appearance coupled with various component features beneath the cover. This model is gearing up to be the ultimate all-purpose truck bed cover.
Starting with an integrated luminous rail light system that enhances night vision, the Ultra Flex is also fitted with a dual-action tailgate seal which allows you to open and close the tailgate with the cover open or closed.
The easy-close tailgate seal allows you to shut the tailgate without needing to lift the last panel. Slam latches enable the panels to automatically latch to the covers mounting rails, making operating it easy from either side.
The panels of the cover are made from heavy-duty alloy materials; it is almost indestructible. This also makes it durable and difficult to damage.
The cover itself has multiple resting positions that allow you to drive with it either partially or fully open. It also comes with carpeted under panels which provide a finished OEM look and feel. It has a sleeker look with its ultra-low profile, which rests inside the bed rails.
Prop rods are built-in to secure the cover, allowing you to drive with the Ultra Flex fully opened. The rods are conveniently stowed in rubber-coated clips, keeping them safely out of the way.
When the cover is fully closed, it provides full weather protection from rain and snow. Your personal valuables will be well looked after and dry. There is also no getting into this cover, so you can be rest assured that your belongings will remain safe from potential thieves.
The Ultra Flex Cover comes with newly designed L-Rails which utilizes an easy clamp-on application that enables easy installation and removal of the cover.
Backed with a five-year warranty, this market-leading product is pricier than some of its competitors, but you get great value for money.
7. Extang Solid Fold 2.0 – Hard-Folding Tonneau Cover
The new generation of Extang's hard tri-fold truck bed covers, the Extang Solid Fold 2.0, features some of the latest design elements that are rare among competitors in the market.
The Solid Fold 2.0 features the brand's exclusive and patented Jaw-Grip and EZ-Lock clamps, their revolutionary snap-on perimeter seals to protect against environmental elements, 1″ thick EnduraShield panels, and integrated hinge and corner seals.
The lightweight EnduraShield panels are 1″ thick and feature an automotive-grade polymer that is resistant to scratches, dents, and UV-induced fading from the sun. These panels are more robust than aluminum and fiberglass panels and carry a weight rating of 600lbs evenly distributed.
If you stay in an area that experiences harsh weather conditions, then the Solid Fold 2.0 tonneau cover is best suited for your truck bed. This is because the exclusive hard polymer rubber corners, snap-on seals, and hinge caps resist harsh weather conditions. The matte black textured, powder-coated aluminum hinges and frames provide additional wear resistance. These powder-coated hinges and frames also add to the cover's overlook design since they match a truck's bed caps.
Not shy to add more value for money, Extang's Solid Fold 2.0 cover comes with a three-year warranty against defective materials or workmanship. This applies to the tonneau rails, bows, clamps, aluminum components, and hardware.
8. Roll-N-Lock M-Series – Retractable Cover
Looking to bump up the look and functionality of your Chevy Silverado or Toyota Tundra? Suited to fit most pick-up trucks, the Roll-N-Lock M-Series is a retractable tonneau cover that provides the smooth appearance of a soft cover and the security of a hard truck bed cover.
The unmatched style adds an element of attraction to your truck with the vinyl-over-aluminum low-profile construction. The aluminum undercarriage has a patented, contoured hinge that provides frictionless rotation and protection against potential thieves.
The M-Series has a torsion spring which is enclosed in a 3″ aluminum casing together with the patented contoured hinges that offer secure and effortless operation. The heavy-duty torsion spring provides reliability for many years to come and limits the need for possible replacement. The spring makes the cover easy to open and close to access the cargo in your truck bed.
The durable vinyl-over-aluminum hybrid cover is well-suited to four-season weather protection, so regardless of the weather conditions you live and drive in, you will have peace of mind that your M-Series tonneau cover will protect your cargo from rain, wind, and snow.
Unlike other tonneau covers on the market, the M-Series stands out as being the only retractable cover with an integrated tailgate locking system. This retractable feature allows truck owners to quickly open and close the cover with ease.
The M-Series cover stands out from other competitors because it has no fabric shrinkage, crossbars, snaps, and no roll/bundle to lash down.
The low-profile aerodynamic housing lid is secured by two screws and two concealed pins, and the sleek aerodynamic design helps reduce drag for improved performance and better gas mileage.
Roll-N-Lock has eliminated the possibility of burning your fingers in hot and sunny climates with their finger insulator grip. A small touch of innovation goes a long way for truck owners.
9. Roll-N-Lock A-Series – Retractable Cover
If you are a truck owner that is serious about security for your truck bed, then the Roll-N-Lock A-Series retractable tonneau cover is ranked as one of the best options from which to choose. If you want to keep your cargo safe from bad weather, then the one-piece construction and the retractable cover design do well to prevent rain from seeping into any of the open seals.
The powder-coated aluminum body also adds protection against harsh weather conditions. The design looks ageless, and the single construction and hidden seals and key slot covers will add to the protection against wet weather.
Taking wet weather into account, your lock cylinders are also protected against corrosion and freeze-up—a welcomed benefit for any truck owner that has fought with a corroded rock cylinder before.
If you are looking to protect your cargo against potential thieves, then the theft-resistant hinges will make accessing your load extremely difficult. The ratchet-style lock mechanism allows you to lock and latch your cover at quarter, half, and three-quarter positions. Added protection against theft comes with the A-Series four-point tailgate locking system, which is more secure than most covers on the market.
The Roll-N-Lock A-Series tonneau cover is easy to operate and offers one-handed operation, which is especially useful if your hands are full. Installation is simple too, with the patented clamp-on truck installation process that helps keep the number of holes you need to drill into your truck to a minimum.
The A-Series cover will fit nearly all trucks because it is custom-made to fit your specific make, model, and year of your vehicle. This tonneau cover is an all-aluminum, low-profile, retractable cover that not only offers simplicity, but it is a seamless truck bed cover solution that suits all weather conditions and does not damage your pick-up truck. It is also backed by a three-year warranty for peace of mind.
10. UnderCover Classic Series – Hard Cover 
If you are looking for a hinged hard tonneau cover, then turn to the original ABS tonneau, the UnderCover Classic. This cover is durable, strong, weather-resistant, and the perfect fit for most pick-up trucks. The UnderCover Classic is made from ABS composite material and features the patented "X-Effect" structure, which gives it incredible strength on the underside.
The UV-protected polymer finish resists sun damage and has a scratch-resistant, textured matt black finish that not only adds aesthetic appeal but prolongs the life of your cover and keeps it in great condition. The textured finish also gives the ABS cover unparalleled strength at only half the weight of your traditional fiberglass covers on the market.
Versatility to fit across most truck beds is offered with a customized fit. Having a cover built to fit your truck bed perfectly reduces gaps and openings and provides added protection against environmental factors, like wind, rain, snow, etc. In addition, there is a double seal to make the cover water-resistant.
When installing the UnderCover Classic Tonneau Cover, you do not need to worry about drilling and specialized tools. The installation and removal process is simple and does not require the use of a drill. Wall mounts are also included to provide easy and safe storage for your cover when you do not use it.
Unique features include an LED lighting system with its own self-contained battery source and a dual point locking system to keep your cargo safe. The locking system is secure, weatherproof, and versatile, and the Twist-Locks allow truck owners to open and close the cover with or without the key.
There is a three-year warranty that accompanies this tonneau cover, as well as one year of coverage on the parts and hardware.
The Bottom Line
Above are our top ten best tonneau covers. You may also come across popular names, such as Pace Edwards and Retrax. Both of these brands have been around for decades.
Pace Edwards started in the automotive truck industry back in 1988, and they were one of the first manufacturers to offer a retractable tonneau cover. Since then, they have expanded further to include many manual and motorized covers for various trucks, including the Pace Edwards Switchblade, which is a popular option.
Retrax was founded in 1996 and offers a wide selection of tonneau covers ranging from panels to retractable options. They all provide a secure and tight fit with unmatched quality and some additional usefulness hidden within the design. A popular alternative of theirs is the RetraxPRO XR, which doubles as a bed rack for accessories.
We recommend using our guide to help you choose the best tonneau cover for your pick-up truck. Remember to explore different options and to keep appearance, quality, functionality, and the weather in mind, together with your budget, which may help dictate your final decision.