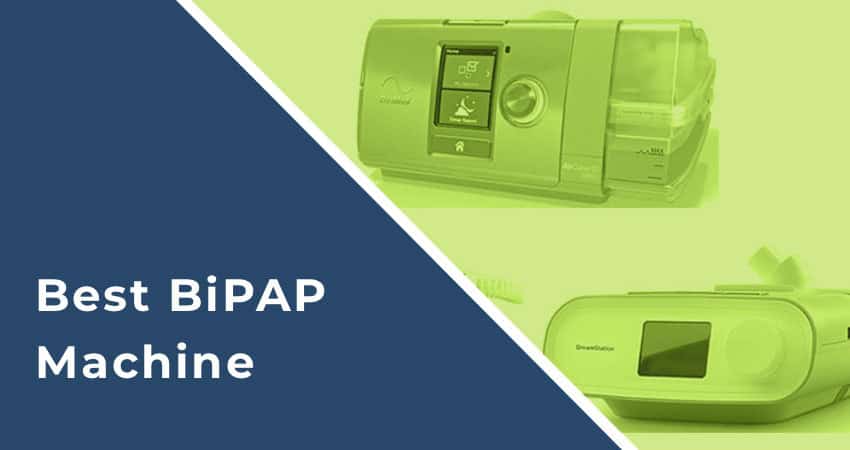 Your 2019 Buying Guide For The Best BiPAP Machine
Diagnosed with sleep apnea? To ensure a trouble-free sleep at night, your doctor might recommend getting a BiPAP machine.A bilevel positive airway pressure (BiPAP) machine is a non-invasive ventilation treatment for people who suffer from sleep apnea and other respiratory issues.
It pushes air into your lungs to help you breathe easier and sleep smoothly.The air pressure it provides also increases and decreases depending on your breathing pattern, so you can basically say that it customizes air pressure based on your needs.
But with all the many BiPAP machine models out in the market, shopping for one can be a bit overwhelming.
To help you get a clearer idea of the options available to you, we have created a list of the most top-rated, efficient, and highly-advanced BiPAP machines for 2019.
Resmed AirCurve 10S + Humidifier
Made by one of the most reputable PAP device developers, the ResMed Aircurve 10S is a top choice for people always on the go.
It is compact and travel-friendly, plus it comes with a built-in heated humidifier for extra comfort and compliance.
Its auto-ramp technology allows the device to automatically deliver a lower pressure once opened so you can gently doze off on a smooth and gentle pressure setting. It also automatically increases pressure based on the prescribed level once the ramp time is over.
ResMed AirCurve 10s can also detect what type of sleep apnea you have. Its advanced event detection allows the machine to provide the right pressure so you receive an efficient therapy at all times.
Apart from Bluetooth connectivity that allows you to sync and download data for clear stat analysis, the device also features a built-in wireless technology connected to the AirView cloud-based platform. Through this, you can instantly change device settings and troubleshoot remotely.
With an intuitive and intelligent design, the ResMed AirCurve 10s also features an incredibly quiet motor that helps you get a more restful sleep.
Also read: Buying Guide – Top 10 Best CPAP Cleaners
Pros
Easy-to-use controls
Data management
Advanced event detection
The SmartStart function
Humidification
Cons
Backlit LCD display too dim
Needs constant refilling of the humidifier's water tub
Respironics Dreamstation Auto BiPAP
Majority of users love this excellent BiPAP machine and there's no asking why. The device is lightweight, highly-functional, stylish, user-friendly, and best of all–it functions in three ways!
You can choose from three therapy modules: fixed CPAP, fixed BiPAP, and auto BiPAP.
If you're looking for a device with a modern look and efficient user-friendly controls, then the Respironics Dreamstation Auto BiPAP is the one for you!
It has a really sleek, stylish, and compact design. It can even improve the look of your nightstand!
Its EZ-Start feature allows for easy acclimation and is immensely helpful for beginners to get used to different pressure settings.
The Respironice Dreamstation also has a DreaMapper app that allows users to receive therapeutic feedback, performance history, and patient video guide.
It features advanced event detection, mask fit check, pre-heat humidifier option, oximetry, and an optional heated tube.
Pros
Ideal For travelling
Onscreen progress report
Support tools for users
Auto on/off facility
Stylish and intelligent design
Cons
Easy to forget to check the filters since they are hidden in a compartment
Ceases to offer auto-adjustment functionality after 30-day auto trial
DevilBiss IntelliPAP Auto Bilevel + Heated Humidifier
If you're looking for a smart BiPAP machine that ensures maximum therapeutic comfort, smooth breathing, and a good night's sleep even during higher required pressures, then the DevilBiss IntelliPAP is your best match!
This BiPAP machine boasts of a pressure range of 3-25 cm and delta up to 22 cm H2O. Although it can administer high-pressure treatment, it does it in a particularly comfortable way through its pressure ramp feature. The high-pressure settings are gradually built up to help you fall asleep before the treatment really kicks in.
It features an Auto Adjust Algorithm that adjusts the pressure on its own depending on what you need. The DevilBiss IntelliPAP also has a large, backlit LCD screen that allows you to easily read data and make necessary adjustments.
Its small and compact design is great for travelling. And with three large buttons for controlling the device's major settings, operating the DevilBiss IntelliPAP is a pure breeze.
Also read: Review of the Zyppah Mouthpiece
Pros
3-year warranty
Comes with a heated, integrated 400-mL humidifier
Automatic shut-off and altitude adjustment
Fast ramp speed
Exceptionally quiet and lightweight
Cons
Lacks more advanced features of later models, like event detection and SmartFlex exhale pressure relief
Data reporting limited compared to other models
Respironics BiPAP Auto SV Advanced System One
The Respironics BiPAP Auto SV Advanced System One is a smart and efficient BiPAP machine that can deliver exceptional treatment even to patients with the most complex sleep disorders.
Its Bi-Flex pressure relief system allows the machine to adjust the air pressure to prescribed levels every time you inhale. It provides you with peace of mind and smooth breathing, especially if you're having difficulty adjusting to your new therapy.
This BiPAP machine also makes it extremely natural and comfortable to undergo oxygen therapy. Its breathing detection technology gives it the ability to detect the breathing of the user and monitor sleep-related important parameters, such as flow limitation or AHI leaks.
Pros
Dramatically reduced rainout with newly improved humidity output
Automatically determines air pressures needed throughout each night.
Maintains optimal comfort without decreasing effectiveness or safety
Digital Auto-Trak System with built-in leak detection ensures a breath-by-breath response to your breathing patterns
Designed especially for patients with certain disorders such as congestive heart failure and Cheyne-Stokes respiration
Cons
Complicated design that's hard to clean and dry, especially the interior
RESmart BiPAP & Humidifier
This is great BiPAP machine for the data intensive user. If you appreciate aesthetics but don't want to pay the premium prices for the AirCurve or the Dreamstation, this is the machine you'll love.
It features complete data reporting with its cloud-based iCode feature so that you can assess and tweak your treatment and sleep as needed. It is also SD card-compatible, allowing the storage or transfer of data.
The RESmart BiPAP also has three innovative tracking systems that ensure accurate and comfortable therapy. It comes with an eco-heating technique and a dual chamber design for optimal humidity and temperature control. It also has four unique sensitivity settings, offering you a comfortable and more individualized therapy.
In terms of design, the RESmart BiPAP doesn't look like a medical apparatus. It can even complement your bedtime surroundings!
Also read: Buying Guide – Best CPAP Masks for Side Sleepers
Pros
Makes very little noise
Has advanced features and technology
Easy monitoring of daily progress
Has high-level sensitivity settings.
Cons
Screen too small for something that is so stat heavy
Requires a little getting used to as it's a bit complicated to use
Respro BiPAP S with Humidifier BiPAP Machine
This machine is particularly designed for patients with spontaneous breathing patterns. Its main feature is synchronizing the patient's respirations and cycles between inspiratory pressure and expiratory pressure.
Its auto ramp technology delivers air pressure patiently till you fall asleep. Once you go to sleep, it will go back to its prescribed air pressure all night long.
The Respro BiPAP also has a LED screen that's easy to use even for elderly users. It comes with built-in internet connectivity that allows you to connect to any Android or Apple device.
The kit comes with a full-face mask, a carry bag for traveling, a heated humidifier, and a hosepipe. The heated humidifier helps in pressurizing the air, avoiding dry throat in the process.
Pros
Economical since you do not have to buy the accessories separately
Excellent auto-ramp technology so you don't have to keep setting and resetting the ramp regularly
Ideal for people who love smart technology
Has a built-in heated humidifier
Cons
Average features compared to other models out in the market
Respironics BiPAP A40
This machine is designed to combine ease of use and comfort with technological innovations to adapt to your condition and deliver enhanced therapy.
It has a fully automated ventilation mode that supports long-term therapy for patients with obstructive sleep apnea and any other condition related to the respiratory inefficiency. It also has a five-hour uninterruptible power back-up for patients with continuous respiratory needs.
Extremely easy and intuitive to use because of its simple interface, the Respironics BiPAP A40 can also efficiently manage your sleep therapy data through the DirectView and EncorePro software.
Pros
Uses well- known advanced technologies such as auto-track, dry box humidifiers, DirectView, EncorePro software, and more.
Great for long-term use
Fully automated
Provides a comfortable breathing experience
Convenient, small, and portable
Cons
Respironics DreamStation BiPAP S/T Machine
The DreamStation is designed to fulfill the needs of all BiPAP users who demand the best from their therapy. It offers more monitoring choices and connectivity options than other noninvasive BiPAP machines in the market today.
The BiPAP S/T's Digital Auto–Trak Technology detects the onset of inspiration and exhalation and can recognize and compensate for leaks. It also has a Daily Progress Feedback, which displays a simple trend of your nightly use to help track progress.
Its additional breath rate and rise time settings enable the machine to initiate a breath or switch from exhalation to inhalation automatically if a natural breath is not detected within a set time frame.
It also comes with a heated tube that helps maintain heat and moisture to prevent rainout.
Also read: Germ-Free CPAP Machine With The SoClean 2 CPAP Cleaner
Pros
Spontaneous timed mode
Digital Auto Trak
Daily Progress Feedback
Algorithms that automatically adjust to patient needs
Slim and travel-friendly
Cons
Noisier compared to other models
How to Shop for the Best BiPap Machine
Are you planning to buy a BiPAP machine anytime soon? Here are some of the most important things that you should look into:
Size and Weight
BiPAP machines come in different dimensions, so always consider the space that you have when buying one. If it is limited, then you might opt to choose a smaller variant.
Smaller and lighter BiPAP machines are also ideal if you travel regularly and need to take the machine with you. It is better if you can find a machine with a compact container or carrying case.
Pressure Range
If you have sleep apnea, you'd usually need a pressure of about 4-16 cm. Ask your doctor about your prescribed pressure since BiPAP machines come with different pressure ranges.
Noise
Thanks to recent improvements, the motors used to power BiPAP machines have gotten much quieter. It is always best to choose noiseless models for better sleep.
Humidifier
Since you'll be using a BiPAP machine for multiple hours daily, your throat and mouth are prone to dryness and irritation. That's why you'd need a humidifier to add moisture to the pressurized air to lessen their occurrence.
Humidifiers may be detachable or built into the machine. Opt for a humidifier with a large reservoir so you can use it longer without the need for refills.
Sleep Data Collection
Some BiPAP machines have the ability to collect data of your sleeping pattern throughout the night, prompting the machine to provide the right pressure that suits your sleeping pattern.
Look for a BiPAP device that has this capability and also stores data for future reference.
Warranty
A BiPAP machine is composed of various internal parts that work as a whole. There's always the danger of premature malfunction of one or more parts, so better look for a BiPAP machine with at least two years of warranty.
The good thing is that virtually all BiPAP machines come with a warranty, although the time limit differs per manufacturer.
Price
BiPAP machines are comparably more expensive than CPAP machines, although they also have various price points based on your budget.
Conclusion
You have so many choices when it comes to machine models out there, so make sure that you find the right device that can best respond to your respiratory issues. After all, it's a significant investment for your health.
Always check with your healthcare provider before purchasing a BiPAP machine to make sure that you have the right features, settings, and prescribed pressure. Take your time to carefully check all the details.