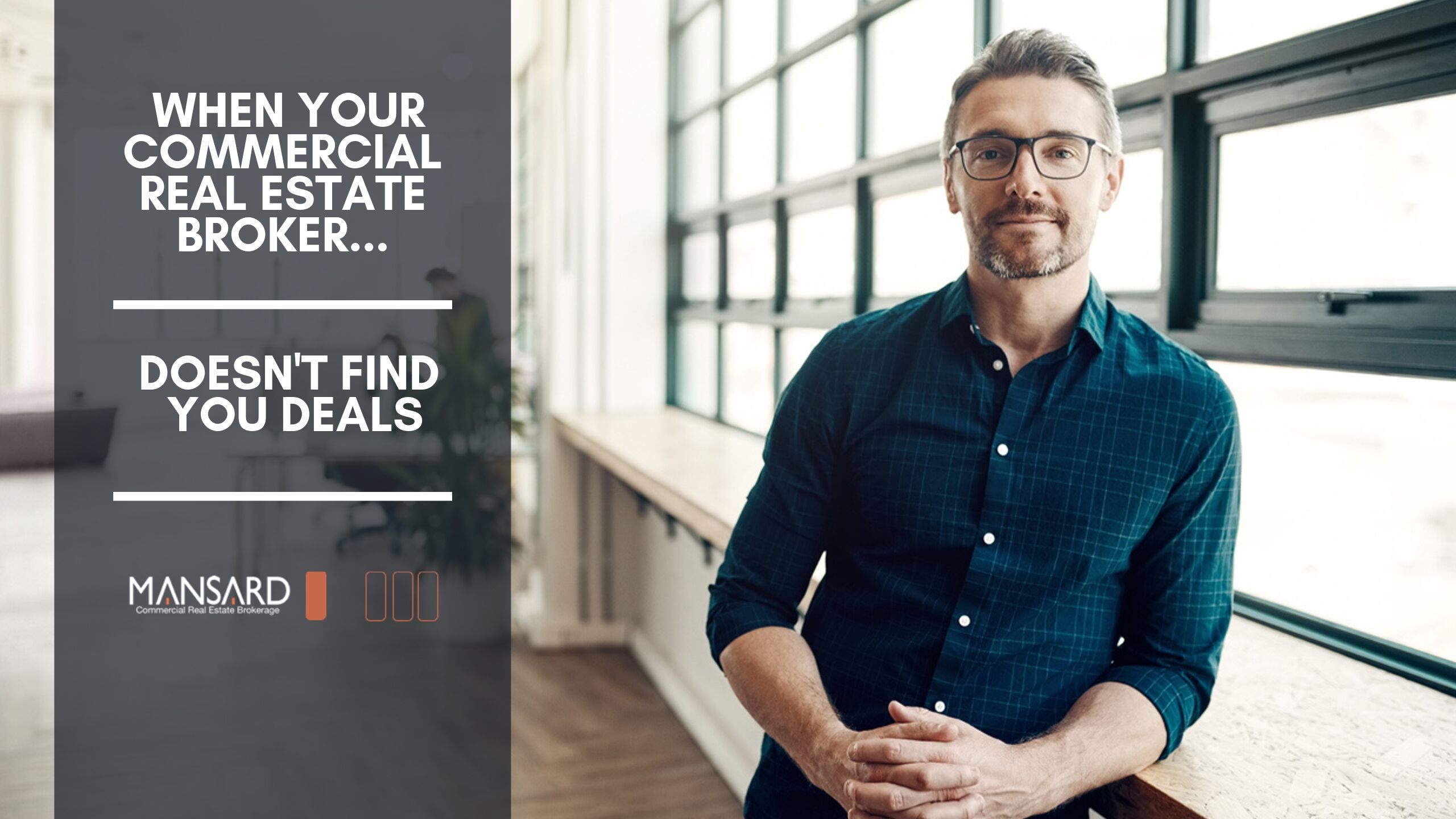 Why your commercial real estate broker doesn't find you deals
Originally posted on https://masscommercialproperties.com/when-youre-everyones-business-and-no-ones-responsibility/
You call commercial real estate brokers in your market, tell them about what you're looking for, and meet with a few.  It feels like you're making progress. The word is on the street, you're looking to buy a commercial real estate investment property with great cash flows, upside potential, and at distressed prices — you want a good value.  Every commercial real estate broker knows.  You wait by the phone and check your email for the wealth building deals to roll in.
Here they come….the emails you've been waiting for.  You open them. You see a pattern.  These commercial property listings are all the same.  You chock it up to the fact that you contacted the wrong commercial real estate agents at the same time and they're sending you what's available on the market.  A few weeks go by, and the investment property sales listings dwindle and no agents are calling. What happened?
You're every commercial real estate broker's business and no one's responsibility.
Rewind a few weeks. You're a commercial real estate broker. You receive a phone call from an investor who's looking for a good deal in your market. He wants you to send him a good investment property to buy, so keep your eyes open and start hunting. You want a commission right?
Well, sure. But here's the catch.  If you're active in your commercial real estate practice, you get at least one phone call like that every day.  You're asked to find a good deal for this investor, maybe go hunting for him, and start sending him listings, hopefully from sellers motivated to sell fast.  He's probably not a hot horse who's going to buy a property off the first list you send him and he's likely having the same conversation with other investment property brokers in your market.
He's every agent's business and no one's responsibility.
You add him to your database. Maybe you put him in your email distribution list and figure that something might happen, but if not, you may get a call one day when he has a property he needs to lease or sell is commercial property.
After a few weeks, you stop sending him lists of investment properties for sale because you've also been asked by 15-20 other investors in the same period of time to do the same activity.  Somehow, they think you're out there working for them, too, because they're getting the same listings as everyone else.
What they don't know is that no commercial broker's out there hunting, they're just entering a search and clicking the send button.
You've been selling investment properties long enough to know that most of these calls are a fool's errand.  The promise of a commission looms on the horizon, but you know you're going to have to spend more in time and resources to maybe get that commission than you'll likely earn, plus you have no commitment from any one investor that they'll honor your commission if you bring them a commercial real estate investment opportunity.  Pretty risky if you're a broker. You decide you're better served investing in those who have hired you to help them acquire and dispose of investment property.
Ultimately, as an investor, ask yourself, when you repeat the same behaviors as everyone else by calling a bunch of brokers to tell them what you want, should you expect an outcome that's different than everyone else who's doing the same?
Here's how to get better results
The next time you're in contact with a commercial broker, try asking how many calls he's had from investors "looking for a good deal" in the last 30 days.  Then ask him how many of those investors he's spoken to after the initial conversation. Chances are you already know the answer.
To get different results than everyone else, change your approach. Ask your investment property brokers how many investors they're representing.  The ones who have clients are getting deals done, while the ones who aren't….well, just check your email box for the latest commercial property listings.
By taking a different approach and employing an investment property broker to execute a search and acquisition on your behalf, you may be delighted that when you become someone's responsibility, you're everyone's envy.
Get free weekly email updates of this blog.
About the Author: Jeremy Cyrier, CCIM is the President and Commercial Real Estate Advisor at MANSARD Commercial Properties and a Senior Instructor at the CCIM Institute. Owners of high value commercial real estate who find it difficult to find the right buyer rely on Jeremy's team to deliver the right buyer at the right price 88.9% of the time. You may reach Jeremy at (617) 674-2043.