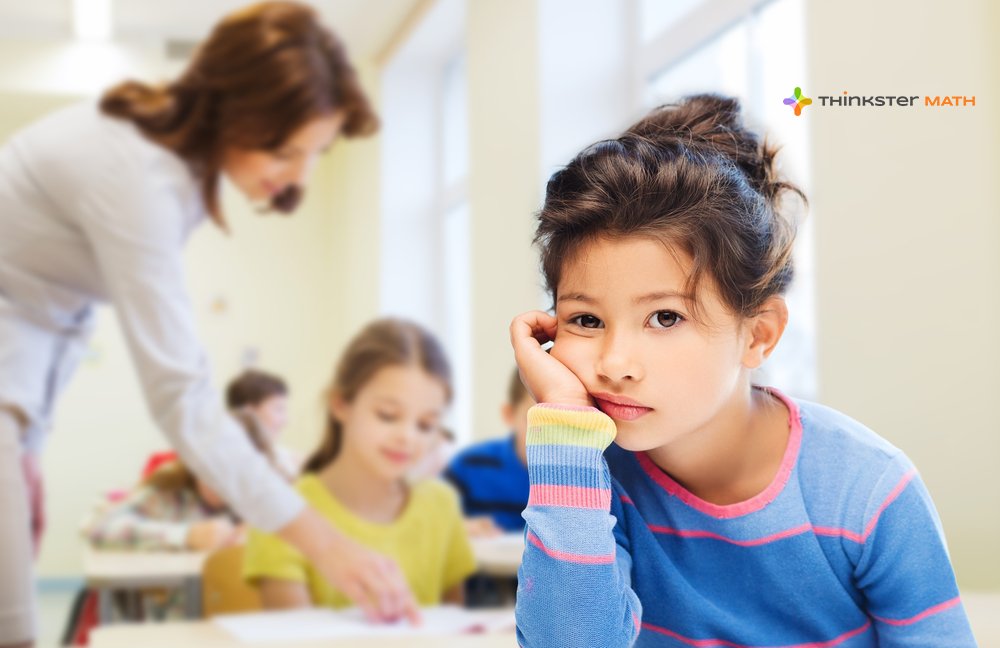 Why do some kids find Kumon® Math boring?
Originally posted on https://hellothinkster.com/blog/why-do-some-kids-find-kumon-math-boring
If you've searched online for information about math programs, you'll no doubt have come across IXL®, Mathnasium® and Kumon®. You'll also have found many reviews of these programs and noticed that amongst the great reviews that Kumon Math has, there'll also be reviews where parents and their children specifically express the view that they find Kumon boring.
"Sometimes I am puzzled whether I need to keep my kids in Kumon. They have been doing Kumon for a year. I think my son improved some in his reading, but for math, it is like what others are saying that it did not teach problem solving skills. My kids hate Kumon as well. I am afraid the longer I keep them in Kumon, the more they will hate study, which would be the worst outcome of doing Kumon, plus it is expensive" – Christy
Many children find arithmetic filled, repetition based programs boring. Families have started to realise that this generation of children will need to develop math problem solving skills in order to compete in a technological society. Computers are able to solve thousands of calculations in a fraction of a second, so focusing on quick calculation skills is not only demotivating for many children, but doesn't show children the real beauty of math and how applying math to real world problems can be as fascinating as beating a computer game or solving a puzzle.
"Rote learning is never effective. The human brain does not remember memorized facts, it needs to understand facts. The same way children need to understand mathematics. In addition applied maths is what is important for smart older children. There is always simple addition, subtraction, multiplication, and division in any math problem. The tutors at Kumon are not experts in maths. They charge a lot of money for a few workbooks that parents have to help kids do." – A Pediatrician
---
Originally posted on YouTube by TED-Ed
Learn More: See Why Parents Switch from Kumon to Thinkster
In the past, schools focused on drilling math facts and calculation methods, and math programs designed to focus on these skills started to spread worldwide as parents wanted to support their children's mastery of these skills. These days, word problems are a central part of every math curriculum worldwide. Math programs which leave out this essential part of the math curriculum are giving families false promises of reaching math excellence and leaving children with an outdated view of math.
The Thinkster Math program features word problems from the very beginning so that even our youngest future mathematicians can develop the skills needed to use math in the real world.
"I had my kids in the Kumon Program, but I was very disappointed about their method, 1. they use repetition and repetition until one day you get it, I believe the kids should use analytical-synthetic method, they need to analyze the problem use their brain to get the answer…, I did not want my kids to be good robots but I want them to be brilliant kids using their brain and be really good at figuring out things. I saw with Kumon they will never be those kids, yes they will probably will improve their math marks but my goal is for life not just to have good marks now." – Sandy
Fluid arithmetic skills and knowledge of standard algorithms are also important, but most children will become frustrated if they don't understand the reasoning and logic behind these math strategies. Arithmetic worksheet programs such as Kumon can provide essential practice, but without teacher support or instruction videos, it's often up to the parent to step in and provide the necessary instruction. This leaves parents feeling as though they are paying out money to teach their own children.
The Thinkster Math program features teacher support and instruction videos. No child is left behind.
"Our child had become increasingly frustrated by the rote method employed by Kumon to build confidence. After looking for alternatives to Kumon Math instruction I came across Tabtor since renamed as Thinkster Math. We gave Thinkster a try and her enjoyment of math, and progress, returned.

I think it is important to acknowledge that with both Thinkster and Kumon, progress is somewhat dependent upon the individual math coach. That said, the Thinkster system requires the coach to review and provide comment on each unit completed by our child. Further, the weekly coaching sessions are an actual coaching experience, not just time spent in a coaching center where the coaches are proctoring a study session.

Thinkster has some things we did not find in other K-6 programs, the inclusion of word problems as part of the curriculum, a review system in which confidence is built by periodically returning to an area of study to refresh and reaffirm mastery rather than drilling to boredom, a progress dashboard that facilitates a much better conversation between parent and child about progress and goals.

The level of visibility into our daughter's progress via the weekly updates has made it significantly easier to stay on top of her progress as well as provide performance metrics we can discuss with her without emotion or drama," Steven G., California, US
Parents are also put into the position of making sure the work is done without mistakes, which causes friction between themselves and their child. Mistakes are a natural part of the math learning journey, but without a teacher to provide feedback and corrections on a child's mistakes, parents are inclined to see mistakes as a negative thing, instead of as an opportunity for deeper learning.
The Thinkster Math program features personalised feedback and corrections, so that students can learn in a positive way from their errors.
Learn More: See Why Parents Switch from Kumon to Thinkster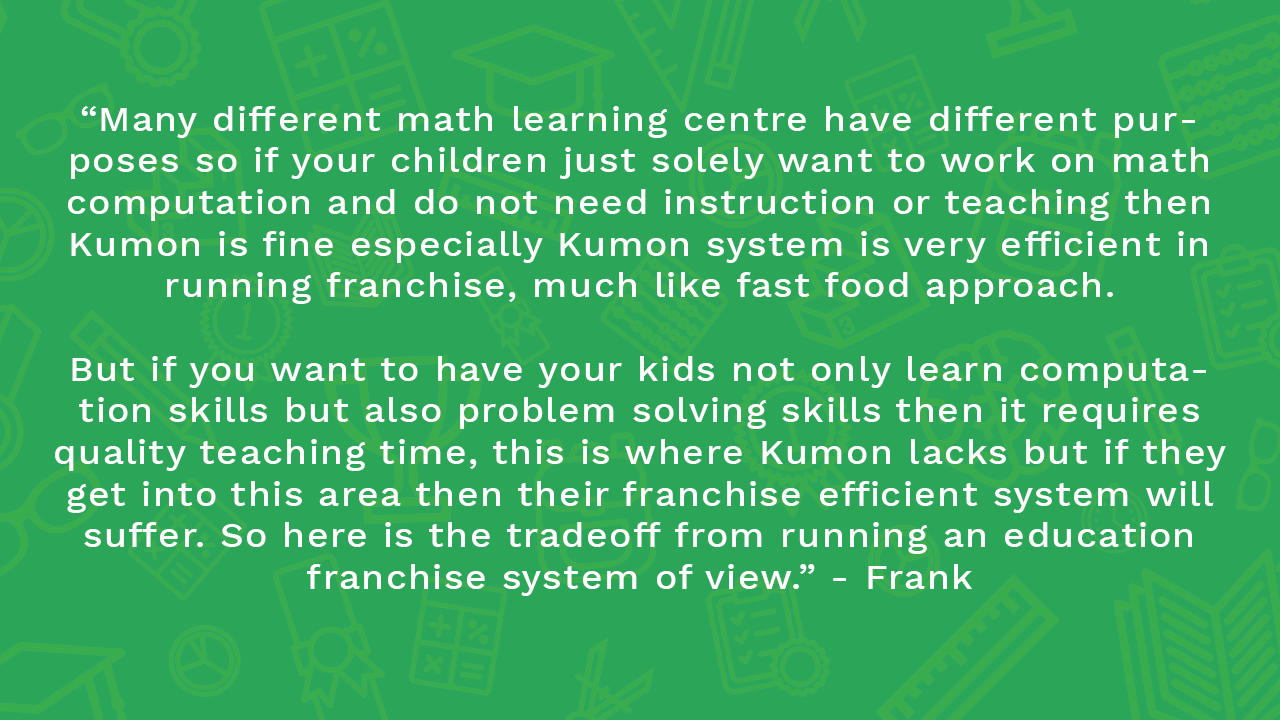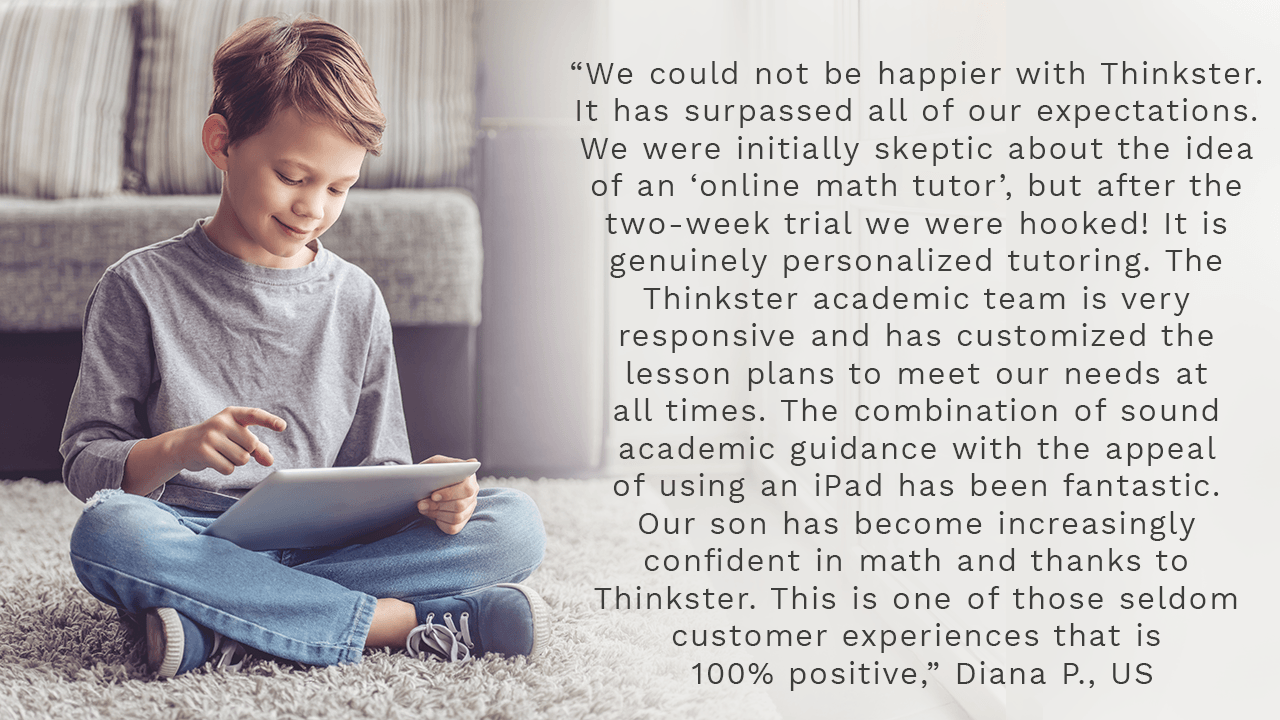 Many math programs offer students points and rewards for completing work. This might not always be enough to keep student motivated if they don't feel that the work they are doing has value.
The Thinkster Math program gives Amazon, Target, and other reward vouchers. We spice things up with a Leaderboard, not necessarily  for competition among students, but to make sure that students can pace themselves from week to week and month to month, set their own targets  and keep themselves on track. Regular feedback sessions with the child and their family, also help to keep students motivated.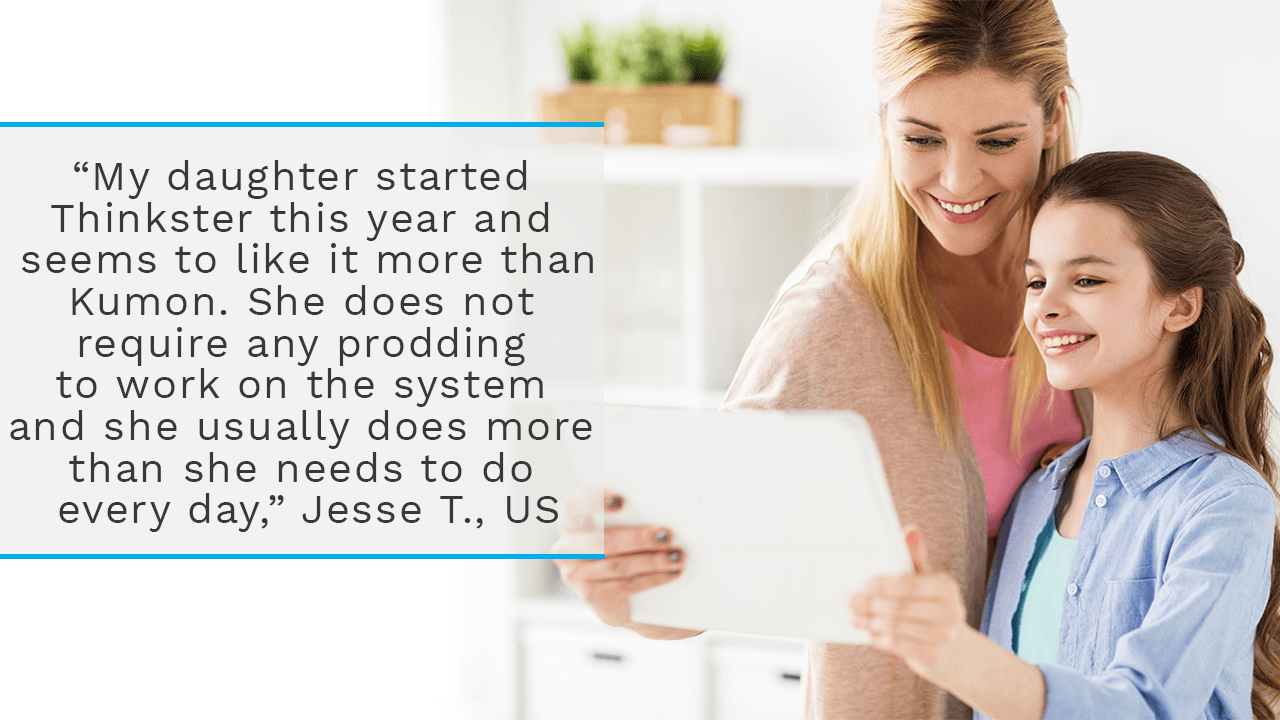 Older children can be particularly resistant to attending a center based math program, since they often feel self conscious sitting in a center full of younger children and being seen struggling with math. On the the Thinkster Math program, both younger students and older students love that they can work ahead of their school math while being supported in concepts that they find tricky.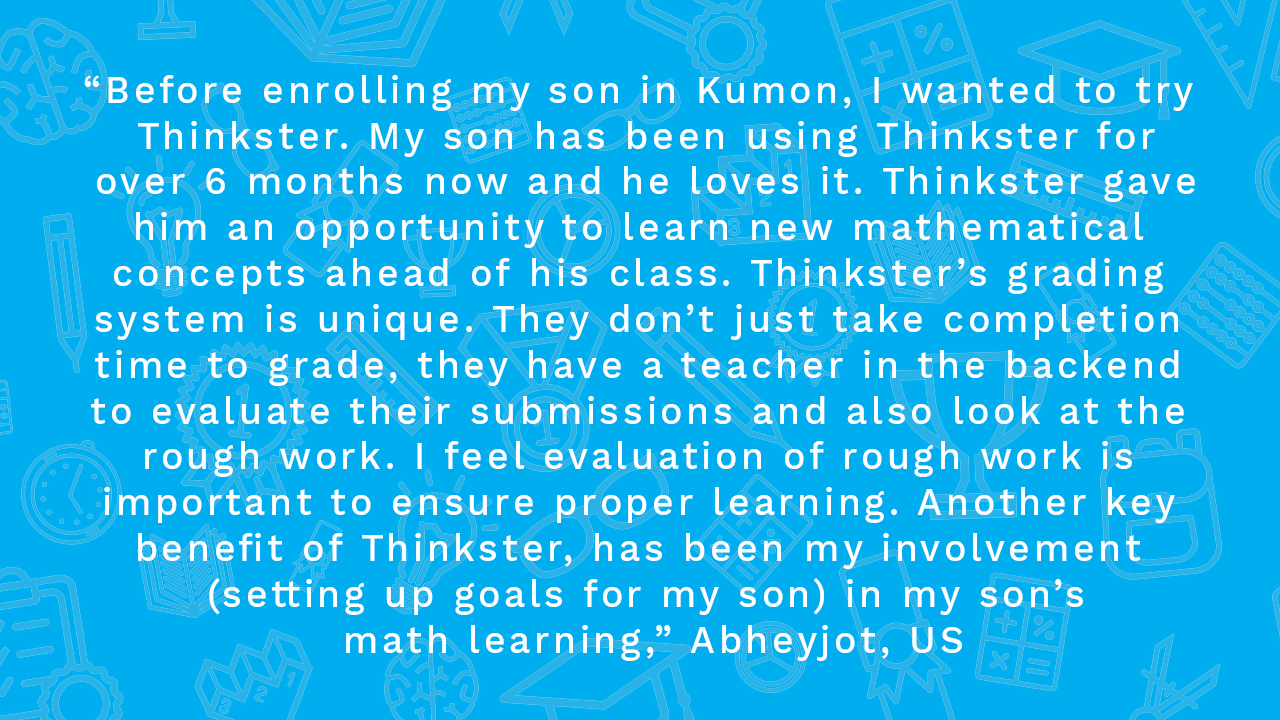 Thinkster Math offers a free 1-week trial at www.hellothinkster.com
Quotes are from from Thinkster Math parents and from comments left on the below blog posts. 
Read more comments from Thinkster Math parents on the Verified Reviews website.
Learn More: See Why Parents Switch from Kumon to Thinkster
Note:  Kumon®  is a registered trademark of Kumon North America, Inc. Thinkster Math is in no way affiliated to the same.
Mathnasium®  is a registered trademark of Mathnasium LLC. Thinkster Math is in no way affiliated to the same.
IXL®  and IXL® Learning are registered trademarks of IXL Learning, Inc. Thinkster Math is in no way affiliated with IXL Learning, Inc.