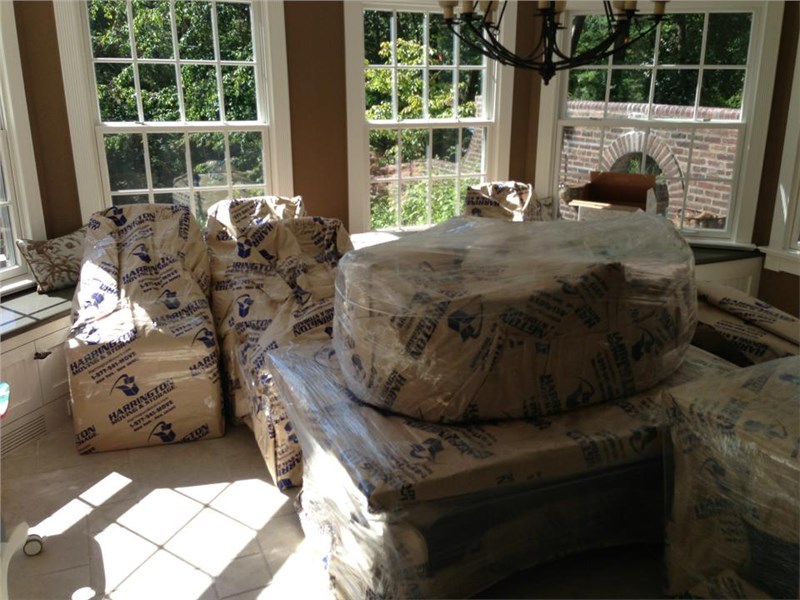 Overwhelmed by Moving? Learn How to Ease Moving Stress
Photo From harringtonmovers
Originally Posted On: https://www.harringtonmovers.com/blog/p.191221000/overwhelmed-by-moving-learn-how-to-ease-moving-stress/
The Emotional Stress of Moving is Important
One of the most stressful events in a person's life is a move. No matter whether the reason for the move is positive or negative, it is going to be a big, emotional deal for you and take a toll on your physical and mental reserves.
When people are stressed, they are harder to deal with. You and your family or roommates may argue. You'll probably be threadbare, at the least.
When the reason is a negative one, like losing your home or becoming unable to pay the bills. You have multiple forms of stress to deal with at once.
It is a good idea to practice self-care during a move, even if it's a happy one, but it is crucial that you practice self-care if it is an unhappy move or you are burdened by additional stresses at the same time.
Sometimes your feelings about the move are complicated, such as when downsizing. You know there will be positive benefits, but you are also sad or anxious about the move. Be patient with yourself and others, be open and understanding about your feelings and those of others involved, practice self-care, make the positive aspects more tangible in your mind by preparing for things you can do with the money saved, and get professional help if it's needed.
Some moves come with guilt or conflict. Retirees may want to downsize and their spouse or children resent it, or you may need to move for a job opportunity and the spouse or children resent that. You are not alone if this happens to you. Try to be fair and considerate of everyone involved, unless you have to do so to the extent that your feelings are being left out. You are an important part of the equation, and if a compromise cannot be reached that takes everyone into account, including you, you may need to seek professional help to guide you.
Moves and the home you live in are huge players in mental health, whether you're staying in your current home or moving to another. Moving stress is normal, but suffering isn't. Don't accept it as normal and sweep it under the rug.
How to Make Moving Less Stressful
Allow time
The first step is to plan ahead, if you can. The more time you have to find a home, go through all the steps, and pack, the less stressful it will be.
Work in time to think and relax
You have to relax, eat, and take care of yourself. If you've gotten yourself in a mess and you're running late or your move is a negative one with compounded stress, you may be tempted to ignore these details. But they aren't just details. They are your fuel, and no matter your reason for moving, it is to take care of yourself, so don't neglect that drive during your move.
Schedule for, make time to, or force, if need be, opportunities to eat, sit down, and at least nap, if not get a full night's sleep. Though a full night's sleep is certainly a big part of maintaining your health and wellness, if you can at all swing it.
While eating or resting, or any other chance you can work out, take time to think about the positive aspects of your move, to allow yourself to feel your feelings and be kind to yourself about them, and to check for signs of stress so you can take additional steps to care for yourself, if necessary.
Get support
Enlist friends and family to physically help or mentally be a support during your move, particularly if it's an unpleasant one.
If you can't find these supportive people in your life at the moment and you're suffering, contact a therapist. Your feelings and your wellness are as important as, no, even more important than, why you're moving.
Find a mover
A professional mover will ease some of your physical and mental stress. It is definitely a wise investment to hire one to keep from being overwhelmed by moving.
You can further reduce stress by doing two things.
Find your mover early so you don't have to do it in a rush when you're already swamped with packing and afraid you're running out of time and so you can ensure they are available on the day or days you need them.
Select a mover with flexible plans so they work with you rather than you having to work around them. When you're already stressed, you don't want strict or inconvenient requests from your mover to be another consideration. Harrington Movers can accommodate stressful plans with ease
Work smarter not harder
Declutter and even organize while you pack. This sounds like an added chore, but it shouldn't be.
Decluttering can be made really easy by having boxes for things to donate, recycle, and trash and putting things in them as you go. Takes virtually no extra time.
Organizing doesn't have to be a big deal. Just when you see items that go together, put them together.
Look for any opportunities to combine tasks, safely, or to do something in a more efficient way.
Label
Label your boxes with what's inside, which side is UP, and whether the contents are fragile to save you time and prevent breakage.
Choose boxes well
Buy special moving boxes or storage boxes to securely hold your belongings so you don't lose things or have to pack things several times because they keep falling out. If you need to save money and feel you must use boxes from retail or grocery stores or boxes you have around the house, be mindful of weights and awkward objects in the boxes. Use heavy duty boxes for heavier items or strategically pack boxes to keep their weights down.
Remember you can use drawers, laundry baskets, and other items like this as moving boxes as long as you cover the top of them so things can't fall out.
Don't unpack everything
Put the last items you pack, the ones you need every day, in boxes labelled to be opened first so when you get to your new home, you can open just these boxes and save the others for later.
Don't worry about unpacking everything right away. If you don't need it, let it sit in the box until you feel like messing with it.
Use general self-care
If you don't already know about it, this may be a good time to learn about general self-care techniques. This post thoroughly explains self-care, and you can also find lists elsewhere of even more examples of self-care to boost your mental and physical health. Some options are eating healthier, giving yourself a treat now and then, exercising, staying hydrated, drinking water to calm your nerves, spending a little time in nature, meditating, or doing yoga. Jot down a bunch of them you think you might be interested in and work them into your life to see which of them stick and work for you. There are so many to choose from, you are bound to think of several that work.
Professional help
If you are suffering, there are many ways you can find quick help. In the most severe situations, such as if you find yourself so upset that you don't really care if you take care of yourself and actually consider deliberately harming yourself, know that many counties in the US has a crisis center that will send someone to you to talk to you and other involved parties. You can also call 911 or a crisis hotline such as Lifeline or Crisis Text Line.
For serious but not severe situations, you can find local therapists, online therapists, and message boards to talk to other people who may relate.