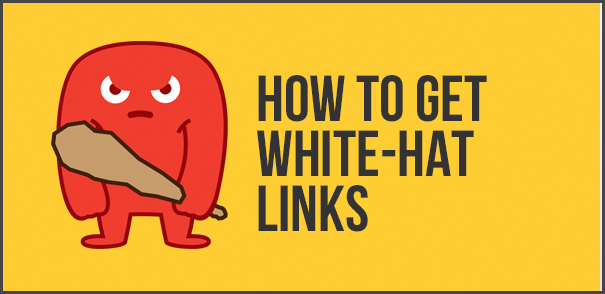 How To Get White-Hat Links For SEO With Blogger Outreach
White-hat links. Are those even real?
When people talk about SEO, they like to divide it into groups with all different style "hats" – some that participate in the dark side, and some that are 100% clean and compliant with Google – "the white hats".
The reality is any type of link building is meant to influence the search engines and increase your rank.
And most of the time when people talked about white-hat SEO, it's geared at an audience to make them seem higher-than-thou and win big contracts worth huge money where they have years to even produce the tiniest of a result.
Who is White-Hat for?
For example, back when we were getting started at the HOTH, we talked to a lot of bigger SEO companies that had been around for a long time. We were trying to sell our services to one of these agencies and they had some big names as clients. Like, REALLY big names. Like, let just say if you've ever received a package in the mail, that was one of their clients.
We were showing them all kinds of results that we were getting with our links, how affordable it was etc and their interest level didn't go up.
…Wut?
This big name client didn't even care about big results or affordability. The SEO Agency had a 2 YEAR timeline to move the needle just an inch, BUT they had to do it under the guise of "white hat" all the way. They couldn't show that they had "built" any links.
Are you a Fortune 500 company with years to spare?
The reality is most people just don't have that kind of time, nor budget. Most people actually care about results – and results that are not 2 years away.
The problem is that white-hat link building is hard to scale. It's all done on a case-by-case basis and most business can't afford that.
BUT it does produce awesome results. And it's very diversified, and it's very natural.
And clients love it.
Even those big dollar enterprise clients.
So how do you get white-hat style links, but at a good price, AND make it so it scales?
Let's get into it!
How To Get White-Hat Links
Like I said previously, getting white-hat links is hard to scale. It involves a lot of work, SOPs, training, manual outreach, and TIME to get it right.
Luckily, that's something we're very good at here at The HOTH!
Of all the "white-hat" link building techniques, one of the best and most scalable techniques is Guest Posting.
The idea behind guest posting is to reach out to blogs in your niche, ask them if they'd like you to write a valuable article to be published on their blog, then write that article with links back to your website.
If you do this right, you'll get:
1. A great in-content link
2. Great diversity
3. Actual traffic coming from that link
4. Increased rankings
Now, this may sound like a lot of work, but since you'll only be reaching out to high domain authority sites, just a few of these links can bring great results.
The other benefit is that this is about as clean as it gets.
Just like I mentioned in the section above, this is the kind of stuff that any client would LOVE to see for their brand – even enterprise level clients.
So how do you do it?
Welcome to the HOTH laboratory. Here's how to do it:
1. First, make a piece of linkable content
This part is optional but this makes the process 50000x easier.
First, you need a piece of epic content that's worthy of linking to. Usually this is in the form of a resource, epic guide, a tool or just something cool and valuable (not a sales page or a homepage). It doesn't have to take 9 years to make but it does have to be good.
Some examples of linkable content would be:
The Definitive Guide To Higher Rankings For WordPress Sites (Yoast)
How To Start A Blog Guide (Impossible HQ)
Google Algorithm Change History: The Ultimate Guide (The HOTH)
The Ultimate Guide To Making Money (Ramit Sethi)
All of these are guides (sometimes called ultimate guides) that would be really easy to link to in an article. It would be very natural to link to these as opposed to just the homepage or a sales page.
2. Find potential targets
There are lots of way to find potential targets for guest posts, and there isn't just one way, but you'll want to build a big list.
Hint: A great place to get search operators is this post by Optimize Smart. It's got tons of awesome operators to help you find opportunities.
(See how they also just got a link from our blog by making a kick ass piece of content? Yeah!)
You can do this by using scrapebox or just manually googling and using the following search operators:
keyword + "guest blog"
keyword + "guest blogger"
keyword + "guest Column"
keyword + "guest article"
keyword + guest post
keyword + guest author
keyword + "write for us"
keyword + "write for me"
keyword + "become a contributor"
keyword + "contribute to this site"
keyword + inurl:category/guest
keyword + inurl:contributors
keyword + "guest blog" + inanchor:contact
keyword + "guest blogger" + inanchor:contact
keyword + "guest Column" + inanchor:contact
keyword + "guest article" + inanchor:contact
keyword + "write for us" + inanchor:contact
keyword + "write for me" + inanchor:contact
keyword + "become a contributor" + inanchor:contact
keyword + "contribute to this site" + inanchor:contact
Put those into Google and you'll get a list of sites that could be a possibility to reach out to.
Here's an example:
Then, make a spreadsheet of all these possibilities.
3. Run a Domain Authority check on each of them
We use Moz Domain Authority from Link Explorer to check to see which sites are valuable for SEO. This number usually correlates with how valuable in terms of SEO the post will be, but also gives an indicator of how much traffic the site could give us.
Here's a quick guide:
DA10+ – Entry level authority
DA20+ – Good Authority
DA30+ – Better Authority
DA40+ – High Authority
So you'll want to shoot for anything above 10, but optimally 20+. Anything less than that probably isn't worth your time to go after.
4. Check out each site, and contact the editor
You'll want to check each site and make sure it's not a crap site. Read a few articles, browse around and make sure it's a legit opportunity.
Then, contact the editor or site owner and make sure they still accept guest posts so you don't waste any time. Make sure you ask them about posting requirements (each site is different) and then pitch an idea to them to make sure it fits and they agree to post it.
5. Write an awesome article and include links
Take the requirements of the site owner and make an awesome article out of it. You'll want to link out to more sources than just yourself so it's not spammy or seo-like.
If you did step number 1, it will make it a lot easier as well.
You'll want to include your links in a way that's as natural as possible. Don't try to get your exact match anchors if it doesn't fit. Don't ever try to jam a city name + keyword in there like "Dallas SEO" because it's just way way to spammy.
Most of the editors from good sites have been around the block for a while and they can smell an SEO coming from a mile away. You can't just stuff your exact match anchors in there. You'll need to include your links naturally (which is a lot easier if you have a piece of linkable content).
6. Get the post published
Submit it to the editor. There may be some revisions that need to be made but they will usually post it pretty quickly (as long as you have included all the formatting correctly and you have followed the guest post guidelines).
Kabooom! Now you have yourself a nice, in-content, natural link on a legit blog.
If you've done the process correctly, you'll be able to obtain a high quality link that not only has SEO value, but also can send you actual TRAFFIC from the site.
What types of links can you get?
It's a lot of work to get a guest post but the benefits make it worth it. Once you get this going, you can start getting awesome links like these:
As you can see this is quite a bit of work. You can use this post as a template to get these types of link yourself, or you can use our newest service, HOTH Guest Post.
With HOTH GP, we'll take care of all the work for you. We'll manually reach out to industry blogs in your niche, secure a guest post, write an awesome article that includes your links naturally, and place the article on the blog.
This is all 100% manual with real sites that have real traffic. These are the kind of enterprise links that are hard to get anywhere else.
Check out HOTH Guest Post here.
If you have any questions, leave them in the comments!
P.S. Have you signed up for a HOTH account yet? You can get access to SEMRush data for free, plus manage all your link building in one place. Click here to sign up (free).