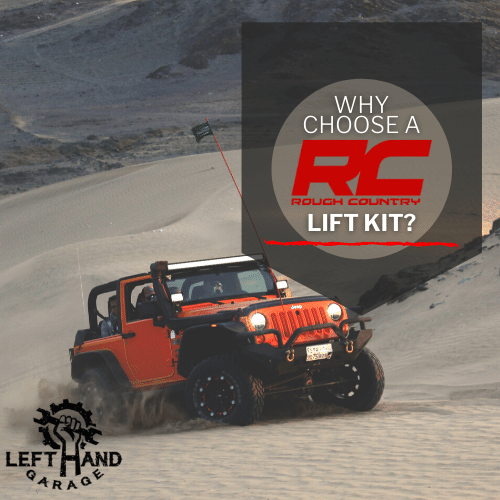 Why Choose a Rough Country Lift Kit?
Photo from canva
Originally Posted On: Why Choose a Rough Country Lift Kit? – Left Hand Garage
Are you currently contemplating the purchase of a lift kit, but have yet to decide where to turn, or which company to place your confidence in? If so, you are certainly not alone. The purchase and subsequent installation of any aftermarket automotive component is an investment, and as such, one is justified in expecting a return on their initial expenditure. In the case of a lift kit, your financial investment should provide you with a package that is comprehensive in nature, inherently durable, and constructed to the highest degree of quality.
One such company that bases its entire business model around providing products that live up to the standards mentioned above, is Rough Country. With an extensive pedigree in the realm of off-road suspension, Rough Country has remained the gold standard for what lift kits can, and should be.
Why Rough Country?
While it is true that there are now more independent manufacturers of lift kits than one would dare to count, not all are created equally. Many such manufacturers have arisen in the past decade, hoping to capitalize on extensive growth within the off-road modification and customization sector. Other such companies, on the other hand, have been part of this same industry since its infancy, working to pioneer numerous technological advances in the field. For its part, Rough Country certainly falls into the latter category.
Rough Country has remained a dominant force within the lift kit market for decades, not coincidentally. The following are several reasons that Rough Country continues to be a stand out performer within the lift kit industry.
Prime By Design
When looking back upon Rough Country's 4+ decades in business, the company's rapid growth within the lift kit manufacturing industry seems to have been inevitable. Rough Country entered the custom shock absorber market in 1975, assisting consumers in achieving next level ride quality, no matter the terrain being tackled.
Then, in 1986, Rough Country was acquired by Heckethorn Products, a metal design and automotive parts manufacturer. With this acquisition, the stage was set for Rough Country to jump headlong into lift kit production. For its part, Rough Country brought to the table a wealth of experience in all matters of vehicle suspension and ride quality enhancement. Meanwhile, Heckethorn provided the necessary manufacturing prowess to make the production of various mounting hardware components possible.
Those who purchase a Rough Country lift kit are acquiring much more than a hastily assembled box of aftermarket components. On the contrary, consumers are presented with an expertly engineered, precision derived lift kit, which has been tested to provide your vehicle with the highest-degree of ride quality, outstanding cosmetic appeal, and capable off-road performance.
Precise Fitment
Those with much in the way of lift kit installation experience, are typically all too aware of how aggravating it can be to encounter fitment related issues. When bolt holes appear to be a mile away from aligning, and the installation of every component requires an infinite amount of prying, frustration is quick to set in. Unfortunately, for many of today's lift kits, this seems to be more of a standard occurrence, than a rare event.
In a bid to eliminate fitment issues in their entirety, Rough Country has engineered every component within their lift kits to effortlessly mesh with all OEM hardware and mounting points. For Rough Country, this is more than just an expression of superior craftsmanship, but rather a matter of pride.
As a result of Rough Country's determination to go the extra mile, consumers are able to install their lift kits quickly, and with limited hassle. This minimizes downtime and gets you back on the trail much quicker than most would think possible.
Options For Nearly Any Truck or Jeep
While many aftermarket manufacturers only offer lift kits for a limited number of applications, Rough Country offers kits of the like for virtually every popular truck, Jeep, and SUV model on the road today. Some of the various vehicles to which Rough Country caters include the Chevy Silverado, Jeep Wrangler, Nissan Titan, Toyota Tundra, Dodge/Ram 1500, Ford F150, and GMC Sierra.
Whether you are attempting to gain clearance for the use of larger tires, wishing to increase your vehicle's ground clearance, or want to provide your ride with the aggressive look that you have always strived toward, Rough Country has the perfect lift kit for any vehicle application.
Rough Country engineers each lift kit to tailor suit the exact vehicle to which it will be fitted. Though the company's product line is broad, singular components are not reused in multiple applications in a universal manner, without stringent adherence to fitment standards. When you purchase a Rough Country lift for a particular vehicle, you will receive an application-specific kit that has been optimally engineered to achieve its intended purpose.
Lifts To Fit Most Every Need
Just as some aftermarket manufacturers are quite limited in the number of vehicles they service, many are also quite limited in the number and variety of individual lift kit packages that they offer. It is not uncommon for one manufacturer to specialize only in body lift kits, while another sells only two individual heights of suspension lift kits. This often leaves much to be desired for consumers that are searching for a lift that completes a very specific set of goals.
Rough Country offers virtually every type of lift kit available, including both body and suspension style lifts. The company also offers lifts of nearly any height, from extremely mild, to larger than life, and all points in between. This provides consumers with a wide selection of kits to choose from, and better enables those in the market for such an upgrade to locate the perfect kit to meet their needs.
While Rough Country sells both leveling kits and body lifts in abundance, the company's bread and butter tends to center around the production of robust suspension lifts that can be purchased at whatever height one sees fit. Some of Rough Country's most popular lifts of this variety are as follows.
Rough Country 2" Lift
Rough Country 2.5" Lift
Rough Country 3" Lift
Rough Country 3.5" Lift
Rough Country 4" Lift
Rough Country 6" Lift
Outstanding Value
As much as we would all love nothing more than to have a bank account balance with an infinite number of zeros attached to the end of it, this is simply not reality for most. As a result, we are forced to meter our expenditures as we set out to modify our off-road rigs. At the end of the day, we are all searching for a deal, and keeping a watchful eye out for any product that offers tremendous value.
In the case of lift kits, there is likely no better value than Rough Country. The bulk of lift kits offered by Rough Country retail at a conservative price point, allowing the avid off-roader to keep their overhead in check.
Perhaps even more enticing, is the fact that Rough Country lifts are priced to sell, without sacrificing anything in the way of craftsmanship, quality, or structural integrity. With a Rough Country lift, you truly get more than you pay for.
Much of Rough Country's ability to keep retail cost in check, stems from the company's in-house manner of conducting business. While many manufacturers outsource various segments of their operation, Rough Country bases the bulk of its operations out of its headquarters in Dyersburg, Tennessee.
Unmatched Customer Service
Even those most capable behind a wrench still become stumped from time to time, including when installing aftermarket modifications such as lift kits. When this occurs, one must know where to turn in order to salvage their project and make the best possible use of time. In many cases, doing so involves posing a question to those who have an extensive background in completing the task that you find yourself in the midst of.
When a roadblock is encountered while installing a lift kit, many consumers reach out to the product manufacturer. Unfortunately, this does not always yield satisfactory results. On many occasions, such calls result in nothing more than an endless game of tag with an automated answering service. However, when placing a call to Rough Country's help desk, you are always able to connect with a representative who can answer any question you might have.
Also of note, is the fact that those manning Rough Country's help desk are more than just trained receptionists. These individuals are true off-road enthusiasts themselves. Consumer's questions are answered by helpful individuals with a working knowledge of the components they sell, rather than a disinterested third-party who has never spent a weekend on the trail.
Unparalleled Warranty
Occasionally, the unexpected takes place when on the trail. In many such cases, mechanical related issues tend to be the point of concern. Even the most structurally sound of components can come out on the losing end of a battle with obstacles encountered when blazing the path less traveled. Unfortunately, manufacturer warranties seldom cover such mishaps, thereby leaving consumers to foot an often pricey repair bill.
However, in a move that is largely unparalleled within the industry, Rough Country backs all of its hard suspension components with a 100% lifetime replacement warranty. This includes all knuckles, lift blocks, lower and upper control arms, track bars, sway bars, and other components of the like. Additionally, all bolt-on Rough Country suspension components also carry a warranty. This includes a 5-year warranty on all leaf springs and coil springs, as well as a 3-year warranty on all shocks and steering stabilizers.
While one certainly hopes to avoid finding themselves in a position that requires the use of such warranties, the peace of mind that they provide is unmatched. If a failure of any covered components occurs, simply contact Rough Country to receive an exact replacement, without going through any unnecessary hassle.
In regards to their warranty process, Rough Country states the following on their website:
"Call us! We understand that equipment issues can be circumstantial and we will handle each warranty claim on a case-by-case basis. Our top-notch customer service team will work with you to develop a satisfactory resolution no matter what issue you experience."
Warranty Guard Protection
Many consumers shy away from modifying their new trucks or Jeeps, for fear of voiding their factory warranty. While this is certainly a valid concern, and worthy of taking into consideration, Rough Country provides a way to circumvent such issues, which comes in the form of the company's Warranty Guard program. This program covers your vehicle, even when the manufacturer leaves you without recourse.
If any factory component fails or is deemed to have failed, due to the installation of Rough Country's suspension products, and your vehicle's manufacturer denies your claim, Rough Country will pick up the tab. All that a consumer is responsible for is the payment of a $100 deductible. This warranty is offered for a period of 5-years/ 100,000 miles/ or until your manufacturer's warranty ends.
This level of coverage offers immense value to consumers, as it alleviates any apprehension toward the installation of a lift kit, in a bid to keep one's factory warranty intact. Even a brand new vehicle can be lifted, without any valid cause for concern.
Satisfaction Guarantee
Unlike when purchasing a vehicle itself, there are no test drives in the world of aftermarket automotive accessories. In many cases, this can lead to some hesitation on a consumer's behalf, as one must base their buying decision on a manufacturer's description and any pertinent reviews that can be located. In almost all circumstances, a consumer is stuck with the product that he or she has ordered, no matter the outcome.
However, Rough Country once again breaks the mold by offering a 100% satisfaction guarantee. No matter the component that is purchased, If a consumer is not completely happy with one of Rough Country's products, the product in question can be returned to the company for a full refund.
This makes the purchase of a Rough Country lift into a win-win proposition. Absolutely no risk is involved in such a venture, as you are not required to keep, nor pay for, any product that you do not feel to be of value. At the end of the day, Rough Country understands that the satisfaction of their clientele makes or breaks their business. As such, the company strives for universal satisfaction across the board.
Made In America
Today, more so than ever, the bulk of products that we purchase on a day to day basis are produced elsewhere. In a bid to minimize production costs, many manufacturers have outsourced production efforts. In many cases, this same practice is applied in regard to the production of aftermarket automotive accessories.
However, Rough Country lifts are, and always have been, American made. Rough Country was founded in 1975, headquartering its operations in Dyersburg, Tennessee. Today, some 45 years later, Rough Country's operations are still based in Dyersburg, and look to be going nowhere soon.
As a result, consumers can expect Rough Country's manufacturing practices, craftsmanship, and quality control to remain at the same outstanding level that it is today. In the world of aftermarket off-road components, Rough Country is virtually as American as it gets.