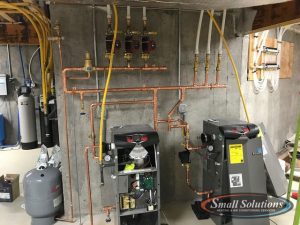 Why an HVAC Maintenance Contract is Important in Frederick County VA
Photo from Small Solutions
Originally Posted On: Why an HVAC Maintenance Contract is Important in Frederick, VA (smallsolutionsllc.com)
To ensure your HVAC system is running effectively, routine maintenance is key. When you contact a professional HVAC technician to service your unit, it will serve you for longer, run better, and improve your indoor air quality. To avoid future unexpected repair costs and reduced efficiency in your unit, you should consider routine servicing.
Fortunately, all HVAC contractors know this. That's why companies have come up with HVAC maintenance contracts. Read below to understand what an HVAC maintenance contract is and why they are essential to residents of Frederick County, VA.
Understand Your HVAC Maintenance Plan
An HVAC maintenance contract allows you to schedule your unit's maintenance within a certain specified period. While you could still request tune-ups without a contract, a maintenance agreement is the best solution for all your tune-up needs. After all, it's quite easy to forget to schedule a servicing.
Having a long-term agreement with a trusted contractor has better advantages. This is because the contractors will always be available whenever you need them, whether you remembered to schedule a tune-up or not.
Below are seven reasons why an HVAC maintenance contract is important in Frederick County, VA.
Routine HVAC Maintenance Will Save You Money and Energy
If you own a home or a commercial building, you will benefit most from having a maintenance agreement. This is because your heating and cooling unit will always be well maintained. Regular maintenance will also save you money on expensive energy bills and ensure your unit is running optimally.
When a unit is not regularly serviced, its efficiency reduces by over 5%. This results in higher energy consumption, which is one of the most important benefits of having a maintenance contract.
It Helps You Avoid Dangerous HVAC Problems
Routine inspection of your HVAC unit included in the contract will allow the technician to spot minor problems before they turn into major, expensive repairs. This gives you some time to prepare and budget for any needed repairs and replacements.
Being prepared is better than being caught off-guard when your AC suddenly dies in the middle of winter. Regular inspection also helps you avoid potentially dangerous situations such as cracked heat exchangers or leaking carbon monoxide. Your contractor will spot these problems before they cause you and your family any harm.
It Will Keep Your Warranty Valid
If you have an aging unit, it's recommended that you schedule maintenance at least two times every year to check for signs of future failure. However, if your equipment is relatively new, scheduling regular maintenance allows you to keep your warranty valid. A warranty is considered void if you don't schedule regular maintenance with a professional HVAC contractor.
Your HVAC contractor will keep a record of any repair and maintenance services done to your unit. These records could act as proof of maintenance services to keep your warranty valid. These documents prove to manufacturers that you have taken all the necessary steps to ensure your unit runs smoothly.
This kind of documentation is also necessary when you're selling your house. Prospective buyers will require proof that your unit was well maintained and is running as efficiently as possible.
HVAC Maintenance Agreements Will Give You Priority Services
While HVAC maintenance services are recommended to reduce the chances of a breakdown, your unit could still experience unexpected breakdowns for other reasons. If you are in such a situation, you need immediate repairs. If you have an annual contract with your HVAC contractor, your repairs will be given priority over customers with no contract.
When the company treats your call as urgent, they will get a contractor to your house as soon as possible. This reduces the length of discomfort and gets you quick repair services even during peak seasons.
It Reminds You of Scheduled HVAC Services
Winter and summer months are the busiest for heating and cooling companies. These are the months when they get the most calls for tune-ups and repairs. Most of these requests come from homeowners and business owners who forgot to schedule inspection services earlier.
Late inspection scheduling could lead to postponing, which is not good for your unit. To avoid this problem, HVAC companies include reminders in their annual service contracts. This way, you will receive reminders to schedule your cleanings, tune-ups, and inspections during the autumn and spring seasons.
An HVAC maintenance contract will give you confidence that your unit will be working efficiently right before the winter and summer months.
You Will Get Discounted HVAC Service Rates
While maintenance agreements and contracts have charges, you will save thousands of dollars in the long run. If you have a contract, your heating and cooling company will offer you services at a discounted rate.
Unexpected repairs are expensive. However, if you have a maintenance agreement, the cost to repair your unit when it breaks down is lower than for people without a contract.
Seasonal Comfort and Dependable Service
With an HVAC maintenance plan, your cooling and heating company will schedule your unit's tune-up just before the
weather changes. This will ensure that you and your family are comfortable during the hot and cold months.
When you get your unit serviced by the same contractor every year, you build a relationship with the team. They also know your unit well and can spot any problems before they arise. This kind of dependable service is one of the best benefits of having an HVAC maintenance agreement.
Call Us Today for an HVAC Maintenance Contract
At Small Solutions Heating & Conditioning, we offer heating and cooling services for all your needs in Frederick County, VA. We also offer HVAC maintenance contracts for both commercial and residential buildings.
You can feel safe being part of our maintenance agreement service. This is because our team is dedicated to offering you and your family the best service in Frederick County. Contact us today to set up your HVAC maintenance contract.