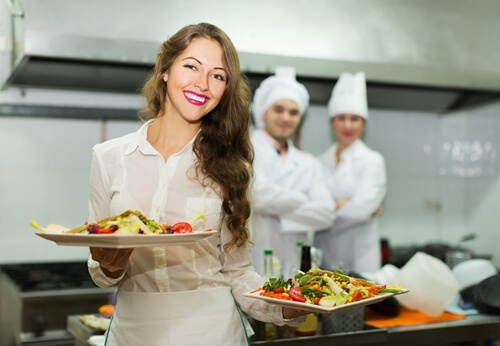 WHS processes for the hospitality industry
Originally posted on https://www.workpro.com.au/whs-processes-for-the-hospitality-industry/
The hospitality industry is a vital part of Australia's economy. According to Tourism Research Australia, almost 250,000 Australians work in cafes, restaurants and takeaway food services, clubs and bars. These occupations carry some unique workplace health and safety challenges.
Devising an effective WHS strategy and practical processes and procedures for the hospitality industry requires careful consideration. So what are the key things for businesses to focus on, and how can their processes be adapted to ensure every employee makes it home safe at the end of the day?
Workers in the hospitality sector face a number of unique WHS risks.
Understanding employee demographics
Hospitality is comprised of many different kinds of people, many of whom entered this industry at a young age (15-24). The relatively low skill set and level of experience required for customer service roles in the industry makes them a natural fit for students looking for part-time work while in school or university, or people seeking opportunities to gain early work experience.
There are both positive and potentially negative factors to consider when employing young people. On the plus side, their enthusiasm, energy levels and eagerness to learn can result in highly effective workers, people with growing minds that can quickly pick up new tasks and responsibilities. Hiring people on a casual or part-time basis can also be a good way to maintain and control salaries.
A lack of well-developed skills and training can leave younger workers vulnerable.
The flipside of this is a comparative lack of experience and maturity. A lack of well-developed skills and training can leave younger workers vulnerable to hazards that more experienced employees would easily avoid. In Queensland, for example, WorkCover notes that 45 per cent of all workers' compensation claims in hospitality are made by workers under 30 years old.
"Young workers are often still getting used to a particular type of work and don't exercise the same precaution as an older, more experienced worker as they tend to be unaware of the associated risks," says Melissa Steadman, WorkCover Queensland industry manager.
"It is important to ensure that their workplace health and safety induction is thorough and that refresher training is completed regularly."
Providing a safe workplace in hospitality
Your organisation's ability to deliver effective WHS education to hospitality workers will depend on your own ability to identify the most immediate hazards. The most common risks and hazards for these workers include:
Manual handling: Activities that involve the lifting and carrying of heavy objects, manual handling injuries make up 28 per cent of all workplace ailments according to the Victorian Government. Educating staff in correct handling procedures and providing equipment to assist with lifting and carrying can help alleviate some of the stress on workers.
Slips, trips and falls: Working with food and drink exposes employees to hazards from spilled substances. In tight quarters with large, heavy machinery, a slipping worker can easily injure themselves. Ensuring workers know to clean up any spills immediately, and clearly signpost hazardous areas, is smart WHS strategy.
Knife injuries: Kitchen staff should all be well trained in safe and effective knife handling, but accidents still regularly occur in busy, high-pressure working environments.
Food handling: A critical concern for keeping customers safe as well as the workers themselves, being trained in correct food handling procedures is vital. Avoiding contamination of food due to inadequate temperature control and effective cleaning procedures can reduce the chances of illness.
Fatigue: Hospitality workers traditionally work long hours at irregular times of day, and in environments that can be hugely stressful. Ensuring staff have adequate breaks and manageable shift schedules is the responsibility of any organisation.
Is your WHS induction suitable for hospitality workers?
Ensuring safety and success with WHS induction
All workers in the hospitality sector require information and education to reduce injury and help them, their colleagues and the public stay safe. If you are hiring and managing young hospitality staff, be sure to read WorkPro's young worker safety ebook for advice.
No two workplaces are alike, so even seasoned professionals must receive training and assistance with hazard identification and management.