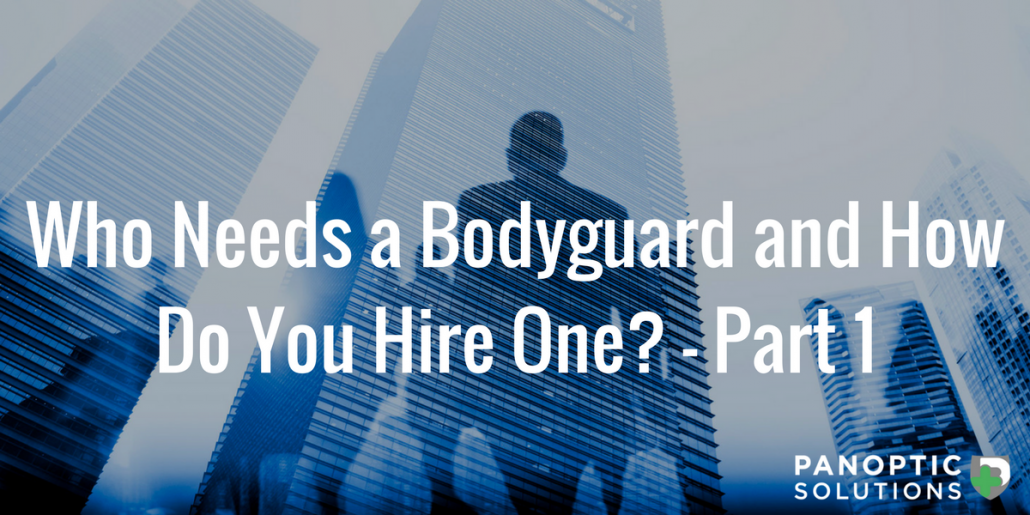 Who Needs a Bodyguard and How Do You Hire One? – Part 1
Originally posted on https://panopticsolutions.com/blog/who-needs-a-bodyguard-and-how-do-you-hire-one-part-1/
For those who aren't familiar with it, the task of hiring a bodyguard or executive protection agent can be overwhelming. Knowing whether you actually need one can be a mystery, let alone knowing what to look for.
With that in mind, we recorded a couple of episodes of the Wheels Up Podcast where we covered what an executive protection agent or operative is, who might need one and how to go about selecting one. Here's a summary of what we covered in the first episode.
At the end of this post you can also find a link to a free guide – How to Hire an Executive Protection Agent – that answers the questions in more detail. The guide also includes a cheat sheet with 37 questions you should ask before hiring a provider. We hope you find it useful and welcome your feedback.
https://www.podbean.com/media/share/pb-frzcx-b53386
What Exactly Is An Executive Protection Agent Or Operative?
What a layperson refers to as a 'bodyguard' is known by many terms within the security and risk management industry – executive protection agent/specialist/operative (EP), personal protection operative (PPO), close protection operative (CPO) or simply BG (for bodyguard).
For all intents and purposes, they mean the same thing, but in most cases, an agent or operative will have had formalised training beyond that just needed as a bodyguard. A bodyguard or CPO will generally be assigned to accompany a principal to keep physical threats at bay while an EP will take a broader view of risk management, beyond immediate physical threats.
This might include elements such as doing a risk assessment for a project or company or conducting 'travel advances' where a destination is reviewed in advance for risks and planning. Some companies also go further and assist clients with developing security and travel policies to utilise throughout the business.
Who Needs An Executive Protection Service?
Typically people think of high level VIPs and high net worth individuals (HNWI) with a level of fame as being those who need protection but this is often not the case.
Executive protection is tailored for individuals or teams who are not just concerned about their safety, but who also value their time highly. The ability to move about safely and swiftly can reap rewards that can save your business a loss of productivity and, in turn, increase financial outcomes.
This can include C-level executives, media or film and tv production crews, non-government (NGO) or charity organisations, mining companies with remote workers, medical evac or support teams.
Where Do I Look For An Executive Protection Operative or Company?
The best place to look for an executive protection operative is to ask for a referral from a colleague who has used one. If you don't have access to a referred company you can search for a one via Google. Search terms to use can include, executive protection agent, executive protection companies, security company, bodyguard company, executive protection operative, bodyguard, close protection agent, close protection operative, or personal protection operative.
Is Executive Protection Only Needed When Travelling or Do You Need Protection At Home As Well?
This is assessed on a case-by-case basis. The risk an executive is exposed to will fluctuate. This level of risk will dictate the response required – e.g. if the company or individual has had recent media exposure or a specific threat has been identified, or even if a shareholder meeting is approaching, each situation will require an individual risk assessment and the response may differ. This may include the requirement for executive protection.
In What Situations Would Family Members Need Protection As Well?
Though it doesn't happen frequently, family members, particularly children, are used as leverage against high-profile or wealthy individuals, or they may just be at risk of exposure to the paparazzi or members of the public with cameras on their phone. In some cases, they may need a 24 hour security presence, and in others they may just need monitoring.
What Would I Look For In An Executive Protection Provider?
Experience
The most critical criteria to look for in an executive protection company or risk management firm  is experience. Find out how long the provider has been in business, ask for a summary of the projects they have completed and, where possible, references of customers they have worked with.
The type of experience the operative or firm has have should also be relevant to the task you are hiring them for. For example, if you are seeking security for fly in fly out (FIFO) mining workers in Asia, an executive protection operative  with experience looking after professional tennis players touring Australia with a lack of any experience working in Asia is probably not the right fit for that particular task.
They must also have experience working in the countries you need the service provided, or at least have an affiliation with a local provider.
Training
Expect your prospective provider to have formal close personal protection or executive protection training and to be in a position to provide evidence of that. Research  the training provider to see how credible they might be and ask other providers you are considering for their views on some of the training organisations mentioned. The length of training is important. Executive Protection can not be taught in just a few days. There is a difference between qualified and competent.
Note that training as a security guard is different to close protection training so don't accept this as evidence that a prospect might be suitable.
Licensing Requirements
Different countries and states have different laws about licensing for security and executive protection companies. If your prospective provider doesn't have a licence for some areas you are travelling to then it's likely they will partner with another company that does. This is common practice so don't be disturbed if they disclose this to you.
Other Criteria
It will be worth your while to do some internet research on the provider as well. Google the name of the business and the name of the principal agent in the business. Check the News tab on the Google search listings to see if they have appeared in the news (for good or bad reasons). Check the LinkedIn profile of the principal agent to see if their authority is on display. Some security operatives  maintain a low profile so this is not an essential requirement but check to see if there are any red flags that might cause you concern.
The financial status of the security or risk management firm  may also have some bearing on the quality of service delivered. For example, if the firm requests to be paid 100% upfront, this may, in some cases, be a sign that they are under financial distress and may not be able to deliver the service to a suitable standard. It's not uncommon or unreasonable for the security provider to request a deposit   of up to around 50%, or, if there are significant outlays for the VIP then these expenses may also be requested to be covered prior to the task, eg: a large super yacht may be required for the client – this payment may need to be made prior to the task and may need to be covered by the client rather than the security or risk management provider.
Have them explain their cancellation policy clearly to you, as well. There are obviously expenses that are incurred by the companies once they get the ball rolling, so there may be cancellation fees applicable if the project is withdrawn.
In Addition to Security Services, What Else Can We Expect of an Executive Protection Operative?
The primary role of an executive protection operative is the security/close personal protection and wellbeing of their principal. That said, "wellbeing" may also include tasks which are not always associated with "security". As long as the safety of the principal is not compromised it's not uncommon for executive protection operatives to conduct administrative, logistical and facilitation style tasks.
Executive protection is a service based industry and as such there are additional tasks which may be requested of the operative such as assisting with luggage, arranging tickets to events, ensuring rooms or hotels are set up to a specific standard or even organising laundry in a remote region they are in. This may mean operatives liaise with outside support elements such as personal assistants or executive assistants or it may mean they make the arrangements themselves.